If you're thinking about having an iPhone as a secondary mobile for uses of WiFi-only application, such as music, games or FaceTime, you may wonder if you can use an iPhone without a SIM card. Well, this is not a complicated question. Check this article and we'll tell you everything about using an iPhone without a SIM card.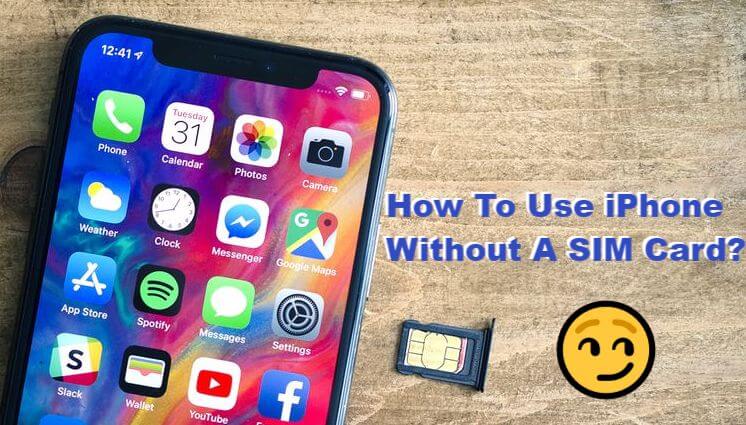 Part 1.

Can You Use an iPhone Without a SIM Card?

To begin with, the answer is a resounding YES. An iPhone can be used without a SIM card, making it similar to an iPod touch. You can use an old iPhone as a Wi-Fi-only device that still works with iMessage, FaceTime, Apple Music, Podcast and other iOS games that you've downloaded from the App Stores.
Part 2.

How to Use an iPhone Without a SIM Card?

The following methods will teach you how to utilize your iPhone without a SIM card.
Method 1: Dismiss "No SIM Card" Pop-up
When you factory reset an iPhone and restart it, you'll go through the setup process. As soon as you connects it to a WiFi network, it will display a "No SIM Card Installed" / "SIM Required" pop-up.

The "No SIM Card Installed" pop-up can be easily ignored and the entire Setup procedure will be finished without inserting a SIM Card on newer iPhones (iOS 11.4 and later).
Check out the following steps to use an iPhone without a SIM card during setup:
1

To start iPhone, press the power button, then swipe right to pick Language > Country > tap on the "Setup Manually" option.

2

Choose your WiFi Network > input your WiFi Network Password > press OK to ignore the "No SIM Card" message.

3

On the following screen, choose "Continue" to agree to Apple's Data & Privacy terms > Set Up Touch ID or Setup Later > Set Up Your Lock Screen Passcode.

4

On the Apps & Data page, select Set Up as New iPhone, then input your Apple ID and Password on the next screen.

5

Select Agree to accept Apple's Terms & Conditions, then tap Continue and follow the instructions to finish the rest of the setup process.
Method 2: Use iTunes to Activate iPhone Without SIM Card
The first and most effective method of activating an iPhone without a SIM card is using iTunes. Apple has its own iOS administrative software that was created and intended specifically for this purpose, so you may use iTunes to unlock and use your iPhone.
If you don'thave iTunes on your computer, you can get the current version for free from the Apple website. When you are using a brand new iPhone or an iPhone that has just been factory reset:
1

Connect your iPhone to a computer and ignore any messages instructing you what to do or what information you need to provide to activate your iPhone. When iTunes detects your iPhone, select the option to set up as a new iPhone and then click Continue.

2

You'll be taken to a new Sync with iTunes screen, where you'll need to select the Sync option and click the Get Started button. Wait for the process to complete, and then detach your iPhone from the PC to complete the setup process on your iPhone.

3

Once your iPhone is activated, you'll be able to use it without a SIM card on a WiFi network, just like an iPod touch or iPad.
Method 3: Activating an iPhone using R-SIM/X-SIM
In your iPhone, R-SIM is a.02mm chip that sits beside your SIM card. The R-SIM removes the network lock from your iPhone, allowing you to use it with another carrier or network. In essence, the R-SIM deceives the SIM card into thinking it belongs to a different carrier. It accomplishes this while preserving the majority of your phone's functionality. Therefore, by inserting a R-SIM you'll be able to use iPhone without a SIM card. Here's how to use an R-SIM:
1

Insert the R-SIM into your iPhone, which will display a list of available networks. Continue after selecting your desired cellular network provider. If your network carrier isn't listed, choose "Input IMSI" from the drop-down menu.

2

When requested, enter the 7-digit carrier code (you can search for all IMSI codes online). After you've entered the right code, choose your iPhone model type from the drop-down menu.

3

Select your desired unlocking method after selecting your iPhone model. Wait for your request to be processed by the device before tapping "Accept" on the setup prompt. This will cause your iPhone to reboot to confirm the action.
Method 4: Jailbreak your iPhone
iPhones, as we all know, require a SIM card to be activated. This could be a problem for many people who wish to use their old devices without a SIM card for various purposes, such as browsing the internet or listening to music.
However, apart from the methods above, you do have another alternative, which is to jailbreak your iPhone. When you jailbreak your iPhone, you are removing all of Apple's limitations and restrictions, which will also allows you to use your iPhone without a SIM card. But you need to note that jailbreak also has some negative influence on your iPhone such as exposure to security risks. Therefore you need to think twice before taking action.
Method 5: Bypass iPhone Activation Lock Without a SIM Card
If you want to bypass the Activation Lock on an old iPhone without a SIM card, you should try out UnicTool Upassit. It's a unique desktop-based software that'll assist you in bypassing iPhone Activation Lock without the use of your Apple ID or passwords, making it the best and most effective option.
By simply following the guide below, you'll be able to bypass Activation Lock on your iPhone without a SIM card quickly.
1

Install and run UnicTool Upassit on your computer. Connect your iPhone to the computer. Choose "Bypass Activation Lock Screen" mode and click "Start".

2

To bypass the iCloud activation lock on iOS devices, UnicTool Upassit requires a jailbreak. Simply follow the on-screen guide and Upassit will help you through this process.

3

Confirm your iPhone's information, such as the model, iOS version, and IMEI. Then select "Start Bypass" to continue. The bypassing method takes Upassit only a few seconds to complete.

4

Upassit will successfully bypass the Activation Lock screen on your iPhone. Now you can use the iPhone without SIM card and access to WiFi based applications!
Conclusion
In a nutshell, "Can you use an iPhone without a SIM card?" Of course yes! By following any of the methods mentioned above, you can use the iPhone without a SIM card and access all of the non-cellular functionality. If you've got a second-hand iPhone and is stuck on the activation lock, UnicTool Upassit will be your best choice to bypass the activation lock and allow you to use an iPhone without a SIM card!