With the Apple Watch, there are different methods available for you to keep your device and your data away from vicious attack. The Find My feature presents geolocalization for all Apple devices and the option to wipe devices remotely. By using Activation Lock on your Apple Watch, you'll be able to prevent anyone from potentially wiping your phone then reselling it.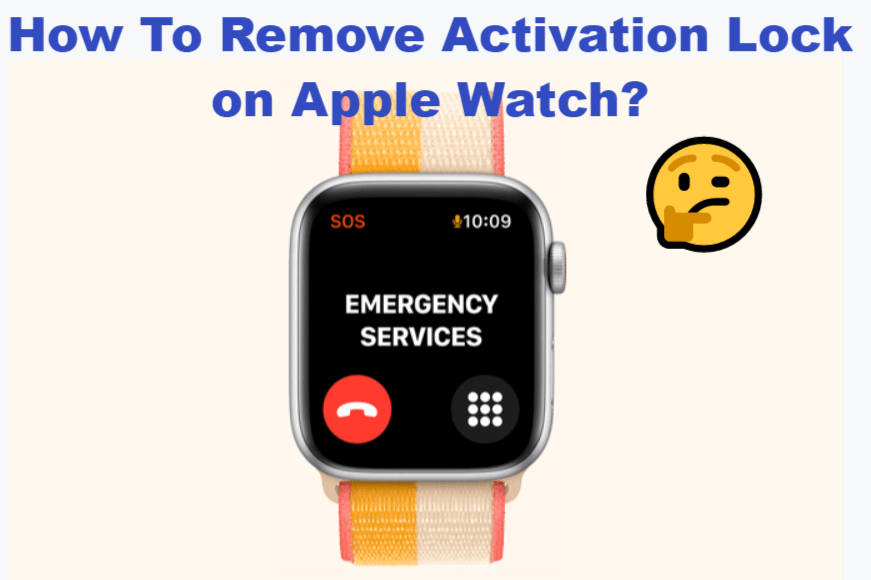 This is great, however, some users have reported having trouble bypassing the Activation Lock option, which can be somewhat of an inconvenience when trying to use the watch as usual. Let's talk about how to remove Activation Lock on Apple Watch using different methods!
Part 1

What is Activation Lock?

The Activation Lock feature was released as a part of the Find My feature in various Apple devices like the most recent iPhones and Apple Watches. It basically renders your devices indissociable from your Apple ID. If anyone tries to unbind it from your Apple ID by restoring the device, they will not be able to use it.

Note

Activation Lock will only work if you've activated the Find My feature on your Apple Watch.

As long as the Activation Lock is activated, you won't be able to move past your Apple Watch's main screen. Activation Lock makes your Apple ID credentials required before it is possible for anyone to:
Unpair your Apple Watch from your iPhone
Pair your Apple Watch with another device
Disable Find My on your Apple Watch
There are many different reasons you may want to remove the Activation Lock on your Apple Watch. Maybe you were gifted it second-hand from a family member, or maybe you accidentally activated the feature and now would like it disabled.
Let's go ahead and dive into how to check if this feature is on and how to remove Activation Lock on Apple Watch.
Part 2

How to Remove Activation Lock on Apple Watch?

If you're selling your Apple Watch to others, you'll need to disable Activation Lock on the device. Here are 3 methods to turn off Activation Lock on your Apple Watch.
1. Use the Paired iPhone to Disable Activation Lock
Go to your paired iPhone and complete the following steps:
Go to the Watch app on your iPhone.
Go into the My Watch tab > All Watches around the top of your screen.
Select the info button "i" and tap Unpair Apple Watch, or Remove [Carrier] Plan (for cellular models).
Confirm with your Apple ID and password. Now the Activation Lock on Apple Watch is turned off.
2. Erase and Remove Apple Watch via iCloud
You can go to Apple's iCloud page to remotely turn off Activation Lock on your Apple Watch if your device is not near you or isn't paired with an iPhone.
Go to iCloud.com, and log in with the Apple ID you used to set up your Apple Watch.
Go to Find My iPhone section > All Devices > Apple Watch.
Select Erase Apple Watch.
Clicking on the remove button "x" to remove Apple Watch from your iCloud account.
3. Try an Online IMEI Unlocking Service
If none of these solutions work for you, you can go for an IMEI unlocking service. The benefit of an IMEI unlocking service is that it will be able to unlock your watch usually within 24 hours. And you won't have to bring your Watch anywhere, as most IMEI services are completely remote. However, it is a paid service and you should be careful of its authenticity and your data security.
Bonus:

How to Bypass Activation Lock on iPhone/iPad/iPod touch

If you're also looking for solutions to remove or bypass Activation Lock on other iOS devices, you should definitely check out UnicTool Upassit. This professional software is safe and easy to use, specially designed to help you bypass Activation Lock on iPhone/iPad/iPod touch. Whether if you bought a second-hand iPhone with the Activation Lock on, or if you're troubled by the message "iPhone is Disabled. Connect to iTunes", or if you want to factory reset the iDevice but forgot the Apple ID password that are required for signing out, Upassit has got you covered.
Bypass Activation Lock without password
Unlock a disabled / Lost Mode iPhone/iPad
Turn off Find My Device and factory reset without Apple ID
Support iPhone/iPad/iPod touch with iOS 12 or later versions
Safe to use, no Apple ID will be harmed
1 register code with unlimited access to all 3 modes
How Upassit will help you bypass Activation Lock on iPhone/iPad/iPod touch:
1

Getting started

Launch Upassit on your computer, and choose Choose "Bypass iCloud Activation Lock Screen" mode. Now onnect your iDevice to the computer.

2

Start the jailbreak process

Follow the on-screen instruction to use Upassit to jailbreak your iDevice. Don't worry, it's very simple!

3

Start the Bypass process

Now Upassit will start bypassing Activation Lock on the device. Make sure the process is uninterrupted. In a few seconds, the bypass is done and your device will be removed of the Activation Lock!

The Bottom Line

Hopefully, you've been able to remove the Activation Lock feature on your Apple Watch to be able to fully benefit from your device. If you need to bypass Activation Lock on your other iOS devices, just give UnicTool Upassit a go!