This article discusses the popularity of Joe Biden voice clips, which also called soundboards often feature memorable quotes and gaffes from his speeches and public appearances. These formats provide a humorous way for people to express their opinions on current events and politics.
The focus of the article is on the best Joe Biden AI voice changer and Joe Biden soundboard which can be used to mimic Joe Biden AI voice and prank friends in real-time and voice generator with Joe Biden AI voice.
Keep reading to learn more.
Part 1: Who is Joe Biden? And What is Joe Biden's Age?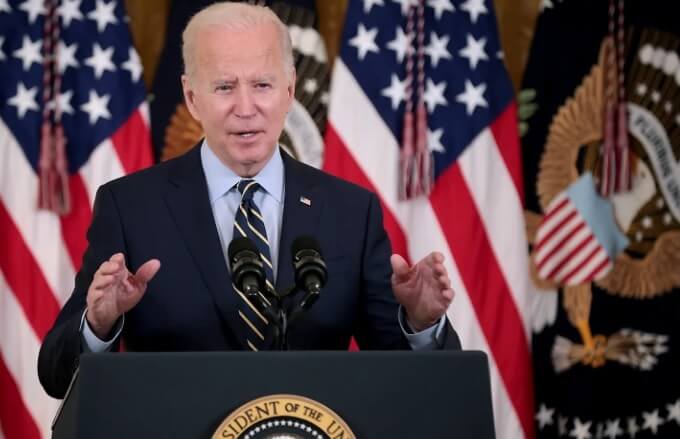 Joe Biden is the 46th President of the United States, having been inaugurated on January 20, 2021. Before his presidency, he served as the Vice President under Barack Obama from 2009 to 2017. Biden was also a United States Senator representing Delaware for 36 years.
Throughout his career, he has been a champion of issues such as healthcare, LGBTQ+ rights, and climate change. At 79 years old, he is the oldest president in US history, surpassing Ronald Reagan who was 77 when he left office.
Part 2: Best Voice Changer with Joe Biden AI Voice and Clips
Getting real-time Joe Biden AI voice changer with this president ai voice and clips is easy and just one click on the button below. With MagicVox Joe Biden AI voice changer, you can sound like Joe Biden and also apply his voice clips in real-time while gaming, live streaming, and chatting!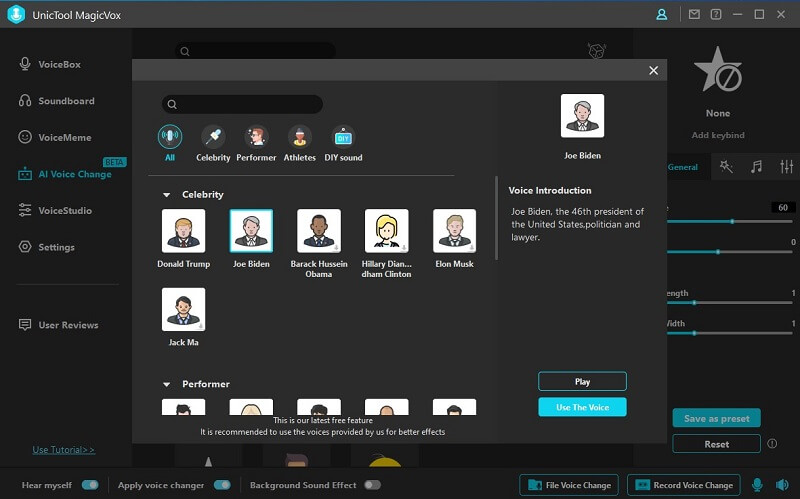 Key features:

Real-time Voice Modification: The tool allows you to instantly change your voice while speaking, making your recording sessions seamless and dynamic.

Wide range of voice effects: The voice changer offers 500+ voice effects and 150+ voice memes to choose from, including President Joe Biden, Donald Trump..

Customizable settings: You can fine-tune your voice using options such as pitch, tone, and modulation controls.

Supports real-time voice recording and file voice change: You can record your voice in real-time and apply voice changes to saved files. The modified voice can also be exported.

Compatibility with communication apps: The MagicVox Joe Biden AI voice changer works seamlessly with popular communication platforms like Discord, Skype, and streaming software.

Easy-to-Use Interface: The user-friendly interface ensures a smooth and intuitive experience, even for beginners.

AI Voice Cloning: Clone any voice you want and apply it during call or streaming.

This app also supports file voice change and record voice change.

30 days money back guarantee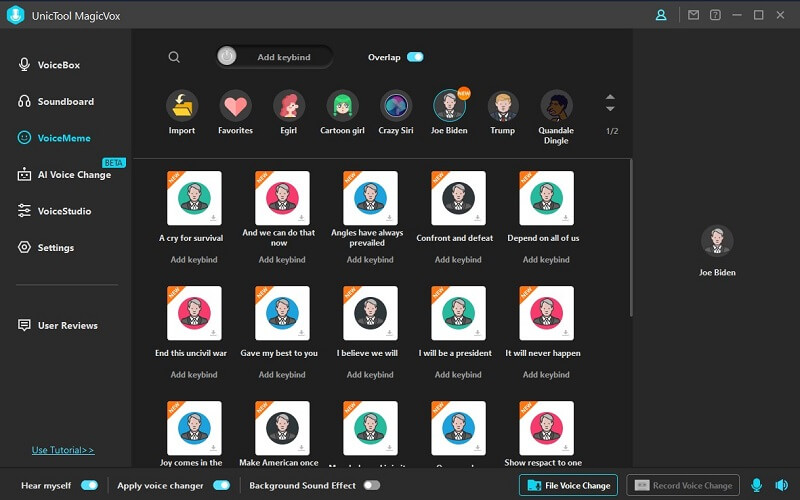 This AI tool for changing voices offers several Joe Biden voice clips and soundboard for you to select, allowing you to imitate Biden in your video. Along with Biden's voice meme, there are numerous comical voice memes of other celebrities, including Trump. What's more, these voice memes are currently available at no cost for a limited period, so come and try them out!
How to Use MagicVox Voice Changer
Step 1 Download MagicVox: go to the web and download UnicTool MagicVox.
Step 2 Choose device: configure your microphone and headphone as the default input and output device.

Step 3 Change voice: click Audio settings and select "Voice Changer Virtual Audio Device" as your default input device.
Step 4 Platforms setting: Now the MagicVox app on your PC separately and select any voice. Select the same voice from keybinds, your voice will be changed.
Watch this video to konw more about MagicVox