Mobile devices in light of technological advancements have eliminated the use of some physical tools by effectively modeling their functions. A very good example is the iPhone Alarm clock. These days, people rarely employ the use of a physical alarm clock as their iPhone Alarm serves as a wake-up call.
The Alarm application on iPhone is a very good tool for time management and productivity as it enables you to set time and reminders for various tasks. Now imagine not waking up on time or missing an appointment because your iPhone Alarm is not going off all of a sudden. It is not uncommon that your iPhone Alarm tends to malfunction. Therefore, we have put together 11 possible solutions to help you troubleshoot your iPhone Alarm not working issue.
Part 1.

Why is My iPhone Alarm Not Going Off?

iPhone Alarm not going off is the most common scenarios that your iPhone Alarm application is not working properly. The reasons why this happen could range from incorrect phone settings that can be adjusted to device system bugs and glitches that may require you to restore your iPhone's operating system.
Part 2.

11 Ways to Fix iPhone Alarm Not Going Off Issue
1. Check if the Alarm App Works Normally
If the previously set iPhone alarm didn't go off at the scheduled time, try setting a new alarm to check if the Alarm application itself works normally. You could do this by asking the voice assistant Siri or by setting it manually:
1

Go to Clock > Alarm.

2

Tap the Add (+) button and set the alarm to sound in 1 minute.

3

Save the alarm. Wait and see if the Alarm goes off at the required time.
2. Delete All the Alarms
Your iPhone alarm not working can also be a result of some hitches encountered while setting the alarm. To resolve this little hiccup, try deleting all alarms currently displayed on iPhone Alarm and then setting up the new ones.
1

Launch the Clock app > Tap on the Alarm tab.

2

Delete all set alarms by swiping to the left or clicking Edit, and then tap the red minus (-) icon, and select Delete.
3. Get Out of the Headphone Mode
The reason your iPhone alarm is not going off is likely due to your audio being stuck in headphone Mode even though the headphones are not plugged in. This would cause all sounds to be transmitted to the headphones and thus your alarm will not ring out.
To fix this, get out of the headphone mode by plugging your headphones in iPhone and then unplugging them.
4. Check Sound and Volume
The problem of your iPhone alarm not going off may just be a result of the volume Settings. Bear in mind that the alarm volume is controlled by the Ringer and Alerts volume settings and not the Media Volume settings.
1

Go to Settings > Sounds (or Sounds & Haptics for some models).

2

Ensure that Ringer and Alerts is set to your desired volume level.
5. Uninstall Third-Party Alarm Apps
Having third-party alarm apps installed on your iPhone may interfere with the functionality of the built-in iPhone Alarm app because they are not integrated as well as the original one. To rule out the possibility of a problematic third-party app causing the iPhone Alarm not working normally, you may want to uninstall any alarm applications other than the one developed by Apple.
6. Check Clock's Bedtime Feature
Occasionally there may be a clash between the Bedtime feature and the Alarm due to their similar alarm functions. For example, if you schedule the Wake Up time in Bedtime exactly the same as that of Alarm, these two clocks will be triggered at the same time and could be the cause of your iPhone Alarm not going off problem.
To avoid clashes with Alarm, you might go to Clock > Bedtime to:
Disable the Bedtime feature;
Or adjust its Wake Up time accordingly.
7. Force Restart Your iPhone
A force restart is very helpful in fixing any system problems that obstruct your phone's functionality. Your iPhone Alarm not going off can be resolved with a quick reboot. Note that the process of  restarting varies for different iPhone models.
For iPhone 8 or later model:
Quickly press and release the Volume Up button.
Quickly press the Volume Down button.
Press and hold the Power button you see the Apple logo appear.
For iPhone 7 or iPhone 7 Plus:
Press and hold the Power button and Volume Down button.
Keep on holding both buttons, until you see the Apple logo.
iPhone 6s or earlier model:
Press and hold the Power button and Home button.
Hold both buttons at the same time for a few moments until the Apple logo surfaces.
8. Reset All Settings
The reason why your iPhone alarm is not going off might be due to a certain error in General Settings, which can be resolved by restoring all settings to their default. (This reset will NOT erase your iPhone data.)
1

Go to Settings > General > Reset.

2

Click Reset All Settings.

3

Enter the passcode and confirm to reset successfully

.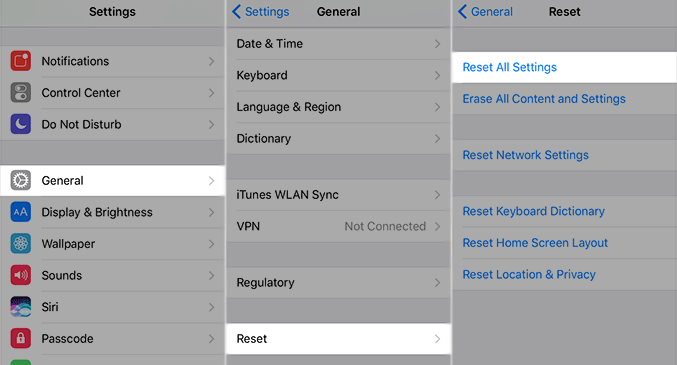 9. Update Your iPhone
Does your iPhone operate an outdated iOS version? This could just be the culprit of your iPhone Alarm not working issue. Now update your iPhone to the latest iOS version and see if the Alarm resumes working.
1

Ensure that your iPhone is charging and connected to the Internet.

2

Go to Settings > General > Software Update > Download and Install.

3

Input your passcode if requested to start the update process

.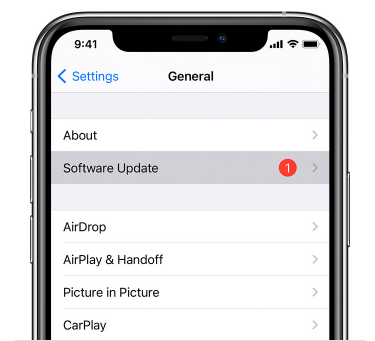 10. Restore Your iPhone
Your iPhone alarm not working can be due to some systems glitches which can be resolved by restoring your iPhone with iTunes.
1

Connect your iPhone to a computer

.

2

Launch iTunes and select the phone icon under the menu at the top.

3

Select Summary from the side menu.

4

Click on Restore. Follow on-screen instructions to complete the process.
11. Use the System Repair Tool Umendit
If you have tried all of the methods above but your iPhone Alarm is still not going off, Umendit can save you from your despair.
The most efficient tool to help you resolve your iPhone Alarm not working issue and any other iOS issues.
Repairs your iPhone with a high success rate.
Simple and user-friendly interface.
No iPhone data will be damaged or lost.
Supports all iOS/iPadOS/tvOS versions including the newly released iOS 15.

3 Easy Steps to Fix iPhone Alarm Not Going Off with Umendit
1

Launch Umendit on your computer and select Standard Repair.

Connect your iPhone to the computer. (Your iPhone should be automatically detected by Umendit. If not, follow the on-screen instructions to put your phone into Recovery/DFU Mode.)

2

Umendit will then automatically match the related firmware version for your iPhone model. Click Next to download the firmware.

3

Click Start and wait for Umendit to repair the iPhone. In a few minutes, the repair's completed and your iPhone will reboot and work normally.

After your iPhone is restarted, try setting a new iPhone Alarm and see if it goes off as schedules this time.
Conclusion
Troubleshooting issues with your iPhone Alarm is important for effective time management and productivity. Hopefully with any of the 11 methods above, you're now able to fix the issue of your iPhone Alarm not going off. And if you're ever in need of repairing your iPhone's system, don't hesitate to give Umendit a go - it's powerful and FREE to try!