With the help of the best AI singing voice generator, you can simplify the process of producing and recording a song, without the need for a talented vocalist or access to a recording studio. In this article, we'll discuss how to create personalized songs easily and at a reduced cost using a singing text-to-speech tool.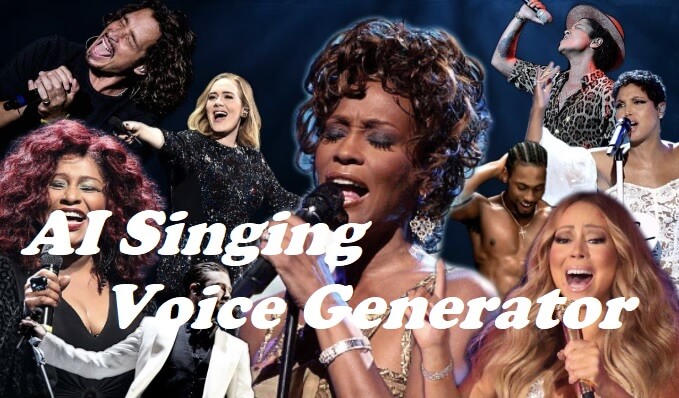 VoxMaker Creates Any Voice & Music
Part 1. What is an AI Singing Voice Generator?
An AI Singing Voice Generator is a software or tool that uses artificial intelligence technology to create realistic and natural-sounding singing AI voices. These tools use deep learning algorithms to analyze and mimic the characteristics of human voices, such as pitch, tone, and timbre, to produce synthetic singing voices. AI singing voice generators have various applications, including music production, film and animation, and voiceovers.
Part 2. Some Facts about Sing Synthesis
1: Sing synthesis is a subfield of speech synthesis that focuses on generating synthetic singing voices that sound natural and expressive.
2: Sing synthesis systems use complex algorithms and models to generate singing voices, taking into account factors such as pitch, melody, rhythm, and timbre.
3: Sing synthesis technology has advanced significantly in recent years, with many commercially available products offering high-quality synthetic singing voices for use in music production, film and television, and other applications.
4: Sing synthesis can also be used to create synthetic choir voices, allowing users to generate multiple vocal parts and harmonies using a single software tool.
5: Sing synthesis technology is being developed and refined constantly, with new research focusing on improving the realism and expressiveness of synthetic singing voices, as well as enabling more intuitive and interactive control over the singing process.

Part 3.Why are Text-to-Singing Voice Generators So Popular?
AI singing voice generators are gaining popularity because they can accurately replicate vocal performances, thanks to advanced algorithms. Producers can use these tools to generate vocals that match the original song, eliminating the need to hire singers or create sample libraries. This is especially beneficial for those on a tight budget or looking to create professional tracks quickly.
Additionally, AI voice generators offer users greater control, allowing adjustments to parameters like pitch, vibrato, and inflection. This flexibility is handy for producers seeking specific sounds. AI technology also enables creative opportunities, such as applying one singer's style to songs in various genres or languages.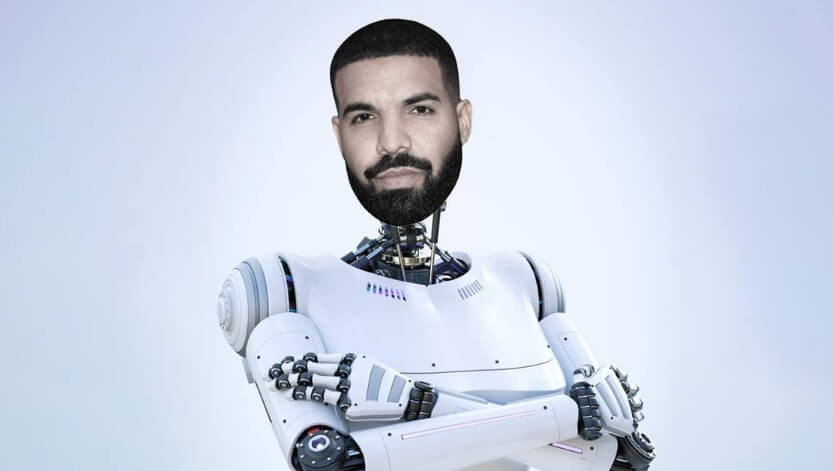 However, there are concerns associated with AI voice technology. For example, labels have taken action to remove unauthorized AI-generated songs, raising questions about legal and profit-sharing issues. Furthermore, scammers are exploiting voice cloning to target vulnerable individuals for financial gain. Additionally, the potential for fake voices to be used as false evidence in legal proceedings poses another challenge.
In April 2023, an AI-generated song featuring Drake went viral, but it was eventually removed by labels. The music industry is grappling with how to handle these new challenges, as AI-generated content continues to evolve and raise ethical and legal questions.
Part 4. BEST 8 AI Singing Voice Generators
Unitool VoiceMaker offers more than just text-to-speech functionality. With this software, you can also generate AI singing voices in the styles of famous singers such as Justin Bieber, Kanye West. Using your own lyrics, you can create unique songs and choose any singer from the list to reproduce their singing voice in your own way.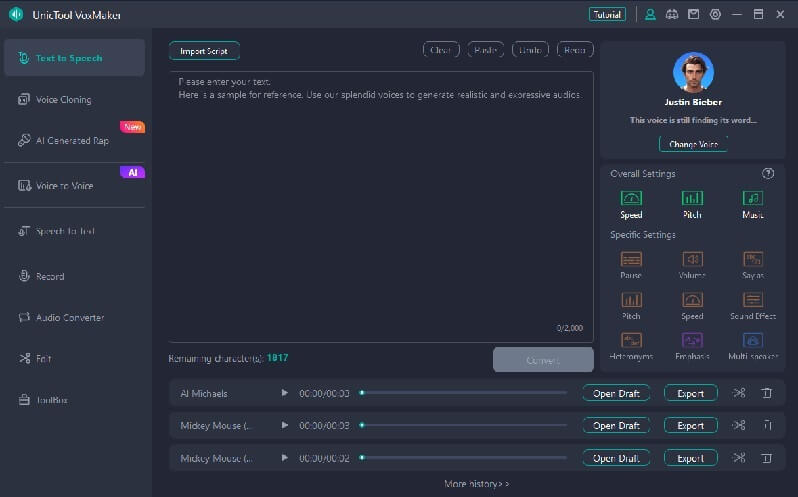 Highlighted Features:

Export your music in multiple formats, such as MP3 and WAV.

Generate authentic AI voices using text-to-speech (TTS) and voice replication, including renowned artists like Taylor Swift.

Explore a diverse selection of over 3200 AI voices across 70+ languages and 100+ accents, ensuring natural and authentic speech.

Enjoy a user-friendly interface that simplifies navigation.

Supports AI-Generated Songs, STT, and Voice to Voice

Benefit from enhanced security and faster processing times, guaranteeing efficient AI voice generation.
Listen to the Justin Bieber AI Voice demo, do you want to cover a song with his voice? try VoxMaker!
Pros
Safe and Secure: Completely risk-free to use.
Versatile Voice Toolkit: Experience a range of features including text-to-speech, speech-to-text, AI generated rap songs, voice to voice, and use it as a versatile voice recorder for recording, editing, and converting your voice recordings.
User-Friendly Interface: Simple and intuitive voice recording and rapid TTS processing.
Top-Quality Song Generation: Advanced AI algorithms to produce lifelike and professional-quality songs.
Diverse Music Style: VoxMaker provides a wide array of music styles and genres to cater to diverse musical tastes, including KPOP Music.
Extensive Sound Library: Access over 3200+ voices across5 70+ languages and 100+ accents, encompassing high-pitched female voices to low-pitched male voices, as well as renowned celebrity voices such as Taylor Swift and Kanye.
AI Voice Cloning: Stand out from the crowd by uploading audio to replicate any voice you desire.
Choose from a vast selection of voices from popular singers and rappers to craft your ideal AI cover songs.
Cons
Mac version is coming soon
10% Coupon Code:SPECIAL111
If you don't know how to use UnicTool Coupon Code, you can read this artcile as your reference.
TopMediai is a renowned online tool that utilizes cutting-edge AI technology to produce top-notch singing text to speech voices from text input. Its vocal tracks are incredibly lifelike, making it challenging to discern them from a human's singing voice.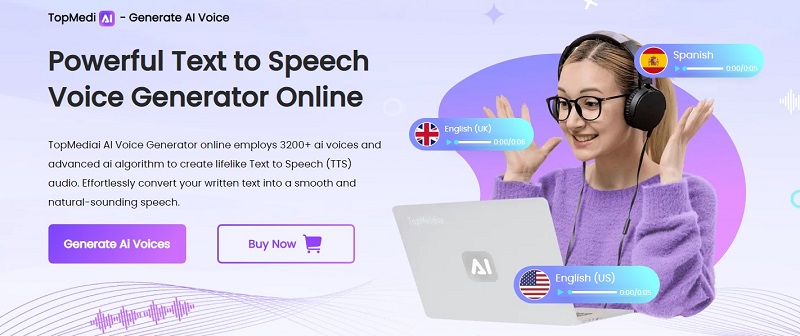 Features:
More than 3200 voices and 70 languages to choose from.
Advanced AI technology allows for personalized adjustments to speech speed and pitch.
The AI-powered voices produced by this tool are remarkably lifelike, resembling those of real humans.
The tool also produces exceptional quality AI-generated singing voices, making it a valuable resource for those seeking realistic-sounding vocals without the need for a professional singer or pre-recorded samples.
Pros
Extensive Voice Variety
Customizable Speech
Lifelike Voices
Exceptional Singing Voices
Cons
Limited Advanced Features: May lack advanced functionalities available in premium voice generation software.
Internet Dependency: Requires an internet connection for accessing and using the tool.
Variable Voice Quality: While it offers diverse voices, some users may find variations in voice quality.
Learning Curve: Users new to AI voice generation may need time to learn and maximize its capabilities.
With Voicemod Text to Song, you can generate music from text online without any hassle. This AI music generator is entirely browser-based, which allows you to create music on your mobile or desktop browser without downloading any software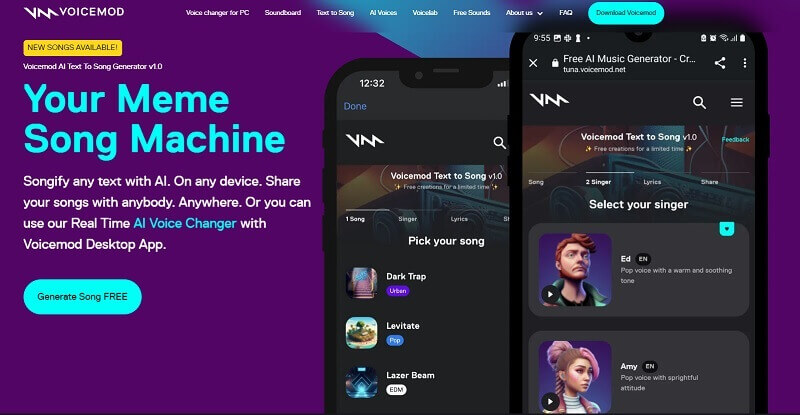 Features:
Simply input your lyrics to generate an AI singing voice.
Allows you to access a variety of genres.
You are able to generate a cartoon singing songs if you need.
Pros
Easy Professional Vocal Tracks: Quickly create high-quality vocal tracks without needing extensive singing or rapping skills.
User-Friendly Interface: Simple and intuitive interface, suitable for both tech-savvy and non-tech-savvy users.
Exclusive Features with PRO Version: Unlock premium features by subscribing to the PRO version, including access to over 100 custom voices, unlimited soundboard slots, high-quality audio soundboards, and the VoiceLab for custom voice creation.
Cons
Monthly Subscription Cost: VoiceMod's service is priced at $5/month with no free trial or free account options available, which may not suit all budgets.
Exclusive Features Behind Paywall: Some advanced features are only accessible with a PRO subscription, limiting access for free users.
Learning Curve: Users new to VoiceMod may need time to explore and fully utilize its wide range of features.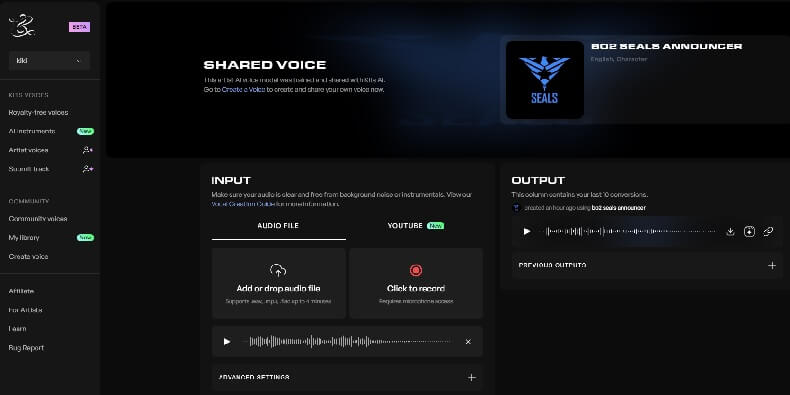 Features:
Kits.AI is an innovative AI voice toolkit designed for musical creativity.
Generate custom AI voices with a simple one-click interface.
Access an extensive library of officially licensed artist voices and commercial use models.
Partnered with artists to offer official release of their voice models.
Transform your voice into a diverse range of expressive vocal styles with commercial use models.
Create your own custom voice model with the user-friendly voice model training tool.
Pros
Innovative Music Creation: Kits.AI revolutionizes musical creativity with AI voice generation and official artist voice models.
Easy Voice Generation: Generate custom AI voices effortlessly with a user-friendly interface.
Diverse Vocal Styles: Access a wide range of vocal styles and genres, including options for cartoon singing songs.
Official Artist Partnerships: Kits.AI collaborates directly with artists, offering official voice models for creative use.
Custom Voice Models: Create and share your unique voice models with the voice model training tool.
Cons
Subscription-Based: Kits.AI may require a subscription fee, which could be a consideration for budget-conscious users.
Learning Curve: Users new to AI voice generation tools might need some time to familiarize themselves with the platform.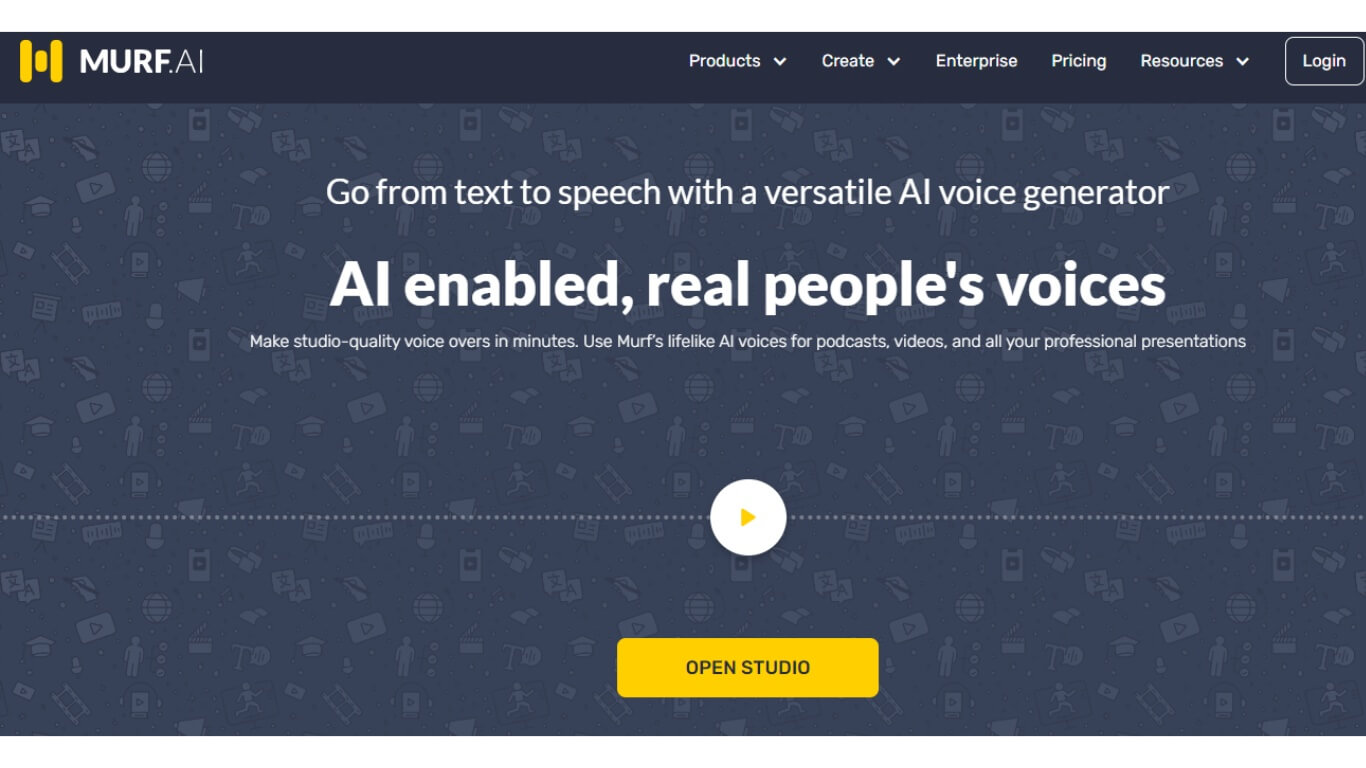 Features:
Murf.ai is a cutting-edge AI voice technology platform that offers advanced tools for voice modification and cloning.
Free Account Access: Users with a free account can make limited use of the app, including voice transfer for AI singing.
Custom Voice Models: Murf.ai provides a high-touch service to create custom voice models.
Audio and Music Exploration: Ideal for audio and music enthusiasts, the platform allows you to sing a melody and experiment with voice changes. You can audition various voice types until you find the perfect fit.
Collaboration Made Easy: Send your track to similar artists to imagine their own voices over it, all with the help of AI voice changers that streamline the process.
Pros
Advanced AI Voice Tools: Murf.ai offers advanced voice modification and cloning tools for creative applications.
Free Account Option: Users can access limited features with a free account, making it accessible to a wide audience.
Versatile Audio Exploration: Explore audio and music creatively, experimenting with singing melodies and voice changes.
Collaboration-Friendly: Simplifies collaboration by allowing artists to envision their voices on tracks.
Cons
Subscription-Based Model: Murf.ai may require a subscription for full access to its features, which might not be suitable for all budgets.
Learning Curve: Users new to AI voice technology may need time to grasp and maximize the platform's capabilities.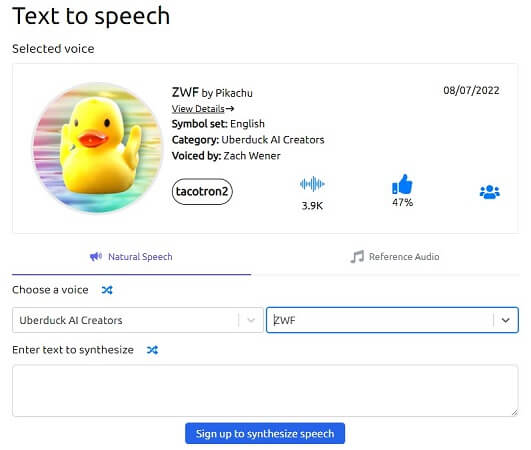 Features:
Uberduck.ai offers advanced text-to-speech capabilities, providing a wide variety of voices and language options.
Detailed Tuning Options: Users can fine-tune speech parameters like speed, tone, pitch, and inflection for customized results.
Natural Sounding Audio: The generated audio quality is impressive, making it suitable for commercial projects and presentations.
Intuitive User Interface: The platform's interface is user-friendly, allowing for quick adjustments as needed.
Limited Sound Effects: While Uberduck.ai excels in text-to-speech, it offers a limited selection of sound effects for more advanced audio editing.
Pros
Versatile Voices and Languages: Uberduck.ai provides a wide range of voices and language options to suit various needs.
Detailed Customization: Users can fine-tune speech parameters for precise control over generated voices.
High-Quality Audio: The generated speech sounds natural and is suitable for professional projects.
Intuitive Interface: The platform's user-friendly interface makes it accessible to all users.
Cons
Subscription Costs: Some features may require subscription fees, potentially adding to the overall cost of using the program.
Robotic Voice Limitation: While generally high-quality, the generated voices may sound robotic and less clear on complex sentences or topics.
Limited Sound Effects: Uberduck.ai offers a limited selection of sound effects, which may restrict advanced audio editing possibilities.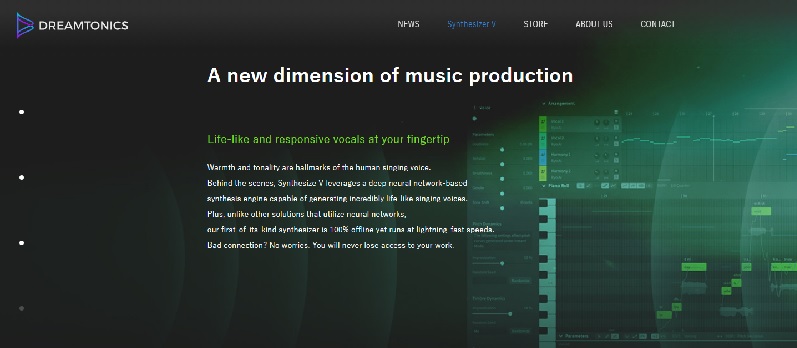 Features:
Synthesizer V is renowned for its cutting-edge AI technology that generates highly realistic singing voices from text inputs.
Create vocal tracks that are virtually indistinguishable from human vocals, making it a valuable tool for music production.
However, Synthesizer V is available as a lifetime deal only and lacks a subscription service option.
The software may be considered costly, which could deter potential users despite its exceptional AI singing capabilities.
The user interface can be complex, posing challenges for novices, and customer support options are limited.
Pros
Exceptional AI Singing Voices: Synthesizer V produces top-quality AI singing voices, ideal for creating realistic vocal tracks without hiring professional singers.
High-Quality Output: The generated vocal tracks are of remarkable quality, suitable for various musical projects.
Cons
Limited Pricing Options: Synthesizer V is only available as a lifetime deal, which might be considered expensive for some users.
Complex User Interface: The software's interface can be challenging for newcomers to the music industry, and customer support options are limited.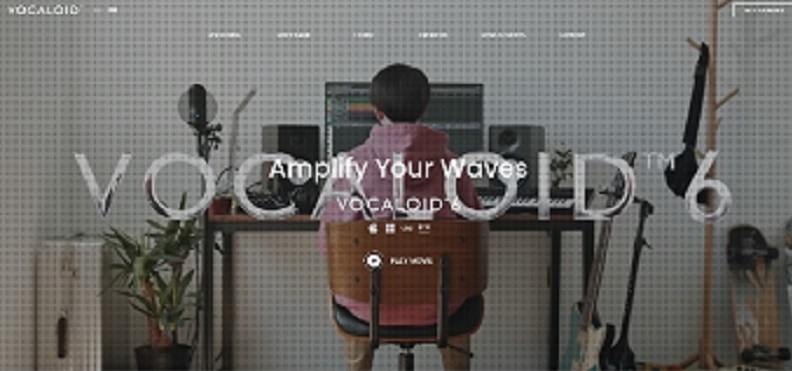 Features:
Vocaloid is a specialized AI voice generator designed for music producers, offering a wide array of essential features tailored for music production.
With an extensive selection of over 100 voices, you can easily experiment with different vocal styles on your tracks.
Vocaloid 6 introduces a voice changer feature, allowing you to transform your own melody into a different voice.
Notably, Vocaloid's note-control feature provides a level of control comparable to industry-standard tools like Melodyne.
Pros
Specialized Music Production: Vocaloid is tailored for music producers, providing essential features for music creation.
Extensive Voice Library: With over 100 voices to choose from, you can easily experiment with different vocal styles on your tracks.
Voice Changer Feature: Vocaloid 6 includes a voice changer, allowing you to transform melodies into different voices.
Note-Control Feature: This feature offers a level of control comparable to industry-standard tools like Melodyne.
Cons
Limited Free Options: Some advanced features may require a subscription, which may not be suitable for all budgets.
Learning Curve: Mastering the full range of Vocaloid's features may take some time, especially for users new to music production.
Part 5. How to Use AI Singing Voice Generator? [Step by Step Guide]
Step 1: Download and install VoxMaker
Step 2: Navigate to the "AI Generated Rap" option in the left sidebar, then click the "Change Voice' button to choose the voice suits your preferences.

Step 3: Enter your lyrics and click on "Convert" , and then you can export the speech into different formats.

Part 6. FAQs about AI Singing Voice Generator

1. How does an AI singing voice generator work?

An AI singing voice generator works by analyzing the text input to determine the melody, pitch, and rhythm of the song. The software then generates a vocal track that matches the input, using a variety of techniques to produce a realistic-sounding voice.

2.What are some popular text to speech singing voice generator software?

Some popular singing AI voice generator software includes TopMediai AI Voice Generator, Voicemod's Text to Song, and Unitool VoxMaker.

3. Can an AI singing voice generator replace a human singer?

While an AI singing voice generator can produce realistic-sounding vocal tracks, it cannot replace the nuances and emotions that a human singer can bring to a performance. However, an singing voice AI generator can be a useful tool for creating demos or rough drafts of songs before working with a human singer.

Conclusion

If you're looking for an easy way to create personalized songs, text to speech singing tools can be a great option. VoxMaker is a powerful AI singing voice generator that offers a variety of singer AI voices to choose from, along with the ability to create songs in multiple languages. With its user-friendly interface and trial version, you can easily create songs with your lyrics and experiment with different vocal styles.

VoxMaker

Providing you 3200+ popular voices and customized special voices at once.