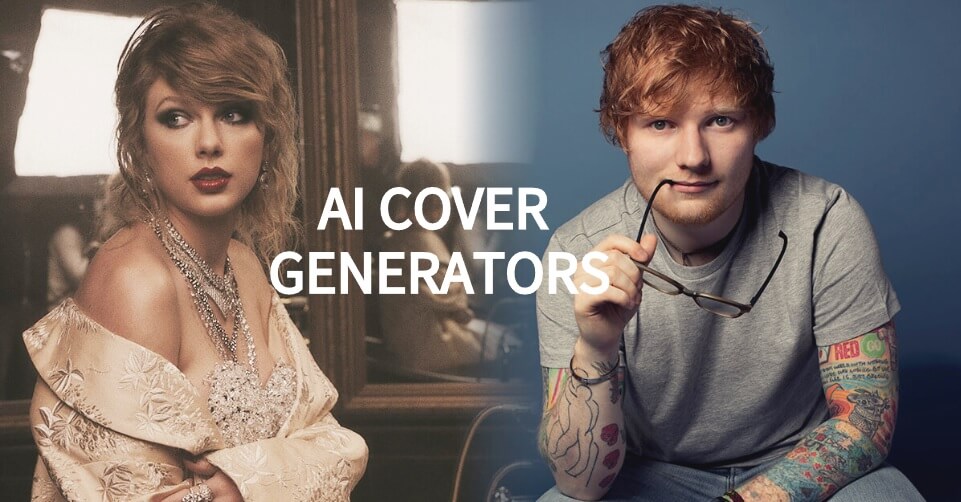 VoxMaker AI Song Generator
Any Song You Desire is Right Here.
Part 1: What is an AI Song Generator?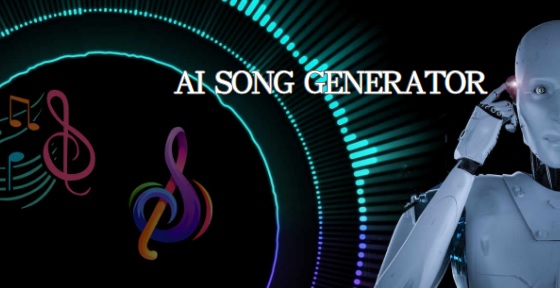 An AI Song Generator is a technology that uses artificial intelligence to generate cover versions of songs. It analyzes the original song and creates a new rendition with different vocals or in a different style. This allows users to create unique covers without the need for a full band or backing track, opening up endless possibilities for creativity and experimentation.
Part 2: Don't Worry! Comparison of 9 AI Cover Apps is Here!
Product Name
Category
Platform
Music Quality
Price
Review Rate
VoxMaker
Text to Song/Voice Cloning/TTS
Win
4 stars
$14.95/mon
4.8
Covers. ai
AI Cover Generator
Win
4 stars
$24.99/Lifetime
4.5
Voicemod
Text to Song/Voice Changer/TTS
Win+Mac Beta
2 stars
Free
4.0
MagicVox
Real-Time Voice Changer
win+mac
4 stars
$8.95/mon
4.3
Murf.ai
Text to Speech
App
3 stars
$19/mon
4.1
Soundraw
Music Generator
Online
4 stars
$19/mon
4.3
MelodyStudio
Song Melody Generator
App
3 stars
$4.99 /mon
4.2
Boomy
AI Cover Generator
Online
4 stars
Free Version or $5.99/mon
4.2
Soundful
AI Cover Generator
Online
4 stars
$29.99/Year
4.3
Part 3: Top 9 AI Cover Song Generators to Make Your Own AI Covers
VoxMaker presents a comprehensive solution, combining TTS, voice cloning, conversion, recording, and editing features in one convenient package. Its user-friendly interface, extensive voice selection, and support for various input and output formats make it a standout choice.
With VoxMaker AI cover song generator, you have the power to create your own AI song, captivating your audience or fans with mesmerizing voiceovers and music.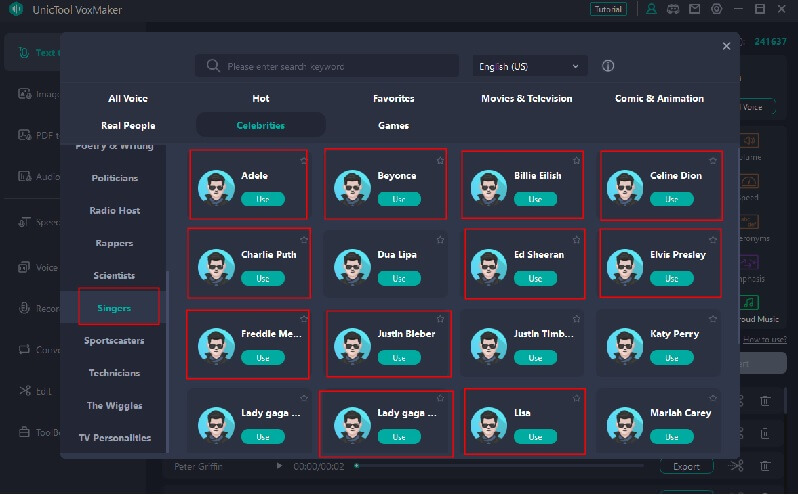 Key features:

Export songs in various formats like MP3 and WAV.

Generate realistic and expressive AI voices through text-to-speech (TTS) and voice cloning. such as singer like Melanie Martinez Ai Voice.

Access month-themed voices for engaging voiceovers following the latest trends.

Access over 3200 AI voices in 46 languages, featuring 100+ accents, ensuring natural and authentic speech.

Enjoy a user-friendly interface for easy navigation.

Benefit from enhanced security and faster processing times, ensuring efficient AI voice generation.
Listen to the Justin Bieber AI Voice demo, do you want to cover a song with his voice? try VoxMaker!
Pros
100% safe to use.
All-in-one Voice Toolkit: Users can enjoy functionalities such as text to speech, speech to text, image to speech, AI voice cloning, audio to speech, and as a voice recorder, it allowing you to record, edit, and convert your voice recordings.
Easy Operation:It is easy to record voices. The software processes TTS quickly
High-Quality Song Generation: VoxMaker utilizes advanced AI algorithms to generate songs that sound realistic and professional. It allows yoto edit your music voice with voice enhancer functions.
Versatile Music Ai Enhancer Styles: VoxMaker offers a wide range of music styles and genres to cater to diverse musical preferences, such as KPOP Music
Huge sound library: with more than 3200+ voices and and 45 languages& accents, from high-pitched female voices to low-pitched male voices, as well as various celebrity voices, such as Taylor Swift and Kanye
AI Voice Clone: Stand out from other song generator software in the market, just upload audio to clone any voice you want
Different Usage Scene: It supports you use it in Youtbe; Instagram ect.
Choose from a wide selection of voices from popular singers and rappers to create your desired AI cover songs.
Cons
Mac version is coming soon
Covers.ai is an online platform powered by AI, allowing users to create song covers including kpop songs using the voices of their favorite artists. Through sophisticated AI and machine learning technologies, the platform analyzes the unique vocal patterns and nuances of original artists and generates a fresh rendition of the song using the selected artist's voice.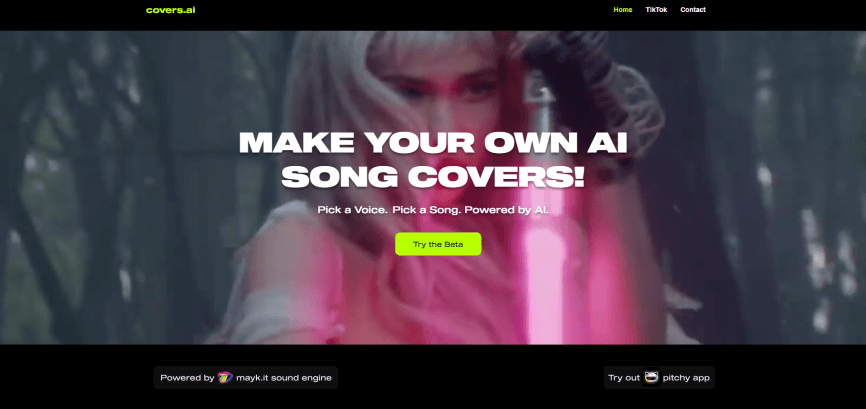 Key Features
Utilizes advanced AI-based vocal modeling technology to accurately mimic the unique vocal qualities of the chosen artist for a realistic cover.
Offers multiple customization options, including reverb and EQ controls, to fine-tune the sound of the cover.
Allows users to customize the song's lyrics and instrumentals, enabling them to create a truly unique cover.
Facilitates collaboration by allowing users to invite others to participate in cover projects, making it ideal for bands, duos, or musical groups.
Provides professional-grade output files that meet the standards required for professional music production and live performances.
Pros
Accurate Vocal Mimicry: it utilizes advanced AI-based vocal modeling technology to accurately mimic the unique vocal qualities of the chosen artist, resulting in realistic covers.
Customization Options: Users have access to multiple customization options, including reverb and EQ controls, allowing them to fine-tune the sound of their cover to their liking.
Personalized Lyrics and Instrumentals: it allows users to customize the lyrics and instrumentals of the song, enabling them to create a truly unique cover that reflects their artistic vision.
Cons
Currently only beta
Not free
Limited voices
Voicemod's Text to Song feature provides an entertaining and straightforward method to transform text into catchy musical memes. With a wide range of singers and instrumentals to choose from and a user-friendly creation process, you can easily convert text into AI cover songs. Whether you want to enjoy them personally or share them with others, Voicemod allows you to listen to and distribute your creations effortlessly.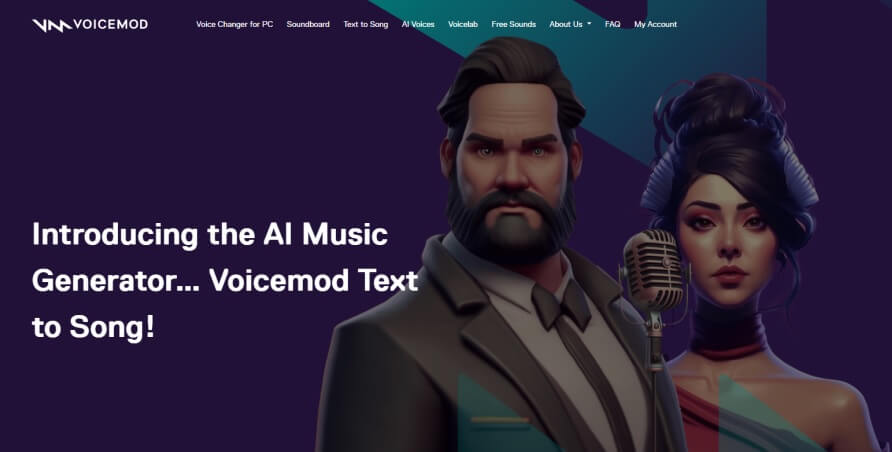 Key Features
Access a wide range of singers and instrumentals, providing a diverse selection for creating unique songs.
Enjoy a simple and straightforward process when creating songs, making it easy for users of all skill levels.
Benefit from cross-platform compatibility, allowing you to use the software across different devices and operating systems.
Receive "Best Match" singer suggestions to find the perfect voice for your desired song.
Explore the fun and creative side of music by creating musical memes that can entertain and engage others.
Pros
Easy to operation: As a music meme machine, allowing users to generate music memes with ease and creativity.
Diverse sound effects: Generate various sounds and effects, providing users with a wide range of options to enhance their music creations.
Voice Changing Feature: Voicemod includes a voice changing feature, enabling users to modify their voices and add unique vocal effects to their compositions.
Cons
Only seven singer's voice
Tricky Interface
Limited Melodies
Limited Sound Effects
Limited Voices.
Whether you're an aspiring musician, content creator, or simply someone with a passion for music, MagicVox AI Cover Song Generator offers a unique and accessible way to unleash your creativity. Discover how to harness the power of artificial intelligence to compose original songs, experiment with different genres and styles, and bring your musical ideas to life like never before.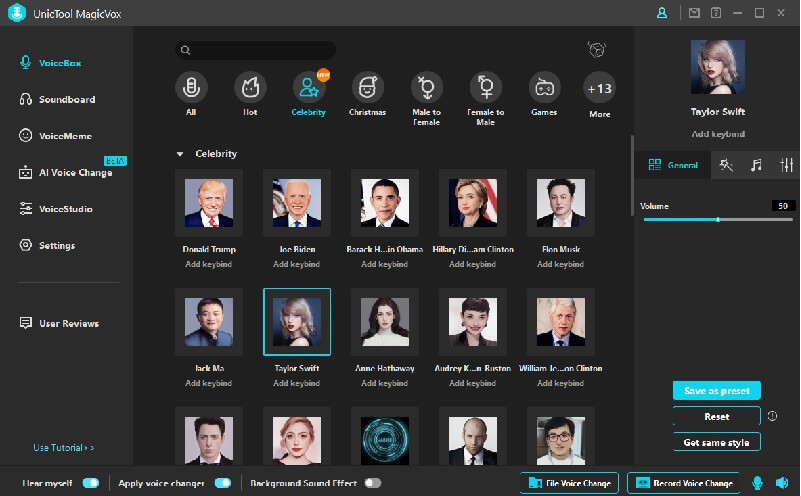 Pros
Real-time Voice Change: change your voice into any characters you like at once in gaming or live streaming.
Easy Operation: Easier interface for those with disabilities
Increased efficiency: Faster completion of tasks
Personalization: Tailored experience based on user behavior
An intuitive interface : it is easy for users to create their own Weeknd-inspired tracks.
High-quality audio output : accurately reproduces the singer's vocal characteristics.
Cons
Learning curve: New commands to learn
With Murf TTS software, you gain access to a vast collection of over 130 AI voices in various accents and tones. This versatile tool allows you to generate AI-powered speech for a wide array of applications, including videos, presentations, brand commercials, e-learning materials, YouTube content, audiobooks, podcasts, IVR calls, and more.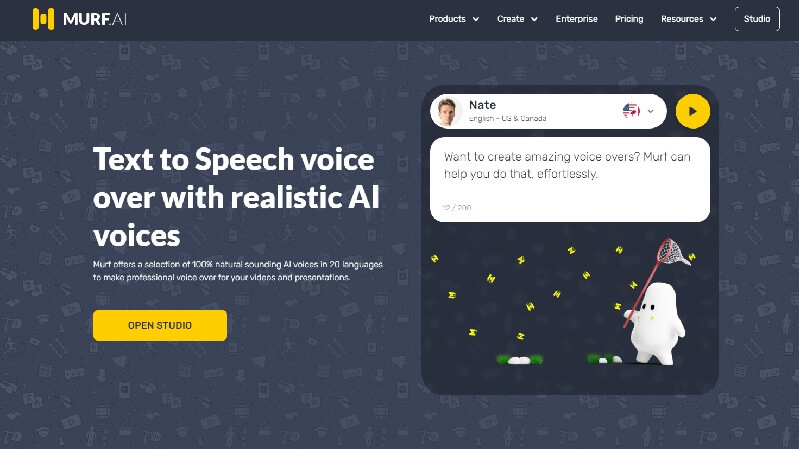 Pros
Voices Edit: Experience effortless creation of flawless voice overs using Murf, which allows you to personalize elements like pitch, pauses, and pronunciation with ease.
High quality voices output: Murf ensures top-notch quality by eliminating robotic-sounding voices, guaranteeing exceptional audio output.
20 languages: Choose from a diverse range of voices in 20 languages provided by Murf, giving you flexibility and global reach.
User-friendly interface : Enjoy a user-friendly interface that simplifies tasks such as cutting, copying, pasting, and rendering for seamless editing of voice overs.
Cons
Sometimes lagging.
Limited voices.
Soundraw is a cutting-edge AI music generator designed to empower musicians and content creators in crafting unique and personalized music.
With its extensive collection of customizable tracks, Soundraw offers a diverse range of options to suit any project or creative vision.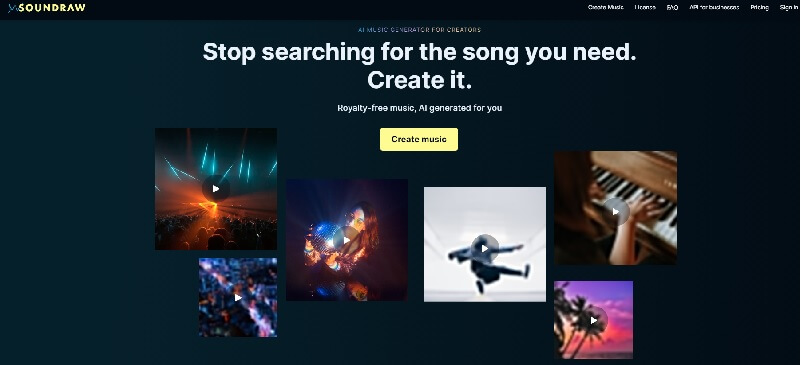 Pros
Support customized Voices: customizing the mood, genre, and duration of your preferred tracks.
Powerful voices functions: Elevate your narrative and evoke powerful emotions by incorporating AI-generated songs that enhance the overall experience and captivate your listeners.
Cons
Complicated to use.
Limited voices.
MelodyStudio is a free AI Song Cover Generator and it revolutionizes music creation, offering songwriters and music creators greater control and creative freedom. Its AI-assisted vocal melody and lead sheet creation features provide an intuitive and powerful platform for elevating your music.
Whether you're a beginner or a seasoned songwriter, MelodyStudio has everything you need to generate unique and original melodies that make your music stand out.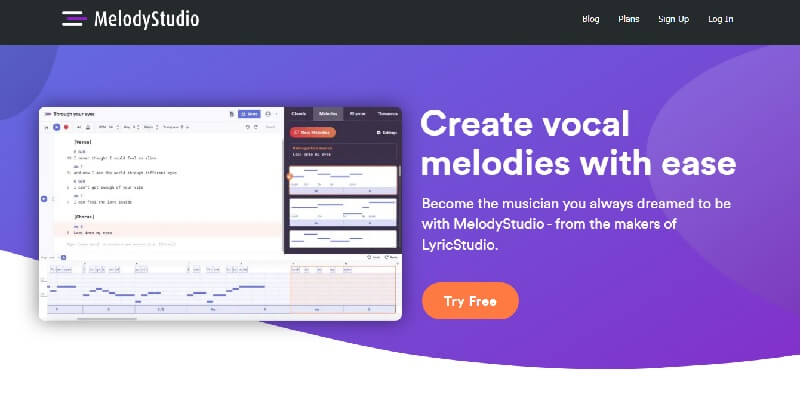 Pros
Easy to use: The platform is user-friendly and intuitive.
Support customized Voices: MelodyStudio offers a wide range of customizable options, allowing users to personalize their music and tailor it to their unique vision and style.
Voices Edit: The platform provides a vast library of sounds, instruments, and genres.
Cons
Lack the human touch and emotional depth.
The platform's features and functionalities may be limited compared to professional music production software, restricting advanced customization options.
Users may experience a learning curve when first using MelodyStudio, particularly if they are not familiar with music theory or composition.
Limited voices.
Unlock the incredible world of music creation with Boomy AI cover generator, the game-changer that's breaking down barriers and opening doors for aspiring musicians like never before. Say goodbye to complexity, and say hello to original songs at your fingertips.

Pros
Discover for Free or Elevate with Subscription: Choose the path that suits you. Boomy offers both a free version to get started and a subscription option that unlocks advanced features, taking your music to new heights.
Earn from YouTube & TikTok: Submit your tracks through Boomy, open doors to streaming revenues as your music resonates worldwide. It's your passport to recognition and income!
Empower Your Creativity: Boomy's toolbox offers endless possibilities. Craft unique sounds, play with styles, and refine your musical vision. It's your studio in the cloud.
Personalized Profile, Musical Evolution: Start with Boomy, and watch your personalized profile grow. Reflecting your creative journey, it fine-tunes your craft over time, evolving in step with you. A partnership for lifelong musical growth.
Cons
Copyright and Licensing Issues
Quality Variation
Soundful harnesses the AI's might to craft original, royalty-free background music for your videos, streams, podcasts, and more, all at the touch of a button.
The process is wonderfully intuitive. Select a genre, tweak the inputs to suit your taste, and create your tracks. It's a seamless cycle - repeat until you discover the perfect track for your needs. It's that effortless.
Whether you're a beginner or a seasoned songwriter, Soundful has everything you need to generate unique and original melodies that make your music stand out.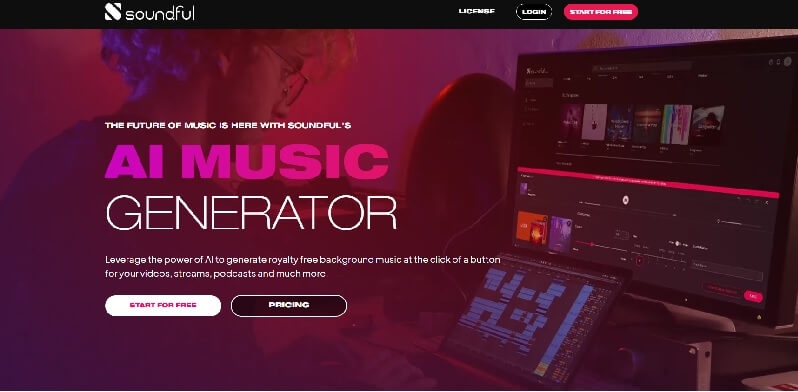 Pros
Simply render the high-resolution file and download the stems. It's a streamlined process that ensures you get the music you love without any hassle.
Leave copyright concerns behind. Dive into a treasure trove of unique, royalty-free tracks that seamlessly align with your content, keeping you worry-free and protected.
Soundful offers an affordable solution, delivering studio-quality music that's tailored precisely to your brand's needs.
Cons
Lack of Authentic Emotion: AI-generated covers may lack the emotional depth and authenticity that human musicians bring to their performances.
Part 4: How to Use AI Cover Generator? [3 Steps]
1

Access the AI Cover Song Generator Platform that you like and upload your own audio song.

2

Choose the preferred voice you'd like to apply to your uploaded audio song.

3

Customize and Generate the AI Cover Song.
Tips
If you have a song on YouTube, consider utilizing a YouTube to MP3 converter.
AI cover songs are most effective when based on uncomplicated harmony and unprocessed tracks such as acoustic or acapella renditions.
For enhancing the generated song's quality, extract the individual stems into a music production software and balance the layers during mixing.
Please be attentive to copyright concerns while using AI covers.
Part 5: Why are AI Cover Song Generator so Popular?
The popularity of AI Cover Song Generators can be attributed to their capacity to offer novel and intriguing musical experiences. These tools enable users to reimagine existing songs with different voices and styles, fostering creativity and exploration.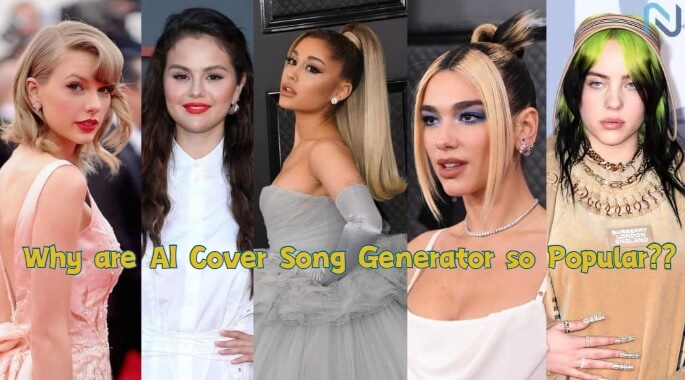 Users enjoy them for fun, imitation of popular songs, and content creation on platforms like TikTok and YouTube. These generators offer convenience, enabling high-quality covers without extensive musical skills. AI covers provide avenues for musicians, creators, and enthusiasts to showcase talent, experiment, and explore creativity. Beyond TikTok, music platforms like Spotify and SoundCloud also embrace AI-generated covers, replicating tracks by renowned artists. Ultimately, AI cover song generators blend technology and musical passion, facilitating artistic expression and engagement across social media.
Part 6: FAQs about AI Song Generator
How does an AI Cover Song Generator work?
An AI Song Generator typically employs machine learning algorithms, such as deep learning neural networks, to learn from a vast dataset of existing songs. The model is trained to understand musical patterns, harmonies, melodies, rhythms, and lyrics. Once trained, it can generate new music by combining and altering these learned elements in novel ways.
Can an AI Cover Song Generator create songs in different genres?
Yes, an AI Song Generator can be trained to create songs in various genres. By exposing the AI model to a diverse range of musical styles and genres during training, it can learn to mimic and generate music that aligns with specific genres, such as pop, rock, classical, jazz, or hip-hop.
Can an AI Song Generator write lyrics for songs?
Yes, an AI Song Generator can be designed to generate lyrics as well. By training the model on a dataset that includes song lyrics, it can learn the structure, vocabulary, and rhyming patterns used in songwriting. However, the quality and coherence of the lyrics generated by AI can vary, and they often require human intervention to refine and make them more meaningful.
Conclusion
Whether you're a musician or a music enthusiast, these AI cover generators empower you to unleash your creativity effortlessly. By harnessing advanced machine learning algorithms, it ensures that the generated AI cover song possess a professional-quality that rivals human-created compositions. Discover the boundless possibilities of AI song cover generators with VoxMkaer AI Cover Song Generator and MagicVox AI Song Generator are your best choice from the aspects of numbers of voices and voices functions.
VoxMaker
Providing you 3200+ popular singer voices and customized special voices at once.