For all the excitement of a new phone, there's also the chore of setting it up and moving data over, especially when you move between platforms. Google's Pixel phone is one of the best Android phones on the market, but despite all its features, it can't transfer everything from an iPhone. While it is possible, if you know how, to copy WhatsApp messages from iPhone to Pixel, it cannot be accomplished by WhatsApp alone.
You can save your WhatsApp messages and attachments from your iPhone in several ways, and much will depend on how you use WhatsApp and what you want it to be like on your new phone.
Part 1.

Can You Copy/Transfer WhatsApp from iPhone to Google Pixel via Backup?

The simple answer is no, you can't transfer WhatsApp between iPhone and Pixel via backup.

Backing up your data is crucial; it means that you can keep your data safe and recover it if anything happens to your phone. There are two ways to back up WhatsApp on your iPhone. You can use WhatsApp to back up its own database, you can set this to happen daily, weekly or monthly. If you need, WhatsApp can restore from this database. You can also use the iCloud back up function, which will include WhatsApp data, however, you can only restore this database as part of a system-wide restore.

Unfortunately, these backups will only work on iPhone. They are very useful for protecting your data, and you can use them if you are moving between iPhone, but because the databases used in iPhone and Android devices are different, you simply cannot use the backup on one platform to restore to another.
Part 2.

Copy/Migrate WhatsApp Messages from iPhone and Read Them on Pixel

Though there's no such a direct way to copy WhatsApp from iPhone to Google Pixel via backup, you can do it with a more flexible way. It is possible to move your messages and attachments from your iPhone, so you can view them on your new Pixel. This involves exporting your chats, then saving on your new phone or in a connected cloud account, such as Google Drive.

First, you need to export chats from your iPhone.
1

In WhatsApp, find the chat you want to export, then tap on the contact or group name at the top.

2

Tap on the 'Export Chat' option towards the bottom.

3

If any media have been shared in the chat, you will be asked if you want to 'Attach Media' or 'Without Media'. Adding media will include all attachments, but can create a huge file size.

4

Your iPhone will then present a share sheet, from which you can choose how to handle your file, for example emailing it to yourself or saving it to a cloud location.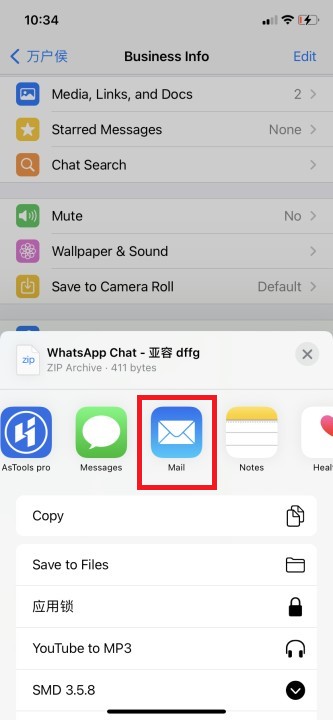 Next, you need to transfer these to your new Pixel. How you view them will be a matter of personal preference.
1

Save the file in a location you can access from your phone, for example on Google Drive.

2

Use a relevant app to view the export, the messages will be exported as a text file, while attachments will need a suitable viewer depending on type.

3

Extra tip. You can find a number of 'WhatsApp chat viewer' apps that replicate the WhatsApp interface but read the exported format, allowing you to view chats more easily you have exported this way on your Pixel or even your computer.
There are lots of disadvantages to this method. The biggest drawback is that the export cannot be imported back into WhatsApp. Although you have your messages, you can only read them outside WhatsApp. Your WhatsApp will be empty until you start sending and receiving messages on your new phone.
The export is also limited if you are a heavy WhatsApp user. The maximum export size is 40,000 messages if you don't include attachments, and 10,000 messages with attachments. While this might seem a lot, when you consider that a message can be a single 'OK' or emoji sent or received, and think about how many messages are exchanged in even a small chat, it quickly adds up. There are approximately two billion people on WhatsApp sending a hundred billion messages a day, so an average user would send and receive 10,000 messages in just over six months.
Finally, the process is also slow and difficult. Each chat has to be exported individually, which may not be a problem if you only have a few chats. However, most people will have many individual chats and be members of lots of different groups. Exporting each individually is a slow and laborious process. All it takes is a handful of friends, and group chats for things like work, school and social activities, to have a long list of chats to export.
Part 3.

Copy and Move WhatsApp Messages from iPhone to Pixel Easily (iOS 15 Supported)

The easiest way to copy WhatsApp Messages from iPhone to Pixel is to use an app like ChatMover. ChatMover can manage your WhatsApp database on any device, allowing you to copy and transfer it, back it up or even search it on your computer.

ChatMover offers a quick and straightforward way to transfer your data between any devices, regardless of platform. And for iPhone, it is compatible with iOS 15. The process has just three steps.
1

Open the app on your computer and connect your phones.

2

Select one phone as the source and one as the destination.

3

Click 'Transfer'.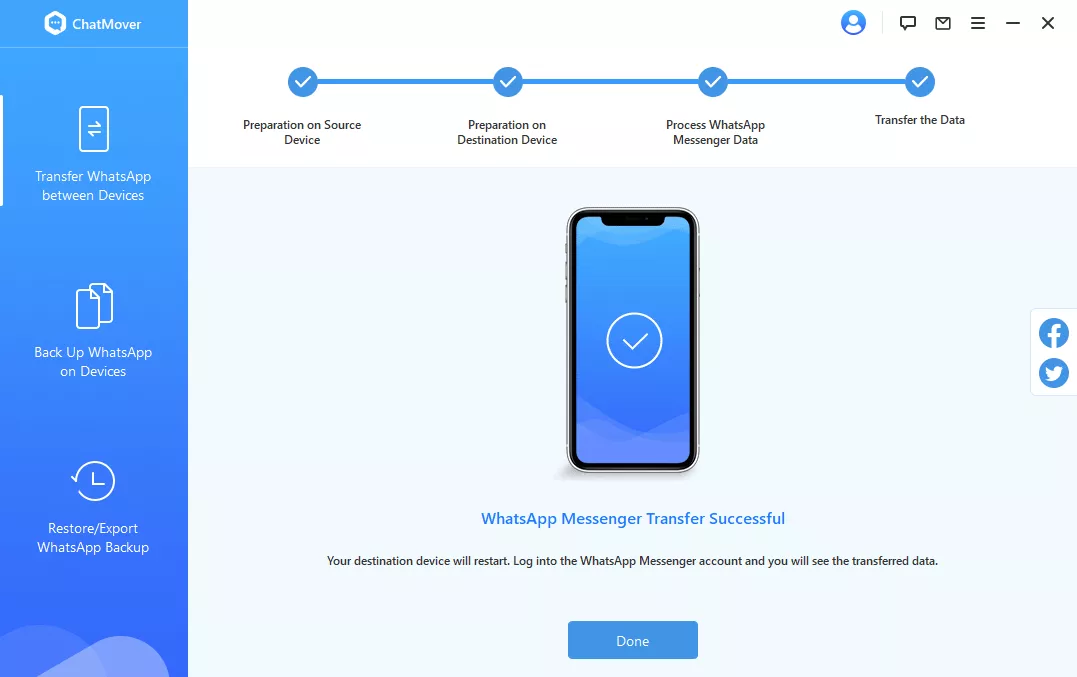 And that's it, in a few moments your database will be on your new phone, and you will have a seamless WhatsApp experience.
Extra Tip.

What Type of Data Can You Transfer When Switching from iPhone to Pixel?

Although it can't transfer your WhatsApp data, your Pixel can import a host of data from your iPhone when connected via an adaptor. This will include messages from the iOS messaging app, photos, contacts, and even apps that have equivalents on the Google Play Store.
Wrapping up
Unfortunately, the differences between the database in iOS and Android mean that you can't directly transfer your WhatsApp database. There are ways to export messages and attachments, so you can keep them and refer to them later, but they won't be integrated into WhatsApp.
But when you know how to copy WhatsApp messages from iPhone to Pixel using ChatMover, it's quick and easy to enjoy a seamless WhatsApp experience. ChatMover is the most powerful way not just to transfer your WhatsApp data, but to keep safe and secure backups and have local copies of your data that you can search and export however you want.