A built-in framework that supports MDM (Mobile Device Management) is available on iPhones, iPads, and Macs. MDM is ideal for businesses and organizations as it allows the devices' administrators or owners to handle the devices remotely. However, when it comes to the users, being monitored by MDM restricts their free use of the devices. Furthermore, if they want to sell their devices, they must first remove the MDM profiles installed, or else the profiles will prevent other individuals from using the devices in a normal way.
3uTools is a third-party program that many people opt for when it comes to bypassing and removing MDM. Does it really work? Are there any drawbacks? Can we find a qualified alternative? In this article, we'll give a full review of 3uTools in view of its MDM bypass function.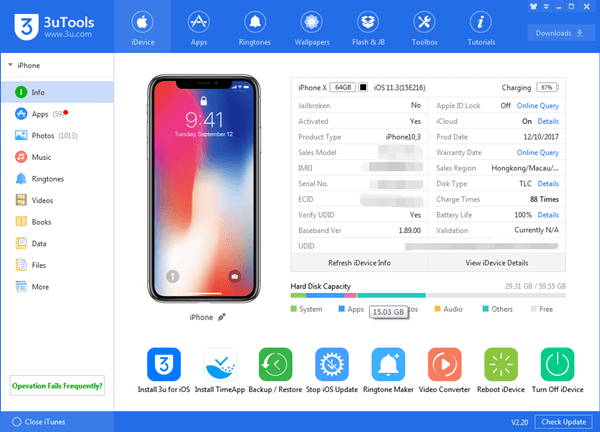 Part 1.

Everything About MDM Bypass
1. What Is MDM?
MDM is the management of mobile devices such as cellphones, tablets, and laptop computers. It is often installed with the help of third-party software that includes management capabilities for certain mobile device makers.  
Essentially, MDM allows administrators to configure devices by sending specific commands and profiles, wirelessly and in a secure manner. MDM profiles are used to set and apply configuration settings on mobile devices for an easier control. To put it another way, applying a MDM profile on your iPhone, iPad or Mac Book allows the administrator to modify settings of your device once and for all instead of doing it on individual basis.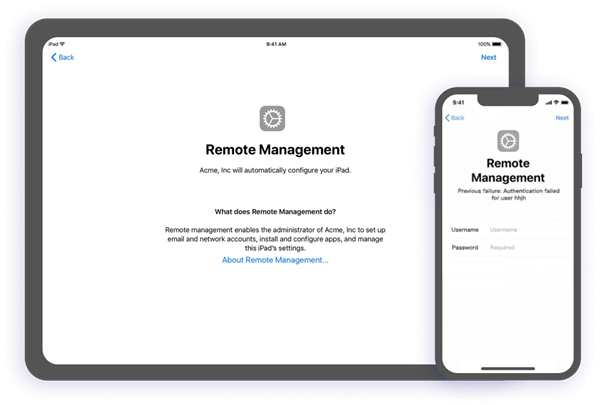 MDM's general goal is to improve device supportability, security, and corporate functions while still allowing users some freedom. The increased use of mobile devices and similar smart gadgets over the past few decades has prompted MDM solutions that allow for consistent and scalable mobile device management.
MDM provides an organization various capability such as updating software and device settings, monitoring compliance with organizational policies, and also gives them the benefit of remotely wiping or locking devices. In order to avail all the above-mentioned benefits, organizations have to enroll their employees' devices into MDM using services such as Apple Business Manager.
2. Why Bypassing MDM?
Many organizations have adopted entirely mobile or mobile-first labor since mobile devices now offer more features than ever before. Mobile devices owned by individuals and organizations are the primary devices used to access or interact with corporate data in these sorts of contexts. Device management becomes more efficient, easy, and cost-effective, and it can serve users without the assistance of IT.
Despite the many advantages of  MDM, some individuals might not be comfortable having MDM on their particular devices and are seeking to bypass MDM for various reasons. For example:
1

System administrators have too much authority with MDM, as they can send instructions to devices, thus managing devices remotely as well as centrally.

2

The administrator can restrict the use of the particular device. Essentially the device becomes supervised, hence the user cannot enjoy all the features and functions as he want.

3

Users of MDM enrolled devices may fear that they are being monitored, their personal data is unprotected and their privacy is at risk.
Part 2.

3uTools & MDM Bypass
1. What Is 3uTools?
3uTool is a one-stop-shop for all your Apple device needs. The application promotes data management as well as jailbreaking your iPhone. To be more specific, 3uTool makes it so easy to manage apps, photos, music, ringtones, videos and other multimedia files. What's more, it may be used as an assisting tool to defeat MDM lock, activation lock, and backups.
2. How to Use 3uTools for MDM Bypass?
It's a lot easier than you would think to get around the MDM lock on your iPhone. All you'll need is a locked iPhone, a USB cord, and a computer with the 3uTools application installed. All you have to do is follow the procedures to circumvent iPhone MDM for free. Because Apple products are always smart, every function on 3uTools should be approached with caution.
Step 1. Go to Settings > General > Transfer or Reset iPhone > Erase All Content and Settings. Then finish the setup as required.

Step 2. Download the latest version of 3uTool on your computer and install it.
Step 3. Connect your iOS device to your computer after opening the "Remote Management" page on your device. Wait for some time before 3uTools recognizes your device. Your device's information will be displayed on the screen. Confirm these details and proceed to the next step.
Step 4. Select Skip MDM Lock from the Toolbox section. Proceed down and choose Skip Now when the confirmation box pops up.

Step 5. There will be another pop-up to confirm that you want to deactivate the device. Click Deactivate to proceed.

Step 6. This tool will start to bypass the MDM lock screen on the setup process. However, the MDM lock screen is only temporarily bypassed. You will be stuck on the "Remote Management" lock screen again when you reset your device the next time.
3. Pros & Cons of 3uTools MDM Bypass
Pros
3uTools is simple to use and do not require any prior technical knowledge.
This tool is free of cost if you want to bypass MDM on your mobile device.
It is an all-in-one tool for iOS devices which not only helps you skip MDM lock but also enable you to jailbreak your device.
It also comes up with other device management tools like backup and restore, convert audio and video files, icon management, photo compression and data transfer.
Cons
It is compatible with only iOS 4 through iOS 11.
It cannot work on Mac computer.
It is not a completely free tool. You can use it for free only within the trial time period.
In comparison to other professional tools, the success rate is low.
There is a danger of data breach.
Part 3.

[The Best Alternative] Bypass MDM via LockEraser

To efficiently circumvent MDM without a password, you'll need a sophisticated program. Fortunately, UnicTool LockEraser is a very effective MDM bypass tool available on the market. It perfectly remedies 3uTools' limitations when it comes to bypassing and removing MDM. What's more, the success rate of LockEraser is nearly 100% up till now, which is a really good thing.
Capable of bypassing and removing MDM on iOS devices without difficulty.
No password or technical knowledge is required.
Work smoothly on both Windows and Mac computer.
Compatible with all the latest versions of iOS and iPadOS devices.
Provide a secure and professional way to bypass/remove MDM by oneself.
Remove various iDevice locks effectively: Apple ID lock/screen lock/screen time lock.
1

Download, install and launch LockEraser on your computer. Choose the Bypass MDM mode, then get your device connected.

2

There are 2 different modes: Bypass MDM and Remove MDM. Select Bypass MDM if you are stuck on the lock screen, while choose Remove MDM if you want to remove the restrictions. Click the Start button to proceed.

3

Wait patiently while LockEraser is bypassing or removing MDM for you. It won't take long.

4

Once the MDM is successfully bypassed or removed from your iPhone or iPad, you'll get a notification.
Conclusion
Your worries about bypassing and removing MDM from your iOS devices are over now. If you are seeking to get rid of the MDM lock on your device, 3uTools is an option - with many limitations. Luckily, there is a best alternative available, LockEraser. It is a comprehensive and effective solution to various iOS lock issues and enables anyone to bypass as well as remove MDM with just simple clicks.