Apple ID is the account that enables you to access the various features, services and functions of your iOS device. Having an Apple ID, you can use any application that is specifically created by or for Apple with simplicity and convenience, and this even includes looking at messages or processing a payment.
Considering that Apple ID depends upon incredibly valuable personal information, it makes sense that Apple is quite strict when it comes to using your Apple ID so that your device's security isn't compromised in any way. Having your Apple ID locked for security reasons is a common complaint amongst iOS users, but fortunately there are some relatively straightforward ways to address this problem.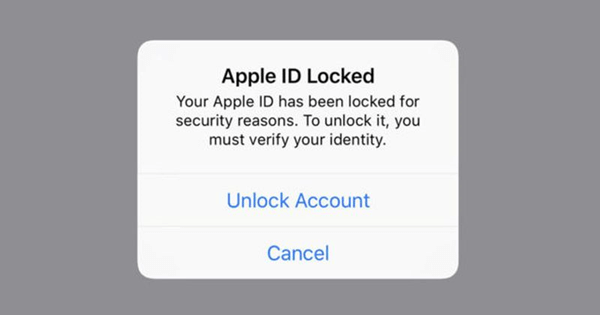 Part 1.

Your Apple ID Has Been Locked for Security Reasons?

Whenever a potential threat or unauthorized entry into your iOS device is detected, your Apple ID will immediately get locked in order to ensure that your personal information is not stolen. There are some actions which can trigger this response, including:
Entering the wrong Apple ID credentials too many times when you log in.
Answering the security questions incorrectly.
Using third-party apps that Apple deems to be unsafe.
Apple believes that your device has been hacked for some reason.
Once your Apple ID has been locked for security reasons, you can no longer use important Apple services and functions including FaceTime, iTunes, iMessage, iCloud, Apple Music and App Store. This can be a frustrating problem as you're no longer allowed to use your device in the way that you want to.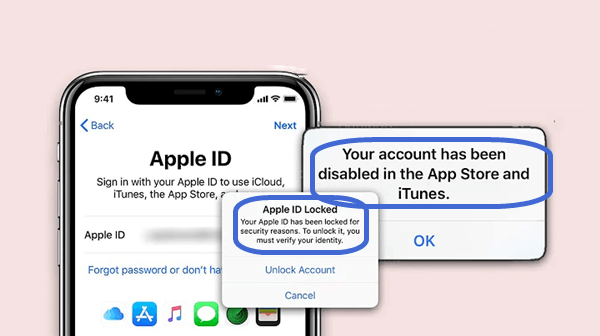 If your Apple ID has been locked for security reasons, then you've come to the right place. Following is a detailed breakdown of the many options that are available to you if you are keen to regain access to your Apple ID.
Part 2.

Unlock Apple ID With Professional Tool

LockEraser is an effective and reliable bypass application that can be used on all iOS devices. It has been designed to accommodate a range of situations and circumstances, one of which is if your Apple ID happens to become locked due to security reasons.

With LockEraser, anyone can unlock Apple ID easily with only 3 steps. By removing the existing Apple ID and iCloud account from your device, you'll be able to set set up your device with a different Apple ID or create a new one.

There are several design considerations and integrated elements which truly distinguish this software from its competitors:
Unlock Apple ID effectively so that you can regain all iCloud services and Apple ID features.
No Apple ID password is required to complete the process.
Provide an easy solution for anyone, requiring no technical knowledge.
Work seamlessly for almost all iOS versions and models.
Securely, reliably and efficiently gain access to your device again.
1

Download, install and launch LockEraser on your computer. Choose the Unlock Apple ID mode, then get your device connected.

2

Click the Start button to remove the Apple ID and iCloud account presently associated to your iOS device.

3

Wait patiently while LockEraser is unlocking Apple ID for you. It won't take long.

4

In just a few seconds, LockEraser will get the unlocking work done.
Part 3.

Unlock Account Using a Trusted Phone Number

Two-factor authentication is an additional layer of security which protects your iOS device from unauthorized access. When you are setting this up, you will have the option to select a trusted number.

This number can either belong to you or to someone else, and it will ensure that whenever you enter your login credentials on a new device you will have to provide two pieces of information. First it will be your password, and then a code that is sent via text to the trusted number.
1

Tap on Unlock Account when you see the error message.

2

Enter the trusted phone number when you are prompted to do so. Then tap on Next on the upper right corner.

3

You'll then receive a code that is sent to your trusted phone number. Enter this verification code on your iOS device.

4

You will be prompted to enter your Apple ID password. If you don't have it then select Forgot Password.

5

Enter the screen passcode and create a new password for your Apple ID.

6

After this, you can sign in with your Apple ID and new password.
Part 4.

Reset Apple ID Password Using the Apple Support App

The Apple Support app is a brilliant tool that could definitely help you if your Apple ID has become locked. For this you will need another Apple device on hand that is separate to the one you are trying to resolve the issue with.
1

Open the App Store and then download the Apple Support app on the iOS device.

2

Once the installation is completed, launch the Apple Support app.

3

Within the app, click on the Topics section and then select Password & Security.

4

Then choose Reset Apple ID password and tap on Start. It is at this point that you can choose a different Apple ID.

5

Enter the username for the Apple ID that you want to reset, and then proceed with Next.

6

The on-screen instructions should enable you to change your Apple ID password, and ultimately reaccess your Apple ID.
Part 5.

Reset Apple ID Password Using the Find My App

By using the Find My app, you can potentially unlock your Apple ID without a password. It will take several minutes to completely clean up your device, and securely remove your existing Apple ID without you having to enter any credentials.
1

Launch the Find My application.

2

Go to the sign in screen, and ensure that the Apple ID field are empty.

3

Tap on "Forgot your Apple ID or password?" option.

4

From there, the on-screen instructions should allow you to change your credentials and restore your Apple ID.

Part 6.

Reset Apple ID Password Using The iForgot Service

If your Apple ID has been locked due to a suspected security breach, then the iForgot service is always an option. It is important to keep in mind, however, that this particular technique will only work if you can remember the answers to your security questions or you have kept the security code that you received when you were first making your account.

1

First and foremost, you will have to visit the following link Recover Your Apple ID - Apple (UK)

2

Enter the Apple ID that you want to unlock in the provided field and select Continue.

3

If you have two-factor authentication, you will have to enter a verification code that will be sent to your trusted number. If you don't have this, you will have to carefully answer your security questions..

4

Upon the completion of the verification process, you should be able to restore and reopen your Apple ID.

Conclusion

Apple protects it devices with many effective security features, one of them is that your Apple ID will become locked if there are too many incorrect sign-in attempts or if any unauthorised access is detected. If your Apple ID just become locked by accident, fortunately there are several ways that you can fix Apple ID locked for security reasons issue.

Compared to the other solutions, LockEraser has a number of crucial advantages. The interface is incredibly easy to navigate, and it will unlock your Apple ID without password in just three simple steps. What are you waiting for? Go and have a try now!