Imagine not being ableto download any app of your choice from the App Store or access iCloud services on your iPhonedevice. Yes, that's exactly how it is when you forget your Apple IDpassword!
Everything from accessing the iCloud service to utilizing iTunes is restricted if you somehow forget your Apple ID password. Luckily, that is not the end of the world. We have come up with quick fixes that can help you reset your Apple ID password quickly.
Part 1.

What if I Forgot Apple ID Password?

Apple ID is an accountthat helps you utilize various services of the company, including FaceTime,Apple Books, iTunes, iMessage, iCloud, Apple app store, and more.

The ID consists of your login credentials, including the email andpassword to sign in to the device. It also includes personal information suchas contacts, security, and payment credentials that make using various Appleservices across multiple devices a breeze!

All you need is asingle Apple ID to access the various services of the company on multipledevices. However, the blessing turns into a curse if you somehow forget theApple ID and everything goes haywire.

The reason why peoplewant to know how to change Apple ID password is that forgetting one can triggera lot of problems. Here is what losing the Apple ID password can cost if youdon't know how to get it back.
1. Cannot Download New Apps from the App Store
Forgetting the AppleID password means you will not be able to access and download paid apps fromthe App Store. As the payment method andusers' information are linked to the ID, there is no way to continue withoutentering the right ID password.
In addition, forgetting thepassword means the paid app shared with other devices under the same ID willsuffer once the payment schedule arrives.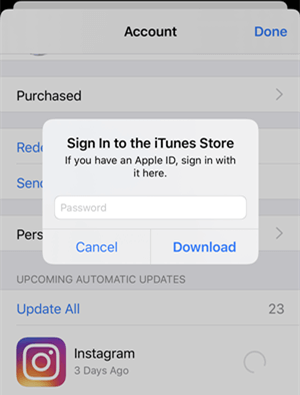 2. Lost Access to Several Online Services
Apple ID is thegateway to various services offered by the company. It allows you to accessservices such as FaceTime, iMessage, iTunes, Apple Pay, Apple Books, Find My,Apple Arcade, Apple News, Apple Books, and other such services. And forgetting the Apple IDpassword linked to your device means youwill no longer be able to use these services on your iPhone and iPad deviceunless you find a way to recover your password.
3. Lost iCloud Data
iCloud is a wonderfulservice for iPhone and iPad users as it lets you store lots of personal data ona highly secured cloud storage platform. However, without your valid Apple ID password, you won't be able toaccess the data stored on iCloud. In other words, you may lose all of your dataif you fail to recover your Apple ID password once it is forgotten.
4. Have Difficulty in Setting up a New Apple Device
One of the mostsignificant aspect of Apple ID is that you can use your existing ID to set upany new Apple device you have recently purchased. For example, you can use yourexisting ID to set up a recently purchased iPhone. Using this method, you cansync the data on your new device within seconds. To be more specific, you can get contactinformation, calendar schedules, backup data stored on iCloud and iTunes, etc.,when you set up your device with the help of the current Apple ID andpassword.
However, if you failto remember your Apple ID password, you will no longer enjoy such perks. That is where the journeyof how to reset or find Apple ID password begins fora common user.
Fortunately, you haveseveral options for resetting your Apple ID password quickly. Below are some time-tested methods that have helpedmillions of users across the globe to reset Apple ID password without involving any hassles.
Part 2.

Reset Apple ID Password on Your Own Devices

It is very easy andquick to fix forgot Apple ID password issue by navigating Settings in your Apple device. The followingare two different methods you can use to reset your Apple ID password on aniPhone/iPad/iPod touch, and Mac device.
2.1. On iPhone, iPad, or iPod touch
Step 1: Open Settings and tap your name at the top of the window.
Step 2: Tap Password & Security. Then click Change Password to reset the password of your Apple ID.

Step 3: Changing the password requires entering the existing screen passcode on your device. Enter the passcode to proceed further.
Step 4: Create a new password for your Apple ID in this step. You will be required to enter the updated password and verify it to avoid typos.
Step 5: In the last step, you can choose to remove the Apple ID credentials from all the other devices previously connected.
2.2. On Mac
Using the methoddescribed above works wonders for iPhones and iPads, but what about Macs? The followingsection of the guide answers your question on how to change the Apple IDpassword on Mac.
With macOS Catalina:
Step 1: Open the Apple menu, scroll down and click System Preferences.
Step 2: Tap on your Apple ID and click Password & Security. If you're asked to enter your Apple ID password, click Forgot Apple ID or password and follow the onscreen instructions.

Step 3: Select Change Password and enter the new credentials for your Apple ID. It will require entering a new password and verifying it. You will have to enter your unlock password for your Mac in this step.
With macOS Mojave, High Sierra, or Sierra:
Step 1: Open the Apple menu, scroll down and click System Preferences.
Step 2: Click iCloud and choose Account Details. If you're asked to enter your Apple ID password, click Forgot Apple ID or password and follow the onscreen instructions.

Step 3: Go to Security > Reset Password or Change Password. You'll be required to enter the unlock password for your Mac here.
Part 3.

Reset Apple ID Password on Other Devices

The above two methodswork best if you want to change your Apple ID password using your own device.However, if you cannot remember the unlock password of your device or cannot access the devicecurrently (or the device has been stolen), you can use other devices instead.
3.1. Use the Apple Support App
The Apple Support appis an excellent tool that usually helps people who want to find Apple IDpassword.
Step 1: Get the latest versionof the Apple Support App from the official page.
Step 2: Open the app and tap Passwords & Security under Topics to proceed further.
Step 3: Choose Reset Apple ID password > Get Started > A different Apple ID. Now enter the Apple ID that you need to reset the password for.

Step 4: Tap Next, then follow the steps on your screen until you receive confirmation that your Apple ID password is changed.
3.2. Use the Find My iPhone app
The Find My iPhone appis another useful way to reset apple ID passwords.Below are some steps to consider in this regard:
Step 1: Download and Install the "Find My iPhone" app on the device.
Step 2: Open the app and remove details (if any) from the Apple ID field.
Step 3: Select Forgot Apple ID or Password and then follow the onscreen steps.
Part 4.

Reset Apple ID Password on Other Devices

Some users might stillbe unable to reset the forgotten Apple ID password, probably due to two-factor authentication or iCloud issues. Don't worry;the following methods are also helpful.
4.1. With Security Questions
Step 1: Visit appleid.apple.com to reset the password foryour Apple ID.
Step 2: Tap on Sign In and select Forgot Apple ID or password toretrieve the forgotten password.
Step 3: Enter your Apple ID in the window that appears next.
Step 4: Tap Reset Your Password and select Continue.
Step 5: Select Answer security questions and follow the onscreeninstructions to reset your Apple ID password.
4.2. With Email
To reset your passwordusing your email, follow the first 4 steps discussed in the above section. Inthe last step, tap Get an email. You can then quickly change your AppleID password by clicking on the link provided in the email.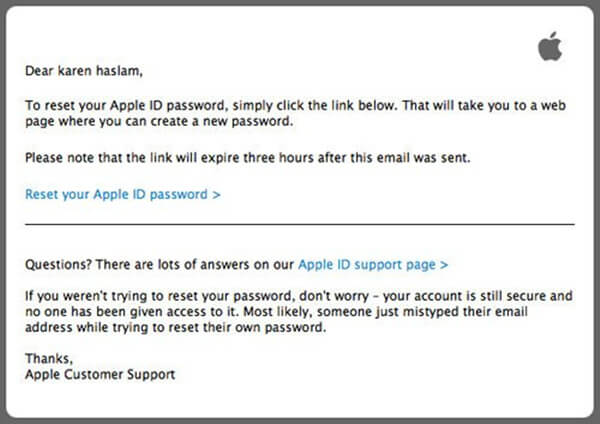 4.3. With Recovery Key
If you enabled atwo-step verification method while setting up your device for the first time,make sure you follow this procedure.
Follow the first 4 steps discussed in the"With Security Questions" section discussed above.
Step 5: Enter the Recovery Key that was given upon enabling the two-step verification.
Step 6: Enter the verification code you will receive on the device and create a new password.

Step 7: Tap Reset Password to get the job done.
Part 5.

All Failed? Try LockEraser Immediately!

If you are stillunable to get rid of this Apple ID problem, LockEraser can be your best friendin this regard. LockEraser is a highly reliable lock remover that works wonderswhen it comes to resetting the Apple ID password on your Apple device. It will unlock the Apple ID linkedto your device so that you can change to a different Apple ID for which youremember the password or create a new Apple ID.
Clear and straightforward interface with detailed instructions.
Get the job done quickly and save energy.
Does not require any passcode or email credentials.
Compatible with all the latest versions of iOS and iPadOS devices.
Provide a secure and professional way to unlock Apple ID by oneself.
Remove various iPhone/iPad/iPod touch locks easily & effectively.
1

Download, install and launch LockEraser on your computer. Choose the Unlock Apple ID mode, then get your device connected.

2

Click the Start button to remove the Apple ID and iCloud account presently associated to your iOS device.

3

Wait patiently while LockEraser is unlocking Apple ID for you. It won't take long.

4

In just a few seconds, LockEraser will get the unlocking work done.
Conclusion
Forgetting the AppleID password restricts your ability to use your device as you wish. Fortunately,some excellent ways can help you reset or find the Apple ID password. Among them, LockEraser makes the best choice if you are looking for a perfect fix without involvingany hassles.