If you are using Apple Watch, it is not unusual to forget the passcode and find it difficult to access and use your Watch. While many users will fret and get stuck on how to solve this mayhem, it is good to know that the solution is easier than you probably expect. You will probably have to unlock or reset Apple Watch without passcode, but it is achievable even if you are a newbie. This article takes you through a complete guide on what to do if you forgot Apple Watch passcode.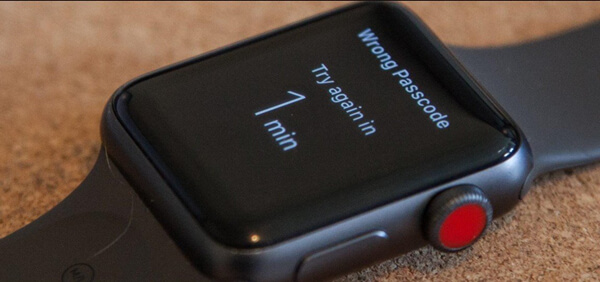 Part 1.

What Will Happen if I Forgot Apple Watch Passcode?

Apple allows Apple Watch users to create and use a 4-digit access pin to secure their devices. However, it is normal to forget passcode and Apple Watch passcode is not an exception. When you forget your Apple Watch passcode or try an incorrect password for several consecutive times, your Apple Watch will get disabled. Naturally, Apple Watch gives you several passcode attempts, but ten consecutive failed attempts will leave you with the option to reset your Apple Watch.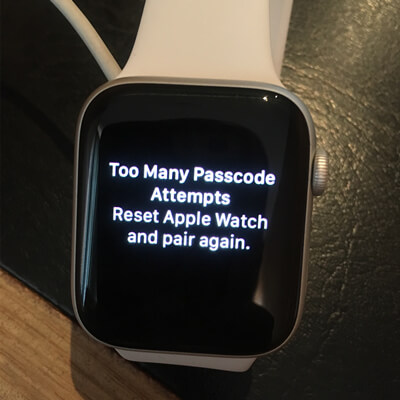 Apple also offers the Apple Watch feature on iPhone to allow you to access your Apple Watch from your iPhone. Therefore, you can still enter the passcode from the Apple Watch app on your iPhone as long as you still remember the passcode. If you cannot recall the passcode, you will be forced to reset your Apple Watch, create a new passcode, and restore your Apple Watch data and settings from a backup.
When you choose to restore your Apple Watch, all the contents and settings on it get erased. However, Apple watch uses a backup to allow users to retrieve their erased content and settings. If the "Erase Data" feature is active on your Apple Watch, its data and settings will be automatically erased after ten successive failed passcode attempts.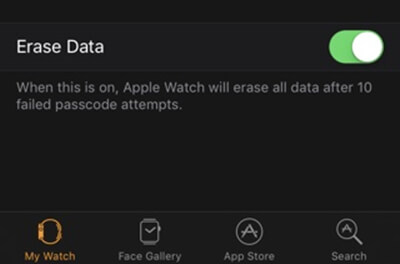 Part 2.

What to Do if I Forgot Apple Watch Passcode?

Forgetting Apple Watch passcode is not the end of you and your precious Apple Watch. There are several ways to unlock your locked Apple Watch and use it normally. These methods vary in several aspects, and it is upon you to choose a method depending on the prevailing conditions.
1. Unlock Apple Watch Directly with Paired iPhone
If you have enabled the "Unlock with iPhone" feature on the iPhone paired with your Apple Watch, you can unlock Apple Watch easily as follows.
1

Navigate to the Apple Watch app on your iPhone.

2

Tap the option to enter passcode and enter the right passcode.

3

From the options displayed, choose Unlock with iPhone. Now, ensure that your Apple Watch and the paired iPhone are within normal Bluetooth connectivity range (about 33 feet or 10 meters).

4

Finally, tap the "Digital Crown" on your Apple Watch and enter the unlock passcode that unlocks your iPhone. You can use options like Face ID or Touch ID if they are available. When your iPhone gets unlocked, so will your Apple Watch.
2. Reset Apple Watch Without Passcode Directly
When you are locked out of your Apple Watch, you can also reset it directly on Apple Watch itself as illustrated below. As the process will probably take long, it is vital that your Apple Watch has enough charge. You can first charge it to get enough charge before resetting it.
1

Long-press the side button until you see the "Power Off" screen.

2

Now press the POWER OFF slider button but make sure you don't slide it.

3

When you see the Erase all content and settings option, tap on it to proceed and confirm your selection.

4

The Apple Watch reset process will start. You can then set up your Apple Watch and restore erased data from backup when it is completed.
3. Reset Apple Watch Without Passcode Using Paired iPhone
If you have paired your iPhone with the Apple Watch you want to unlock, you can reset the Apple Watch with this paired iPhone. After reset, everything on your Watch will be wiped off, including the passcode. To make sure that this process goes smoothly, keep your Apple Watch and iPhone close together until you complete these steps.
1

To begin with, navigate to the Watch app on your iPhone and select the My Watch tab. Go to General > Reset.

2

Tap Erase Apple Watch Content and Settings from the options displayed. Again, confirm your selection by tapping this option again at the bottom of the window. If you are prompted to enter the Apple ID password, then do so.

3

When this process is finished, set up your Apple Watch again and restore your data from backup.
Bonus:

What to Do if I Forgot iPhone Passcode?

Similar to the occasion that we forgot Apple Watch passcode, sometimes we also cannot recall iPhone passcode due to various reasons. If this is the case, in order to unlock iPhone, the best and fastest solution is to use a third-party unlocker tool. While many tools are available, finding the right one can be a tough task. Fortunately, you don't have to struggle because we have UnicTool LockEraser for you.

LockEraser is a powerful all-in-one iDevice unlocker tool used by millions of people. This amazing program is packed with excellent features which allow users to unlock all types of locks on their iOS devices, including Apple ID lock, screen lock, Screen Time lock as well as MDM lock. LockEraser is efficient, professional, easy to use, and most importantly, effective.
Unlock iPhone directly and effectively without any passcode.
Require only 3 simple steps to finish the whole process.
Unlock Apple ID/Screen Time passcode/MDM under any circumstances.
Guarantee unmatchable success rate and b security.
Compatible with all the latest versions of iOS and iPadOS devices.
Free trial is available for every new user.
1

Download, install and launch LockEraser on your computer. Select "Unlock Screen Passcode" mode.

2

Choose the firmware version provided based on your device model and click "Download". Then wait a few minutes for LockEraser to download and verify the firmware package.

3

When the extraction is completed, click the "Unlock" button. When the unlocking work is done, you will see the notification on the screen.
Conclusion
While forgetting Apple Watch passcode seems like a nightmare, there are plenty of ways to fix it. You can either unlock Apple Watch with paired iPhone or reset Apple Watch to remove the passcode directly. If for some reason you forgot iPhone passcode, LockEraser will help you unlock iPhone without any passcode in only 3 simple steps. Give it a try!