FileWave MDM is one of the highly used device management solutions by companies, organizations, and institutions. While it helps save time and energy in managing scattered devices, it does away with user privacy and overall device experience. Therefore, how to remove FileWave MDM configuration is no longer an idea but a question driving traffic on the internet.
However, It is easier said than done. Without the right guide and a dedicated FileWave MDM remover tool, you will struggle to get out of this mayhem. Fortunately, this article takes you through a comprehensive guide on how to remove FileWave MDM configuration on your device.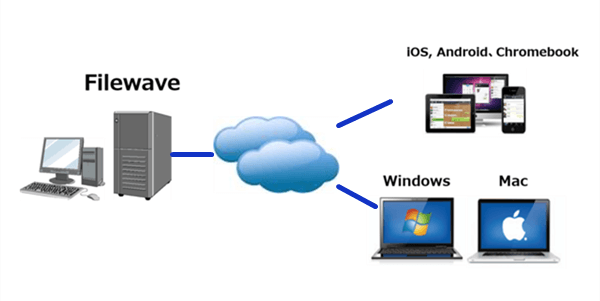 Part 1.

Let's Know More About FileWave MDM

Filewave MDM is a mobile device management solution that allows companies or organizations to remotely manage all their mobile devices. With it, administrators can manage all the devices from a single, convenient and intuitive interface. It's worth noting that Filewave MDM is not just limited to Apple devices. Users can also manage Android, Chrome, and Windows from anywhere globally. Simply put, Filewave offers a platform to secure, manage, and support all your group devices from a single point.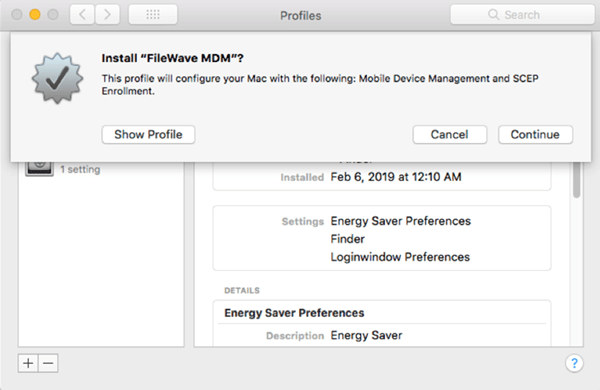 1. Pros & Cons of Filewave MDM
Filewave MDM is good but is not great for everyone. However, you can weigh in on the pros and cons and take your side accordingly. Check some of the pros and cons of Filewave MDM below:
Pros
It is easy to manage target device groups via FileWave MDM. You just need to deploy from the administrator side, and all the devices in the target group will get the command.
By monitoring device usage, corporations and organizations can reinforce the management and ensure data security.
The remote management makes it possible to troubleshoot and fix end-user issues remotely.
Cons
It makes managed devices more vulnerable to security threats.
Since your device is monitored and controlled from a single point, you will be left with no privacy at all.
Often, you are limited to certain applications and features, and hence you cannot exploit the device to its full potential.
2. Why Would People Want to Remove Filewave MDM?
While Filewave MDM configurations provide the necessary network and infrastructure to control and manage mobile devices remotely, many people flock to the internet looking for the right solution to remove FileWave MDM configuration in view of privacy issues and too much control.
With the FileWave MDM profile, you are controlled by the administrator, ranging from the applications deployed, the features you can access, and the extent of device usage. So if you are tired of these, you need to pull a trigger and remove Filewave MDM configuration. In addition, if you want to sell the supervised device to another party, you need to remove Filewave MDM configuration in the first place.
Part 2.

How to Remove FileWave MDM Configuration?

Removing FileWave MDM configuration from your device is not a walk into the park as it is not straightforward. However, there are two plausible ways to achieve the aim and your choice depends on the prevailing conditions.
1. Contact the Administrator
The easiest and most common way to remove FileWave MDM configuration is to contact the administrator. The administrator controls, manage and oversees connected devices from a single tool. As only the administrator can deploy applications and manage devices in the network, they have the power and credentials to remove you from the FileWave MDM configuration.
Your major assignment is to convince the administrator why you want to delete your MDM profile. Try to find a legit reason so that you don't have a rough time with the administrator. If company policies govern profile removal, try to check if there are any contents concerning the conditions for removing FileWave MDM configuration. If you can successfully convince the IT administrator, your FileWave MDM profile can be removed without erasing your device. This way, your device will be free from restrictions and you can use it the way you want.
2. Remove It by Yourself
Another way to remove FileWave MDM configuration is to do it yourself. However, you need a dedicated FileWave MDM remover tool. Fortunately, you don't have to go further because we have the best MDM remover tool called UnicTool LockEraser, a complete iOS device unlocker tool in the market. This amazing program is enriched with several excellent features that make it unmatchable as far as unlocking iPhone, iPad and iPod touch is concerned.
Unlock all kinds of locks irrespective of the scenario: Apple ID lock, screen lock, Screen Time lock, and MDM lock.
Bypass MDM lock screen and remove MDM configuration in no time.
Provide an elegant and intuitive interface for users of all levels.
Compatible with nearly all iDevices and various versions of iOS/iPadOS.
Offer premium user experience with high success rate and little security risks.
1

Download, install and launch LockEraser on your computer. Choose the Bypass MDM mode, then get your device connected.

2

There are 2 different modes: Bypass MDM and Remove MDM. In this case, select Remove MDM and click the Start button to proceed.

3

Wait patiently while LockEraser is removing MDM for you. It won't take long.

4

Once the MDM is successfully removed from your iPhone or iPad, you'll get a notification.
Conclusion
Although FileWave MDM is a great feature, lack of privacy and flexibility from the controlled ones' side renders it inconvenient. Well, the good news is that you don't have to struggle with how to remove FileWave MDM configuration anymore. Between the two methods to solve the FileWave MDM configuration issue, using LockEraser proves to be better and more plausible due to its prowess, ease of use, and high success rate. Download LockEraser today and get FileWave MDM configuration removed instantly!