For years, Apple's products have been associated with incredible performance and unparalleled reliability, and this has been reflected in its constantly expanding market presence. In particular, Apple is known for the robust security protocols incorporated into its digital devices as well as its applications, software and services, with Apple ID being no exception.
Your Apple ID will immediately become locked if it detects any suspicious activity such as someone trying to gain unauthorized access. Whilst this is an invaluable feature in the event of an actual breach, it can also be a source of considerable inconvenience if it happens by mistake. If you have been wondering how to unlock Apple ID, then there is no need to look any further. We have covered the various options and solutions that you can try, alongside a brilliant unlocking tool.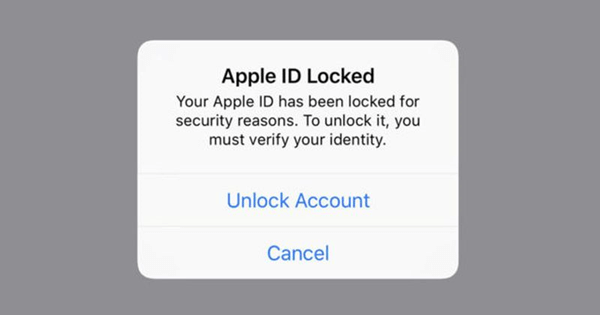 Part 1.

When Would You Need to Unlock Apple ID?

Every iOS device owner has probably seen one of these dreaded messages pop-up on their screen: "This Apple ID has been disabled for security reasons", "You can't sign in because your account was disabled for security reasons", or "Your account has been disabled in the App Store and iTunes". Essentially, your Apple ID will be locked or disabled when any suspicious activity is detected, which includes:
You or someone else enters your Apple ID password, or other sensitive account information, incorrectly too many times.
You have forgotten your Apple ID or password and you're unable to reset them.
Your answers to your security questions are incorrect.
You've downloaded a third-party app or some software that Apple believes to be unsafe.
Of course, it is urgent that you unlock your Apple ID as soon as you can. The reason for this is simple: when your Apple ID is locked, you are prevented from using or even accessing essential Apple features and services such as FaceTime, iTunes, iMessage, iCloud, Apple Music or the App Store. This also means that you can't access any of your personal information such as photos and videos, your iCloud data or your account information for the App Store and Apple Music.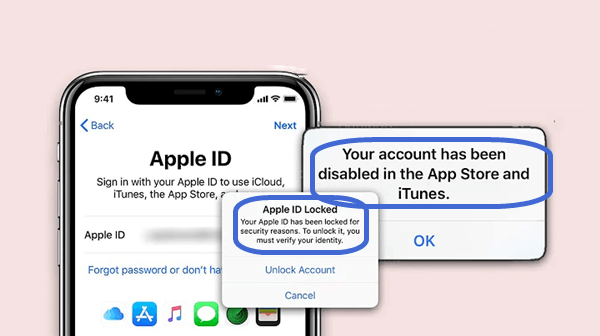 In the next sections, we have listed all the ways you can unlock Apple ID so that you can get back to making the most of your device as soon as possible.
Part 2.

How to Unlock Apple ID With Phone Number

The simplest answer regarding how to unlock Apple ID is probably via your phone number. However, this particular way is only effective if the number associated with your Apple ID account is actually correct or you have access to the device which is associated with that number. If that is the case, then just follow these instructions:
1

Tap on Unlock Account when you see the error message.

2

Enter the trusted phone number when you are asked to do so.

3

Tap on Next on the upper right corner.

4

Enter the verification code that was sent via text message to your trusted phone number.

5

You will be asked to enter your Apple ID password. If you don't have it then select Forgot Password.

6

Enter the screen passcode of this device and then create a new password for your Apple ID.

7

You can now sign in with your Apple ID and new password.
Part 3.

How to Unlock Apple ID Without Phone Number

Of course, there is always the possibility that you may not have access to the phone number associated with your Apple ID. The reason could be as simple as forgetting to update your Apple ID details when your phone number changed. Fortunately, there are a couple of other methods concerning how to unlock Apple ID without phone number.
1. Reset Apple ID Password with Two-Factor Authentication
The first method to unlock your Apple ID without phone number is by using the two-factor authentication. Whether this works for you or not will depend upon whether or not you have two-factor authentication and screen passcode enabled on your iOS device. The process will be slightly different on iPhone and Mac:
iPhone:
1

Open the Settings application. Tap on your name to go to your profile.

2

Tap on Password & Security.

3

Select Change Password at the top of the screen.

4

Since the screen passcode is enabled, your iPhone will prompt you to enter your passcode.

5

Once you have entered it, you can continue to change your Apple ID password.

6

With this new password, your Apple ID is unlocked.
Mac:
1

Select the Apple logo on the upper left corner of your screen. Click on System Preferences.

2

Tap on iCloud so that you can see your Apple account profile.

3

On the left-hand side of the screen there will be a sidebar with multiple options. Go to Password & Security > Security.

4

Click on the Change password button below.

5

A pop-up will instruct you to enter the password for your Mac.

6

Once you have done this, you can set up a new password for your Apple ID.

7

Press Change and you can now access your Apple ID with the new password.
2. Reset Apple ID Password with The iForgot Service
If the previous solutions fail to work, then you can always try the iForgot service. It is a useful feature that can certainly help in such situations. The instructions are as follows:
1

Visit this link Recover Your Apple ID - Apple (UK)

2

Enter your Apple ID, then press Continue.

3

You can either answer your security questions, receive an email or enter the recovery key that was given to you when first setting up your Apple ID account.

4

Once you have successfully done this, you will be prompted to enter your new Apple ID password.

5

Sign in with the new password, and your Apple ID will be under your control again.
Part 4.

How to Unlock Apple ID Without Email or Security Questions?

There may be instances where you don't have access to your phone number, you haven't set up two-factor authentication, you no longer use your email and you have forgotten the answers to your security questions. Whilst none of the aforementioned methods will work for you in this case, there is one alternative solution that will.

LockEraser is a sophisticated unlocking tool designed to fix various lock issues on iOS devices. It will enable you to unlock Apple ID even when you don't have any details or information about this account. It is armed with countless features and functions that benefits everyone:
Effectively unlock Apple ID even with no password, phone number, email, or security questions
Help you regain all Apple ID features in a matter of minutes
Require no experience or knowledge; exceptionally easy to use
Unlock screen passcode/screen time passcode and bypass MDM as well
Work seamlessly for all iOS versions and models
Provide free trial to every new user
1

Download, install and launch LockEraser on your computer. Choose the Unlock Apple ID mode, then get your device connected.

2

Click the Start button to remove the Apple ID and iCloud account presently associated to your iOS device.

3

Wait patiently while LockEraser is unlocking Apple ID for you. It won't take long.

4

In just a few seconds, LockEraser will get the unlocking work done.
Part 5.

Tips on Keeping Your Apple ID Safe

In order to prevent Apple ID issues from happening again, there are some simple and easy measures you can follow to keep your Apple ID safe and secure:
1

Ensure that you can remember your Apple ID login. While setting up your Apple ID username and password, try to use something which you can remember easily. For peace of mind, you could even note them down somewhere, but you will have to ensure that it is in a safe place that no-one else can access.

2

Write down your security questions and their answers. When you are first creating your account, it can be easy to rush through these step and just provide some random answers. Later on, however, knowing your security questions can be a source of great comfort if you experience any problems. Therefore, always note down the answers to your security questions and keep them hidden away, or ensure that they are easy to remember.

3

Always set up two-factor authentication. Setting up two-factor authentication and a passcode is another excellent way to protect your Apple ID. With these two features enabled, you will be able to access your Apple ID within a matter of moments.

4

Carefully choose your trusted phone number. When choosing your trusted phone number, make sure that it is one that you can access easily. It can be another phone number you could use, or the number of a family or friend who can be contacted quickly. You should always keep these details updated as well, especially if your designated contact changes the number.

5

Don't enter incorrect credentials too many times. If you have forgotten your Apple ID login, don't panic and enter them wrong too many times. The more you get your credentials wrong, the more likely it is that your Apple ID will be permanently disabled. It would be better to leave it after a handful of tries and give yourself some time to refresh your memory.
Conclusion
Being locked out of your Apple ID can be a frustrating experience, especially if it happens by accident. It prevents you from using your device properly, particularly the important features such as FaceTime, iCloud as well as App Store. Fortunately, there are several ways you can apply to unlock Apple ID,and in this guide we have covered the most effective and most secure ones.
Whether the solution will work for you will ultimately depend on if you can remember your username, password, trusted phone number, email, as well as the answers to your security questions. Even if you don't have any of these things, however, there is still hope. LockEraser will ensure that you can unlock and access your Apple ID within a matter of minutes, with no fuss or trouble.