The iTunes method is often the first line of defence in unlocking iOS devices, including iPad. When your iPad is disabled, you will be asked to connect to iTunes to unlock it. However, it is not always a walk into the park when dealing with iTunes. Perhaps the computer you are using does not have iTunes, your connection with iTunes often fails, or the iTunes has errors that you cannot resolve.
Caught between these accidents, you may be seeking solutions. Luckily, this article gives a detailed guide on how to unlock disabled iPad without iTunes, with ease and speed.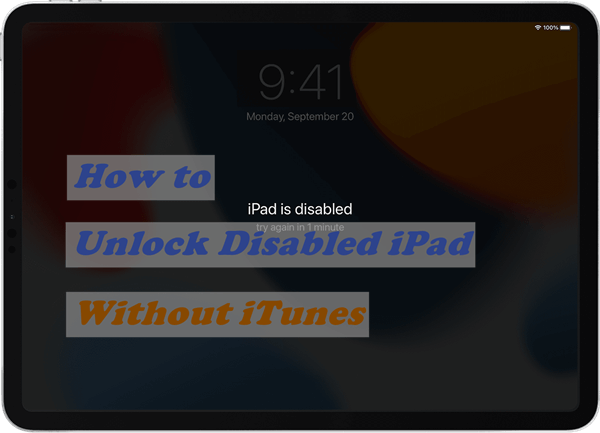 Part 1.

Why Would an iPad Get Disabled?

Like any other Apple device, an iPad gets disabled when too many successive incorrect password attempts are made.  Maybe you have forgotten the password, purchased a second-hand iPad that wasn't reset completely, or someone else tried the wrong passwords for your device. When you enter several incorrect passcodes, Apple will think you are a intruder and stop the iPhone for a certain period of time. At the 10th successive failed passcode attempt, the screen will display a message like, "iPad is disabled, connect to iTunes". And you will not be able to access your iPad until you unlock it.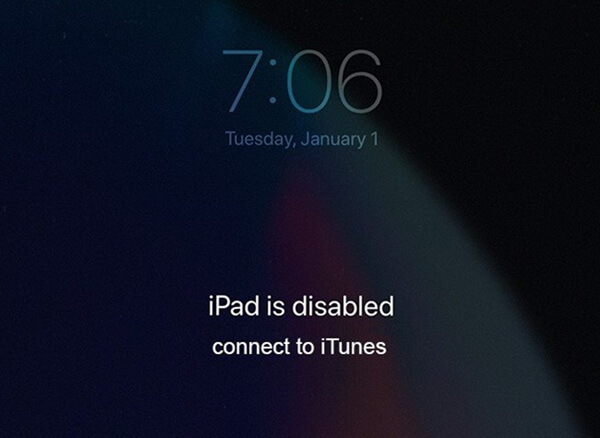 Part 2.

How to Unlock Disabled iPad Without iTunes?

Unlocking a disabled iPad without iTunes may look like a hard nut to crack. However, there prove to be several feasible ways that iPad users can seamlessly unlock disabled iPad without iTunes.

Although they vary in reliability and effectiveness, the good news is that these methods are well-tested and trusted. The following are some of the top methods to unlock disabled iPad without iTunes.
1. Erase Disabled iPad Via iCloud Web
To unlock disabled iPad without iTunes for free, using iCloud web is one of the first resorts for myriads of people. It is an easy yet reliable process. However, you have to meet certain requirements before banking on this method.
Specifically speaking, first you must have your correct Apple ID and respective password. Besides, you need to have already turned on the "Find My iPad" feature, and your iPad needs to be well-connected to internet. When all these requirements are met, unlocking the disabled iPad without iTunes by following these steps:
Step 1. Navigate to the iCloud homepage using your browser and head to the Find iPhone section.

Step 2. Tap the option All Devices and click the iPad you want to reset.

Step 3. Click to Erase iPad, then confirm this choice.
Limitations
Without the correct Apple ID and password match, you won't use it.
If you didn't turn on the "Find My iPad" option before, you could not use it.
Your iPad needs a steady internet connection.
2. Erase Disabled iPad With Find My on iPhone
Apple is not short of options and allows users to unlock a disabled iPad with the "Find My" application on a healthy iPhone. In this method, you can use your healthy iPhone or your friend's to erase disabled iPad without iTunes.
Step 1. Open your iPhone and launch the "Find My" app. Log in using the same Apple ID and password as the disabled iPad.
Step 2. Hit the Devices tab and choose the target iPad.

Step 3. Scroll down and hit the Erase This Device option.

Step 4. Follow the on-screen instructions to confirm your decision.
Limitations
You cannot proceed if you don't remember the iPad's Apple ID and password.
3. Directly Unlock Disabled iPad Using LockEraser
The methods above on unlocking disabled iPad without iTunes have several drawbacks and are not reliable enough, especially when handling complex scenarios. Fortunately, professional iOS unlocker LockEraser offers a seamless and effective way to unlock disabled iPad without iTunes directly.
This top-notch iPad unlocker is capable of unlocking iPad and other iOS devices in any lock screen scenario. Whether you are stuck on screen passcode, screen time passcode, MDM lock, or are facing Apple ID issue, LockEraser can solve the problem with ease. Unlike other options, LockEraser boasts a nearly 100% success rate, and offers amazing free trial.
No iPad passcode or Apple ID credentials are required.
Unlock disabled iPad without iTunes within three simple steps.
Removes various iDevice locks: screen passcode, screen time passcode, MDM lock, and Apple ID.
Compatible with all iOS devices running on various iOS versions.
Provide a secure and convenient way for anyone to unlock iOS devices at home.
Free trial allows you to check if your device is supported or not.
1

Download, install and launch LockEraser on your computer. Select "Unlock Screen Passcode" mode.

2

Choose the firmware version provided based on your device model and click "Download". Then wait a few minutes for LockEraser to download and verify the firmware package.

3

When the extraction is completed, click the "Unlock" button. When the unlocking work is done, you will see the notification on the screen.
FAQs About Disabled iPad
1. How do you bypass a disabled iPad?
You can bypass a disabled iPad using iTunes, iCloud web, Find My app or LockEraser. Among them, LockEraser provides the easiest yet the most-effective way to fix a disabled iPad. Just download, install, and run the program to get started.
2. How do I unlock my iPad if I forgot the password without a computer or iTunes?
Without a computer or iTunes, you can unlock your iPad using the Find My app on a healthy iPhone. But the precondition is that you have to know the correct Apple ID and password of the disabled iPad.
Conclusion
If you are struggling to unlock a disabled iPad without iTunes, this article has simplified your task. It is crystal clear that among the 3 methods, LockEraser is undoubtedly the best. Without any passcode or Apple ID information, this professional iOS unlocker can unlock disabled iPad in an easy but effective way.