When you factory reset your iPhone, you expect all settings and data to be erased. In some cases, however, iPhone still asks for passcode after a factory reset, which is abnormal. This error can be caused by a few different factors related to your account and device settings. Read this article to find out the different causes and solutions to the problem of iPhone asking for passcode after factory reset.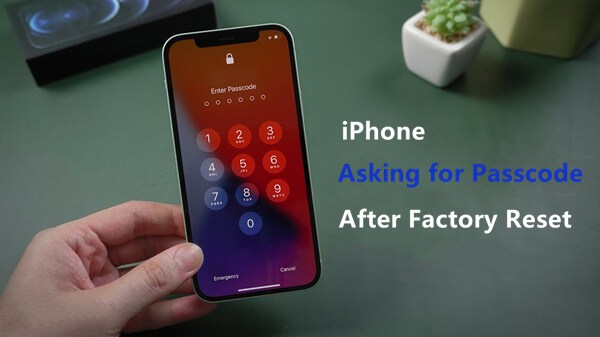 Part 1.

Does Factory Reset Remove Passcode on iPhone?

When you factory reset your device, you assume that your screen passcode will also be removed. This is what should happen - everything on your iPhone will be erased and reset except your iCloud and Apple ID password, and you should be able to easily access your iPhone without any passcode. Therefore, when you face the iPhone asking for passcode after factory reset problem, you should really pay attention to it, finding out the potential causes and solutions.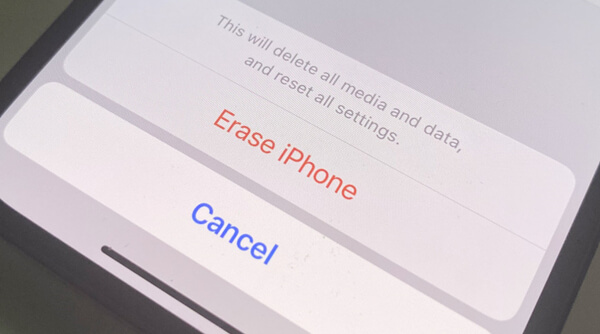 Part 2.

Why Is iPhone Asking for Passcode After Factory Reset?

There are a few different possible causes of the iPhone asking for passcode after factory reset issue. You can check the following list to determine and identify the reason.

It may be a simple random bug causing your device to ask for passcode even after factory reset. There may have been a glitch during your reset, or your iPhone may have even experienced an incomplete reset. However, this isn't something that commonly happens.

It is also possible that during the setup process after you factory reset your iPhone, you accidentally created a new passcode. As a result, your iPhone asks for passcode when you use it.

For all of these listed causes, there are associated solutions. We recommend that you read on to the next section for various fixes that is likely to solve the problem of iPhone asking for passcode after factory reset.
Part 3.

Unlock iPhone Screen Passcode Directly

When you are required to provide the passcode while trying to access your iPhone after factory reset, and you cannot find out what on earth went wrong, maybe you need a professional third-party tool to unlock your iPhone directly. This is the quickest way.

UnicTool LockEraser is a sophisticated program specially designed to solve a wide array of iPhone lock problems and issues effectively and safely, which include getting into your iPhone if you forgot your passcode, unlocking your Apple ID, unlocking your Screen Time passcode and bypassing an MDM lock. Being extremely easy to use, LockEraser can unlock your iPhone directly with only several minutes.
Unlock iPhone directly without any passcode.
Capable of unlocking Apple ID/Screen Time passcode and bypassing MDM on iOS devices.
User-friendly for anyone, even without any experience or knowledge.
Work seamlessly for all iOS versions and models.
Free trial allows you to check if your device is supported or not.
1

Download, install and launch LockEraser on your computer. Select "Unlock Screen Passcode" mode.

2

Choose the firmware version provided based on your device model and click "Download". Then wait a few minutes for LockEraser to download and verify the firmware package.

3

When the extraction is completed, click the "Unlock" button. When the unlocking work is done, you will see the notification on the screen.
Part 4.

Other Fixes to iPhone Asking for Passcode After Factory Reset

If you are not in urgent need of your iPhone and don't want to use any third-party tools, there are other fixes available to the problem of iPhone asking for passcode after factory reset. These fixes will help restore any software issues or settings that may be preventing you from accessing your iPhone. Just keep reading!
1. Try the Default Passcode
You have 9 incorrect attempts to enter a passcode before Apple locks you out of your iPhone. You can try to recall the old passcode you used before the factory reset and use it to unlock iPhone first. If that doesn't work, you can also try Apple's default passcodes. Although Apple has not officially announced that these passcodes are legitimate, many users report that they are able to access their devices with one of the default passcodes. Therefore, it's worth a try anyway.
Default 4-digit Passcode:
0000
1234
8888
Default 6-digit Passcode:
000000
123456
888888
2. Restore iPhone Using iTunes
When your iPhone is locked with a screen passcode and you cannot unlock it, iTunes can be used to restore your iPhone to its default settings. This can resolve software-related bugs that may be causing your iPhone to ask for passcode even after a factory reset. After you erase your iPhone, you can restore your data and settings from a backup.
1

Open iTunes on your computer, then connect your disabled device to the computer via a suitable cable.

2

Boot your disabled iPhone into recovery mode as follows.
For iPhone 8 or Later
Successively press and release the Volume Up then Volume Down buttons.
Long-press the Side button until the recovery mode screen appears.
For iPhone 7/7 Plus
Simultaneously long-press the Side/Top and Volume Down buttons until iPhone enters the recovery mode.
For iPhone 6s or Earlier
Long-press both the Home and Side/Top buttons until the recovery mode appears on the screen.
3

Locate your device and choose Restore when given the Restore and Update options.

4

Your computer will download software for your iPhone and begin the restore process. When it is completed, set up your iPhone and use it.
Bonus:

How to Turn Off iPhone Passcode?

If you manage to unlock your iPhone and realize that you don't want a passcode at all then it is easy to switch the passcode feature off.
1

Go to Settings > Face ID & Passcode (or Touch ID & Passcode, depending on your iPhone model).

2

Enter your old passcode, then scroll down and find the Turn Passcode Off option.

3

Read the notification and confirm your choice by tapping on the Turn Off option.
Conclusion
If you are experiencing iPhone asking for passcode after factory reset problem, you may be locked out of your device and your daily schedule may get disrupted. Luckily, you don't need to worry too much about that as this error can be fixed.
If you want to get into your iPhone and restore it to normal use as soon as possible, the advanced application UnicTool LockEraser is your best choice. It will efficiently unlock your iPhone without any passcode. Besides, you can also follow the other solutions outlined in this article to fix the issue of iPhone asking for passcode after factory reset. Take action now!