Many iPhone users have complained about the occasional pop-up message telling you that your unlock passcode needs to be changed. The notification shows up again and again even if you continue choosing "Later".
This error occurs because of certain security features built into iPhone. In this post, we'll show you how to fix this iPhone passcode requirement issue, and make sure the passcode settings are right and secure on your iPhone. You can keep trying different methods until finally get rid of this annoying issue.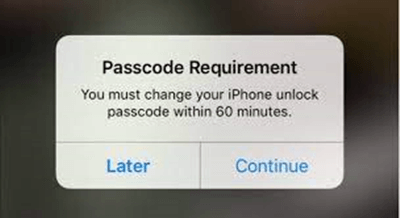 Part 1.

Let's Learn More About iPhone Passcode Requirement

Don't worry too much if your device is showing you the iPhone passcode requirement message. Apple does it in view of the ultimate security of your data. But what exactly is the iPhone passcode requirement error, and what will be triggered by this message? Well, let's get to know more about iPhone passcode requirement error first.
1. When And Why Would That Happen?
The iPhone screen passcode is usually used to unlock your iPhone. The passcode can be a digit code or a customized alphanumeric code depending on your settings. When you think that Apple always does a great job in terms of data security, then it's no surprise to see the iPhone passcode requirement pop-up which asks to change your passcode.
This message is usually displayed when you are using simple and easy-to-guess passcode like birthday and holiday. But there are several other reasons as to why your iPhone may start prompting you with the iPhone passcode requirement pop-up every now and then. Below are some of the most probable ones:
1. iOS bugs and software issues
2. Configuration files installed in the phone
3. Security issues in Safari
4. MDM enrolment issues
5. Exchange email account issues
2. What Happens If You Refuse To Change The Passcode As Required?
When the passcode requirement message asks you to change iPhone unlock passcode within a certain peroid of time, many are curious what would happen if they do not change passcode accordingly.
Although the device almost orders you to change the passcode, nothing happens if you refuse to do so. That is to say, there will be no severe consequences. If you tap on "Later," you can continue using your phone normally.
The problem is just that when your iPhone keep prompting you again and again, with a countdown timer to change your passcode, it's really annoying.
Part 2.

How to Fix iPhone Passcode Requirement Issue
1. Clear History and Website Data of Safari
Safari data is a common reason for the passcode requirement pop-up to appear. The pages you've visited and the searches you've made through Safari are saved as cache or cookies on your iPhone, which sometimes causes many random appearing prompts including the passcode requirement issue. This isn't related to any hacking or phishing attempts and it seems that clearing your browsing history can stop this pop-up from showing up again.
1

Go to Settings > Safari.

2

Tap on Clear History and Website Data to delete your website history.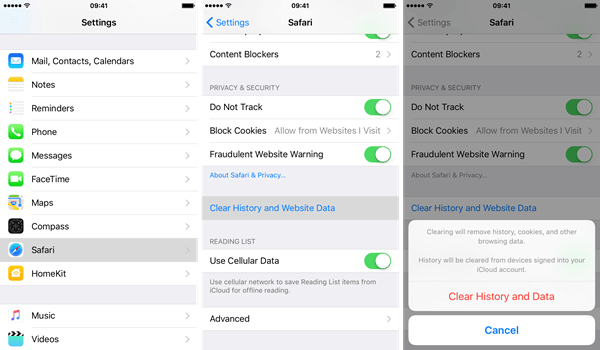 2. Change iPhone Passcode
Changing your iPhone passcode as required is another way to get rid of the passcode requirement prompt. Here's how you can do it
Through Settings
1

Go to Settings.

2

Then go to Touch ID & Passcode or Face ID & Passcode depending on your iOS version.

3

Enter your current passcode and tap on Change Passcode.

4

Enter your old passcode again, then create a new passcode. Choose a more complex and secure one this time.

Through Pop-Up Message

1

When the Passcode Requirement message pops up, tap on Continue.

2

You will then have to enter your current passcode and press Continue again.

3

Now enter your new passcode in the new window.

3. Delete Exchange Email Account

It's also possible fix iPhone passcode requirement error without much effort by deleting the Exchange email account. Here's the easiest way to do it.

1

Go to Settings > Mail > Accounts.

2

Now choose the Exchange email account you want to delete.

3

Tap on Delete Account to delete it from your iPhone.

4. Remove Configuration Profiles

Sometimes when you install a beta iOS or a third-party app that is not from the App Store, some configuration profiles may get installed on your iPhone accidentally. If this is the case, simply deleting the profiles can fix the passcode requirement issue.

1

Go to Settings > General > VPN & Device Management.

2

Tap on it and delete the configuration profiles installed on your iPhone, if there is any.

All the methods listed above will help you resolve the passcode issue. However, you can also choose to ignore the pop-up as long as you are comfortable doing it.

Bonus: A Handy Tool to Unlock iPhone Without Password

There are instances where you may have forgotten your iPhone passcode at all to unlock your iPhone. But don't worry, a good and trusted third-party tool can always be your go-to option in such situations. That's where UnicTool LockEraser comes in.

As a professional iOS device unlocking tool, LockEraser can unlock not only your iPhone screen passcode but also your Apple ID and screen time passcode. In addition, it's capable of bypassing MDM. And what makes it more convenient is that you can do all that in just a few easy steps.

Unlock iPhone/iPad/iPod touch without passcode.
Get the unlocking job done in minutes, requiring no technical knowledge.
Extremely high success rate and no security risk.
Easy to navigate and suitable for everyone.
Compatible with almost all iOS models and versions.
Free trial allows you to check if your device is supported or not.

1

Download, install and launch LockEraser on your computer. Select "Unlock Screen Passcode" mode.

2

Choose the firmware version provided based on your device model and click "Download". Then wait a few minutes for LockEraser to download and verify the firmware package.

3

When the extraction is completed, click the "Unlock" button. When the unlocking work is done, you will see the notification on the screen.

Conclusion

The iPhone passcode requirement issue popping up every now and then is frustrating enough for any iPhone user. Luckily the methods mentioned above ensure a swift resolution of that issue without being too technical.

If in some cases, you are locked out of your iPhone for using the wrong passcode or forgetting it altogether, LockEraser is your best friend to unlock your device in just three simple steps. Although there are many third-party tools designed to unlock iPhone, none comes close to LockEraser due to its security, reliability at a highly affordable price, ease of usage, and foolproof privacy.