After multiple incorrect password entries on your iPod, you are likely to get an error message like "iPod is disabled, connect to iTunes". In this case, you are completely locked out of your iPod and cannot access the content any more. This is undoubtedly a tricky situation when you want to restore iPod to the normal use as soon as possible. Don't worry, in this article, we've got everything you need to fix the "iPod is disabled, connect to iTunes" issue effectively.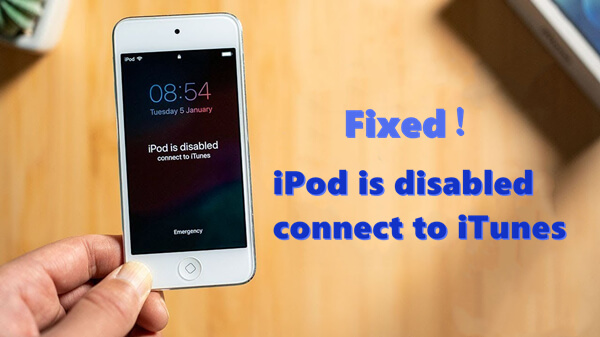 Part 1.

iPod Is Disabled, Connect to iTunes?
1. When Would That Happen?
When you enter a wrong passcode more than once, your iPod will get disabled for a given time after which you will be allowed to re-enter the passcode. Each failed attempt will have a locked time and each consequent failed attempt increases the time the iPod is disabled. This is a security feature used by Apple to prevent unauthorized access to your iPod. Usually, after the 10th wrong attempt, you will receive the "iPod is disabled, connect to iTunes" prompt.
2. What's the Result?
When the "iPod is disabled, connect to iTunes" message is shown, you won't be able to unlock your iPod touch even with Face ID or Touch ID. To regain access to your iPod, the only way is to restore it. When you restore your disabled iPod to fix the "iPod is disabled, connect to iTunes" error, all the data and settings stored on your iPod are erased, including the passcode settings. Then you can set up your iPod as new and restore any backups you made to iCloud before.
Part 2.

What to Do When "iPod Is Disabled, Connect to iTunes"?
1. Unlock Disabled iPod Using LockEraser
LockEraser is a comprehensive passcode removal tool for iOS devices from UnicTool. It helps you unlock iPhone, iPad or iPod touch in different scenarios - for example, when you are troubled by a locked device, when your Apple ID is disabled, and when you have forgotten the Screen Time passcode. in this case, when the "iPod is disabled, connect to iTunes" error occurs, LockEraser is perfectly capable of unlocking a disabled iPod for you and restore your access to the device.
Unlock iPod and fix "iPod is disabled, connect to iTunes" issue effectively.
Fix a disabled iPod with easy steps, involving no complex operations.
A one-stop unlocking tool: unlock Apple ID/Screen Time passcode and bypass MDM.
Enjoy good reputation worldwide due to its reliability.
Compatible with various iOS devices and versions.
Offer free trial to every new user for initial experience.
1

Download, install and launch LockEraser on your computer. Select "Unlock Screen Passcode" mode.

2

Choose the firmware version provided based on your device model and click "Download". Then wait a few minutes for LockEraser to download and verify the firmware package.

3

When the extraction is completed, click the "Unlock" button. When the unlocking work is done, you will see the notification on the screen.
2. Connect Your iPod to iTunes
If your iPod is already synced to iTunes, you can restore the disabled iPod through iTunes. When you restore your iPod via iTunes, all the data stored in your iPod, including the screen passcode, will be erased.
Step 1. Connect the iPod to your computer using a compatible USB cable.
Step 2. Launch iTunes, click the Device icon, then click the Summary tab.

Step 3. Choose Restore iPod touch. If you're signed into Find My, you need to sign out before you can do this.

Step 4. Confirm your choice and your disabled iPod will be restored to factory settings. Then you can set it up.
Limitations
Make sure you are using the latest version of iTunes.
Your iPod must have been synced with iTunes before.
All your data will be erased. Back up your iPod data if you wish to retain it.
3. Put iPod into Recovery Mode
When your iPod has never been synced to iTunes before, or just cannot get detected by iTunes normally, then you need to put your iPod into recovery mode before restoring it. After the process, you can restore your backup if you have one or set up your iPod as new.
Step 1. Press and hold the Top button of your iPod to turn it off.

Step 2. For iPod touch of 7th generation, uses the Volume Down button. For iPod touch of 6th generation and earlier, use the Home button. Press and hold the correct button while immediately connecting your iPod to the computer.
Step 3. Keep holding the button until you see the recovery mode screen on your iPod touch, then let go.
Step 4. Find your iPod on iTunes and click the Restore button when you see the option to restore or update.

Step 5. iTunes will initiate to unlock your iPod. When it's done, set your iPod like a new device.
Limitations
Your iPod will be wiped, ensure you have a backup.
The process may be a bit complicated and time-consuming.
4. Fix Disabled iPod With iCloud
Is it possible to unlock a disabled iPod without iTunes? Yes, it is. If you don't have a computer with synced iTunes or cannot access recovery mode on your iPod, you can fix "iPod is disabled, connect to iTunes" error using iCloud. iCloud will allow you to reset the iPod and remove all settings from it, thus wiping the passcode.
Step 1. Access iCloud web and log in using the same Apple ID as the one signed in on your iPod.
Step 2.Click the Find iPhone section, then select your iPod from the All Devices drop-down menu.

Step 3. Click on your iPod and choose Erase iPod. Confirm and follow onscreen prompts to finish the process.
Limitations
You need the correct Apple ID and password to sign into iCloud.
The Find My iPod feature should have been enabled on the iPod.
Your disabled iPod should be connected to the internet.
To avoid data loss, it's necessary to back up your iPod beforehand.
Bottom Line
When you get the "iPod is disabled, connect to iTunes" message, you have to explore the options on how to fix a disabled iPod. While some of the methods may have many requirements and limitations, a trusted third-party tool like LockEraser allows you to restore your iPod easily and regain access to your iPod quickly. This professional tool is designed to unlock your disabled iPod without restrictions and get you back to your device in no time.