Apple's iOS has a remote management feature that allows IT departments of education institutes and corporate enterprises to control and manage school-owned as well as company-owned iPhones and iPads. Unfortunately, despite its many benefits, the feature can be quite annoying when you need full control over your device.
Are you in search of a perfect way to remove remote management on iPhone/iPad? You are in the right place if the answer is YES! In this post, we will show you how to remove or bypass remote management in order to use the iOS devices without restrictions.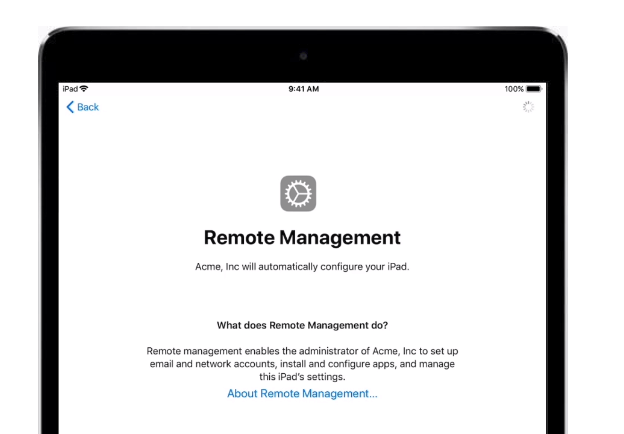 Part 1.

What Is Remote Management on iPhone/iPad?
1. An Overview of Remote Management on iPhone/iPad
Security of corporate data and privacy of sensitive files have always been a concern for organizations who distribute iPhones/iPads to their employees or students for enhanced communication and supervision. Corporations in this category include educational institutions, insurance companies, IT companies, health institutes, banks, marketing agencies, etc. To ease this concern and solve the problem, Apple provides remote management service for its iOS and iPadOS.
Apple remote management for iPhones and iPads is an advanced mobile device management (MDM) feature that allows organizations to manage their distributed iPhones/iPads remotely. In this way, the administrators can access users' devices and control them with or without the users' intention.
In other words, if your iPhone/iPad has remote management enabled, you can no longer operate it as you wish. Instead, someone else (the device administrator) can perform the following actions on your iPhone device:
1

Make the lock screen password-protected

2

Manage network settings, such as forgetting Wi-Fi passwords, removing or adding networks, changing IP addresses, etc.

3

Factory reset your iPad/iPhone device

4

Install and uninstall applications

5

Obtain personal data stored on the device or on any cloud storage

6

Exploit email accounts to manipulate inbox data

7

Restrict USB access

8

Change wallpapers

9

Manipulate the device's settings
2. What Are the Benefits Of Remote Management on iPhone/iPad? 
The goal of introducing remote management was to ensure the safety and security of data stored on organization-owned phones. Remote management can benefit corporate organizations in the following ways:
1. Remote management can prevent misuse of devices distributed among individuals. 
2. Managers can track the activities of their employees using this feature.
3. Employees cannot install apps that are irrelevant to the company's business.
4. Remote management promotes productivity by making employees aware that they are being monitored continuously. 
5. In addition to helping companies protect their data, it helps them maintain the privacy of the company profiles.
6. In case of theft or accidental damage, the device administrators can erase all the data stored on the devices within seconds.
3. How Does Remote Management on iPhone/iPad Work? 
Corporations and educational institutions use remote management to ensure that devices work according to approved policies. For this purpose, these entities use the Apple Device Enrollment Program (DEP) to administer multiple iOS and iPadOS devices within the organization.
As far as remote management is concerned, iPhone/iPad devices approve a configuration profile during the initial setup. As a result, these devices receive XML files that help administrators control the activities of the said phone.
Having said that, how do you determine if your device is MDM-supervised? The following section of the blog will help you in this regard.
4. How to Verify if My Device Is MDM-Locked or Supervised?
Knowing exactly if your device has remote management enabled can help you feel less concerned about someone monitoring you remotely. Here's how to check if your iPhone device is MDM supervised:
4.1 Supervision Message at the Top of the Settings Window
Open Settings on your iPhone/iPad device. If the supervision message appears at the top of the Settings window, it means the device is MDM locked.
4.2 Profile & Device Management Settings
Another option is to explore Profiles and Device Management settings on your iOS device.
For this purpose, open Settings, click on General, and select Profiles & Device Management to see if the device is supervised. Then, if there is any profile there, you can click on the profile to check the relevant details. However, if there are no MDM profiles, you won't be able to see anything in this section.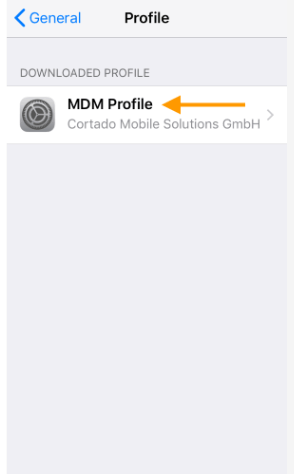 4.3 About Settings
Lastly, the About section of the iPhone Settings also contains information about MDM supervision. When you click on About in the Settings window, a message will appear saying the device is MDM supervised. It will also tell you who the administrator is and other relevant details about the supervisors/managers of the device.
Part 2.

How to Remove/Bypass Remote Management on iPhone/iPad?
1. Via iPhone/iPad Settings 
This method does not involve the installation of any third-party tool to remove MDM. However, it only works if you have credentials for MDM configuration profiles. In other words, you should know the passcode for MDM profiles installed on your device to use this method.
1

Open Settings. Tap on General and click Device Management.

2

Tap on Remove Management once you see an MDM profile

3

Enter the configuration passcode to confirm iPhone/iPad MDM removal.
Pros
It does not involve the installation of third-party tools.
There is no need for computer for this process.
Easy to follow and quick to finish.
Cons
It only works if you know the credentials for MDM profiles. 
2. With UnicTool LockEraser
What if you don't have passcodes for remote management on an iPhone/iPad? Don't worry, we have got you a tool that gets the job done without involving any hassles.
LockEraser is a tool that helps iPhone/iPad users eliminate MDM profiles on their devices. You can easily bypass various types of device locks using this comprehensive tool. Everything from its user-friendly interface to highly secured algorithms makes it the best tool for iPad MDM removal.
Works without requiring credentials for remove the MDM profiles on iPhone/iPad.
Only involves 3 simple steps. You can quickly bypass remote management on iPhone/iPad within a few minutes.
Does not require any previous knowledge of bypassing tools. You only have to follow the instructions and make some clicks to get the job done.
Works as an all-in-one iPhone passcode unlocker - unlock Apple ID/screen passcode/screen time passcode as well as bypass MDM. 
Supports all the latest versions of iOS/iPad OS, including iOS 15.
1

Download, install and launch LockEraser on your computer. Choose the Bypass MDM mode, then get your device connected.

2

There are 2 different modes: Bypass MDM and Remove MDM. In this case, select Remove MDM and click the Start button to proceed.

3

Wait patiently while LockEraser is removing MDM for you. It won't take long.

4

Once the MDM is successfully removed from your iPhone or iPad, you'll get a notification.
Conclusion
A device that has multiple restrictions is annoying. You cannot operate it the way you want. We hope this guide has helped you bypass remote management on iPhone/iPad.
LockEraser is undoubtedly the most efficient tool for bypassing MDM on iPhone/iPad devices. Download the tool now to unlock all the restricted features you want to use on your iPhone/iPad device. It is also capable of unlocking Apple ID, screen passcode and screen time passcode.