The Lightspeed MDM profile can help control and manage the devices of employees or students . However, those who are supervised may not feel comfortable about it and may seek to remove the Lightspeed MDM profile. While this sounds simple enough, the truth is that it can prove to be tougher than you imagined.
The fact that you are under an administrator complicates everything, and you might be obliged to employ a third-party tool. However, finding the right tool to remove Lightspeed MDM profile is challenging as many tools claim to offer the best solution but actually give below-par performance. Fortunately, this article gives you a complete guide on two ways to remove Lightspeed MDM profile effectively.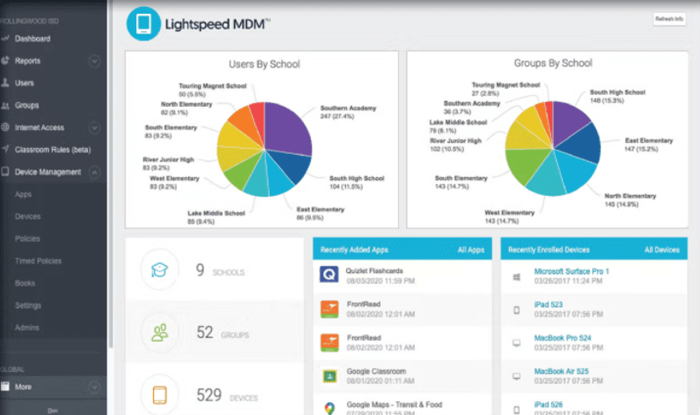 Part 1.

What Is Lightspeed MDM Profile?

Lightspeed MDM is an MDM solution especially designed for school systems. Just like any other MDM solution, Lightspeed MDM allows a school to manage Apple devices distributed to learners remotely. This is possible once the administrator configures the devices and issues students with accounts and access credentials.

This cloud-based technology by Lightspeed system offers schools easy control of students' devices and deployment of relevant applications. Here, the teacher or administrator can monitor if the student uses the Apple device for learning or personal things. It is also worth noting that Lightspeed MDM is not limited to schools alone. It can also be deployed in workplaces for employee-work management.
Part 2.

How Does Lightspeed MDM Profile Work?

How Lightspeed works is pretty simple. With an MDM profile and login credentials, you are ready to start. Once your device is configured, and you log in to your profile, you are now under the administrator's control. While you can access content posted in your group, the administrator controls your application. The manager can remotely share content or applications across connected devices and watch these devices' activities.

If you are tired of the Lightspeed MDM profile, you can delete your profile if you get the go-ahead from the manager. Otherwise, you will be forced to use a dedicated MDM remover tool.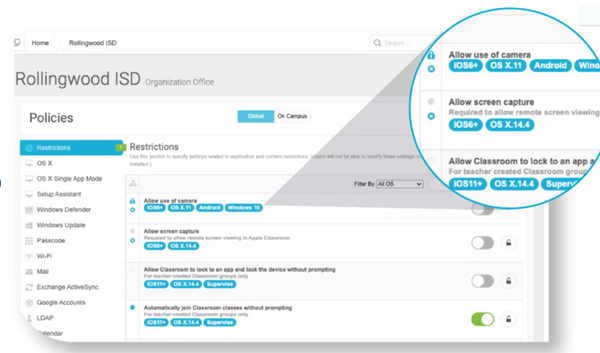 Part 3.

Is Lightspeed MDM Profile Good or Bad?

The answer to this question depends on your need at hand. It is often good for managers because they oversee devices from a single device. Some of the good points about Lightspeed MDM profile include:
1

Managers can easily control the number of devices on the network and monitor their activities.

2

Administrators can deploy applications such as Microsoft Word remotely. Therefore, they don't need to install it on every device.

3

Administrators can troubleshoot and fix end-user problems remotely. Therefore, end-users' complaints can be handled remotely.

4

If a device with Lightspeed MDM profile gets lost or stolen, it can easily be traced and recovered.
While Lightspeed MDM looks like a good bet for managers, MDM profile is a no go zone if:
1

You want to use your device for private purposes. An administrator's monitoring and control limits your privacy, and you are simply restricted.

2

You want to sell your Apple device to another party, and you want to clear all accounts before selling it.

3

You are tired of restricted features or functionality on the device. As administrators often limit users on the extent of features they can access on certain applications, you might not exploit all the features of the applications.

4

You want to keep your device safe and secure. There exists suspect malware attack coming from your Lightspeed MDM profile. Due to the shared network, your device is more vulnerable to security threats.
Part 4.

[Password Required] Remove Lightspeed MDM Profile Directly

Removing Lightspeed MDM profile is not easy unless the system administrator gives you the green light. If you get the node to move forward, you will need the account name and respective password. The following steps illustrate how to remove Lightspeed MDM profile directly.
Step 1. Go to Settings > General > VPN & Device Management.
Step 2. Here, locate and choose the Lightspeed MDM profile you want to remove.
Step 3. Now, hit the Remove Management option, and you will be asked for the profile's password. Enter it as prompted to remove Lightspeed MDM profile successfully.
Part 5.

[The Best Tool] Remove Lightspeed MDM Profile in Any Case

UnicTool LockEraser, as the name suggests, is a professional tool designed to remove various locks on iOS devices, including MDM lock. Equipped with all the necessary capabilities and advanced features, this program can perfectly remove Lightspeed MDM profile in no time. Besides, it also allows users to bypass MDM while stuck on the MDM lock screen.
Remove Lightspeed MDM profile and give you full access to your device.
Require no password or any other tools.
Support nearly all iOS devices running various iOS/iPad OS.
Provide a simple and convenient solution suitable for any user.
Remove various iPhone/iPad/iPod touch locks: Apple ID lock, screen lock, and Screen Time lock.
1

Download, install and launch LockEraser on your computer. Choose the Bypass MDM mode, then get your device connected.

2

There are 2 different modes: Bypass MDM and Remove MDM. In this case, select Remove MDM and click the Start button to proceed.

3

Wait patiently while LockEraser is removing MDM for you. It won't take long.

4

Once the MDM is successfully removed from your iPhone or iPad, you'll get a notification.
Conclusion
It is now clear that many people yearn to remove Lightspeed MDM profiles from their devices. While there are two basic ways to remove Lightspeed MDM profile, using the best dedicated MDM unlocker LockEraser is the best bet. As long as you install this tool properly, removing Lightspeed MDM profile can be done easily without any other requirements. Stop hesitating! Download and get the free trial right now!