MDM is an acronym for Mobile device Management. It essentially allows administrators to manage and configure devices by sending specific commands, wirelessly and in a secure manner. MDM profiles are used to set and apply configuration settings on mobile devices for easier control. Through applying MDM profiles on devices running iOS, iPadOS, macOS, or tvOS, the administrator can modify settings of these devices once and for all instead of doing it on individual basis.
MDM profile grants a system administrator authority over the supervised devices while compromise the users' autonomy over their own devices. And this is exactly the reason why some people are seeking to remove such profile. If you are one of them, stay tuned for effective methods to remove management profile from iPhone in this blog.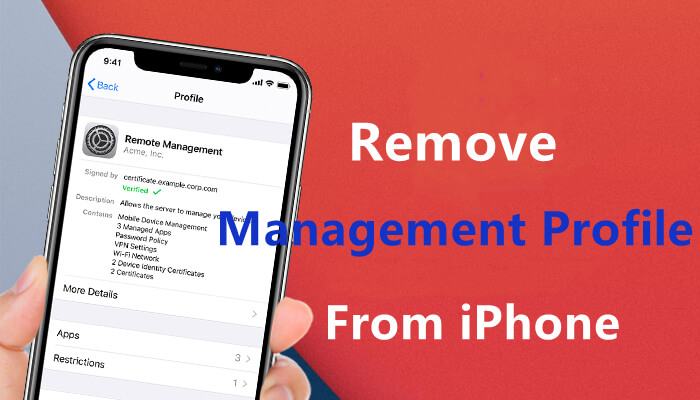 Part 1.

MDM & MDM Profile on iPhone

iPhone, iPad, Mac computer and Apple TV are built with a framework that supports Mobile Device Management. Essentially, this helps organizations or companies to set up and configure a variety of devices at the same time, apply the same protocols and manage them effortlessly.

Correspondingly, an MDM configuration profile is the XML format which contains load settings and authorization information of the managed device. This allows an administrator to automate the configuration settings, restriction, credentials and accounts.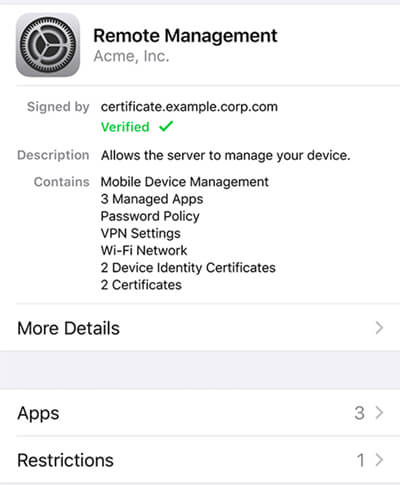 Administrators can choose to encrypt configuration profiles to prevent anyone else from changing the settings - unless with the user names and passwords. You can also mark a configuration profile as being locked to the device.
MDM provides an organization various capability such as updating software and device settings, monitoring compliance with organizational policies, and also gives them the benefit of remotely wiping or locking devices. In order to avail all the above-mentioned benefits, organizations have to enrol their employees' devices into MDM using services provided by apple such as Apple Business Manager.
Part 2.

The Pros & Cons of MDM Profile

The pros and cons of MDM profile should be discussed from different perspectives. Having MDM enrolled devices provides organizations with multiple advantages.
1

Remote management: If an organization has thousands of iPhones for instance, it is quite difficult to apply the same protocols on each phone manually. With this remote mechanism, however, each phone can be managed in the same way with less effort.

2

Security: With MDM, employers can remotely deploy the right security mechanism across all devices. They can control the content that users can access, and in turns unauthorized access to confidential data can also be prevented.

3

Scalability: MDM is a cost-effective solution that is unaffected by increase in the number of devices, and under one umbrella it provides an organization multiple solutions to potential problems.
Meanwhile, there is the other side to MDM profile, i.e. the negative influence management profile has on users. There are several reasons as to why some individuals might not be comfortable having MDM profile on their iPhones.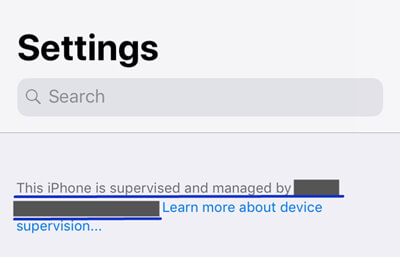 System administrators have too much authority with MDM, as they can send instructions to the devices which allows them to manage devices remotely as well as centrally. Besides, in many cases the administrators can restrict the use of the devices, due to which users also complain that they cannot get the full experience on their devices.
What's more, essentially when some devices become supervised, the users may fear that they are being monitored, their personal data on those devices is unprotected and their privacy is at risk. In view of all those limitations, many users are seeking to remove management profile from iPhone.
Part 3.

How to Remove Management Profile From iPhone?

Removing management profile from a device can be done in two ways. The first includes a password, provided you have been given one by the administrator. The second involves a MDM bypass tool. In this part we will share both the techniques.
1. [With Password] Remove Management in Settings
Sometimes, a device may come pre-locked with MDM. In that case, while you are trying to delete an MDM profile, you may be asked to enter a pin, which may have been provided to you - for instance by your employer who gave you the device. If so, there is no need to worry. Simply take the following steps to remove management profile from iPhone: 
Step 1. Go to Settings > General > VPN & Device Management.

Step 2. Search for any dubious profile, then click on it to view more options. You shall be able to view the permissions and restrictions that MDM possesses.
Step 3. Click on Remove Management at the very bottom of your screen.

Step 4. Now enter the pin and confirm your choice. Now you have successfully removed the management profile from your iPhone.
2. [Without Password] Remove MDM via Professional Tool
If you have recently received a device which has an MDM profile installed on it and seeks to remove it without a password then, this is where our tool comes in, LockEraser. A dedicated tool that provides a secure method for bypassing and removing MDM.
One-click removal of management profile from your iPhone.
Bypass MDM effectively if your device is locked out of the MDM lock screen.
No requirements of a username and password.
Simple steps and user-friendly interface help anyone use it without difficulty.
Guarantee full access to complete iOS functionality after MDM removal.
Compatible with almost all iOS versions and devices, including iOS 15 and iPhone 13 series.
Free trial is offered to every new user.
1

Download, install and launch LockEraser on your computer. Choose the Bypass MDM mode, then get your device connected.

2

There are 2 different modes: Bypass MDM and Remove MDM. In this case, select Remove MDM and click the Start button to proceed.

3

Wait patiently while LockEraser is removing MDM for you. It won't take long.

4

Once the MDM is successfully removed from your iPhone or iPad, you'll get a notification.
FAQs About Removing Management Profile From iPhone
1. What happens if I remove management on my iPhone?
MDM gives users a reduced functionality of their devices. It is exactly the restricted and supervised experience of their iOS devices that cause some of these users to remove MDM profiles from their iPhones.
If you successfully remove management on your iPhone, your iPhone will no longer be supervised or restricted by any organization or administrator, and you'll get back to the full functionality of your iPhone.
2. How do I get rid of management and supervision on an iPhone?
Using our tool - LockEraser, you can now completely get rid of your management and supervision of your mobile device. Otherwise, if you do have a passcode, then follow a few easy steps given in this article and you'll be able to remove management from your iPhone.
3. How do I delete an unremovable profile on my iPhone?
LockEraser is a quick fix for this. With the help of this professional MDM removal tool, you can get rid of an unremovable profile on your iPhone by just following a few easy steps. Give it a try and you won't be disappointed.
Conclusion
MDM is basically a protocol that aids system administrators in managing multiple Apple devices at the same time. This utility is great from an organizational standpoint of view, as it provides a one-stop solution in terms of device management. However, it also deprive the users of the control over their own devices.
If you find that your iPhone has MDM and wish to remove management profile from iPhone, you can do so using a password or with LockEraser. Just follow the specific steps provided in this article and you'll be good to go.