When you buy a new iPhone or simply after erasing an old iPhone, you need to have a clue of what it means to set up a new iPhone. Usually, you will be prompted to enter the Apple ID to finish setting up your device. However, you might not remember the Apple ID or, for some reason, don't want to trust your data with Apple. Then in this case, you will have to think outside the box regarding how to set up your iPhone without Apple ID.
While setting up iPhone may sound like a hard nut to crack assignment, it can be done by yourself without needing any expert. In this article, we'll give you a detailed guide on how to set up iPhone without Apple ID.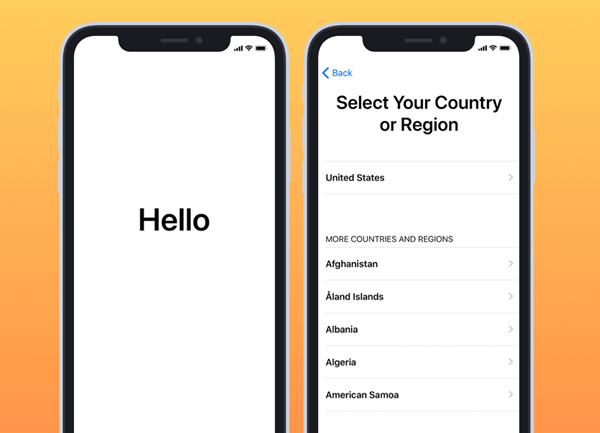 Part 1.

Know More About Apple ID

Apple ID is simply a username for Apple users to access Apple services. This ID has an associated email address and password to sign in. It also includes other details that you use across all Apple services, such as payment details, contact information, and other security details. To access any Apple service like iTunes Store and iCloud, you would need an Apple ID to identify yourself to Apple's database. You can also use the Apple ID to access various Apple devices like iPad and MacBook.
1. Is Apple ID the Same as iCloud ID?
Apple ID should not be confused with iCloud ID. The two are closely related but different. Initially, the two IDs started as different services but have since become near the same thing.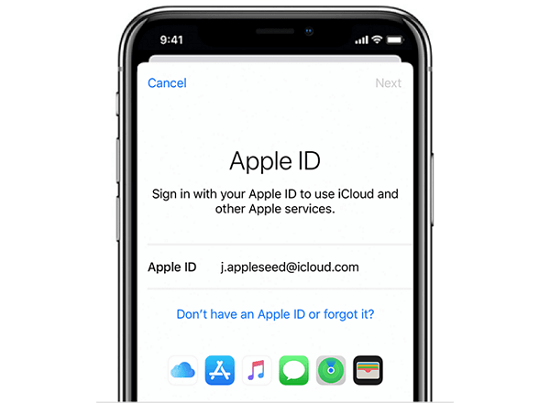 Apple ID is a username for anything you want to do with Apple features. As iCloud service is one of the most widely-used features, you can use Apple ID to access it. iCloud service is created to help people synchronize as well as access data such as photos and videos across multiple devices.
As for iCloud ID, to begin with, it is a username for accessing iCloud services, often on shared Apple products. You can create an iCloud ID for your family members so that everyone can have their own iCloud experience.
2. Why Setting up iPhone Normally Requires Apple ID?
When setting up a new iPhone, the device requires an Apple ID to sync your iPhone to Apple databases. This will allow you to access various Apple services when using your device. If you don't have an Apple ID, you cannot access several Apple services, and you won't get a better experience with your Apple device.
Part 2.

Can You Set up iPhone Without Apple ID?

The simple answer to this question is a YES. It is possible to set up an iPhone without Apple ID. The good thing is that these steps are straightforward enough as it only involves navigating your iPhone setup settings. Check the steps outlined below to learn the details.
1

To start with, turn on your iPhone. Simply long-press the power button until you see the Apple logo appear on the screen.

2

Select your language of choice and your region.

3

The next screen displays "Quick Start" and "Set Up manually" options. Ignore the other option and click the "Set Up Manually" option.

4

Now, connect your device to a WiFi or cellular network.

5

If you want to use security features like Face ID, Touch ID, or access passcode, follow the on-screen instructions to create. However, you can skip this process by tapping the "Set Up Later" option.

6

You will be given two options to set up your iPhone on the next screen. Choose the "Set Up as New iPhone" option.

7

You should now see a sign-in screen prompting you to enter your Apple ID and respective password. Ignore this and tap on "Forgot password or don't have an Apple ID?".

8

Finally from the subsequent pop-up, select the "Set Up Later in Settings" option and confirm your choice.
Part 3.

Bonus Tips on Apple ID
1. How to Unlock Apple ID Efficiently?
When Apple realizes fishy or unauthorized login to your iPhone, it automatically locks your Apple ID. While you can still access and use your iPhone, your activities are limited because you cannot use every feature on your Apple device as you want. To be more specific, some features require your Apple ID to grant you access permissions and hence you must unlock your Apple ID to get the full experience of using your iPhone.
Fortunately, LockEraser makes this a reality. It is a powerful and most efficient tool to unlock Apple ID across all iOS devices and versions. The beauty of LockEraser is that it unlocks Apple ID under diverse circumstances. If your Apple ID is disabled, you forgot your Apple ID password, cannot turn off FMI, or fail to factory reset your iPhone, count on LockEraser to unlock your Apple ID and get you off the hook.
Unlock Apple ID on iPhone/iPad/iPod touch easily under various circumstances.
Unlock screen passcode/screen time passcode and bypass MDM professionally.
Easy to use for anyone without any technical knowledge requirement.
Highly cost-effective; trusted by users worldwide.
Work on almost all iOS models and versions.
Free trial is offered to every new user.
1

Download, install and launch LockEraser on your computer. Choose the Unlock Apple ID mode, then get your device connected.

2

Click the Start button to remove the Apple ID and iCloud account presently associated to your iOS device.

3

Wait patiently while LockEraser is unlocking Apple ID for you. It won't take long.

4

In just a few seconds, LockEraser will get the unlocking work done.
2. How to Keep Apple ID Safe?
As a gateway to Apple services, Apple ID is personal. If people with malicious intentions get into your Apple ID, it can prove costly and damaging. Therefore, it is important that Apple ID be given deserved attention to make it as safe as possible.To keep your Apple ID safe, some of the best ways include:
Use strong Apple ID passwords. The passwords should be hard to guess and should feature a combination of characters, numbers, symbols, and special characters.
Avoid using your Apple ID password in other accounts. This can minimize the chances of being guessed correctly.
Use the two-factor password authentication feature to add the layers of security.
Do not easily share your Apple ID with friends, members of your family, or just other parties.
Be alert on phishing and scams. Don't click any fishy emails, links, or texts to avoid giving out personal details to illegitimate websites.
Conclusion
Setting up iPhone without Apple ID is clearly a possibility and this article has offered everything you need to know. If your Apple ID is locked by some security reasons or you simply want to remove the existing Apple ID on your device, consider the best iOS unlocker tool - LockEraser. Professional and multi-functional enough, this program is capable of solving your Apple ID issues for good.