If you are an iPhone, iPad, or iPod touch user, you probably have heard or come across issues of a locked device. Whether it is locked screen access, failed Apple ID, or deliberate restrictions, it is clear that such scenarios are not pleasing at all. Tenorshare 4uKey is a tool that is associated with fixing such issues, yet scores of people are still in the dark regarding its capabilities, features, usage, and safety. Fortunately, the window of confusion is over because this article takes you through a comprehensive Tenorshare 4uKey review.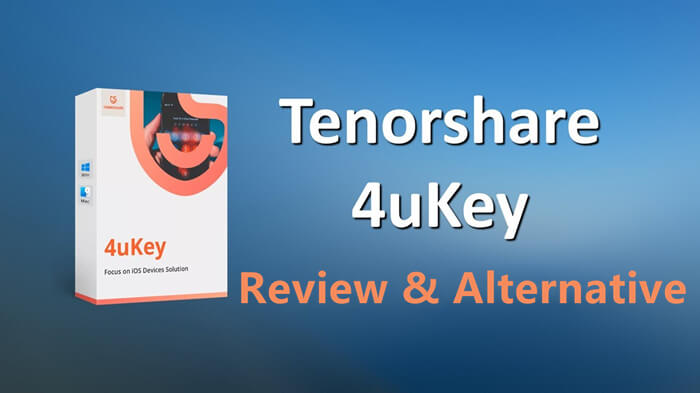 Part 1.

What Is Tenorshare 4uKey?

Tenorshare 4uKey is a dedicated unlocking software used by many people across the globe. This program is specifically tailored to allow iOS users to unlock their devices without passcode. Whether it is iPhone, iPad, or iPod Touch, you can seamlessly unlock your device using this program. Tenorshare 4uKey unlocks locked devices under various circumstances and supports even the latest iOS and iPadOS versions as well as iOS models.
Key Features of Tenorshare 4uKey:
1

Remove various types of screen passcode ranging from Touch ID, Face ID, 4-digit and 6-digit passcodes.

2

Allow users to delete Apple ID without password irrespective of whether the Find My iPhone feature is enabled or not.

3

Help users bypass MDM lock screen and remove MDM restrictions in order to access full device features.

4

Give users a platform to remove Screen Time passcode without data loss.
Part 2.

Common FAQs About Tenorshare 4uKey

Many people flock to the internet with plenty of questions about Tenorshare 4uKey. However, finding genuine answers to these questions can be a tough task. However, we have simplified everything for you by answering some of the FAQs about Tenorshare 4uKey as follows.
1. Is Tenorshare 4uKey Legitimate?
This is a very common question amongst droves of people. The truth is that Tenorshare 4uKey is legit. This product is designed to help users unlock devices and regain access to their own devices if they have unfortunately forget passwords. Furthermore, this program does not collect any data.
However, you are prohibited from using this tool to perform illegal tasks. In case you use it for illegal purposes, you will bear the consequences.
2. Is There a Free Version of Tenorshare 4uKey?
Yes, there is. Tenoshare 4uKey offers a free trial version to users. It is worth noting that, however, this free version is so limited that you will have to upgrade to the pricey premium version for a better experience.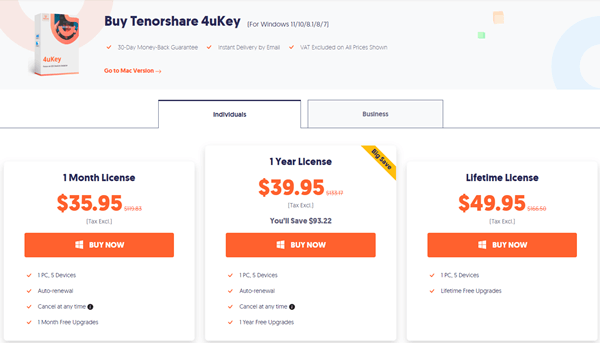 3. Does Tenorshare 4uKey Work for iPhone?
Yes. Tenorshare 4uKey works well for iPhone. To sum up, it supports nearly all iOS/iPadOS versions and iOS devices, including the latest iOS/iPadOS 15.4, iPhone 13, iPhone SE3, iPad Air5.
4. Does Tenorshare 4uKey Work for Android?
Yes. Tenorshare 4uKey works for Android devices. Just like there is Tenorshare 4uKey for iOS devices, there is another version of Tenorshare 4uKey for Android devices too. It supports most Android mobile phones and tablets, including the latest ones in the market excluding Sony, Oppo and OnePlus. And this program also supports unlocking earlier Samsung like Note 3, Note 4, Galaxy S5 without losing data.
5. Can Tenorshare 4uKey Remove Activation Lock?
No. Tenoshare 4uKey cannot remove iCloud activation lock. It only removes screen locks, Apple ID, MDM restrictions, and Screen Time passcode. Another product with a similar name Tenoshare 4MeKey is designed to bypass iCloud activation lock on iPhone, iPad and iPod touch.
Part 3.

How to Use Tenorshare 4uKey?

Now let's get to know the process of using Tenorshare 4uKey. Although it can be a bit complicated depending on your iOS version, you can still maneuver it with ease. The following steps illustrate how to finish the unlocking work:
Step 1. Download, install and launch Tenorshare 4uKey on your computer. Once opened, connect your device with the PC using a suitable USB cable.
Step 2. On the main interface, choose the desired unlocking option. Let's suppose we want to unlock our iOS screen. So here we click Unlock iOS Screen mode and hit the Start button. Click Next to proceed.

Step 3. Hit Download to fetch the right firmware package in the next screen.
Step 4. When the firmware package is downloaded, click the Start to Remove button and wait for the device to finish removing the screen passcode.

Step 5. When the screen passcode is removed, you should see the success notification on the screen. Then you can set up your iPhone as new.
Part 4.

The Pros & Cons of Tenorshare 4uKey

Naturally, Tenorshare 4uKey review won't be complete without discussing some of its pros and cons. The information will give you a one-shot understanding of whether Tenorshare 4uKey is good for your task or you need an alternative. The following are some of the pros and cons of Tenorshare 4uKey.

Pros
This program can remove nearly every type of locks on iOS devices.
It is easy to use and highly affordable compared with other tools of the same type.
It boasts a high success rate, especially in removing Screen Time passcode.
It is compatible with a wide range of devices ranging from all iPhones, iPad, and iPods. Again, it supports the latest iPhone 13 and iOS 15.4.
Cons
You will experience data loss after unlocking iOS screen.
This program does not support iCloud activation lock.
This tool can only bypass MDM lock screen but cannot remove MDM restrictions.
The free version is very limited, and you will be obliged to buy the official version for complete experience.
Part 5.

Check The Best Alternative Here!

UnicTool LockEraser is undoubtedly the best alternative to Tenorshare 4uKey. This program is designed with the user in mind, and this explains why it removes any type of iDevice locks in no time. In a word, LockEraser is user-friendly, secure, professional, efficient, and effective. For everything Tenorshare 4uKey can do, LockEraser does better. What's more, it remedies Tenorshare 4uKey's limitations:
Remove all types of iOS locks, including Apple ID lock, screen lock, Screen Time lock and MDM lock.
Capable of both bypassing MDM and removing MDM: bypassing MDM when you get stuck on the MDM lock screen; removing MDM restrictions/profiles when you are supervised by the administrator.
Boast extremely high success rate and b security.
Provide clean interface with clear on-screen instructions.
Get the unlocking job done quickly with only several simple clicks.
Offer top-notch customer services and help fix various issues.
Support all iOS/iPadOS versions and devices, including the latest iOS/iPadOS 15 and iPhone 13 series.
It only takes several steps to use LockEraser, as illustrated below (take removing MDM as an example). For more details of using this tool, you can check the user guide carefully.
1

Download, install and launch LockEraser on your computer. Choose the Bypass MDM mode, then get your device connected.

2

There are 2 different modes: Bypass MDM and Remove MDM. In this case, select Remove MDM and click the Start button to proceed.

3

Wait patiently while LockEraser is removing MDM for you. It won't take long.

4

Once the MDM is successfully removed from your iPhone or iPad, you'll get a notification.
Conclusion
Tenoshare 4ukey is indeed a good iOS unlocker tool. However, it may not offer everything you would demand from an ideal tool. This Tenorshare 4uKey review has highlighted some of the strengths and weaknesses in depth. Furthermore, you now know the best Tenorshare 4uKey alternative - LockEraser. If you want to get better user experience while unlocking your iDevices, then download LockEraser and get started.