If you want to watch videos that are not accessible from your country or looking to catch more rare and legendary Pokémon, then mocking location on your phone is the best possible option. If you are a Huawei user, mocking location on Huawei is easy if you exactly know how to do it.
In this article, we will teach you everything you are looking to know about how to mock location on Huawei. If you are using Xiaomi, you can check this tutorial for mocking location on Xiaomi. By faking location on your Huawei phone, you can surpass all the location limitations and enjoy the location services in a better way.
Part 1.
Location Services on Huawei
There are many apps that use location services to function smoothly and to provide better services. However, many people feel as though their privacy has been violated by services such as these. You can enable or disable location services on your phone if you are uncomfortable with the idea that your phone tracks where you are.
But it is important to note that as soon as you disable the location services on your phone, it stops accessing your location, and some location-based apps such as Google Map, Tinder, Uber, and Pokémon GO may not function normally.
One of the first things the apps ask you to do when you download and open them is whether or not you want to enable location services. If you made a choice but want to change your mind later about the option you initially chose, you can always adjust the location services settings on Huawei phone.
Go to Settings > Privacy > Location services. As for the option "Access to my location",  turn it on or off based on your actual needs.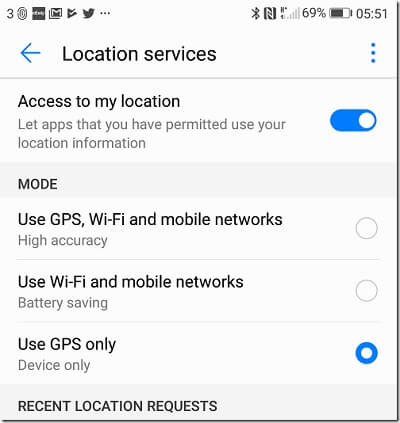 In addition, there is also a shortcut method to enable or disable your location services on Huawei phones. You just have to drop down the menu from the home page. Once the menu is open, there is a location sign, and you can set the location services by long-pressing it. 
Part 2.
How to Mock Location on Huawei Phone
If you don't want to completely disable your location settings so that you can remain control over the apps in your phone, the best option is to mock your location. Mocking location on Huawei is the method in which users fake their location to hide the real place or to access zone-based services. People also use this technique to catch more Pokémon in Pokémon GO or meet diverse people worldwide on dating apps such as Tinder and Bumble.
There are multiple ways that users can use to fake GPS location on Huawei phones. And here in this section we'll introduce 3 tools: TailorGo, Floater Fake Location, and Surfshark VPN.
1. TailorGo - The Best Mocking Location Tool
TailorGo is one of the best spoofing apps developed by UnicTool team. It is incredibly user-friendly and equally compatible with both Android and iOS system (including the latest iOS 16). This app helps you change your location to protect your privacy, fake your location on social media platforms and AR games, as well as meet more people on dating apps. In addition to fake location, this app can also simulate GPS movement on the map along customized routes with planned speed.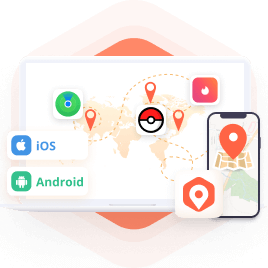 Spoof Your Location in Mobile Game Pokémon GO
Allows you to to enter GPS coordinates to get a precise location.
Helps you customize the route to move along and plan the moving speed.
Historical Records keeps a record of the historical spots for review and future use.
Saved Spots & Routes collects the spots and routes you like for reselection.
Applicable to various apps including Facebook, WhatsApp, Life360, Grindr, and Pokémon GO.
Easy to use and 100% safe; compatible with Android and iOS (including iOS 16).
Every user can get a free trial before official purchase.
1

Download, install and launch TailorGo on your computer. Then get your device connected and click the "Get Started" button.

2

There are 3 different modes: Teleport Mode, Two-Spot Mode and Multi-Spot Mode. To simply change location, choose the 1st one and select the destination. To simulate GPS movement, choose either the 2nd or 3rd one, then plan a route to move along.

3

Your location will be changed easily; or the movement will be completed in no time.
2. Floater
Floater Fake Location is an app that is used to fake locations. It is able to trick the GPS on your Huawei phone to place your virtual location somewhere else. The strongest point of this app is its floating interface. You can select the location you want to appear by sliding your finger on the floating window showing map. During the process, the size of the floating window is adjustable.
Floater Fake Location is also a bit tricky to use as you have to change the settings in your Huawei phone by turning on its developer mode. Following the steps below to use Floater:
1

Simply install the software on your computer and launch the program. Once the program is running, you will select "Standard Repair".

2

Go to "Settings > About phone". Tap exactly seven times on "Build number" to enable Developer options.

3

Head to "Settings > System & updates > Developer options". Scroll down the menu and click on "Select mock location app". Select "Floater" here.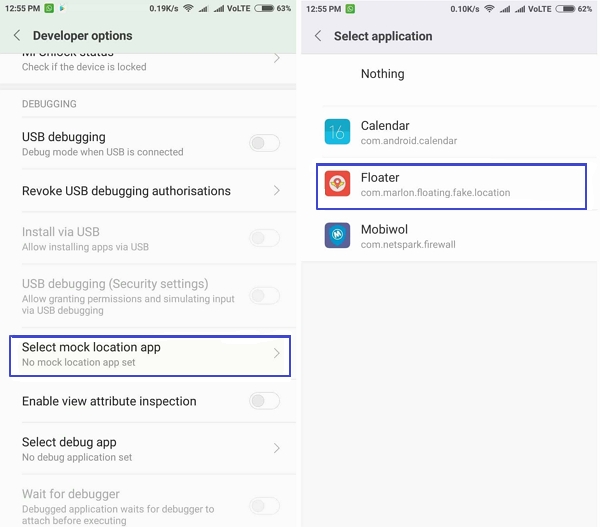 Now, open the Floater app and do the following steps:
1

Select the location you want to fake.

2

To search for a location manually, click on the target button at the bottom or the magnifying glass icon at the top.

3

Tap on the play button to start spoofing.

4

You can pause spoofing by just clicking the pause button.
While this tool can be used with many location-based apps, sometimes it can be detected and get blocked.
The initial setup process on the phone is a little bit complicated.
3. Surfshark VPN
Surfshark VPN is a great VPN. It is incredibly easy to use and super safe. The network reliability and device compatibility are impressive. Moreover, the tool has got unblocking abilities and security features.
You can use Surfshark VPN to fake locations on your Huawei phone by simply following the steps given below:
1

Download and install Surfshark VPN. Install and sign in to the app.

2

Tap "Connect" to connect to the fastest VPN server available. Or if you want to connect to the nearest server, just change the default option.

3

If the connection is successful, you will see the connected country name at the bottom of the screen.

4

You can also change it manually by choosing a location you prefer in the "Locations" section.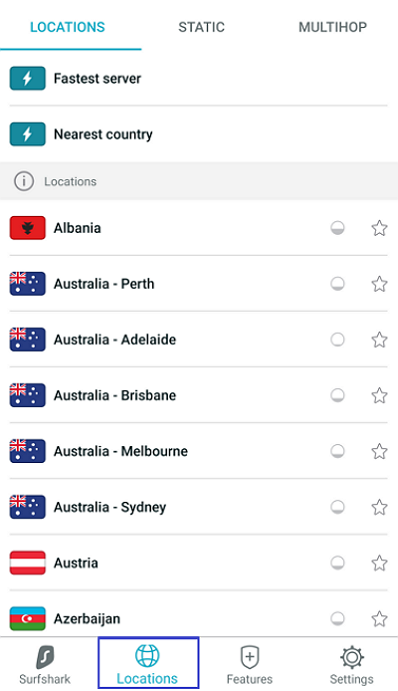 It is not free. You have to pay for it to spoof location.
Its server network is pretty small compared to many other VPNs.
FAQs About Mocking Location on Huawei
1. What is a mock location?
For many people, mock location is a developer setting used by developers to fake locations on phones for testing purposes. However, users also use it to fake location to catch more Pokémon on Pokémon GO, meet more people on dating apps, and play little tricks on social media platforms. In short, it is a method to fake your location.
2. How do I enable mock locations on Huawei?
To turn on mock location on Huawei, follow the following navigation:
1

Go to Settings of the phone and click on "About phone". Then in this section, click six to seven times on "Build number", which will open the developer mode.

2

Now go back to "Settings > System & updates", you'll see "Developer options". Scroll down and find the option "Select mock location app".
3. How do I change my location on my Huawei?
Changing location on Huawei is not impossible, but no one can do it manually. But things can be quite easy so long as we find the right way and choose the suitable tool.
Among the three different tools we've talked above, it's clear that TailorGo is the best choice in view of its powerful functions, simple steps and wide compatibility. Try it and you can change location on Huawei faster than expected.
Conclusion
Several mobile apps require GPS and location services to function smoothly, especially for location-based apps such as Google Map, Careem, Uber, and Pokémon GO. But for several reasons, there are some users who want to mock location on Huawei.
Here we've offered 3 different tools to mock location on Huawei, among which the most recommended option is TailorGo. If you are looking for apps to fake your location on Huawei, get the free trial of TailorGo and you won't be disappointed.