Many Huawei users across the globe are enjoying Pokémon GO on their devices like never before. However, the big challenge is how to catch those rare Pokémon species. Moving from one location to another is tiresome, time-wasting, and requires a budget. Fortunately, location spoofing is making things easier than ever.
Huawei users can now play Pokémon and catch those coveted rare species in the comfort of their homes by virtually moving from one location to another. While several location spoofing techniques exist, few provide reliable and safe spoofing. In this article, we take you through a detailed guide on how to spoof Pokémon GO on Huawei and the best tool to do that.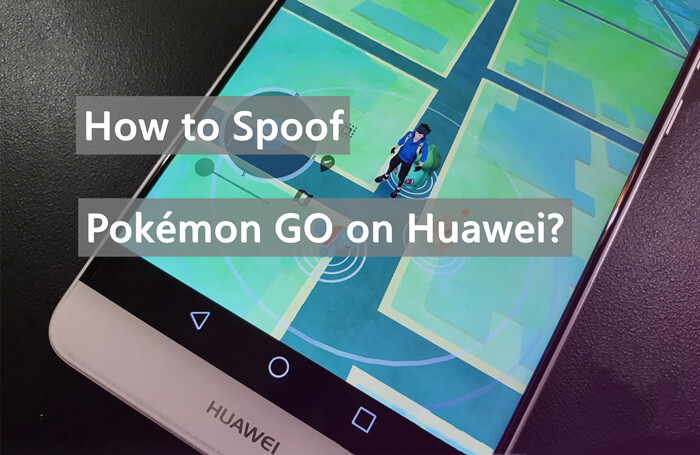 Part 1.

How to Install Pokémon GO on Huawei?

Belive that many people can not find Pokémon GO on Huawei's Huawei app gallery, and the Huawei Official Service would suggest you add Pokémon GO to your Wishlist on AppGallery. Is there a way to play Pokémon GO on Huawei devices? Yes!

You can download the Pokemon Go Apk directly online like PGsharp, also, there are ways available to install Google Playstore on your Huawei Device. For example, you can download and install the Google fiber app, which is an easy and quick way for Huawei devices to get Google Playstore, and then you can download Pokémon GO on Huawei from Google Playstore now.
Part 2.

How to Spoof Pokémon GO on Huawei?

No one can directly spoof Pokémon GO on Huawei manually. That is to say, we need a tool in order to fake location in the game. While there are plenty of location changing tools available in the market, one can never be too cautious while making decisions for the purpose of saving time and energy.
1. [Recommended] UnicTool TailorGo
UnicTool TailorGo is undoubtedly the best application to spoof Pokémon GO on Huawei. This amazing Android and iOS GPS location spoofer is equipped with virtually all features you would need from a modern location spoofer tool. Besides, his program is not limited to just Pokémon GO game. You can also use it to hide your location for security or privacy reasons, for social media fun, and for matching friends in dating apps.
Teleport you to any place you choose in a few clicks.
Simulate movements on the map along designed routes and with customized speed.
Help you move flexibly and automatically with the Joystick feature.
Support both Android and iOS in a smooth way.
Guarantee 100% security and satisfactory customer service.
Offer free trial so readers can enjoy the functions without even purchasing.

1

Download, install and launch TailorGo on your computer. Get your device connected, then click the "Get Started" button to begin.

2

Choose either Gaming mode or Social mode based on your needs. To spoof Pokémon GO, select the Gaming mode.

3

There are 4 different options: Joystick Mode, Teleport Mode, Two-Spot Mode and Multi-Spot Mode. Check the details and choose a suitable one.

4

Your location will be changed easily and Pokémon GO will use the new location.
2. Fake GPS Location - GPS JoyStick
Fake GPS Location - GPS JoyStick is one of the highly-used methods to fake GPS locations for apps across different devices. This app allows users to fake the GPS location of location-based apps using a joystick. Your current location does not matter. GPS Joystick swiftly changes your location to the desired location. It also allows you to enter the exact latitude and longitude values to find the desired location directly.
1

Visit the Google Play Store app, then download and install it on your Huawei device.

2

Go to Settings > About phone. Tap exactly seven times on Build number to enable Developer options.

3

Head to Settings > System & updates > Developer options. Scroll down the menu and click on Select mock location app. Select GPS Joystick here.

4

Launch the app and hit the Get Current Location option followed by the START icon.

5

Now choose the location you want to teleport to and hit the SELECT button. You can also provide the latitude and longitude information or pick a location from the favorites. Click START, and you can freely move to any mock location on the map as per your interest.
Limitations
You might need to root your device before using GPS Joystick. This is a complicated process.
This tool can malfunction at a time, and some users have reported it cannot work with Pokémon GO.
There are too many ads within the app.
3. ExpressVPN
Express VPN is one of the fastest and most secure VPN services around. It provides several encryption features and covers a vast network of servers across 94 countries. This VPN service works across several platforms and provides one of the easiest ways to mock location and spoof Pokémon GO on Huawei.
1

Get ExpressVPN, sign up and log in to it.

2

Connect to the recommended location.

3

Alternatively, you can click the three dots beside the smart location and choose the city or country you prefer.
Limitations
You cannot use ExpressVPN alone to spoof Pokémon. You need a third-party GPS location spoofer. This is because Express VPN only allows you to change the IP address of your device, while Pokémon GO uses GPS location.
Part 3.

Some Safety Tips on Spoofing Pokémon GO on Huawei

The legit way of catching Pokémon is to move to those areas physically. Spoofing is illegal in Pokémon GO as it is not what the game developers wanted. It is an illegal way of catching Pokémon, and it breaks the rules of the game.

To deal with this illegality, Niantics invests in detecting some fishy moves on the Pokémon GO accounts. When your movements appear unnatural, you will get flagged, and your account might be suspended or permanently banned. Therefore, you need to be skillful to avoid being flagged by Niantics. Some of the safety tips on spoofing Pokémon GO on Huawei include:
1. Make reasonable location changes. The distance between subsequent locations should be reasonable. It should not be long enough to raise suspicion.
2. Have cooldown durations to make your movements more natural. Changing from one location to another swiftly can be detected with ease.

3. Use location spoofer tools with good safety features. For example, certain apps provide several speed mimic options while others don't. It is not that easy to get caught with those location spoofers that offer better features.
4. Avoid rooting or jailbreaking your phone because it opens the gate for security and safety threats.
5. Use the original game when catching Pokémon. Avoid modified or third-party clients.
Conclusion
It is easier to spoof Pokémon GO on Huawei than you thought. However, you need to be careful when choosing the spoofing platform because this can make or break your gaming experience. Furthermore, poor selection can set you in the hot soup, and your account can be suspended or banned. Fortunately, UnicTool TailorGo provides the best Pokémon spoofing platform for you. Install it on your Huawei device and spoof Pokémon without worrying about safety.