You might have experienced it. You are listening to a song where suddenly the voice sounds like it is coming from a megaphone. You are wondering whether the singer made that telephone-like sound or if this is some kind of voice effect. Well, it's the latter.
You can create the same vocal effect via the Megaphone Voice Changer. We will introduce the best Megaphone Voice Changer PC and apps to help you make your voice sound like it's coming from a telephone.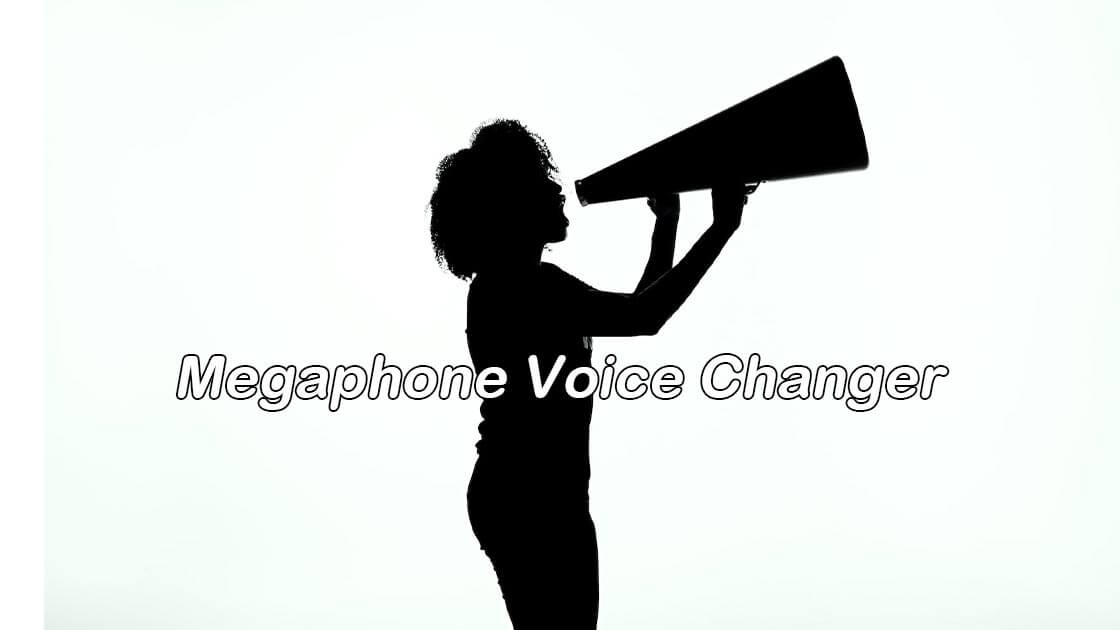 Part 1.

Best Megaphone Voice Changer for PC

Looking for the best Megaphone voice changer? We have curated a list of the best Megaphone voice changer you can use on PC.

UnicTool MagicVox is the top Megaphone Voice changer you can use to add variation to your vocals.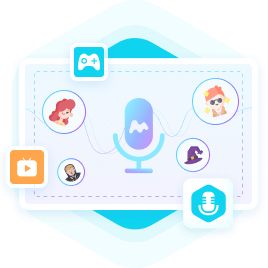 A Real-Time Voice Changer
It has more than 400 sound effects, allowing you to add a creative dimension to your atmosphere.
You can import your MP3 file to make your sound effect library more vivid.
It includes the option to choose from more than 150 voice emoticons, depending on your needs.
The voice emotions can be used during gaming or live calls for a more joyful experience.
Pros
It has an intuitive user interface.
The voice studio gives you the freedom to customize your voice as you desire.
It functions fine on both Windows and Mac.
You can use this real-time phone call voice changer while you're on the phone or live streaming.
It allows you to customize your voice into different audios, including the baby voice, robot, alien, and helium pitch.
It works on various video-conferencing and instant messaging software, including Viber, Skype, Ekiga, Mumble, and Discord.
Cons
It is a new product in the market.
How to use a Megaphone Voice Changer on PC
Step 1: Download the application.
Step 2: Configure input and output device. From the setting, assign a microphone as input and headphones as an output.

Step 3: Select the platform and go to the Audio Setting, set Voice Changer Virtual Audio Device (WDM) as default input device.
Step 4: Select the broadcast to get a megaphone voice effect

Step 5: You may assign the keybinds with the funny voice emoticons you can use on voice chat.
Watch the video below to know more about Megaphone voice changer
Packed with innovative features, Clownfish lets you alter your voice box without having to go under the knife.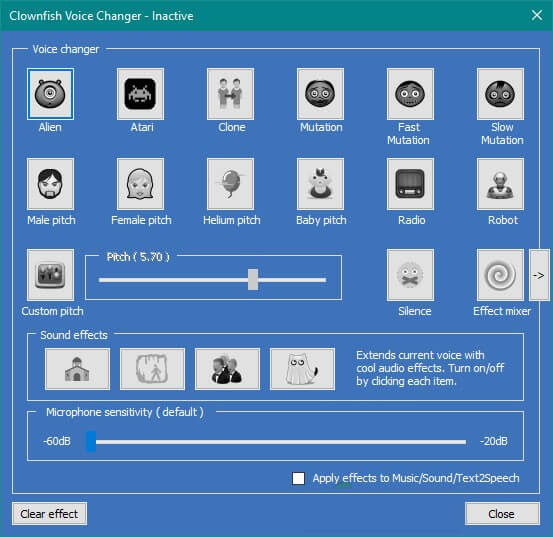 The most prominent features of Clownfish are as follows:
Clownfish alters your voice with the advanced Virtual Studio Technology (VTS).
It comes with hundreds of sound effects allowing you to make your voice chatting experience more exciting.
You can add music of your choice from Vimeo, YouTube, etc.
The software supports the text-to-speech feature.
Pros
It's hassle-free and easy to use.
The software is available for free.
It allows you to add voice in multiple languages.
Cons
It only works on Windows and doesn't function on Mac computers
It's embedded in your system, so other applications using a microphone will be affected
Voicemod is a Megaphone voice changer designed to alter and add custom sound effects to your voice.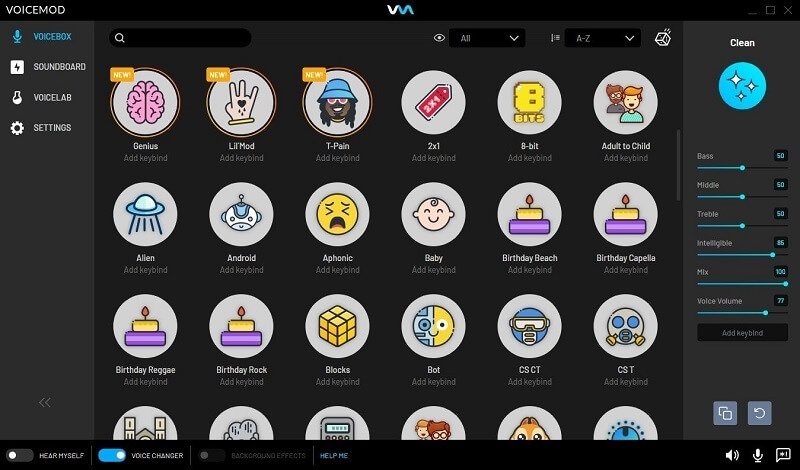 Key Features
The voice changer uses AI technology to alter your voice, making it as realistic as possible.
It's a perfect Megaphone voice changer for vloggers, YouTubers, and gamers
Whether you want to sound like a chipmunk, robot, woman, man, or demon, Voicemod makes it possible for you
It integrates with your favorite games and online apps, including TikTok Live Studio, Omegle, and Twitch, among others
Pros
Voicemod is a versatile option to alter your voice depending on the game you are playing.
The soundboard is interactive and convenient to use
It gives you the freedom to upload your MP3 files
Cons
The free version offers limited features
Part 2.

Best Megaphone Voice Changer Online

Here is the best Megaphone Voice Changer online free to make your content more interesting.

It is one of the most exciting Megaphone voice changers online designed to alter your voice and create a custom voice. The voicechanger.io lets you add hundreds of effects to your voice so that you can amuse your friends.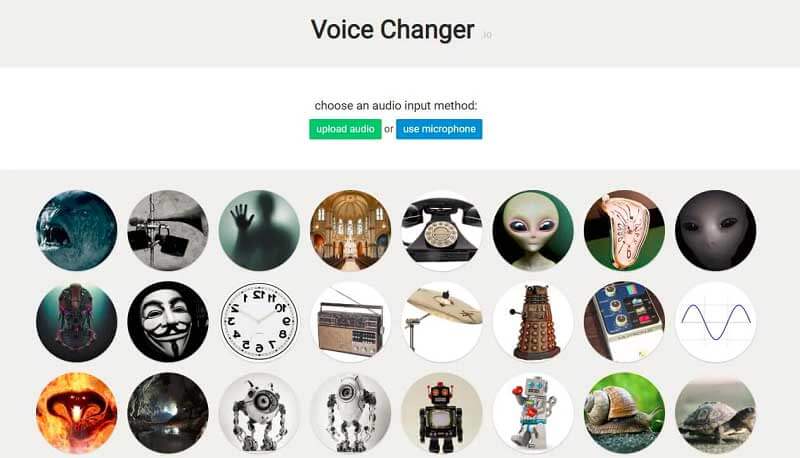 The main features of Voice Changer are:
The incredible Megaphone voice changer online creates interesting vocals that you can use even for commercial purposes.
All you have to do is sound like a target audience, and voicechanger.io will detect it and make it more realistic.
You can either record your voice via microphone or upload an MP3 file from your computer.
The text-to-speech option offers a convenient way to generate speech
Pros
It's interactive and user friendly
The software offers hundreds of voice effects for free
It's the perfect software for content creators
Cons
Besides different voice effects, the software doesn't offer much
The altered voice can't be used on other communication or gaming platforms
Myvoicemod is an exciting Megaphone voice changer online designed to add variations to your voice and double up the fun. This online voice generator lets you record your voice and make changes during recording.

Key Features
Myvoicemod allows you to morph your voice and pull a prank on your friends
The chipmunks and heli voice effect can be used to record birthday wishes in a joyful voice
It's a joyous way to spend quality time with your friends without having a moment of boredom
The voice changer comes with five variants to create fake yet enjoyable voices. The variants can be mixed together to create hilarious effects
Pros
This megaphone voice changer is free to use
It comes with hilarious voice effects allowing you to add an element of amusement to your relationships.
The voice can be changed during speaking.
You can either use the microphone or add an audio file of your choice
Cons
It doesn't have a lot of features to alter your voice
The voice changer doesn't work with games and communication platforms
Part 3.

Best Megaphone Voice Changer App

Searching for the Best Megaphone Voice Changer App? Here are the best Megaphone voice changer apps designed to throw a splash of creativity into your voice.

The voice changer with effects is one of the most popular megaphone voice changer apps, with more than 100 million downloads.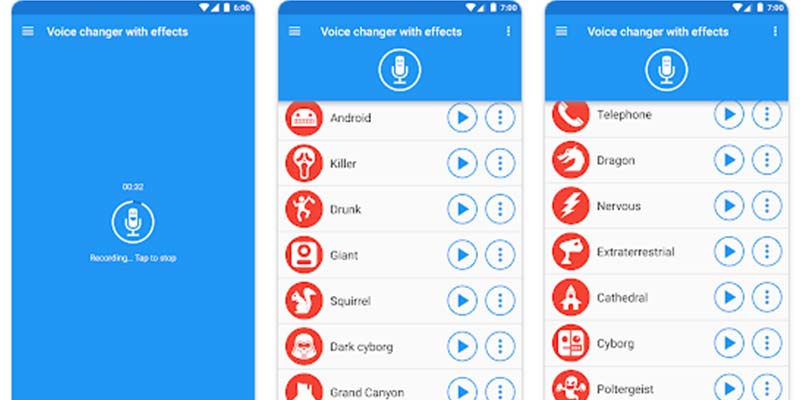 Key Features
The app alters your voice with 40 interesting voice effects, including the robot, helium, zombie, and alien voice effects.
The sound can be downloaded to be used for commercial purposes
It works with every device
You can set the altered voice as your ringtone to amuse to surprise your friends.
You can transfer the edited audio files via email
Pros
The app is user-friendly and free to use
It offers various advanced features like transferring files via email or setting the voice as a ringtone.
It allows for CPU usage optimization
Cons
Some of the voice effects don't work well
It doesn't allow for controlling the speed or altering the tone
MEGAPHONE VOICE CHANGER ECHO is a popular Megaphone voice changer app allowing you to alter your voice and add various sound effects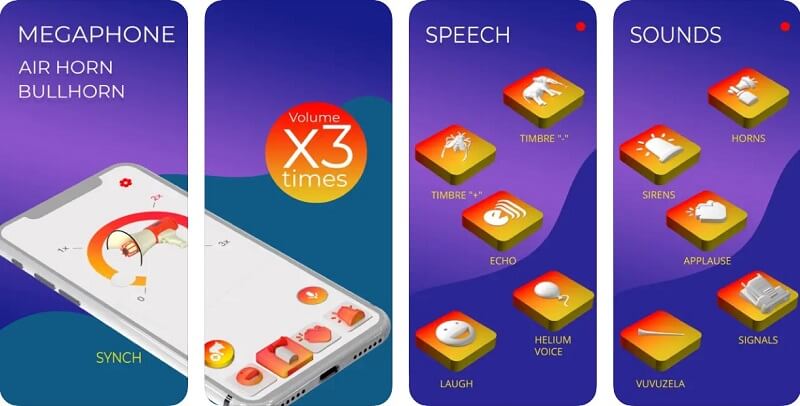 Key Features
The voice changer is a perfect app to download on Halloween. The scary air horn effect will pull a most enjoyable prank on your friends and throw you into a fit of laughter.
You can turn into a melodious opera singer or an innocent child in a matter of seconds.
It helps you create memorable and funny moments with your friends
You can maximize volume 3 times more to create a prominent effect
Pros
It offers high-performance and hundreds of voice effects
The echo effect adds a theatrical touch to your voice
It's safe and protects your data in an efficient way
Cons
It only works on iPhone
The free version has limited features. You will have to purchase the premium version to access advanced features.
Conclusion
The Megaphone voice changer is all you need to add an exciting and creative spin to your voice. You are born with a single kind of voice, but these voice changers go beyond these limitations and give you the freedom to alter your voice the way you desire.
Of all these amazing voice changers, UnicTool MagicVox has clearly outperformed its counterparts. It lets you add a telephone-like sound to your songs or makes your friends laugh with hilarious megaphone voice effect. You can change your voice while gaming or chatting with your friend.