Did your iPhone suddenly turn off and refuse to turn back on again? Or has your iPhone's screen cracked or stopped functioning?
In either case, if you have essential photos or data on your device, you may be wondering if there's anything you can do to recover them. This issue might seem daunting, but there are a few simple ways to get your photos and data back - even if your iPhone is completely unresponsive.
Here we'll go through some of the easiest and safest methods to recover your photos from iPhone that won't turn on. We will also give you some valuable tips at the end on what you can do if your device isn't working correctly.
So, let's get started!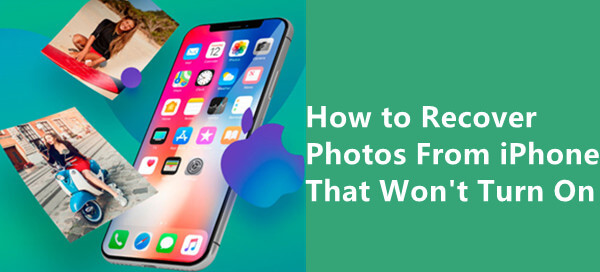 Part 1.

Why Isn't Your iPhone Turning On? Here Are 3 Possible Reasons

Before we start discussing methods for recovering your photos, we need to understand why your iPhone isn't turning on in the first place. There are several main reasons for your iPhone not to turn on, but the most common ones are as follows:
Battery Runs Out
There is a probability that your iPhone is not turning on because the battery has completely drained or is dead. You could solve the problem by charging your iPhone. Sometimes due to issues with the charging process or battery, an iPhone might not turn on even when plugged into a charger for a long time.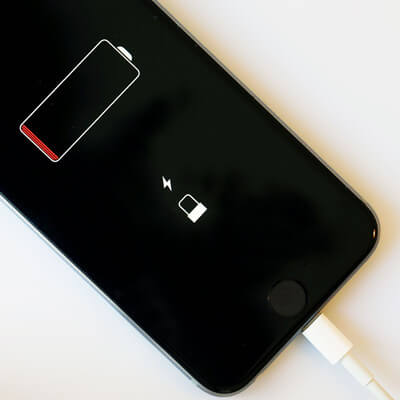 Software Error
A software error is another typical reason for an iPhone not turning on or getting caught at the Apple logo. This could be triggered by an iOS update that has gone wrong or some other malfunction in your device. You could solve this problem by force restarting your iPhone or fixing your system with a professional tool.
Hardware Error
A hardware error is when there's something wrong with the physical parts of your iPhone, such as when it gets punctured, crushed, or if you drop it in water. This can cause severe damage to the device and prevent it from turning on. To solve the hardware error problem, you could contact apple support.
Part 2.

Recover Photos From iPhone That Won't Turn On Through a Professional Tool

One of the best ways to get your photos back from a device that will not turn on is using a professional data recovery tool. This is where iFindit comes in and helps you recover your photos from the damaged iPhone safely and quickly.

iFindit is the best choice for recovering data from an iPhone that won't turn on because:
Be able to recover your data without backup.
Be able to recover your data selectively.
Be able to recover the photos without losing any other existing data in your iPhone.
Provides a detailed free preview of the data before you recover your data.
Be able to recover your lost in many scenorios such as iPhone being factory resetting, iPhone being disabled and so on,
Now that we know a little more about iFindit, let's take a look at how one can use this tool to recover lost photos from an iPhone.
1

Download and install the iFindit application on your PC or Mac. Run the iFindit application and choose the "Recover from iOS Device" mode from here. Use a USB cable to connect your iPhone to your PC.

2

Once connected, click on the "Next" button and look for the type of data you want to recover.

3

The iFindit program will automatically detect your iPhone and prompt you to select the type of data you want to recover. Select "Photo" and click on the "Scan" button.

4

The iFindit program will look for any missing photos on your iPhone. You can view the photos after the scan is finished. From here, you can download all of your found photos by clicking on the "Recover" button.
Part 3.

Recover Photos From iPhone That Won't Turn On Through Official Tools

Although, with the help of iFindit data recovery tool, you will be able to successfully recover photos and other types of data. However, if you want to try out some more approaches, keep reading.

We'll show you three more effective ways to recover data from a non-working iPhone without installing any third-party software.
Method 1: Using iTunes Backup
iTunes is one of the most convenient methods for backing up and restoring your iPhone data. If your iPhone data was backed up with iTunes before it went down, then you can quickly get it from its backup. However, you will need another iOS device with sufficient storage and, both must be set up with the same Apple ID.
Here are the steps:
If you have an iTunes backup, the first step is to connect your iPhone to your PC or Mac and launch iTunes.
Then, click on the device icon at the upper-left corner.
Go to the summary tab from here. Click "Restore Backup" after selecting the location and you're done.
Method 2: Using iCloud Backup
If you don't have an iTunes backup, you might consider restoring your data from iCloud backup, but only if the deleted photos were previously synced to iCloud. This approach is a little more complicated, and you will need to manage another iPhone to rescue data from an iCloud backup.
First of all, navigate to Settings > General > Reset >"Erase All Content and Settings" to completely erase all existing data.
When a popup appears, click "Erase Now" and then follow the on-screen instructions until you arrive at the Apps & Data page.

Simply select "Restore from iCloud Backup" and then provide your Apple ID and password.
Your iPhone will restart once the backup has been downloaded, and all of your data will be restored.
Method 3: Using iCloud.com
If you don't have access to another iOS device, you can recover your photos via iCloud.com on your PC or Mac without having to install any third-party software.
It's a simple process; all you have to do is go to iCloud.com and log in to your account. Then, under "Photos" select the photos you wish to recover and press the Download button.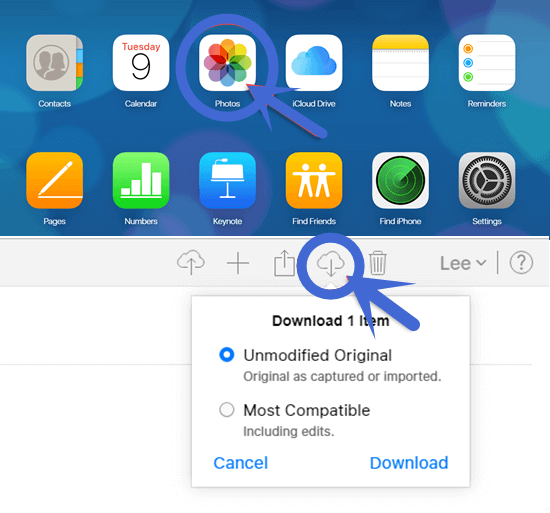 Bonus Tips

for Fixing a Non-working iPhone

We hope you found the information provided above to be helpful. Now let's move on to fixing an iPhone that isn't working properly.

Here are some bonus tips for you:
Charge iPhone
If your iPhone won't switch on, the first thing you should do is to charge it. Connect your iPhone to a power source using the original cable and adapter, then charge it for at least one hour. Try changing the charger if there is no indication of life after one hour. If still nothing happens, move on to the next tip.
Force Restart iPhone
If charging your iPhone fails, the next step is to force a restart, which will usually fix most software issues. This varies by iPhone model, so go to the Apple Support page and select your iOS version to learn how to force restart your iPhone.
Use iFindit to Fix Your System
iFindit also has a "Fix iOS System" module that can assist you in repairing your iPhone if it is not functioning properly. This offers iOS device repairs for various system issues. There are three modes available: With the Standard Mode and Advanced Mode, you could repair your iOS system.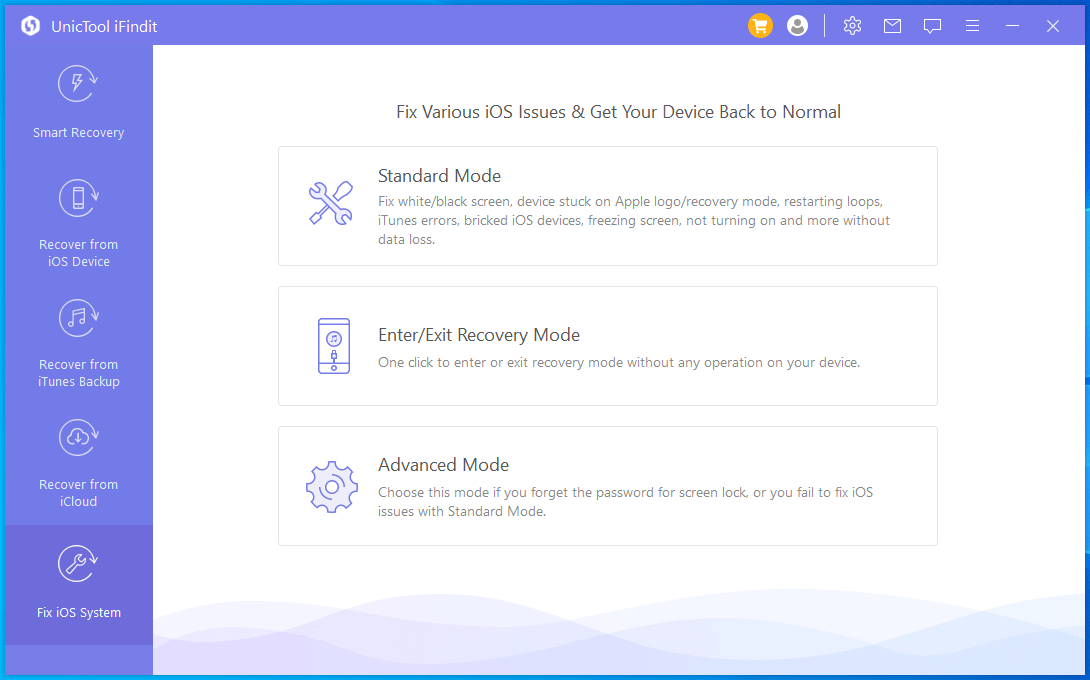 Contact Apple Support
If you've tried everything else and your iPhone still not turning on, you can send it to Apple for repair. This is frequently the best option, as Apple will have access to all of the essential hardware and software to resolve the problem.
Conclusion
If you ever encounter an issue with your iPhone, don't panic! There are many potential solutions, and we hope the methods and tips provided in this article were helpful.
However, regardless of your situation, using iFindit data recovery for iOS devices will give you the best chance of recovering your photos from an iPhone that won't turn on and resolving any iOS-related issues.