It has been commonly reported by iPhone users that they face the problem of missing text messages on iPhone. It mostly happens in the case when iPhone gets updated. However, there might be some other reasons that are hard to conclude. If you are one such iPhone user facing the issue of messages disappearing, first, you need to calm down. The good news is there are solutions to recover those messages. Discover how you can make it possible!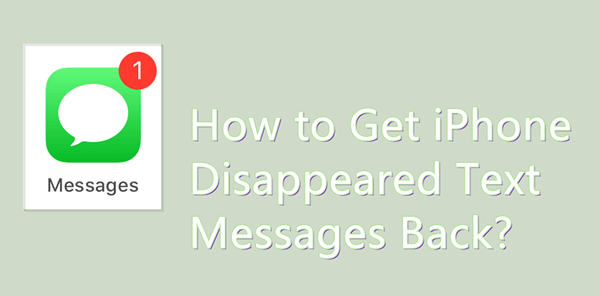 Part 1.

iPhone Text Messages Disappeared From Inbox – The Possible Reasons

Wondering about why your text messages disappeared from iPhone? Here we have tried to find out what can be the possible reasons behind it:

1. Accidental deletion of text messages.

2. Misconfiguration of settings that defines how long you can keep the messages on your device — some users set a timer for automatic deletion of older messages. So, when that time limit approaches, the system automatically deletes those messages. In order to check this:
Go to Settings and scroll down until you see "Messages".
Now, simply click on "Keep Messages" in the "Message History" section.
Just check the message expiration date. If it's 30 days or a year, consider turning it to "Forever". Now, our messages won't be deleted anymore due to this particular reason.
3. iOS updates might go through some unexpected errors, causing you to lose your data, and text messages may disappear from your inbox.
4. Disappearing of text messages from iPhone inbox for unknown reasons.
Part 2.

How to Get Disappeared Messages Back?

Whatever has made your text messages disappear from your inbox, the good thing is that there are a lot of practices that can be opted for to recover your text messages. Continue to read here, we will provide you with detailed steps of every solution.
Option 1: Turn iMessage, SMS, and MMS On or Off
The simplest method to avoid missing text messages on iPhone is to follow the basic steps to set iMessage, SMS, and MMS. All you need to do is to:
Go to Settings.
Click on Messages.
Turn the toggle key for iMessage and MMS Messaging off.

Wait for 15 seconds.
Toggle them back on.
Option 2: Turn On and Off Airplane Mode
Another method to recover your disappeared messages is to try to turn on and off the airplane mode. Sometimes, when iOS begins to misbehave due to any technical glitches, the airplane mode gives the system a break. To recover your messages, hit the toggles key for airplane mode in the window-slide panel. Wait for almost 30 seconds and turn it off.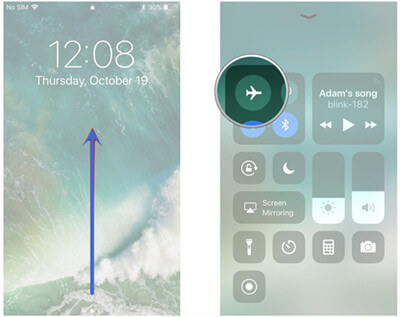 Option 3: Restart Your iPhone
If text messages from one person disappeared, a method that you must try to recover messages is restarting your iPhone. It is the simplest option that will work as a troubleshooter for an issue going on with the phone. Sometimes, it happens that the operating system gets stuck following any glitch. When you restart your phone, it will clear the bugs and restore them to their normal state. According to the iPhone users who faced message disappearing issues, restarting the phone restored all messages. So, do give it a try!
For restarting:
If you are using iPhone X, 11, 12, or any other latest model
Press and hold the volume button for a while along with the side button.
As the screen shows a power off slider, swipe it for turning the device off.
After waiting for a few seconds, now press and hold the side button (on the right side of your device) until the Apple logo appears on the screen.
If you are using iPhone SE (2nd gen), 8, 7, 6s, or 6
Press and hold the side button.
As the slider appears with a power-off note, swipe it to switch off the device.
Turn the power button on by pressing and holding the side button until the Apple logo appears on the screen.
In case it fails, then move on to try other options.
Option 4: Restore Settings
If the first two options didn't work out for you, then you can use the third one— restore the settings— for recovering text messages disappeared from iPhone. If you have lost your text data for an unknown reason, this might get back to normal. While you are planning to restore the settings, know that it is not going to mess up with your iPhone in any case. It will just serve to revert the settings to default.
To restore the settings of your device, follow these simple steps:
Click on the settings icon.
Then go into the General menu.
Click on Reset.
Hit the option "Reset all settings".

As the notification appears on your screen, make sure to click on the Reset all settings actionable icon.
Option 5: Restore From iCloud Backup
After trying all the basic troubleshooting steps, if you haven't succeeded yet in restoring messages, the next method is to restore the missing text messages from iCloud backup. Here is how you can restore it quickly.
Note
Make sure to make a backup for your data before resetting the phone to avoid any additional trouble.
Go to Settings and scroll down to go into the General menu.
Click on Reset.
Hit the option "Erase All Contents and Settings".
Click on the "Erase Now" when you see the pop-up confirmation.

For restoring the backup, turn on your device and follow the on-screen steps till you reach "Apps & Data".
Now, click on "Restore from iCloud Backup". Here you'll be required to sign into iCloud with your Apple ID.

Just look through the backup and pick the one which you want to restore. Simply wait for the process to finish and you will get back your deleted messages.
Option 6: Use a Professional Tool – iFindit
After you finish trying all the methods but still failed to get your disappeared text messages back, let us suggest you a solution that is going to recover it all by following a simple process. For a flawless experience, try out iFindit to recover the missing text messages on iPhone. An accidental data loss can make you go into a state of helpless, and to come up as a lifesaver, iFindit serves efficiently.
The tool can restore your messages from three optional modes, i.e., iOS device, iCloud backup, and iTunes backup. These amazing feature make this tool stand out from other tools include:
Enjoy a free trial before purchase so you can work with surety.
Preview before recovery so as to avoid unnecessary hassle.
Instead of recovering everything and wasting a lot of time, it allows you to recover data selectively.
High recovery rate to maximize chances of getting back your lost text messages.
Simple 1-click operation which is explained in the next half of the article.
Quick speed to scan your any devices.