If unluckily you have forgotten your iPhone screen lock passcode, then the only option left is resetting it. But to make things worse, sometimes you may don't have a computer at hand for you to use iTunes. If you find yourself in this dilemma, cool down because there are other plausible options. In this article, we'll take you through a step-by-step guide on how to reset iPhone without passcode and computer.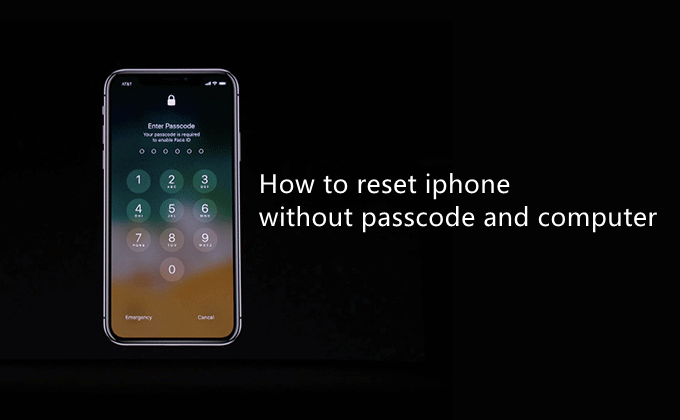 Part 1.

Why Reset iPhone Even Without Passcode and Computer?

Sometimes, it becomes inevitable to reset an iPhone even without passcode or computer. Resetting an iPhone means that you are wiping your device data and settings. Simply put, you are making it appear like a new device. Although resetting your iPhone results in data loss, it is known to fix several device issues.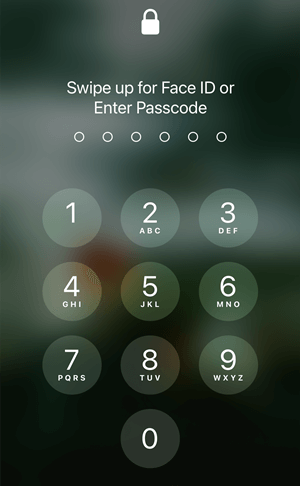 There are plenty of reasons that can force you to go in this direction. These issues might range from the device itself to ailing Apple services such as iTunes. Some of the common reasons why people want to reset iPhones without passcode and computer include:
1

iPhone is disabled because of too many unsuccessful passcode attempts.

2

You bought an iPhone from someone, and you cannot reset it via iTunes due to restrictions or limitations.

3

You may have no access to a computer.

4

There are some problems with iTunes on your computer, and you cannot reset your iPhone.

5

iTunes fails to work well despite the time and efforts it takes.
Part 2.

How to Reset iPhone Without Passcode and Computer?
2.1 Use iCloud Web on Another Device
iCloud provides one of the easiest ways to reset an iPhone without passcode. Many Apple users have been using this method, and it hasn't been a let-down. The process works by wiping out your iPhone data remotely.
While this method proves useful, there are some conditions that must be met. Otherwise, you cannot successfully reset your iPhone without passcode. These conditions are:
1. The "Find My iPhone" feature must be active in your locked iPhone.
2. You should remember the Apple ID and password associated with the iPhone that you want to reset.
3. Your locked iPhone should be connected to an internet network.
If all these conditions are satisfied, you can proceed to reset your iPhone using iCloud following the steps below. Don't worry, you don't need a computer to do that.
1

Get another device and use its browser to access the official site of iCloud.

2

Here, you will be prompted to sign in to your iCloud account. Use the Apple ID and password linked to the iPhone you want to reset.

3

Upon successful sign-in, locate and select the Find iPhone icon.

4

From the options displayed, choose the iPhone you want to reset.

5

Now, select Erase iPhone andconfirm your choice from the subsequent pop-up.
2.2 Use Find My App on Another iOS Device
Another way to reset iPhone via iCloud is through the Find My app on another iOS device. The Find My app was specifically meant to help users locate their iOS devices, but still you can use it to reset your iPhone. The following steps illustrate how you can reset your iPhone without passcode and computer using the Find My app on another iOS device.
1

Get another iOS device like an iPad, then open the Find My app. You will be prompted to sign in to your iCloud account. Provide the sign-in details you used to sign in to the iPhone you want to reset.

2

In the Devices section, find the iPhone you want to reset and click it.

3

Hit the Erase This Device option and confirm to reset your iPhone.
Part 3.

The Best Way to Reset iPhone Without Passcode Ever - LockEraser

Resetting iPhone via iCloud is not a complicated process. However, you must remember your Apple ID and password, have your device connected to the internet, and get the Find My iPhone feature enabled on the iPhone. Even if one requirement is not satisfied, you can't reset your iPhone via iCloud.

Fortunately, LockEraser is a perfect solution to this problem. As a professional and powerful iDevice unlocker, it is capable of resetting iPhone without passcode under any circumstances. This app is designed to simplify everything for the user while giving the best experience. No wonder an increasing number of people are using LockEraser.

This program is fast, safe, reliable, effective, and straightforward. The beauty of this tool is that it unlocks iOS devices under different lock screen scenarios. Whether you cannot access your iPhone due to Apple ID, screen time passcode, screen passcode, or MDM lock, LockEraser provides an easy way to unlock your device. Again, this program offers a free trial version. You can download it and check the amazing features before upgrading to the unlimited premium version.
Unlock all kinds of iDevice locks: screen lock, screen time lock, Apple ID lock, MDM lock.
Provide a fast and secure solution to iDevice lock issues.
Support all iOS versions and devices, including the latest iPhone 14 and iOS 16.
Simple user-interface and clear on-screen instructions make it easy to use.
High success rate spares users the trouble of sending away their devices.
Free trial is provided for initial experience.
1

Download, install and launch LockEraser on your computer. Select "Unlock Screen Passcode" mode.

2

Choose the firmware version provided based on your device model and click "Download". Then wait a few minutes for LockEraser to download and verify the firmware package.

3

When the extraction is completed, click the "Unlock" button. When the unlocking work is done, you will see the notification on the screen.
FAQs About Resetting iPhone
1. Will I lose my data when I reset my iPhone?
Yes, you will lose all your data. Resetting your iPhone is like wiping out all your data like contacts, emails, videos, images, apps, etc. Your iPhone will be like a new device. If you have created a backup for your data, you could restore it. Otherwise, you won't recover your files.
2. Can I reset my iPhone with iTunes? What are the requirements?
Yes, but sometimes the iTunes method is not working for many unknown reasons. Basically you should have iTunes installed on your PC and connect the two devices with a USB cable. And the first step is to put your iPhone into recovery mode.
To guarantee the success of resetting, LockEraser is no wonder the best choice.
Conclusion
If you think resetting iPhone without passcode and computer is next to impossible, then this article has proved you wrong. Here we have fed you with the correct methods regarding how to reset iPhone without passcode and computer. As you have also seen, using LockEraser is the best option because it is fast, safe, effective, and there are no conditions. Try LockEraser now and take your user experience to another level!