Many organizations, corporate sectors, and educational institutes use MDM to make their employees and students focus on what is important. MDM (Mobile Device Management) restricts users from using certain apps and only allows limited fucntions. But it's not the end of the world.M
The great news is that we've gathered a collection of the best MDM bypass tools, fully compatible with iOS 17, giving you the power to break free from these limitations and regain control of your device. Say goodbye to restrictions and hello to a world of possibilities with our curated selection of MDM bypass tools!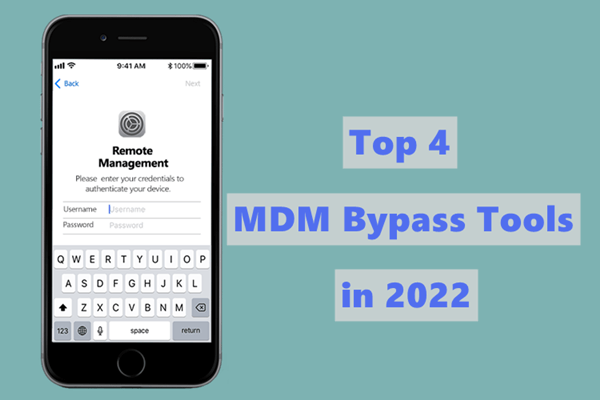 Part 1.

What You Need to Know About MDM
1. What Is MDM?
MDM or Mobile Device Management is a technology that allows organizations such as companies and schoolds to manage and secure their mobile devices. With MDM, administrators can configure settings and track the use of the distributed devices. The benefits of MDM from the perspective of "supervisors" are listed below:
With MDM in place, employees will work on the go plus they still get protected corporate data.
With this technology in place, administrators can push specific configurations and settings to devices without user interaction.
It is easier to install and manage apps when MDM is in place, so many organizations use it.
2. How Does MDM Work?
MDM connects to a company's server and then managing the connected devices. It works by configuring device settings and restrictions. To be more specific, administrators can deploy apps, set permissions, and track devices using MDM.
For example, only certain types of apps are permitted to use, which usually include enterprise apps, educational apps, and productivity apps. On the contrary, some apps like games, social media apps, and entertainment apps are no way to be used with MDM.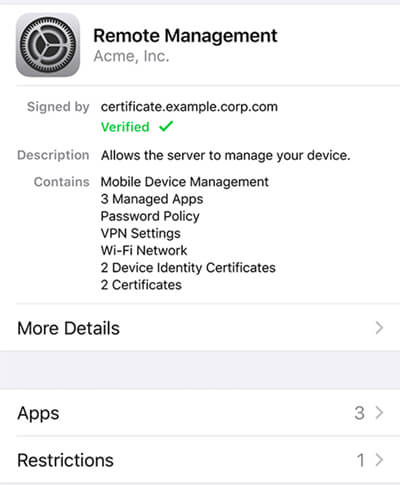 3. Why Do People Want to Bypass MDM?
The most common reason why people want to bypass MDM is that the user wants to use some apps not authorized by the administrator. For example, if the administrator has blocked Facebook or WhatsApp, the user will want to find a way to bypass the MDM to use the app.
Another reason people want to bypass MDM is that they need to access certain settings that are not allowed by the administrator. For example, if the administrator has blocked AirDrop or location services, the user will need bypass MDM first to turn the settings on.
Part 2.

Top 4 MDM Bypass Tools
1. [The Best Choice] LockEraser
LockEraser is by far the best iOS unlocker specially designed to take care of almost all the unlocking issues concerning your iPhone, iPad and iPod touch and it is compatible with all iOS versions, including iOS 17. With extremely simple steps, LockEraser enables users to unlock screen passocde, screen time passcode, Apple ID as well as bypass MDM in a convenient way just at home.
It is no exaggeration to say that anyone can find a quick solution to MDM bypass using LockEraser, spared the trouble of seeking for expensive unlocking service.
Professional: unlock Apple ID/screen passcode/screen time passcode and bypass MDM.
Effective: remove MDM with 100% success rate and no need for passcode.
Secure: bypass MDM with no negative influence on your device.
Fully compatible: work with all the latest versions of iOS and iPadOS devices, such as iOS 17.
User-friendly: provide detailed instructions and complete the work with 3 steps.
1

Download, install and launch LockEraser on your computer. Choose the Bypass MDM mode, then get your device connected.

2

There are 2 different modes: Bypass MDM and Remove MDM. In this case, select Bypass MDM and click the Start button to proceed.

3

Wait patiently while LockEraser is removing MDM for you. It won't take long.

4

Once the MDM is successfully removed from your iPhone or iPad, you'll get a notification.
2. 3uTools
3uTools is an all-in-one iOS helper with a collection of features: data backup, data transfer, jailbreak, icon management, etc. The "Skip MDM Lock" function of it can be used to bypass MDM in a free way.
1

Download and install 3uTools on your computer. Connect your iOS device to the computer using a cable.

2

Launch 3uTools, wait for it to recognize your device and click on the "Skip MDM Lock" option from the "Toolbox" section.

3

Hit the "Skip Now" button to confirm your choice.

4

Follow the on-screen instructions to to deactivate your device. Then 3utool will start to bypass the MDM lock for you.
Limitations
There is no Mac version available.
It is compatible with only iOS 4 through iOS 11.
It does not remove the MDM setup completely. When your resets the device next time, the Remote Management lock screen will come up again.
3. iActivate
iActivate is another option available to bypassMDMon any iPhone and iPad. It supports all iOS versions.
1

First, turn off the "Find My iPhone" feature on your device.

2

Download the MDM bypass software. Run iActivate, once your device gets detected, you will see details of your device including IMEI, product type, serial number, iOS version and UDID. Click on "Start MDM Bypass".

3

Connect your iOS device to your computer for iTunes to detect it. Choose to trust the computer if required.

4

Wait for the process to finish and reboot your device. Then activate it using Wi-Fi.
Limitations
The success rate is comparatively lower than other tools.
As your device information will be disclosed to the iActivate database, there exist risks of information leakage.
4. MDMUnlocks
MDMUnlocks is a tool which supports MDM removal on iPhone, iPad and iPod touch. User can run it on both Windows and Mac system.
1

To begin with, download and install the software on your computer.

2

Get the latest version of iTunes on your computer.

3

Connect your iOS device to your computer for iTunes to restore it.

4

Once the restore is complete, iTunes will begin a countdown to 10. Close iTunes right away and launch MDMUnlocks.

5

Click "Bypass MDM" from MDMUnlocks and wait for the tool to do the work.
Limitations
The steps required are somewhat complicated and not user-friendly enough.
This method involves the use of iTunes, which is time-consuming.
FAQs About MDM Bypass Tools
1. Are MDM bypass tools legal?
Yes, they are legal to use as long as you're doing this for your personal use and instead of commercial purposes or any other improper purposes.
2. What are the possible risks associated with using these MDM bypass tools?
Risks include losing your device's warranty and being unable to get it back. In addition, you could lose data as the bypassing process will usually wipe all your data. However, you can resist the risks to a great extent by take some measures such as backing up your device before bypass MDM.
Conclusion
The MDM bypass tools we've shared offer different features and usability for various users, so it is important to choose one that suits you the best. LockEraser is considered the No.1 tool to bypass MDM in 2023 in view of its 100% success rate and simple steps. We hope you found this article helpful and please feel free to leave any comment.
Best iPhone Unlocker - LockEraser
Support all iOS versions and devices, including the latest iOS 17 and iPhone 14 series.
Unlock iPhone/iPad/iPod touch in various scenarios
Bypass MDM lock in an easy but effective way.
Free trial available for every new user.