As we all know, there is a Screen Time feature on iPhone, iPad, and iPod touch. It allows you to monitor how much time you've spent on your device each day, limit the app usage, or set a limit on the content.
This is great for those who want to be more mindful of the screen time usage or monitor kids' device usage. But what if you forgot screen time passcode, or your kids have learned how to hack Screen Time limit, or you are being locked out of your device after forgetting the Screen Time passcode?
In this post, we will explore some of the best tips and tricks your kids may use to hack Screen Time like a pro so that you can take the necessary measures to counter their clever hacks. You can also use these methods to bypass the Screen Time without passcode if necessary. Stay tuned!

Part 1.

Unlock Screen Time Passcode With One Click!

Locked out of your iPhone or unable to recall your Screen Time passcode? No worries, a good and trusted third-party tool like UnicTool LockEraser can always be your best option to help unlock the Screen Time passcode on your device.

What's more, as a comprehensive iOS device unlocker, LockEraser can also unlock your iDevice, your Apple ID and bypass MDM. Being unbelievably cost-effective, it solves your iDevice unlocking issues conveniently at home.
Unlock your iPhone/iPad/iPod touch Screen Time passcode effectively.
Only take 3 simple steps and several minutes.
No prior technical knowledge is needed.
Provide unparalleled safety & security.
Unlock iDevice passcode/Apple ID and bypass MDM easily.
Work with almost all iOS devices running on various iOS versions.
Here's how you can unlock your iDevice in just three simple steps.
1

Download, install and launch LockEraser on your computer. Select the Unlock Screen Time Passcode mode and get your device connected.

2

For devices running iOS 12 or above, click the Start button to begin unlocking screen time passcode. For devices running iOS 11 or earlier versions, you'll see the Recover Restrictions Passcode interface.

3

Wait patiently while LockEraser is doing the work. It won't take long.

4

You'll be notified when everything is done.
Part 2.

8 Effective Ways for Screen Time Passcode Hack[2023 Latest]

In addition to using LockEraser, there are several other ways regarding how to hack Screen Time. Now let's get to know more about them.
1. Change the Date & Time
The easiest way to hack Screen Time limit is to change your iPhone's date and time settings. This is because Screen Time limits the use of certain apps for a specific time period only. Hence, changing the date and time settings can fool the system.
1

Open the Settings app. Go into General and choose Date & Time.

2

Turn off Set Automatically if it is enabled and then manually change the date and time as desired.
After changing the date and time settings, you will be able to bypass the Screen Time restrictions. To stop your kids from using this hack and disable the date and time change:
1

Go to Settings > General > Date & Time.

2

Toggle the option Set Automatically on.

3

Now go to Settings > Screen Time > Content & Privacy Restrictions > Location Services > System Services.

4

Then toggle the option for Setting Time Zone off.

5

Go to Location Services and select Don't Allow Changes.
Cons
Temporary solution with no lasting effect, only offers a momentary window of access to restricted apps or features.
Disables essential features like "Set Automatically" and Location Services, adversely affect the overall user experience.
Easiest Way to Unlock Screen Time
Only take 3 simple steps and several minutes;
100% secure & successful and no data loss.
2. Uninstall & Reinstall the Apps
If you're looking for an easy way to get around the Screen Time restrictions, just delete the concerned apps from your iPhone and then re-download them from the Apple store. Once deleted from your mobile, any limits or restrictions placed on those apps will be removed.
1

To delete an app, hold the app icon for a few seconds. On the new pop-up window, tap on the Remove App option.

2

Choose Delete App next to delete it from your device.

3

Now go to App Store and reinstall the app again to use it without Screen Time limits.
To prevent the deletion and installation of apps, follow the steps below.
1

Go to Settings > Screen Time > Content & Privacy Restrictions > iTunes & App Store Purchases.

2

For all the three options, i.e. Installing Apps, Deleting Apps, and In-App Purchases, choose Don't Allow.
3. Watch YouTube on iMessage
You'll agree that YouTube restrictions are pretty annoying. But there's a simple way to cheat the Screen Time for YouTube on your iPhone.
1

Open the iMessage app on your phone. There you'll see some applet icons above the keyboard, right beneath the text box. These icons are pre-installed with the iMessage application.

2

Find the YouTube applet, and you'll be able to watch YouTube videos by simply clicking on the video link in the message.
To prevent anyone from using this hack, you can follow the steps below:
1

Go to Settings > Screen Time > Content & Privacy Restrictions > Content Restrictions > Web Content, then select Limit Adult Websites.

2

In the NEVER ALLOW section, tap on Add Website.

3

Type the YouTube URL and YouTube will be blocked on your iPhone.
4. Record a Screen Video
One of the best ways to hack your Screen Time passcode is by using the video recording feature of your iPhone, which can be easily turned on from the notifications panel. When you have enabled the feature and somebody types in the correct Screen Time passcode, you can easily retrieve it later by watching the recorded video of the screen activities. Pretty convenient, right?
To block this trick, you can disable the screen recording feature directly:
1

Go to Settings > Screen Time > Content & Privacy Restrictions.

2

From there, go to Content Restrictions > Screen Recording. Disable the screen recording by selecting Don't Allow.
5. Delete Phone Numbers from the Address Book
When you've reached the Screen Time limit to communicate with someone, you can delete the phone number to get around the restrictions. Simply erasing the phone number from the iCloud Address book will do the trick.
As long as the phone number is not saved on your iCloud, you can keep corresponding with the owner of this phone number without entering the Screen Time passcode. Unfortunately, there is no workaround to disable this hack.
6. Use Siri to Send Messages
Spotting the Screen Time hack can be difficult sometimes. If your kids are still sending messages to their friends or calling them despite you setting up the Screen Time, they may be taking help from Siri.
As a solution, you will need to disable Siri.
1

Go to Screen Time > Content & Privacy Restrictions.

2

In the Allowed Apps section, toggle Siri & Dictation off.
7. Use Contacts App for Messaging
Your kids can still send messages using the Contacts app even if you have blocked the Messages app on your iPhone. This loophole is quite commonly used as a Screen Time hack.
To prevent your kids from using it, here's what you need to do.
1

Go to Settings > Screen Time > App Limits > Add Limit.

2

Find Contacts in the Productivity & Finance category

3

Specify 1 minute as the app limit for Contacts.

4

Tap on Add. Now the Contacts app will be blocked after being used for one minute.
8. Hacking Screen Time via Factory Reset
Last but not least, it is an convenient way to remove screen time by factory reset. However, it can erase all your data. Here are the steps to factory reset.
1

Go to the Settings > General > Reset > Erase All Content & Settings.

2

Click on Erase All Content and Settings.

3

Now, type in your passcode for confirmation and wait for the completion.
Conclusion
If you're like most iPhone users, you've probably been frustrated by the Screen Time Hack used by your kids at one time or another. This blog gives you everything you need to do to prevent Screen Time from getting hacked and take necessary countermeasures accordingly.
In case you have forgotten the Screen Time passcode yourself and want to hack or bypass the Screen Time, no tools come close to LockEraser in view of its ease of usage, perfect security and ideal reliability at a highly affordable price. It is the most efficient method that you should never miss.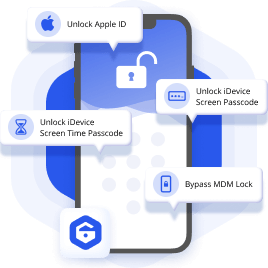 Perfectly Bypass Screen Time
Easy - Bypass iPhone passcode with 3 steps;
Effective - Unlock iPhone/iPad/iPod touch without passcode for free;
Professional - Have helped 500,000+ users to get into a locked/Disabled iPhone;
Up-to-date - Support all iOS versions and devices including iOS 16 and iPhone 14 models.