You may want to factory reset your iPhone for a variety of reasons. I'll go over a few scenarios; you may want to clean your iPhone before selling it off or trading it, or you may be frustrated with how slow your iPhone is and want to reset it to speed it up and free up storage space.
However, you may forget your previous iPhone's Apple ID password, or you may receive a second iPhone tied to an old Apple ID but do not know the password. So, learning how to factory reset iPhone without an Apple ID passwordwould be a challenging task for you. But, if you follow this report, we'll be delving intohow to reset iPhone without an Apple ID passwordwithout stress using three different methods. Now, let's get into it!
Part 1.

How to Reset iPhone Without Apple ID Password Via LockEraser

Do you want to knowhow to erase your iPhone without Apple ID with the best third-party tool?

LockEraser is an incredible software that can help unlock Apple ID in various scenarios. With its help, you can easily remove your Apple ID and change to a different one or create a new Apple ID. If you've forgotten the screen passcode of your iOS device or got a second hand iPhone device, LockErase can also do help. Remove passcode from your account, and easily factory reset it. The significant part is that LockEraser ensures that all iCloud services and Apple ID functionalities get restored.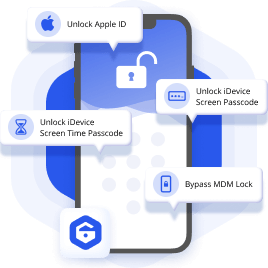 A One-Stop Location Spoofer
Get ready to unlock all iOS devices, regardless of the screen passcode.
Remove the limitations and the passcode for screen time.
There will be no data loss or security risks.
Effectively Bypass MDM Lock
Activate MDM without going through the activation process
On locked devices, remove the MDM profile.
Step 1: Launch the LockEraser program: On your computer, open UnicTool LockEraser and select the "Unlock Apple ID" mode.

Step 2: Select "Trust": Connect your iPhone or iPad to your computer and turn it on. If you haven't done so already, go to the device screen and select "Trust."

Step 3: Unlock your Apple ID: To erase the Apple ID and iCloud account currently connected with your iPhone, iPad, or iPod touch, press the "Start" button to begin the process of unlocking your Apple ID.
LockEraser is a genuine and safe tool for unlocking Apple ID, screen passcodes, and screen time passcodes and bypassing MDM on iOS devices. With an increased success rate, it is a dependable tool that consumers worldwide rely on and answer tohow to factory reset iPhones without Apple ID passwords .
Part 2.

How to Erase iPhone Without Apple ID Via Built-in Setting?

You may still reset your iPhone without using your Apple ID or password, but you'll need to know your iPhone's passcode for this method to work. You'll also need to turn off the Find My iPhone feature. Apple provides several options for resetting your Apple ID password, which will allow you to perform a factory reset. This method involves using the settings app to erase iPhone without Apple ID.

Follow these simple steps to answerhow to erase iPhone without Apple IDto carry out this task easily.
Step 1: Open the Settings app on your iOS device, i.e., iPhone in this case.
Step 2: Erase Content: Select "Reset > Erase All Content and Settings" from the "Reset > Erase All Content and Settings" menu.
Step 3: Enter Passcode: When prompted, enter your passcode, and select "Erase iPhone."
Note: Please ensure that the 'Find My iPhone' feature is inactive while performing the above Apple ID method to reset your iPhone.
Although the method seems simple, it does not ensure zero data loss and 100% security whileerasing iPhones without Apple ID .
Part 3.

Reset iPhone Without Apple ID Via iTunes

You can alsofactory reset your iPhone without Apple ID by using iTunes, but you must have previously synced your iPhone with iTunes. Please make a backup of your iPhone before doing a factory reset, as all data will get erased.

Note: Ensure too that your 'Find My iPhone' feature is off so that you can reset your iPhone without inputting your Apple ID by entering Recovery mode. iTunes can also help you completely reset your iOS device without inputting your Apple ID.
Step 1: Entering Recovery Mode: First, you should be aware that entering Recovery mode will erase all your data and reset your iPhone, so you should back up your data first.
Step 2: iTunes will display a notice: Once you've entered Recovery Mode, iTunes will display a notification informing you that you've entered it.

Step 3: Click on Restore iPhone: Go to the 'Summary' tab in iTunes, and then click 'Restore iPhone...' to restore iPhone.

Step 4: Tap "Restore": Now, click 'Restore' when the following pop-up message appears.
Now proceed to the procedures for resetting the iPhone without an Apple ID. After completing this process, your iPhone will reset completely in some time. Then you can move to attach it to your Apple ID or any other Apple ID if that's what you want to do.
With LockEraser, you need not go to the 'Recovery Mode' to reset your device, unlike the method of resetting via the iTunes method. And LockEraser simplifies the process with its unique features and simplified user interface.
LockEraser also ensures that your device works smoothly after resetting, without data loss and security risk, unlike the iTunes and Apple ID (settings) App method that may lead to data loss and increased security risk.
Conclusion
Now you knowhow to reset your iPhone without an Apple ID password. Hence, with the simple steps mentioned in the article, you can easily erase your iPhone without Apple ID via the iTunes or Settings app. However, with the fabulous, easy-to-use program LockEraser.
So, try out the new LockEraser tool. It is your best answer onhow to factory reset your iPhone without an Apple ID passwordright away and unlock all iOS devices simultaneously, regardless of the screen passcode.