iToolab UnlockGo is a common iOS third-party app, and you probably have heard about it or used it. However, many people don't have the insights into this tool, and they probably don't understand its usage and limits. Finding a genuine review is important because it helps you decide whether to use it or go for a better tool, but meanwhile it is often difficult because several sites are biased. Luckily you don't have to worry anymore. Here we have made it easier for you by giving you an in-depth review of iToolab UnlockGo.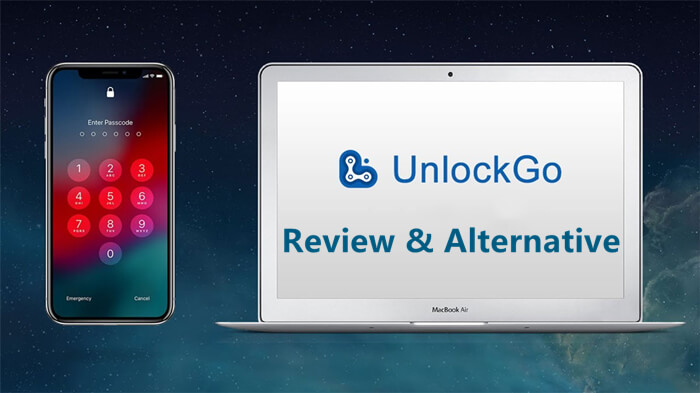 Part 1.

What Is iToolab UnlockGo?

UnlockGo is one of the finest fully functional iOS unlocker tool today. This tool allows users to remove various types of locks on their iOS devices ranging from screen access to iCloud activation locks. It simply helps you bypass different types of locks on your Apple device and restore your device to normal use.
Main Functions of iToolab UnlockGo
1

Unlock Screen Passcode: With iToolab UnlockGo, you can unlock your iOS screen access password in a matter of minutes. It doesn't matter how complex or what type of the screen passcode is. iToolab UnlockGo unlocks Touch ID, Face ID, 4/6-digit passcode, custom numeric code and custom alphanumeric code with ease.

2

Unlock iCloud Activation Lock: iCloud lock is an iOS security feature that prevents unauthorized persons from resetting or activating an iOS device without iCloud account credentials. If you forgot the credentials, you cannot activate your iOS device unless you have a third-party tool like iToolab UnlockGo. With this program, you can bypass the iCloud activation lock and take full ownership of your device.

3

Delete Apple ID: If you want to get rid of your Apple ID then iToolab UnlockGo can help you do this. Normally, removing an Apple ID from your Apple device requires the respective password. However, a third-party tool like iToolab UnlockGo helps you remove it without password. Therefore, if you forgot the password, or purchased a second-hand iPhone, you can easily remove the old Apple ID from your iPhone using iToolab UnlockGo.

4

Turn Off Find My iPhone: When you want to sell your iPhone and don't want to be tracked by others, it is good to disable the Find My iPhone feature. However, this is not possible if you forgot the Apple ID or Password. Fortunately, iToolab UnlockGo gives you a platform to disable the Find My iPhone feature without password.

5

Unlock Screen Time Passcode: Screen Time lock feature is used to limit your time on certain apps or services. This is common for parents who want to manage the way their kids access some contents on their devices. However, iToolab UnlockGo lets you remove this restrictions without losing data. This way, you can proceed to use the device without any restrictions.

6

Bypass MDM Lock: This is a new feature of iToolab UnlockGo. Institutions and organizations can apply restrictions to member devices for many reasons. However, you can bypass these remote management restrictions and use your device without limit, thus regaining your full control over your Apple device.
Part 2.

Is iToolab UnlockGo Legit?

Yes, iToolab UnlockGo is legit.

This software is used across the continents to unlock Apple devices. While you can use it to bypass Apple device locks, it doesn't take away the fact that it is legitimate. It is a third-party tool that genuinely allows users to bypass various iDevice locks. It is the user's responsibility to use the software sensibly.
Part 3.

Is iToolab UnlockGo Free?

No, iToolab UnlockGo is not free.

The free version is only meant to allow users to check whether the program is compatible with their device. In other words, you will need the premium version to unlock your Apple device. It has yearly, monthly, and lifetime plans at $39.95, $35.95, and $49.95 respectively for Windows, slightly different from those of Mac version.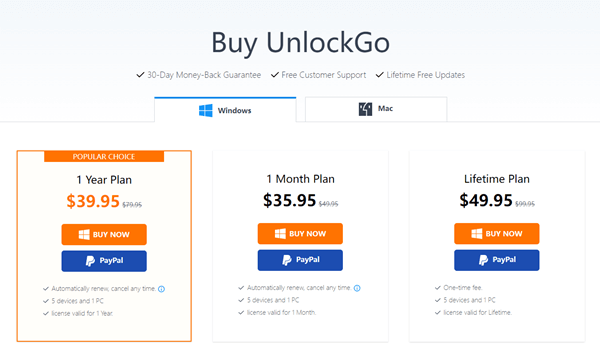 Part 4.

A Summary of iToolab UnlockGo

iToolab UnlockGo is no doubt one of the best iOS unlocker tools available on the market. With plenty of amazing features, you can count on iToolab UnlockGo to fix various iOS lock issues. However, it is also not without flaws. The following are some of the pros and cons of iToolab UnlockGo.

Pros
Supports several types of iOS locks ranging from screen passcode lock, iCloud activation lock, Screen Time passcode lock, Apple ID lock, and MDM lock.
Supports a wide range of Apple devices, including all iPhone models, iPad, and iPod touch.
Unlocks your device in a matter of minutes simply and efficiently.
The interface is intuitive and easy to use.
Cons
The Unlock Apple ID feature is only compatible with those Apple devices running on iOS 11.4 and later versions. Again, the Two-Factor authentication and screen passcode lock must be turned on.
For several unlock cases, the device must first undergo the jailbreak process. This makes the entire process longer.
The success is not fully guaranteed.
The MDM feature is a bit new and is not as advanced as other applications like the LockEraser tool.
The free trial version is much limited, and the premium version is pricey compared to similar tools in the market.
The customer service receives harsh criticism from users.
Part 5.

Is There Any Better Alternative Tool?

Yes, there is. UnicTool LockEraser is a better alternative tool to iToolab UnlockGo. This program is a modern all-in-one iOS unlocker tool. With LockEraser, you can unlock disabled Apple ID without password, remove different types of iPhone screen passcodes, and bypass MDM lock. This complete package transforms how we unlock Apple devices due to its prowess. The speed, assortment of top-notch features, ease of use, compatibility with nearly all iOS devices, and the elegant interface makes it a top choice for Apple users.
Perfectly unlock Apple ID, screen passcode, Screen Time passcode and MDM lock in 3 simple steps.
No passcode/password or technical knowledge is required.
Easy to use for anyone; solve problems conveniently just at home.
Boast a 100% success rate; provide a b guarantee for data security.
Work seamlessly for all iOS/iPadOS versions and iOS devices.
Offer free trial to any new user before official purchase.
Unlock iOS devices with LockEraser is really straightforward, as illustrated in the following steps (take removing MDM as an example). For more details of using this tool, you can check the user guide carefully.
1

Download, install and launch LockEraser on your computer. Choose the Bypass MDM mode, then get your device connected.

2

There are 2 different modes: Bypass MDM and Remove MDM. In this case, select Remove MDM and click the Start button to proceed.

3

Wait patiently while LockEraser is removing MDM for you. It won't take long.

4

Once the MDM is successfully removed from your iPhone or iPad, you'll get a notification.
Conclusion
iToolab UnlockGo is a good iOS unlocking tool, but it has many limitations in some aspects. If you are hesitating whether or not you should opt for iToolab UnlockGo, then this blog can be of great help. What's more, to make every penny worth it and get the best user experience, you should really consider the best alternative LockEraser. Not only does it do better in everything iToolab UnlockGo can do, it also makes up for all the flaws. Give it a try and it won't let you down.