You and I can bet the remote management on mobile devices are at times tedious. If you ever had an iPhone or iPad deliberately locked from accessing certain features and controlled by an organization or institution, then you understand the pain.
In this article, we'll take you through a complete guide on how to remove remote management from iphone or ipad, including iPhone with iOS 17 or iPhone 15.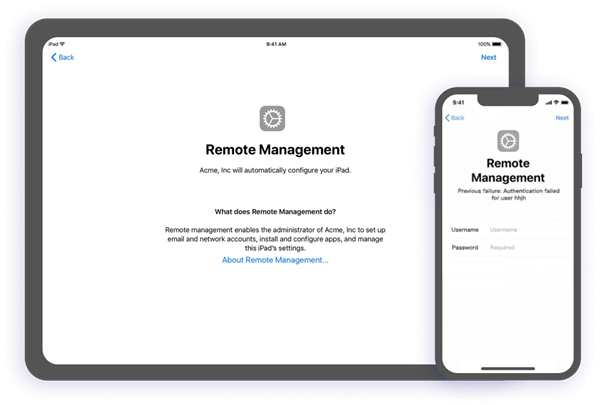 Part 1.

What Is Remote Management on iPhone/iPad?

As the name suggests, remote management tool on iPhone or iPad is the processby which an administrator remotely controls and access your device. Dependingon their preferences, the administrators can add and delete profiles, erasedata, and impose restrictions on various settings like screenshot, wallpaper,USB connection, and Wi-Fi control.

MDM (Mobile device management) configuration profiles are just XML filesthat define the settings and how these settings function. MDM is suitable for businesses or institutions that seek to have control over their devices. They use this feature to manage their members and ensure the security of sensitive files and documents. The MDM feature can only be turned on when setting up a new device. Otherwise, you will have first to erase everything first to turn on MDM.
Easiest Way to Bypass MDM Lock
100% safe & no password is required.
Simplified operation for all iOS devices, including iOS 17.
Part 2.

How to Check if My iPhone/iPad Is MDM Locked?

When you get an iPhone or iPad from a company or ganization, there is a chance that it is locked or under remote supervision by management. If you don't want to risk being monitored or wonder why the device cannot access certain services, you can check if your iPhone or iPad is MDM locked.
1

The easiest way to check whether your iPhone or iPad is MDM locked is via the device settings. Simply open your iPhone/iPad, then navigate to Settings. With the Settings screen now displayed, you should see a supervision message on the screen if the device is MDM locked.

2

If you want to check specific features modified on your iPhone/iPad, navigate to Settings > General > VPN & Device Management. If you find an already installed profile, select it to check the modifications made.
Learn More About: A Complete Guide About How to Remove Remote Management from iPad
Part 3.

How to Remove Remote Management on iPhone/iPad with iOS 17?

Removing remote management on iPhone/iPad with iOS 17 is not hard to crack. The following two ways will help you make it. However, both the two methods will restore your device, which means you need to create a backup beforehand to avoid data loss.
1. Remove Remote Management With MDM Bypass Tool [Easiest]
You need a sophisticated tool to bypass MDM without password effectively. Fortunately, LockEraser MDM bypass tool is such a powerful helper for you in the market. This amazing program is tailored to ease the way users unlock their devices, including MDM restrictions. The beauty of LockEraser is that it unlocks Apple devices irrespective of the cause, whether it is MDM restrictions, forgotten passcode, and screen time restrictions, among others.
Remove remote management on iPhone/iPad with a 100% success rate.
No password is required to bypass MDM.
Simple steps make it easy to operate for everyone.
Compatible with all the latest versions of iOS and iPad devices, including iOS 17.
Provide a secure way to unlock Apple ID/screen passcode/screen time passcode by oneself.
Free trial is offered for initial experience.
1

Download, install and launch LockEraser on your computer. Choose the Bypass MDM mode, then get your device connected.

2

There are 2 different modes: Bypass MDM and Remove MDM. In this case, select Remove MDM and click the Start button to proceed.

3

Wait patiently while LockEraser is removing MDM for you. It won't take long.

4

Once the MDM is successfully removed from your iPhone or iPad, you'll get a notification.
2. [With Password] Remove Remote Management in Settings
While you can remove remote management without password using a dedicated MDM unlock tool, it is also possible to remove it via Settings as explained below. Removing MDM restrictions via device Settings is an easy process, but it comes with conditions and limitations.
First, you must know the MDM configuration passcode. Otherwise, the process won't authenticate. Besides, the process will erase everything in your device, so it's important to make sure you create a backup before triggering the process.
Step 1. Open your iPhone/iPad, navigate to the Settings, then General.
Step 2. Now scroll down the list and select the VPN & Device Management option. You should now see an MDM profile.

Step 3. Tap on the Remove Management button under the profile. You will be prompted to tap it again to confirm your action.

Step 4. Finally, enter the respective MDM configuration passcode to remove the MDM profile on your iPhone/iPad.
Learn More About: Top 4 MDM Bypass Tools in 2023 [iOS 17 Supported]
LockEraser - Best MDM Bypass Tool
1 click to remove remote management from iPad & iPhone
without the username and password
FAQs About Remote Management on iPhone/iPad
1. Is an MDM profile safe on your iPhone/iPad?
MDM profile brings many restrictions to your device. For example, you maybe only be able to use selected apps if the administrator has turned on some setting. Sometimes, some apps are protected by passwords so the device holder is unable to use them completely.
Apart from that, being monitored by someone else brings other risks of personal data leakage and virus attacks. Therefore, it is not safe to have an MDM profile on your iPhone or iPad.
2. How do you remove this iPhone is supervised and managed by?
When you see the message that reads "This iPhone is supervised and managed by [organization name]", then your device is MDM locked. To remove such supervision, you can either use a professional tool or remove it directly via the Settings app.
3. Does factory reset remove device management?
Sure. Using factory reset can remove iPhone remote management Profile. But you only can conduct it yourself if the administrator allow you to do this.
Conclusion
If you are trying to remove remote management on your iPhone or iPad, your worry is gone. You can remove remote management iPhone supervision by resetting your iPhone to factory settings, or the device settings with passcode.
If you compare the two options, using LockEraser is far much superior. You don't need the MDM configuration password and the steps are really easy. In addition, it is compatible with all iOS versions, including the latest iOS 17.