A remote administration screen appears when you factory reset or restore your iPad. You'll need your username and password to erase the MDM profile iPad and proceed with the setup procedure.
Organizations and corporations use MDM to control devices remotely. Although this is an excellent feature for businesses and universities, it is inconvenient for users. Users may become annoyed and desire to delete their MDM profile due to its numerous restrictions. If you're upset with the MDM profile, don't worry; we'll help with the information on MDM management removal methods and easy steps. So, let us start our journey to learn how to remove MDM from an iPad .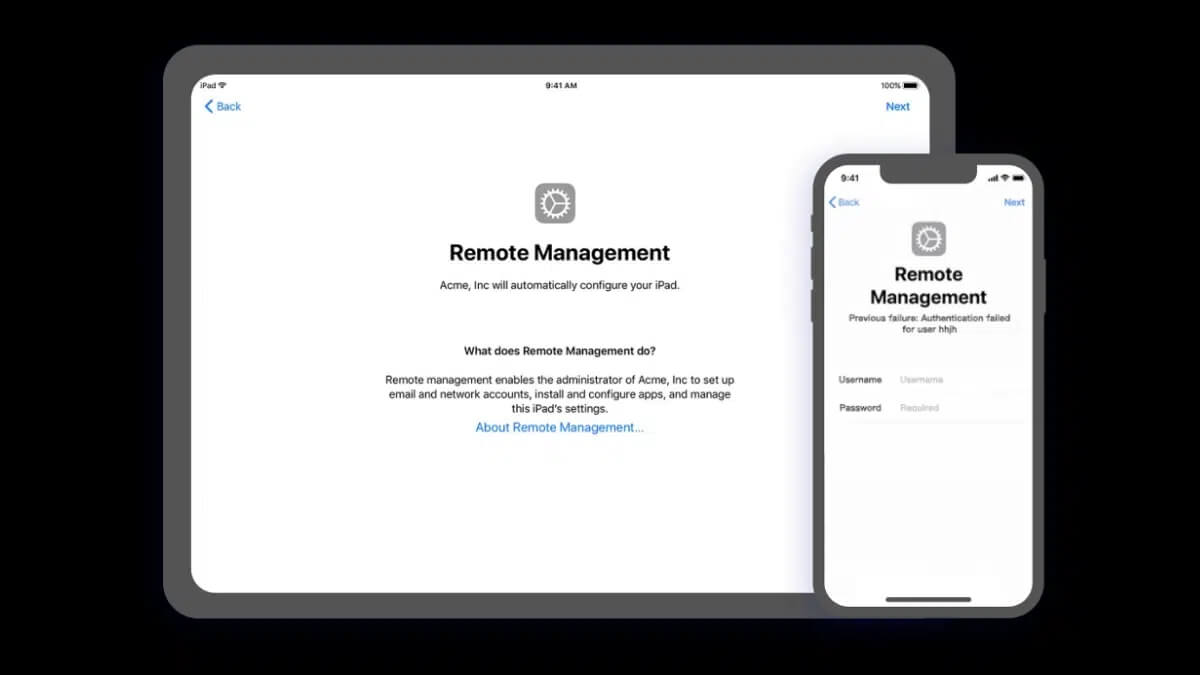 Part 1.

Part 1. What is MDM on iPad?

iPad MDM is a device management system for iOS devices, such as iPadiPads and iPads, that simplifies device enrolment, deployment, collaboration, and security. The solution is cloud-based and suitable for both business and education. It assists firms in managing company-owned, company-shared, or employee-owned devices.

This enables IT staff to enforce the security regulations that your company requires. It also aids in the remote distribution of apps and content. The teams use Apple DEP (device enrolment program) to administer the devices, and the program supports only Apple devices. They'll use Apple Configurator to manage non-Apple gadgets manually. Once supervised, you can enroll the devices in an Apple iOS MDM solution utilizing the Apple Business Manager.

Configuration profiles are a type of MDM that allows you to modify the settings of numerous system elements remotely and centrally. These iPad profiles frequently include the settings for managing Wi-Fi, email accounts, passcodes, and other features. They have the phone-coding file extension and can be set up via a web page, email, or Apple's configuration tool. MDM, in a nutshell, allows an administrator to send profiles and instructions to a device remotely.

The most prevalent issue is that the user cannot install any apps due to a restriction. Some devices may have the MDM remote management lock screen, which must be enabled by entering the user name and password. For people who have such a condition, it is a complicated problem to solve.
Part 2.

How to Remove MDM Profile from iPad via LockEraser

An MDM bypasser program is the most effective method if you have an iOS device that MDM has locked and cannot uninstall it or do not have the passcode. LockEraser is a complex and comprehensive solution that allows you to overcome any MDM restrictions on your smartphone and use all of the device's capabilities and features.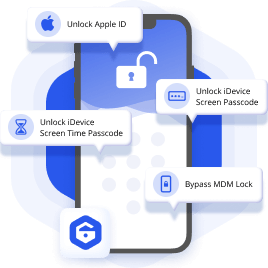 Remove MDM from iPad
You can install MDM in a couple of seconds without using a password.
Unlock Apple ID, screen passcode, and screen time passcode with this all-in-one iDevice passcode unlocker.
All iOS versions and devices are compatible.
You can use the free trial to see if your device is compatible.
LockEraser can help remove MDM from iPad using the simple steps:
Step 1: LockEraser is a program that you may download, install, and run on your computer. Then connect your device using the Bypass MDM mode.

Step 2: Bypass MDM and Remove MDM are the two modes available. To begin, select Remove MDM and then click the Start button.

Step 3: Wait as LockEraser removes MDM on your behalf. It isn't going to take long.

Step 4: You'll receive a notification after the MDM has been successfully deleted from your iPhone or iPad.
Part 3.

How to Remove MDM Profile from iPad via Setting

If you've been trying to figure out how to get MDM off your iPhone or iPad without installing any app, you'll be happy to learn that it's not as challenging. Furthermore, deleting MDM will be well worth it because you will finally be able to operate and manage your iOS device.

To know how to remove MDM from iPad using the device Settings App.

Go to your iOS device's Settings and delete the MDM profile. However, remember that this method will only work if the administrator hasn't prohibited you from deleting the profile. If there are no restrictions and you have the passcode emailed to you, you can proceed as follows:
Step 1: Manage your devices to Settings > General > Device Management. If your device has an MDM profile, it will show up here.

Step 2: You will see the Remove Management option on the MDM profile.

Step 3: After that, enter the passcode by clicking on it. Remember this is the MDM configuration passcode emailed to you, not the passcode for your device.
Step 4: The profile will be deleted entirely after entering the passcode. Then you'll be able to utilize your iOS smartphone without any limitations!
Your device will now be free of MDM and no longer be controlled by a third party. But please note that you cannot carry out this process without a passcode.
FAQs About iPhone/iPad MDM Removal
1. How do I uninstall MDM?
From the "Settings" menu, you can uninstall MDM from the managed Android. Select "Settings" from the menu on the supervised mobile phone. Then select "Security" from the drop-down menu. Disable the "Device Administrator" option. Afterward, go to "Settings" and scroll to "Applications." Uninstall the MDM agent by selecting "ManageEngine Mobile Device Manager Plus."
2. Can I delete MDM from the iPad?
Yes, you can learn how to remove MDM from the iPad after a recovery in a few minutes.
To access the enrolled management profile, launch the "Settings" app and scroll down to the "General" section > "Device Management." Then select the "MDM" profile from the drop-down menu and "Remove Management" from the drop-down menu. This is the button for deleting the MDM profile. If asked, enter your passcode to remove MDM from your device finally.
3. How Do I bypass the MDM lock on the iPad?
You can use the LockEraser tool to unlock the iPad MDM lock. However, your mobile device management profile must have a bypass profile. Then look for your iPad's IMEI number and place an MDM unlock request. Next, download the LockEraser tool. Launch the app after connecting your iPad to a computer through a cable. After that, choose the Bypass MDM mode and connect your device. In this case, select Remove MDM and click the Start button to proceed. You can now use your iPad without being restricted by MDM.
4. How do I factory reset my iPad using MDM?
A manual reset is an option.
Tap the screens to complete setup if the device is on the setup screens.
Reset your iPad by going to Settings > General > Reset.
Complete the prompts by tapping "Erase All Content and Settings."
If you do not see "Erase All Content and Settings" as an option, you may have limitations that prevent you from performing a factory reset. Alternatively, you can use the MDM Remote Wipe.
If the device is enrolled in MDM, you can factory reset it by sending a "Device Erase" instruction. This is sometimes the only choice available. Instructions will be in your MDM documentation.
5. How do I remove the company manager from the iPad?
Several methods exist for MDM management removal from iPad.
Even if the device has been enrolled via DEP and declared the MDM non-removable locally, logging in to your MDM portal and disenrolling the device will instantly delete the MDM profile, applications, and all corresponding configurations from the iPad. If your device is not registered in an MDM but has a configuration profile linked with it.
Step 1. Go to Settings > General on your iPad.
Step 2. Select the vendor's name in the configuration profile.
Step 3. Select Remove Management from the menu.
Conclusion
Finally, we hope that by using the two exclusive procedures and tips outlined in this article, you can remove MDM from your iPad . Once again, we recommend that you use LockEraser for MDM management removal so that you may use all your device's functionality and features without any data loss or security concerns.