If you have a new Samsung device, then the Samsung Smart Switch will take a lot of the hard work out of setting up your phone. But, if you are wondering, 'does Samsung Smart Switch Transfer WhatsApp Messages?' Then the simple answer is 'no'. If you want to move your WhatsApp data to a new phone, you will not be able to rely on Smart Switch.
Part 1.

Things You Need to Know about Samsung Smart Switch
1. What is Smart Switch?
Smart Switch is a Samsung application that is designed to make it easy to move to a new Samsung device from a different phone or platform. Whether this is a non-Samsung Android phone or tablet, or if you are making the move from iOS, the app will transfer a lot of the common settings and even some application data.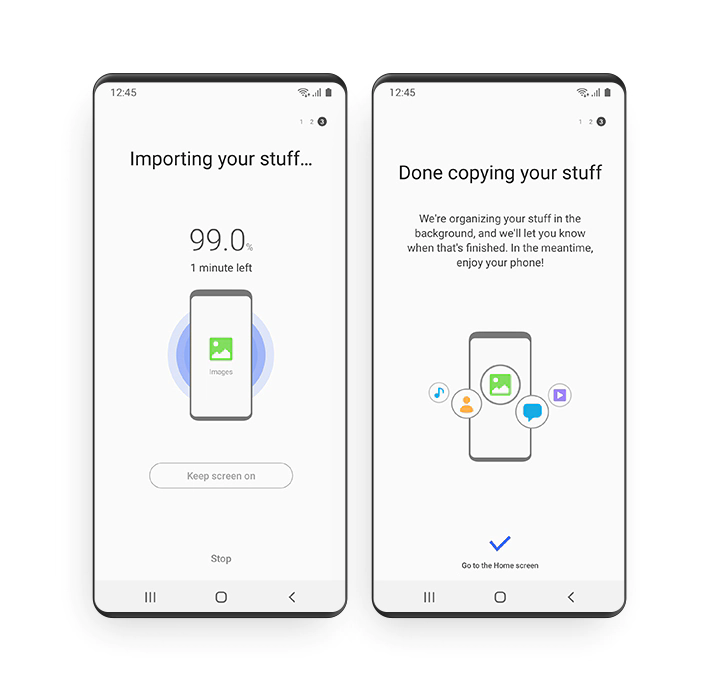 2. Content that can be transferred with Smart Switch
Samsung Smart Switch will transfer a lot of information and data from your old device. Exactly what it can move will depend on three factors: the device you are moving from, how you are moving it, and the restrictions in Smart Switch itself.
All options will move common contact like your contacts, calendars, documents, photos, videos, and music (as long as there are no DRM restrictions). If you are moving from another Android device or from an iOS device with a direct, wired, connection, you can also transfer things like messages using the phone's built-in app, call history, voice memos and alarms.
The most thorough transfer is, unsurprisingly, from another Samsung device when Smart Switch will also transfer things like your email settings, apps and even settings like your home screen layout to give an almost seamless transfer.
Part 2.

Does Samsung Smart Switch Transfer WhatsApp?

No. WhatsApp messages will be left untouched by Smart Switch. 'Does Smart Switch transfer WhatsApp Messages?' is a common question, especially as on Android the backup is openly saved on Google Drive. However, to help protect phone security, the Smart Switch app will not move any database created by an end-to-end messaging application, like WhatsApp.

The application is relatively simple to use.
1

Install Samsung Smart Switch on your new device.

2

Connect the two devices, it's likely you will need to obtain an adaptor to do this, since most phone cables are designed for charging or connection to a computer rather than for device-to-device transfer.

3

Select the data you want to transfer to your new device. WhatsApp data will not be an option.

4

Wait for the transfer to complete.
Unfortunately, however try to transfer your data, even selection the 'All' option, you will not find your WhatsApp data on the new device when you are finished.
Part 3.

How Can You Transfer WhatsApp While Samsung Smart Switch Fails?

Though you can transfer WhatsApp to a new device via restoring from the backup, you can't do this while the two devices are running on different platform. While Samsung Smart switch cannot do this for you, you can use a professional tool to finish the job. The best and easiest way to transfer your valuable WhatsApp data is to use ChatMover.

ChatMover is a quick, simple, and secure application that will transfer your WhatsApp data with just one click across platform. It's easy to use and will move all WhatsApp data to your new device.

The app works with a single click, and can transfer between any version of WhatsApp. Using it to transfer your data is simple.
1

Open the app and connect your devices.

2

Select a WhatsApp type and click Start.

3

Put your iPhone into DFU/Recovery Mode.

4

It will automatically transfer your WhatsApp data.