Learn how to access WhatsApp backup on Android and iPhone devices with ease. Find out how to locate your WhatsApp backup, whether it's stored in Google Drive, iCloud, or your phone's local storage. This comprehensive guide offers multiple methods to access your WhatsApp backup, depending on your device's OS. Say goodbye to the hassle of searching for your WhatsApp backup and secure your data today!
Part 1.

How to Access WhatsApp Backup - for Android Users
Case 1. Access WhatsApp Backup on GoogleDrive
WhatsApp backup is stored in encrypted form in Google Drive, so it is not accessible openly in Google Drive. But it is accessible from the backups section of Google Drive. So, first ensure that you have backed up your WhatsApp on Google Drive, and then follow the below steps to find out how to access WhatsApp backup on Google Drive:
1

Open your browser and go to the Google Drive website.

2

Click "Go to Drive" and then log in to your Google account.

3

In the Google Drive main dashboard, click "Storage" from the left menu bar, and then click "Backups" from the top right corner.

4

There you will find the WhatsAppbackup that is stored in Google Drive.
Since WhatsApp is end-to-end encrypted, so you won't be able to read the backup. All you can do is delete the backup or doother settings.
Case 2. Access WhatsApp Backup in LocalStorage
If you have or have not backed up WhatsAppon Google Drive, you can still access WhatsApp backup from local storage. Whilemaking a backup copy on Google Drive, WhatsApp also makes a local backup. Toaccess WhatsApp backup from local storage, follow the below steps:
1

Go to "File Manager" and select "Device Storage" or "SD Card" depending on where WhatsApp data stores in your Android device.

2

Go to the WhatsApp folder and then click "Databases". There you will find all the WhatsApp backups. The most recent one will be without a date.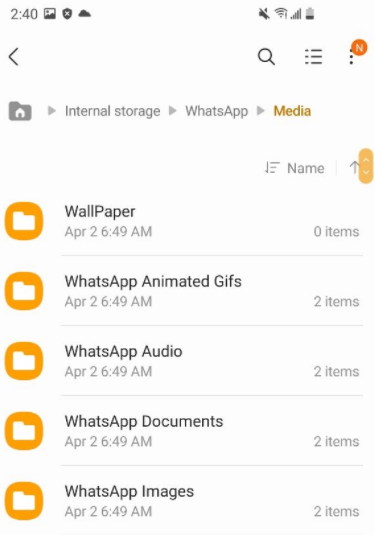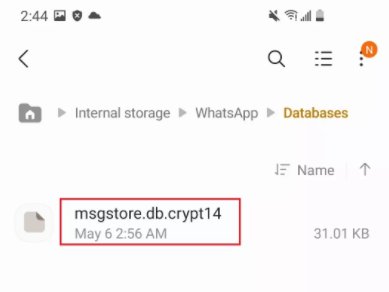 So, if you don't want to access WhatsAppbackup from Google Drive, local storage is another option available. Some users might want to know how to move WhatsApp to SD card, we have the corresponding article explanning this question for you.
Part 2

. How to Access WhatsApp Backup - for iPhoneUsers
Case 1. Access WhatsApp Backup on iCloud
Just like Google Drive, WhatsApp backup is stored in iCloud for iPhone users. But if you are in search of how to access WhatsApp backup on iCloud, then unfortunately there is no possible way to do it. It is because Apple is quite strict with security, so it does not show the backup folder to you. If you want, you can go to the official website of iCloud and enter your iCloud Drive to find the backup. There' s no way but some third-party tools can help you to extract the WhatsApp backup on iCloud.
In case you have a Mac by your side, you can access the WhatsApp backup through the following steps. But NOTE that this method only allows you to access and read the unencrypted documents, pictures and videos.
1

Make sure you have created a WhatsApp backup to iCloud before.

2

On your Mac, open "Terminal > cd ~/Library/Mobile Documents" folder.

3

Findthe WhatsApp folder "find *whatsapp*" and change into it. There may be "*.icloud" files there. If not, go to step 5 directly.

4

On your Mac, go to "System Preferences>Apple ID". Uncheck "Optimize Mac Storage". This way, the "*.icloud" files will bereplaced by the full files.

5

Copy "*.tar" files that contain the images and documents.
Case 2. Access WhatsApp Backup on iTunes
iTunes is not the default way to backup WhatsApp, but when you backup your iPhone with iTunes, it also backs up all the existing WhatsApp data. You cannot access the backed-up data from iTunes directly just like in the case of iCloud, but there are different iTunes backup extractors that can be used to access and extract the backed-up data.
Part 3

. An Alternative Way to Access WhatsApp Backupon PC (Android & iOS Supported)

From the above part 1 and part 2 discussion, one thing you must have realized that there is no direct answer to how to access or read WhatsApp backup on Android and iPhone. For Android devices, Google Drive and local storage give you access to the encrypted backup file, but you cannot do anything beyond that. The situation is even worse for iPhone users, as neither iCloud nor iTunes provides access to even the encrypted WhatsApp backup file.

In short, Google Drive or iCloud does not provide the level of WhatsApp backup accessibility that you might be expecting. But there is one alternative way to access WhatsApp backup and it is by ChatMover. It supports various Android & iOS versions, including iOS 16.

ChatMover is an intelligently designed WhatsApp data transfer, backup/restore, and export tool that makes WhatsApp backup accessibility a simple task. It comes with a click-based friendly interface with fast performance and efficient results. You can keeps several WhatsApp backups and access/read them in a more convenient way. Follow the below steps to know how to access WhatsApp backup on PC using ChatMover:
1

Open ChatMover and click on the"Backup" tab.

2

Connect your Android or iPhone device to the computer and make the device trust the PC. Once ChatMover detects the device, click the "Back Up" button.

3

The backup process will initiate. After few moments, all the WhatsApp data will be completely backed upinto the PC. You can go to the provided location to access the backup file.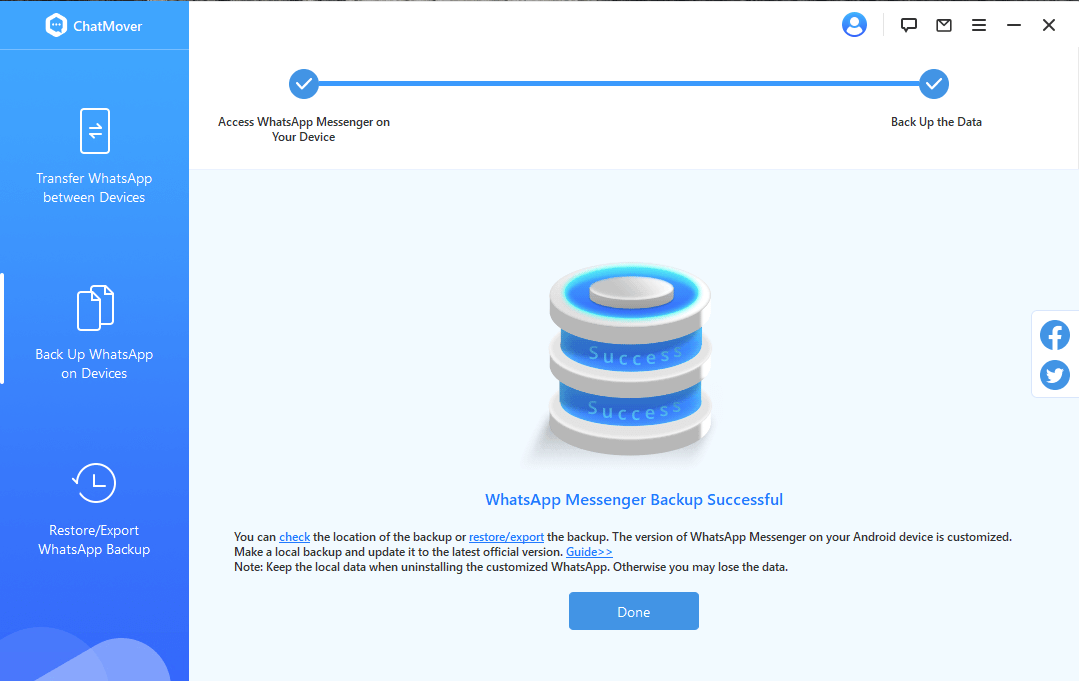 To read/export the backed-up WhatsApp data, you can use the "Export" feature of ChatMover. So, once the backup is successfully completed, follow the below steps to make the encrypted backed-up WhatsApp data into readable form:
4

Go to the "Export" tab from ChatMover and select the backup that you want to export/read.

5

ChatMover will scan the backupand provide you all the chats and their data that you can export. So, you canselect the ones you want to export and click the "Export"button. The backups can be exported either in CSV, XLS, PDF or HTML file formats.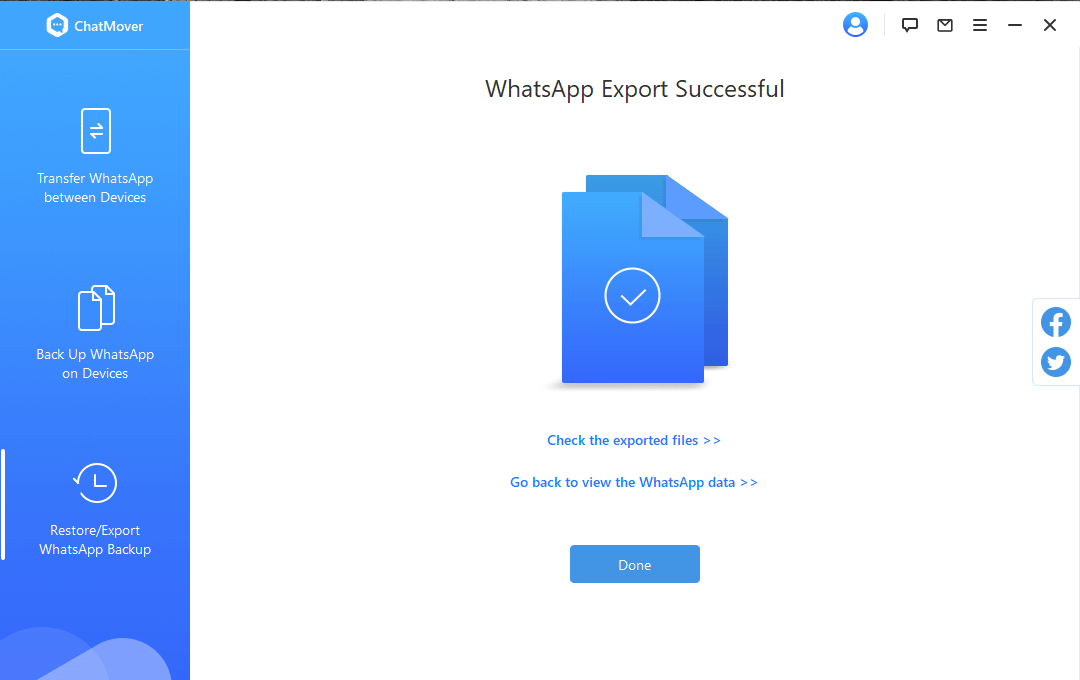 This way, ChatMover not just allows you tobackup WhatsApp and access the encrypted file, but also makes the backupreadable with its "Export" feature.
Conclusion
WhatsApp backup is an easy process and every user whether Android or iPhone can easily make WhatsApp backup. But it is not easy to answer how to access WhatsApp backup. Google Drive or local storage of an Android device provides access to WhatsApp backup, but still, the data isn't downloadable. On the other hand, iCloud or iTunes does not even provide access to the encrypted WhatsApp backup. In such scenarios, ChatMover presents as a more reliable choice. ChatMover allows you to backup WhatsApp on PC, access the WhatsApp backup file on Android and iOS 16, and even export the backed-up data.