Sharing photos via WhatsApp is easy. It's so easy, that for many people it's the main way they share memories of key moments, incredible sights, or just something cute their cat was doing. But however wonderful modern technology is, sometimes there's nothing better than having a physical picture that you can hold. While WhatsApp is a great messaging app, many people do not know how to print WhatsApp photo attachments.
The difficulty most people have is getting their photos from WhatsApp on their phone to their computer where they can print. Even for those that can print directly from their phone, it can be cumbersome, especially if they want to print multiple photos. Fortunately, there are some easy ways to turn your WhatsApp pictures into physical photos.
Part 1.

How to Print WhatsApp Photo on A Phone (One Picture for A Single Time)

Depending on your phone and printer model, it might be possible to print directly from your phone. If you have an iPhone and a printer that supports AirPrint, you can print without needing any further setup other than having the phone and printer on the same network.
1

Find the picture you want to print. You can do this either directly in the chat, or by tapping the chat menu and then tapping on the 'Media, Links, and Docs' option.

2

Tap on the picture to see it in WhatsApp's media viewer.

3

Tap on the relevant option to share. This will vary between platforms, for example on iOS 15/14 it will be a square with an arrow pointing out of it located at the bottom of the square. On Android, it will be an option you can find by tapping the three dots towards to the top of the screen.

4

Choose the print option. The photo should now be sent to your printer.
Part 2.

How to Print WhatsApp Photo on PC (Incomple or Time-Consuming)
Method 1. Print WhatsApp Photos by Logging in to WhatsApp Web
Many people are familiar with printing from their computer, but less familiar with getting photos from WhatsApp to their computer. The easiest way to do this is with WhatsApp Web.
WhatsApp Web provides a web interface with your WhatsApp and just needs a Wi-Fi connection and an internet browser.
1

Visit Whatsapp. Although this is a website, it creates a secure link with your phone. If you have not used WhatsApp Web before, you will have to follow the instructions to create a link with your phone, which is simply a case of using WhatsApp on your phone to scan the code the website generates.

2

Once you are logged in, find the picture you want to print.

3

Download the picture by clicking on the download icon, the picture is then saved in your downloads location, so you can print it using your preferred method on the desktop.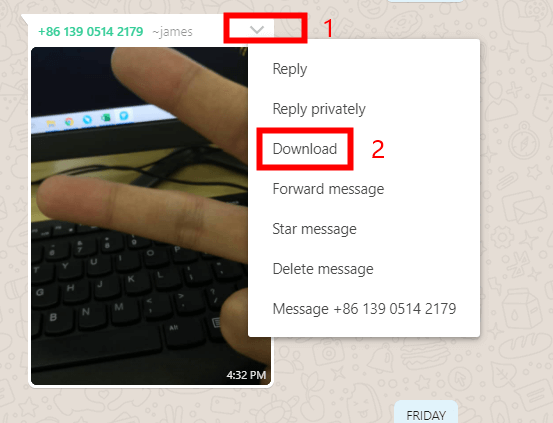 Method 2. Print after Export via Email Except for Method 1
In this part, you can export the photos you want and print them by following these steps. It's worth mentioning that however you print, the method will be similar:
1

Find the WhatsApp picture you want to print in the chat, and then tap on it.

2

Click the Share option and choose Mail to send it to your email.

3

Log in to your email account on the computer, download and print it out.
Part 3.

How to Print All WhatsApp Photos with One Click

If there are lots of photos you want to print, and often you might have many photos shared from an event you want to keep, then the other methods can be slow and laborious. A better solution is to use an application like ChatMover to manage your WhatsApp database and pictures.

ChatMover does more than just move your WhatsApp chats. As a WhatsApp managing tool for Android and iOS (iOS 15/14 included), it can manage your entire database, including attachments, making it easy for you to print as many, or as few, pictures as you like. It will create backups of your WhatsApp data, keeping it safe on your computer, which you can search and view, so you can do whatever you want with your pictures without downloading.

The process is incredibly simple:
1

Open ChatMover on your computer and connect your phone.

2

Select the Backup section of ChatMover and click Start. This will create a backup of all your WhatsApp data.

3

You can check the photos on your computer and choose any one of them to print.
Wrapping up
WhatsApp is a great messaging service for keeping in touch with people and sharing all sorts of attachments with them. Unfortunately, its strength, being a great messaging app, means that it isn't designed for you to easily use and manipulate those attachments.
If you only have a few pictures there are several ways to use WhatsApp, or WhatsApp Web to manage and print the photos. However, these may require the installation of additional applications and, depending on your printer, may not be possible if, for example, it does not have Wi-Fi.
Using ChatMover is a much more versatile way to print your photos. With it, you can quickly and easily view and select pictures and attachments, and export them in many different ways. It also has the benefit of being a fully featured way to manage all your WhatsApp data, allowing you to easily transfer data between phones and back up and restore data with your computer. You can even export your pictures alongside selections of the chat to create a memorable way to view and display media.
If WhatsApp makes it easy to chat and share with friends and colleagues, ChatMover makes it just as easy to manage those chats and media. And, it supports all the latest iOS versions, including iOS 15.