You may have changed your device from iOS to Android and out looking for a solution to restore your WhatsApp messages. Currently, iPhone and Android OS are the majorly used mobile operating systems. But as things stand, most users prefer Android over iPhone due to flexibility and functionality freedom despite iPhone smartphones offering quality in terms of performance. The most obvious reason is that Android lets you unlock phone for fewer bucks, it offers many more hardware options and customization of widgets. So, how do you move your data from an iCloud backup once to switch to Android territory?  Stick around and learn how to restore WhatsApp backup from iCloud to Android.
Part 1.

Can You Restore WhatsApp Backup from iCloud to Android Directly?

There is no official way to restore WhatsApp backup from iCloud to Android directly. Generally, the iCloud encoding mechanism is not supported by Android OS devices. iCloud supports Apple products and lets you back up your data like photos, music, WhatsApp, documents among other data, to your iTunes account. So, it only works and syncs your data to Apple products like iPhone, iPad, MacBook, and many more. Likewise, it uses cloud technology to manage your data that's shared over other applications.

You might be wondering then what happens to Android OS devices. Well, there's a Google Drive storage system that supports media storage on Google servers. It offers up to 15GB of free storage space and is available across all major platforms. This allows both iPhone and Android users to get a full grab of Google Drive and their default cloud storage platform. Android users can, hence, easily save their data on Google Drive and then restore it later on iTunes with third-party apps.
Part 2.

Two Flexible Ways to Restore WhatsApp Backup from iCloud to Android

Check out these two ways to move WhatsApp backup from iCloud to Android.
Step 1. Restore WhatsApp Backup from iCloud to iPhone
Since the iCloud backup mechanism only works for Apple devices, you need to restore your WhatsApp backup from iCloud to your iPhone first. Remember, this will only work if you previously backed up your data on iCloud. Likewise, your WhatsApp chats will be overwritten over by the ones from the iCloud backup. So, it is wise to backup your data on an external device or Flash drive before you transfer your data from iCloud to iPhone. Follow these steps.
1

Go to your WhatsApp messenger and hit on the 'Settings' option. Then, select the 'Chats' > 'Chat Backup' tabs to confirm whether there is a backup.

2

Next, delete the WhatsApp application on your phone and then re-install it again.

3

Then verify your phone number and iCloud ID that you used during the registration.

4

Click the 'Restore Chat Histor' tab when prompted to restore the chat. You will have restored your WhatsApp messages from iCloud backup to your iPhone.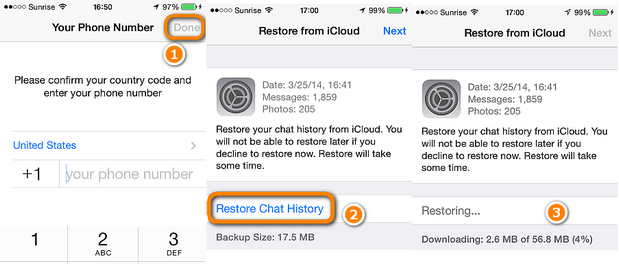 Step 2. Move WhatsApp from iPhone to Android
With your WhatsApp chats on your iPhone, you can now easily move them to your Android via these two ways.
Way 1. Email WhatsApp Chats to Android
1

First, open WhatsApp on your iPhone and swipe from right to left on the chat you wish to transfer to an Android phone.

2

Next, tap on the 'More' tab and select the 'Export Chat' option.

3

A slide-up menu will appear, tap the 'Export Chat' option. You can as well attach the mail or just send the chat without any other media.

4

Check on the 'Sharing' menu and tap on the 'Mail App' then provide the email to send the chat to. Finally, hit the 'Send' button to send WhatsApp via the email you just provide.
Way 2. Move All Chats to Android after Restoring WhatsApp to iPhone
Since the built-in export function of WhatsApp only provide a complex and time-consuming way to restore WhatsApp from iCloud to Android. So for step 2, you can utilize ChatMover for the task. With all your WhatsApp restored to your iPhone, you can now easily transfer all the chats to Android with one click by UnicTool ChatMover.
The renowned ChatMover lets you take full control of your WhatsApp and will easily transfer, back up, restore and export your WhatsApp chats in simple steps. It eradicates all limits and allows the transfer of your chats from Android to iPhone (works with iOS 15) and vice versa.
The app retains the same quality of chats as on the original phone.
Easily restore both new and old backups between iPhone and Android OS devices.
It will keep unlimited WhatsApp backups on PC secure without overwriting the previously stored ones.
Freedom of personal preference when exporting your chats as the app supports various formats like CSV, HTML, Excel, and PDF.

A Step-By-Step Guide to Move All Chats to Android After Restoring Whatsapp to iPhone
In a quest to learn how to restore WhatsApp backup from iCloud to Android, here is the final leeway to get all your chats in their original quality.
Step 1. Choose a Mode to Begin
First, download and install 'ChatMover' app on your computer. Then launch the application and choose the mode to use, which is the 'Transfer' mode. Next, connect both your iPhone and Android to your computer. Once the devices are paired, click on the 'Start' tab and choose the WhatsApp type you want to transfer. This can be either WhatsApp Messenger or WhatsApp Business.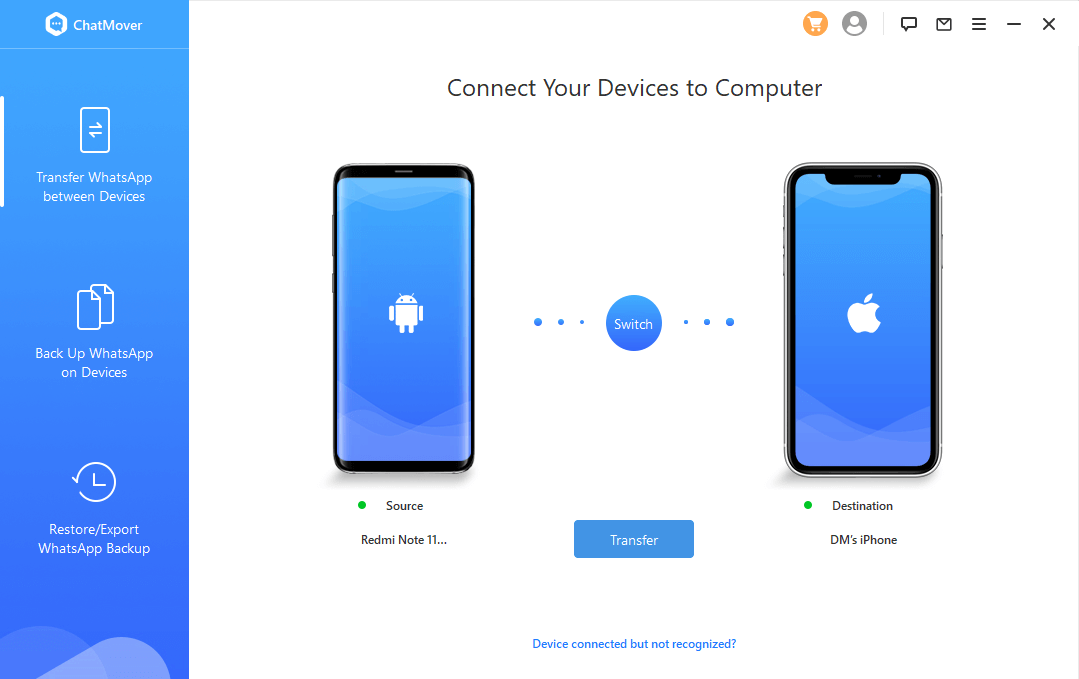 Step 2. Transfer WhatsApp Chat
Once you click on the WhatsApp type, the transfer process will start.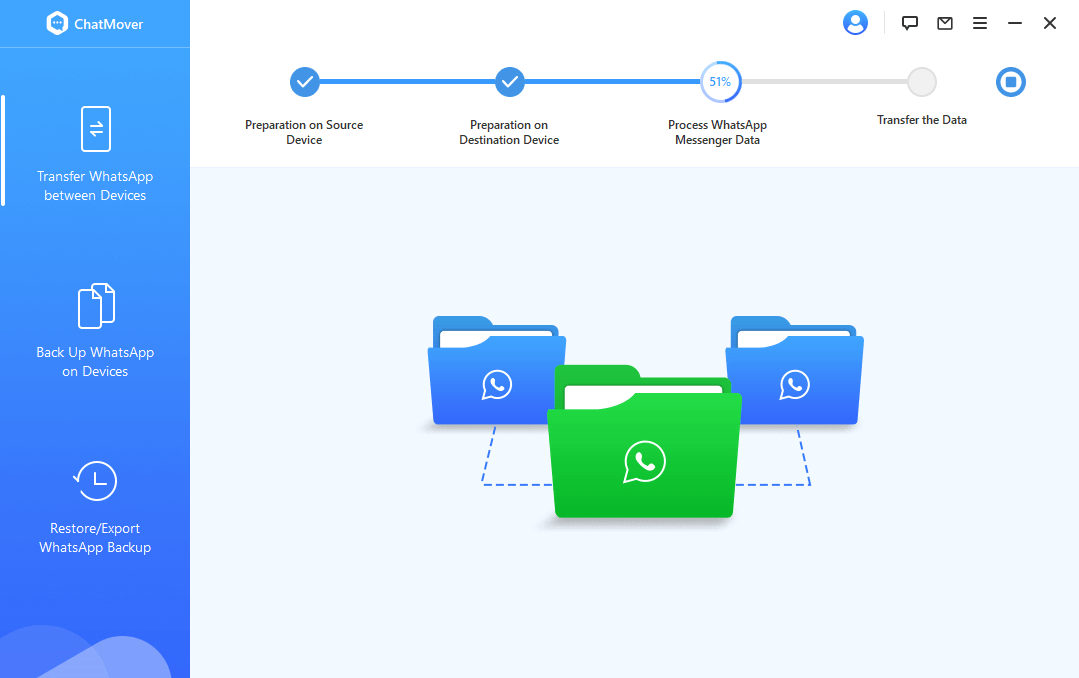 Step 3. Complete the WhatsApp Transfer
The amount of transfer time will depend on the size of the WhatsApp data. Once the transfer process is complete, check in your target device for all WhatsApp messages and files. You can now log into your WhatsApp account on your Android phone to find the restored data.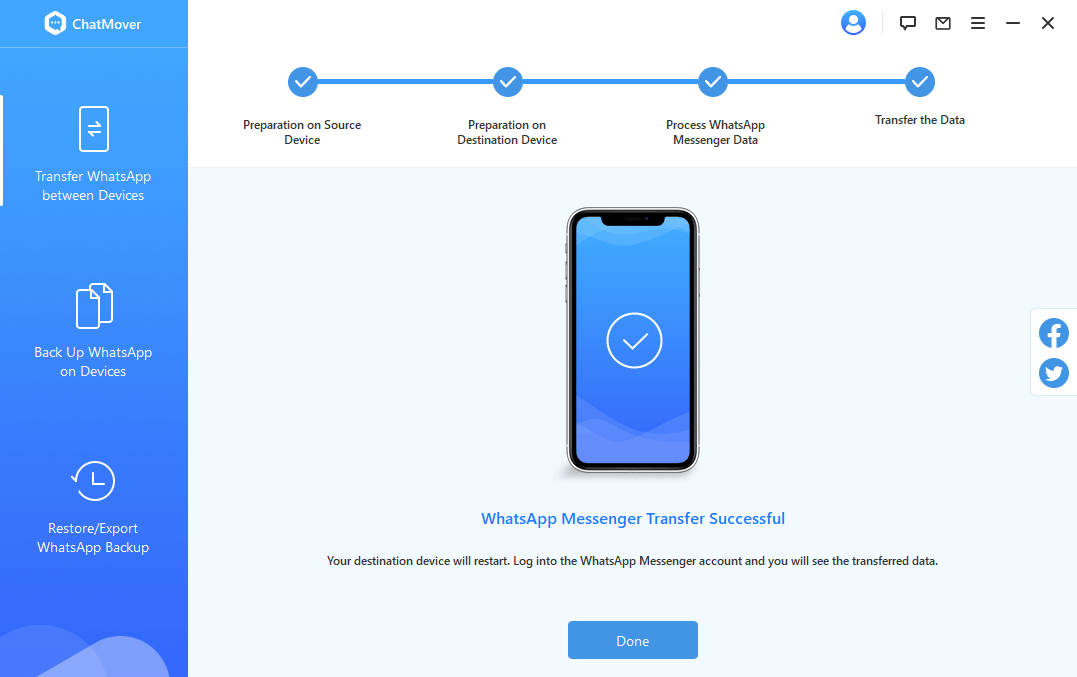 Bonus Tip.

A Better Way to Back Up and Restore WhatsApp

Remember, you need to back up your data to avoid overwriting of the currently existing ones. ChatMover has a better and secure backup solution for your WhatsApp files on Android and iPhone devices. It has unlimited free storage space and will securely give you data with no loss or leakage. And the most important is, it supports WhatsApp backup restoration between different OS.
Conclusion
Even though you cannot move WhatsApp backup from iCloud to Android directly, you still have the best tool at your back to sort you out. ChatMover works in simple steps to transfer your WhatsApp chats from iPhone to Android and vice versa, no matter whichever the OS version your device is running on, including the latest iOS 15. You just need to move your chats from iCloud to iPhone by verifying your phone number and iCloud ID and boom! You get your chats from iCloud to Android.