When you move from an Android device to iPhone, you'll love to go with all your data, especially your WhatsApp and all its attachments. The most common way of backing up your WhatsApp data on Android is with Google Drive.
But on iPhone, iCloud is the only cloud storage you can sync, back up, and restore your data from. In other words, it is impossible to restore WhatsApp from Google Drive to iPhone directly. However, in this article, you'll see a way to do this but first, we'll figure out whether there's a direct way to restore WhatsApp backup from Google Drive to iPhone. 
Part 1.

Can We Restore WhatsApp Backup from Google Drive to iPhone

No. Google Drive is a cloud storage service predominantly available to Android devices, iCloud is a similar service available to iOS devices only. Both services offer their users a certain amount of cloud storage space to store their data, for example, their WhatsApp data. 

Although you can have the Google Drive app on your iPhone, it is impossible to restore your WhatsApp backup directly from it. When you install WhatsApp on your iPhone, the only option available is "restore chats from iCloud." Aside from the fact that Google Drive (Google) and iCloud (Apple) are services from different providers, the encryption protocols used in Google Drive are different from those used in iCloud. 

In this case, encryption protocols are sets of security Apple and Google use to protect their users' data from hackers or unauthorized users. Nevertheless, there's a way around this. Go below to find out how.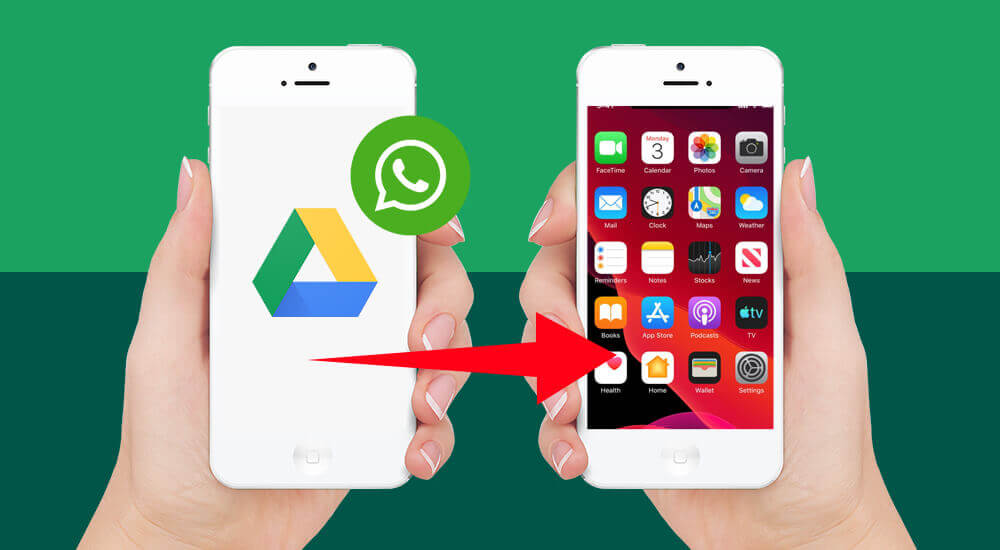 Part 2.

How to Restore WhatsApp Backup from Google Drive to Phone

Like I stated above, both services were created for different operating systems. However, with technology, there's always a way around things. Please note, this is an indirect way, but it is quite simple and fast.

Follow our step-by-step guide to restore WhatsApp backup from Google Drive to iPhone.
Step 1. Restore WhatsApp Backup from Google Drive to An Android Device
Before we see the exact way to restore WhatsApp messages from Google Drive to iPhone, we would first have to restore the backup from Google Drive to our Android phones.
Note
You'll have to log in to your Android phone with the Google account that has the backup.
1

Uninstall the WhatsApp app on your Android phone and then reinstall it.

2

Follow the setup instructions and verify your WhatsApp number.

3

Further in, you'll meet a Restore backup screen. WhatsApp will then prompt you to restore your WhatsApp data from your Google Drive. Click on the Restore button.

4

If there's more than one Google Account on the device, WhatsApp will present you with a list to choose from, select the account that has your backup. 

5

Allow WhatsApp to restore your last backup. After completed, click on Next, which will then display the initialization process. After that, you can access your WhatsApp chat and media files on iPhone.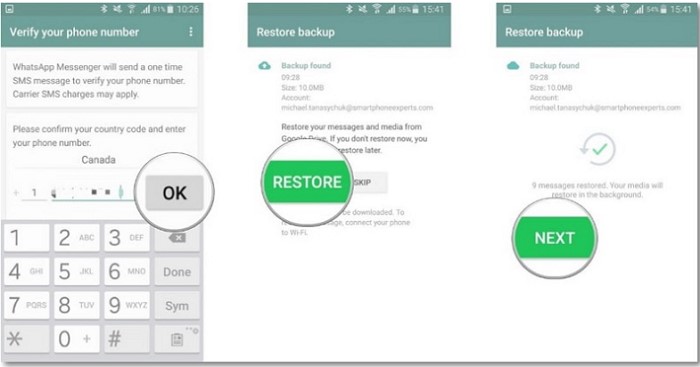 Step 2. Restore WhatsApp Backup from Google Drive to iPhone
Option 1. Restore WhatsApp backup from Google Drive to iPhone With ChatMover
Then we need to transfer WhatsApp from our Android device to iPhone. Normally, there's no way to transfer WhatsApp between two devices running different OS. But ChatMover makes it possible.
ChatMover is a simple third-party tool created by UnicTool that can help move your WhatsApp data (chats, photos, videos, settings, attachments) between an Android device and an iPhone device. For iPhone devices, it supports WhatsApp transfer on iOS 16, 15, 14, 13, and more.
It can also help take backups and contains other excellent features, as you would see below.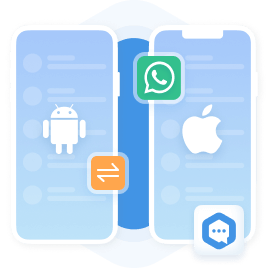 All-in-one WhatsApp Transfer
It's a time-saving method that makes it possible to restore WhatsApp from Google Drive to iPhone.
Easy to operate and doesn't require any extra tech knowledge.
Supports transferring a single chat or all chats at once.
Supports to transfer, back up, restore and export WhatsApp.
No data loss risks, 100% safe to use.
Note
The WhatsApp data on the target device will be deleted, so you should take a WhatsApp backup before proceeding. 
1

Visit ChatMover's official site and download and install the program on your computer.

2

Launch it and connect both devices (iPhone and Android) to your computer using a working or original USB cable. The program might require you to allow USB debugging or give access to your phone data. At the same time, you'll be required to unlock your iPhone screen and click Trust the computer to proceed.

3

Confirm both devices are well connected, then click Start on ChatMover. Follow the on-screen instructions during the process.

4

When it is complete, click on Done. You can access your WhatsApp messages, photos, attachments, videos, voice notes, and other data on your iPhone then.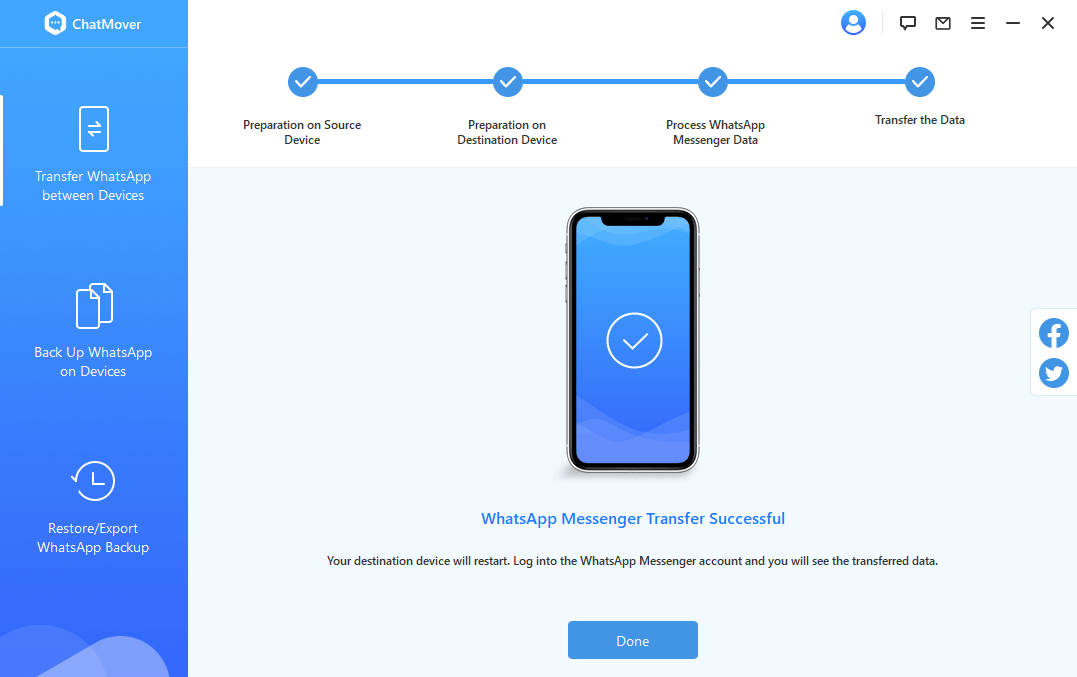 If what you're looking for is a totally-free method, then just following the steps below after restoring WhatsApp from Google Drive to Android.
Option 2. Restore WhatsApp Backup from Google Drive to iPhone by Email Transfer
1

Follow step 1 to restore your Google Drive backup to your Android phone.

2

Launch the WhatsApp app and open the chat you which to transfer.

3

Tap on the contact's name at the top of your screen. 

4

Scroll down and select Export Chat and choose if you'll love to include the media files in the email.

5

Select the email option and input the recipient email, then tap on Send.

6

Open your iPhone and log-in to your email address, then download the attachment file and access it from there.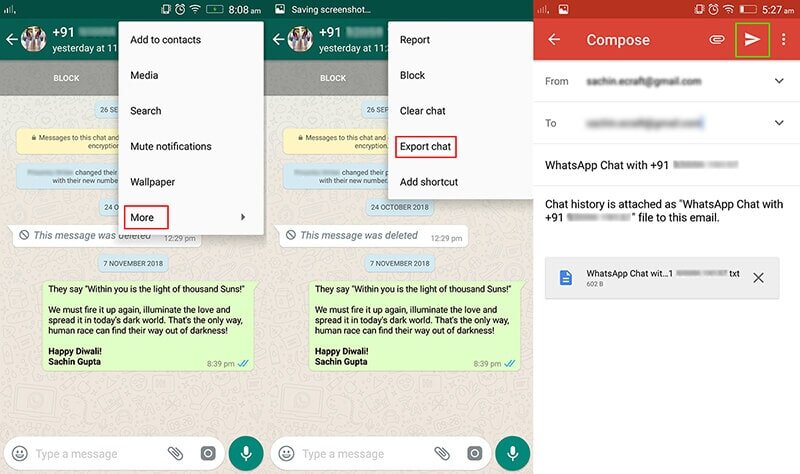 These two methods are the only ways to restore WhatsApp from Google Drive to iPhone directly. From the steps, we can see that ChatMover is the best way to go about this.
While transferring via email involves sending a single chat to another email address, ChatMover consists of moving all your WhatsApp data from your Android to your iPhone with ease. 
Pros
You wouldn't need a computer to work with this method.
Cons
You can't reply or message the exported contact's chat.
You can only transfer one chat at a time, which is time-consuming.
It is impossible to restore the chat directly to your WhatsApp account.
You can export only the last 40,000 messages and just 10,000 if you include media files.
Unavailable for German users due to some policy.
Wrapping up
This article has shown you how to restore WhatsApp from Google Drive to iPhone. We explained why it is impossible to directly restore your Google Drive WhatsApp backup to your iOS device (iOS 15 included). We further discussed two methods to go about this. We introduced ChatMover, which is the best option around, and explained why ChatMover is the best than the email method. Thank you for reading; share your comments below.