WhatsApp is the most powerful messaging app, enabling people to contact family, friends, and colleagues worldwide. But managing the contact information of all these important contacts is a complicated task, especially when they are stored on your operating system instead of WhatsApp.
We have found the best methods for WhatsApp contact sync for your WhatsApp to make it easier to maintain a good connection with all your important contacts. With this messaging app's help, you can connect with all the important contacts by chatting and calling.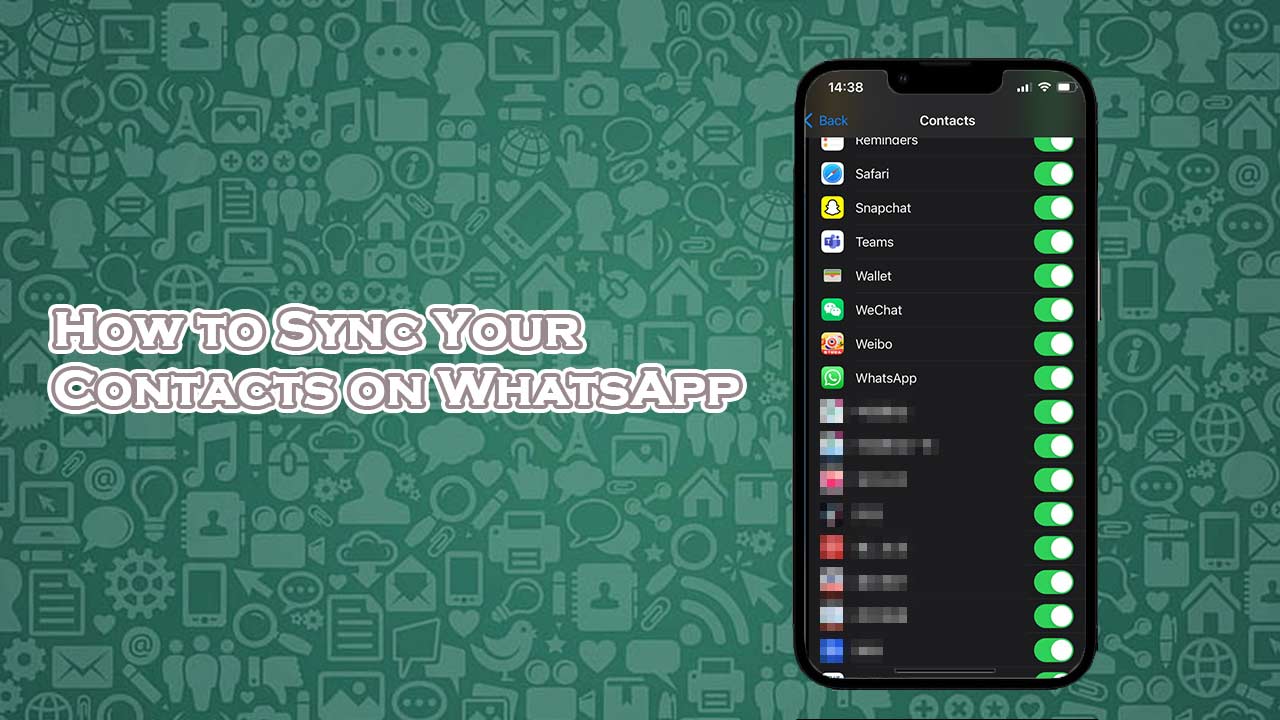 Part 1.

How to Sync Your Contacts on WhatsApp

The WhatsApp contact sync and similar features provide various advantages to its users. This feature enables users to easily back up their WhatsApp photos, videos, and chats to iCloud or google drive. Due to the importance of this feature, it makes it simple to restore users' data in case their phone is lost or they buy a new device. Also, it makes it possible for users to use WhatsApp smoothly on different platforms, such as desktops, tablets, and phones.

The WhatsApp contact sync helps users to save their virtual storage space by allowing them to store their chats and media on the cloud instead of the phone's storage. Through this, users can use other applications and store more data on their phones. This feature makes the messaging app easy across many platforms and ensures user data is secure and accessible.

If your contacts list is not automatically syncing, refreshing, or updating and contact names show up as phone numbers on WhatsApp, follow the steps below for the solution.
1. Hover over the settings menu in your android
2. Choose 'Apps.'
3. Look for WhatsApp in the displayed app list, then press on it.

4. Go to "Permissions."

5. Activate the ability to edit and view your contacts.
6. You may also enable all other available permissions to ensure WhatsApp can operate correctly.
Part 2.

How to Troubleshoot Common Contact Sync Issues

It is frustrating when your WhatsApp contacts do not show, and communication is cut off. But don't worry. This article will help you a lot in WhatsApp contact sync, and we have the simplest and easy solutions to help you to resolve the contacts issue on WhatsApp.

We have all the practical solutions for every known problem, whether it is a permission request issue or contacts disappearing after switching the app from one device to another. The following are a few common and effective solutions to this issue.
Method 1: Save the Contact in International Format
Occasionally, your national or international contacts only come on WhatsApp due to unfinished details, such as the absence of country codes. To ensure that all your contacts appear on WhatsApp, it is essential to save contact details with the proper country codes in an international format. Always remember to start with the + sign to the number when saving contact number details in an international format.
Method 2: "Show All Contacts" Option
Usually, the contacts displayed on your contact app also appear on WhatsApp. To ensure that all your phone contacts appear on WhatsApp, displaying them in the phonebook is recommended. Here's how to do it:
1. Open Settings by clicking the button with the three vertical dots in the Contacts app on your phone.

2. Choose All Contacts under Display Preferences.
3. Show all contacts.
Method 3: Update WhatsApp to the Latest Version
The problem of WhatsApp contact not showing up can be caused by bugs, glitches, or sometimes due to outdated versions of the app installed on your phone. So that's why Regular WhatsApp updates are required to avoid these problems and maintain effective communication. Here is a step-by-step guide for updating WhatsApp for WhatsApp contact sync.
1. On your smartphone, launch the Google Play Store for Android Phones or the App Store for iOS.
2. Choose "Manage applications and device" by pressing on your photo in the top-right corner of the screen.

3. Press the update Available.

4. Click "Update" after finding WhatsApp in the list.
Method 4: Allow WhatsApp Contacts Permission
Permissions issues are among the most common issues faced by smartphone users. If your WhatsApp contacts have disappeared or not showing, then ensure that you have permitted the app permission to access your contacts. Without permission, WhatsApp cannot display your contacts, and you cannot communicate with anyone.
For Android Phones:
1. Go to setting on your phone.
2. Choose apps from the list, and choose WhatsApp.
3. Choose Permissions from the menu and tap the contact permission ON.
4. Change contact permission.
For iPhone
1. Go to Settings on your phone, then find WhatsApp.
2. Tap to turn ON the permission for contact.
Method 5: Refresh Contacts on WhatsApp App
When power saving or battery saver settings are "ON" on your phone, it can stop WhatsApp from automatically syncing your contacts. For Android Phones and iOS devices, you may have to manually refresh your contact list for the app to see your contacts.
For Android Phones
1. Launch WhatsApp and select New Chat.
2. Choose Refresh by pressing the three dots in the upper right corner of the screen.
For iPhone
Unlike Android phones, the iPhone does not include a refresh contacts button. The contact permission to refresh the list can be switched on and off by following the steps.
1. Go to Settings on your phone and then WhatsApp.
2. For contact permission, tap refresh, then tap it again to turn it ON.
Method 6: WhatsApp Uninstall and Again Install
If none of the abovementioned options worked, consider deleting WhatsApp from your phone and reinstalling it. Make sure you download and install the most recent version of WhatsApp to avoid any issues.
1. Go to Settings on your phone, then to Applications, and find the app from the list. Press on Uninstall WhatsApp app.
2. Next, launch Play Store, download the most recent version of WhatsApp, and see if the issue has been fixed.
Conclusion
Sometimes we all face WhatsApp contact not showing issues on our devices. So for this, we have mentioned some steps for this solution above, which include how to sync contacts on the app step by step. We have mentioned some issues and methods for solving sync and contact not showing related issues. The WhatsApp contact sync feature is helpful for users to save data on the cloud and can be used on any new device they face. If you like this article or it is helpful, share it with your family and friends and comment below.