It's always fun to get a new phone, but there's always the chore of setting it up. With our lives increasingly lived on, and saved in, our phones it is essential to make sure you save everything you need from your old device. This can mean having to navigate through lots of different apps which all save their data in different ways.
One of the most important, if not the most important, database is the one created by WhatsApp. Your WhatsApp database can contain almost everything from precious memories to important documents saved as attachment. Android defaults to using Google Drive, but it is possible to create a WhatsApp backup without Google Drive. Here we will look at a few of the ways you can back up and restore WhatsApp messages without Google Drive to keep your data safe.
Part 1

Google Drive Is Not the Only Option for Backing Up Whatsapp on Android

As a Google product, it's not surprising that Android devices default to using Google Drive for backups. And for many people using Google Drive will be the easiest way to back up, since it takes little to set up and can create backups automatically, ensuring that you always have a backup available.

However, using Google Drive has a number of disadvantages. It is only a backup; you can't do anything with it other than restore. And each new backup replaces the last one, there is no backup history, so if you automatically back up daily, and need something you deleted yesterday, it's lost. And it's stored unencrypted which might make it an unsuitable option for some. It can also be slow, especially restoring, if you have a poor connection or a large database.

Fortunately, because Android has an open filesystem it is possible to access files, including the WhatsApp database, directly. This means you have a number of options to create a WhatsApp backup without Google Drive.

These can, sometimes, be technical. Some involve working directly with WhatsApp files where a mistake might result in data loss, but if you are comfortable working with Android's file system — and managing the backups you make — then you can create your own backups.
Part 2

Three Methods to Back Up WhatsApp without Google Drive
Method 1. Back Up WhatsApp Locally
If you are concerned about saving an unencrypted backup on Google Drive, then using a local backup means that you have physical control of your data, and WhatsApp will create these backups automatically. This means it's easy, once you know how, to back up WhatsApp chat without Google Drive by simply keeping a copy of the database somewhere safe.
Except for backing up to Google Drive, WhatsApp also automatically creates a local backup every day at 2am, keeping one week's worth of backups. To save one of these locally:
Simply navigate to the backups on your phone and copy the backup file to your computer. The backups will be in a directory named 'WhatsApp' on your SD card or in the phone's memory which is likely to be called 'internal storage' or 'main storage'. The individual files will be named 'msgstore-YYYY-MM-DD.1.db.crypt12'.
Although an effective way to back up WhatsApp without Google Drive this method requires a lot of work by the user, and you can only restore the backups, you can't export messages from them on your computer, for example.
Method 2. Back Up A Single Chat or Group via Email
It is possible to export individual chats from WhatsApp via email and save them there.
Step 1: Open WhatsApp and find the chat you want to export, then tap the three dots at the top.
Step 2: Tap on 'More' in the drop-down menu, then 'Export chat'.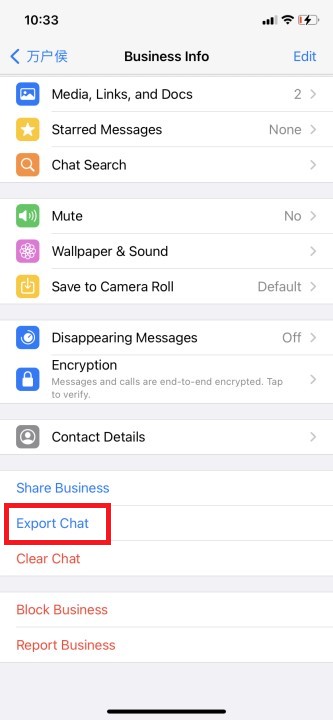 Step 3: Choose whether or not you want to include media with the export.
Step 4: Decide how to share it, you can email it, but there will be other options depending on how your phone is set up and the apps you have installed.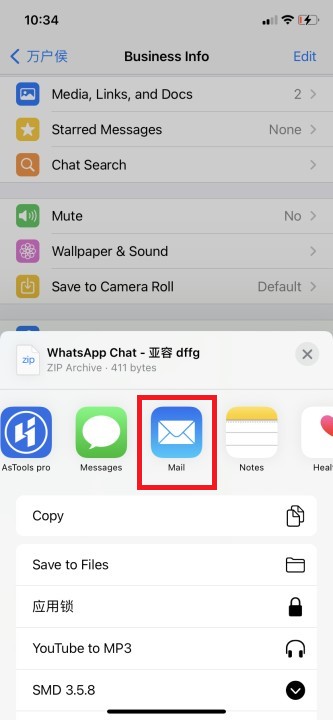 This method is not really a way to back up WhatsApp without Google Drive because, although you can selectively export chats, you cannot restore them. The exports should be considered more as archives of messages than backups since the data cannot be restored to WhatsApp, only viewed in other applications.
The archive created can be large if you include media. Although the chat is saved as text, everything is put together in a single Zip fie, and if you have more than a few pictures it can often be too large to send via email.
Method 3. Back Up WhatsApp and WhatsApp Business with A Few Simple Clicks
ChatMover is the easiest way to back up WhatsApp without Google Drive while ensuring that you have control over what you do with it. Using it is as simple as connecting a phone to your computer and clicking a button, but it will create a backup that you can restore to any phone or view on your computer, and the data is always under your control.
Backs up WhatsApp on Android to PC for free, without the need for Google Drive.
Allows you to restore the backup to a new phone regardless of the OS (iOS or Android) it runs.
Keeps unlimited backups until you manually delete them.
Allows you to manage the backup file as you wish. You can restore it to any phone or export chats to your computer in HTML or CSV/XLS format.

Creating a backup with ChatMover is easy.
Step 1: Open the ChatMover app on your computer.
Step 2: Connect your phone.
Step 3: Click 'Backup'.
And that's it. Once done, you will have a backup saved on your computer. You can restore this backup at any time — ChatMover won't delete backups unless you tell it to — and you can read messages and get attachments from it right on your computer.
Note
The Backup function of ChatMover will be released in the next version.
Bonus

Can I Restore Whatsapp From A Local Backup Instead of Google Drive

If you have local backups on your phone and need to quickly restore one you can do this.

Like keeping local backups, you will have to find the local WhatsApp directory, then rename the backup you want to restore from 'msgstore-YYYY-MM-DD.1.db.crypt12' to 'msgstore.db.crypt12'. Delete and reinstall WhatsApp and you will be prompted to restore from the backup.

Although possible, this method is only really for use in urgent situations when you just have to restore something from earlier in the week. It involves using your file system directly and does not give you any control over what you restore.
Wrapping Up
There are several ways you can back up data from WhatsApp on Android to keep it secure. It's worth taking a few minutes to check that you have backups, since your WhatsApp data is likely to be among the most important you have, whether that because the messages have sentimental value or business value because they are chats with employers or clients.
However, most ways of creating a WhatsApp backup without Google Drive have some disadvantages, whether it's because it's awkward to do, or doesn't give you control of your backup.
The best solution is ChatMover. ChatMover is incredibly easy to use, just a single click, but an incredibly powerful app. Not only does it making backing up easy, but it also gives you full control over your backup, so you can restore it to different devices, check the contents to read messages and attachments, or even export chats in a variety of formats.