There are times when you may want to change your GPS location. For example, you might want to access some geographically restricted contents, make the most of a location-based game such as Pokémon GO, or protect your overall privacy online.
If any of these situations or concerns resonate with you, then a location spoofer is the solution you've been searching for. There are a number of applications which do just this, one of which is Fake GPS Joystick & Routes Go. In the following article, we're going to thoroughly examine the main features and purpose of Fake GPS Joystick & Routes Go, its pros and cons, as well as customer reviews. Besides, we have explored a versatile and viable alternative application called TailorGo.

Part 1.

How to Use Fake GPS Joystick & Routes Go
1

First and foremost, go to the Google Play Store (US$3.99) and search for "Fake GPS Joystick & Routes Go".

2

There will be a button which prompts you to download the application, and when you select it the download process will begin.

3

Once it has downloaded, open the Settings app on your device and select the Applications section. Ensure that the necessary permissions (allow mock location) are enabled.

4

Go to your downloads in your device, and the Fake GPS Joystick & Routes Go apk file should be immediately visible. Install it.

5

Open this application on your device and you can identify, select and then spoof whichever location you want!

6

The application has various settings which you can apply, including expert mode, joystick, history, favourites, speed, altitude, accuracy, routes as well as disabling root support for mock location.
Part 2.

An Overview of Fake GPS Joystick & Routes Go

Ultimately, Fake GPS Joystick & Routes Go is a virtual location spoofer, and this is its primary feature. With this application, you can set your device's location to anywhere in the world, without you ever having to change or adjust your actual position. What's more, this feature can also spoof your virtual location in any location-based app, including map applications such as Google Maps and online games like Pokémon GO. Moreover, when you share your location with others, the spoofed location will be displayed.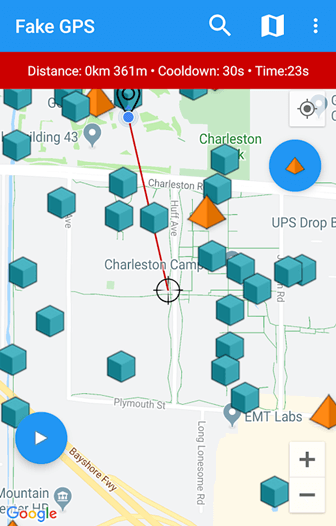 Not only can you spoof your location, but you can also imitate entire routes. With this tool, your position on the map will be displayed as your spoofed location rather than where you actually are. When you use the map to navigate, therefore, the starting point will be the spoofed location. This makes it an incredibly convenient feature if you want to spoof your location in a game without arousing suspicions, or calculate a route in advance in another location.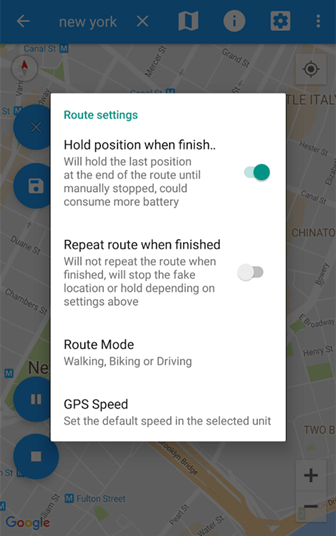 For example, when you play the immensely popular AR game Pokémon GO, you have to move around in order to catch Pokémon, and your device's GPS will reflect your physical movements in the actual gameplay. Playing Pokémon GO in this way isn't always feasible, especially if you don't have the time or resources required to travel so much. By spoofing your GPS location with this application, you can optimise your gameplay experience without having to physically change your actual location. You just have to select the required location, and then use the location spoofing feature to teleport there in the game.
There is also a joystick feature which enables you to bookmark any location on the application's map. This is an invaluable way to remember or pinpoint the specific position of a store, a park, a restaurant, your home or any location which you feel is important to you. Not only will you be able to identify and locate any location much more quickly, but you also won't have to worry about losing your way or forgetting where you're going.
Part 3.

Reviews & Pros & Cons for Fake GPS Joystick & Routes Go

The following are a selection of reviews taken from the application's Google Play Store page:

One user commented: "Goodness gracious is this app a mess to navigate. I understand the process of setting this up is complicated, but the organization of the FAQ doesn't help matters. I read the entire FAQ before downloading the app per the description and was confused as hell."

Another stated: "It is a tool that does the bare minimum and is too expensive at the current rate. The app is OK but the features are confusing, many of the functions are not explained well (lack of layman tutorial)."

This is a more mixed review: "Have been using this app for a while. It's a bit tricky to get going but once you figure it out, it's not that bad. Lately the app crashes constantly. It doesn't take long until the app crashes the second you open it and the only way to get it working again is to reinstall and go back through."

A positive review: "Great app, works very well and the FAQ is well detailed. took me a while to set it up but the FAQ helped me with all my issues and now it is working perfectly!"

Pros
Multiple advanced functions.
Select any location with a map or a joystick.
Import and export data to favourites and routes.
Extensive settings for customisation.
Cons
The installation process is confusing and complex.
It isn't particularly efficient or easy to navigate.
Using it requires a b grasp of technology.
Several users have noted that the app frequently crashes.
Part 4.

A Perfect Fake GPS Joystick & Routes Go Alternative You Cannot Miss - TailorGo

Evidently, the Fake GPS Joystick & Routes Go application has some serious limitations alongside its merits. This is why TailorGo is such an exceptional alternative. It has been designed specifically with reliability and dependability in mind.

With this powerful location spoofer, you can seamlessly and easily change your GPS location to anyplace in the globe, and every location-based app on your device will reflect the spoofed location you set. When compared with Fake GPS Joystick & Routes Go, it's clear that TailorGo offers all its advanced facilities alongside enhanced functionality, straightforward navigation and a user-friendly interface.
Change GPS location to anywhere with simple clicks.
Simulate GPS movement naturally and smoothly without any lag.
Manually adjust your speed of movement, direction and routes.
Work well with various location-based apps: change Tinder location, spoof Pokémon GO, etc.
Pose no security risk to your device.
Support both Android and iOS system (including iOS 15).
Free trial is offered for every user.

1

Download, install and launch TailorGo on your computer. Click the "Get Started" button and have your device connected.

2

To change location, choose the Teleport Mode and select a destination. To simulate GPS movement, choose either the Two-Spot Mode or Multi-Spot Mode, then plan a route to move along, including the moving speed, direction, and moving times.

3

TailorGo will change your location or complete the movement as planned. The changes will be updated to all location-based apps immediately.
Conclusion
When you are seeking a program or an application in order to spoof your location, you want to be assured that it is an efficient, reliable and secure software which will do exactly what you want it to do. Fake GPS Joystick & Routes Go is one example of a location spoofing application, but it does have its shortcomings and disadvantages which can hugely affect its overall efficiency and usefulness.
TailorGo, on the other hand, has been developed with ultimate convenience and functionality in mind. It is a powerful location spoofer packed with a range of integrated, comprehensive and versatile features. With TailorGo, you can adjust, customise and spoof your GPS location more easily than ever before.