Getting Pokémon in the game is not always physically or financially available to all players, as you must go around your city a lot. Sometimes people cannot afford to travel worldwide to capture all the unique and rare Pokémons.
For such players, location spoofing applications such as PGSharp Pokemon GO come in handy. This application helps mimic the movement of the players in any location, even if they are relaxing at home.
This guide will discuss PGSharp and Strava, a physical exercise tracker to cheat the game. Here you will also get possible alternatives. So, let's explore.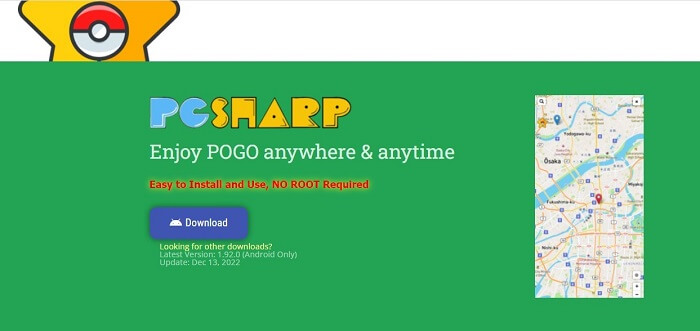 Part 1.

What is PGSharp Pokemon GO?

It is a functional spoofing tool that allows players in the game to change their location. So, while you are staying at your home, your in-game player can move around the world looking for new Pokémon.

PGSharp utilizes longitude, latitude, altitude, speed, and accuracy to make the game think you are moving in the physical world. PGSharp is an excellent solution to fake walk or bike runs on Android devices for Pokemon Go.
Feature PGSharp Pokemon Go
No additional application installation is required. PGSharp can fake your location on its own.
You can change the walking speed of your player.
Features a PGS-based joystick feature to change and simulate movements in the game.
PGSharp Pokemon Go has a neat teleport feature to immediately travel from one part of the world to the other.
It has an auto-walk feature for hatching the eggs according to the kilometers traveled daily.
Part 2.

How to Download PGSharp Pokemon GO?

Before downloading the PGSharp Pokemon Go, remember that it works only on Android. It is not functional in PGSharp iOS. Begin the process by entering your credentials, such as your username and password. So, you do not forget when you need to uninstall Pokemon Go from your android devices.
Step-by-Step Guide to Install PGSharp
Step 1: First of all, visit the official website of PGSharp. Search for the PGSharp app and download it. Complete installation onto your android device.
Step 2: Find the shared Beta Key in your files folder and scroll to the Sign Up Now button. Now create the ID by setting the username and password for login.
Step 3: Cope and paste your credential from the PTC Pokemon account and the Beta key you got after signing up.

Step 4: Now, a new Pokemon Go application will start downloading. Once it is installed, the program is ready.
If you receive an out-of-stock message while trying to confirm the payment, it implies the servers are down or underworking from the backend. In this scenario, wait for a few minutes and try again. Then you can go forward with the PGSharp Pokemon Go hack.
Part 3.

How to Fix PGSharp not Working?

PGSharp Pokemon Go helps trainers capture the Pokémon by leaving their comfort zone. Sometimes, it stops working due to unknown reasons. If you have downloaded PGSharp and it is not working correctly, Try the following method to solve the problem.
1. Check PGSharp Server Status
Firstly, visit the official handle of PGSharp on Twitter. You will get to know the server's status if there is any server issue. If there is no issue with the server, try any other solution from the ones mentioned below.
2. Clear Cache
Clearing the cache can improve servers working. Follow these steps:
Step 1: Open the phone's settings and click on 'Apps.' Now navigate to 'Manage Apps' and then 'PGSharp.'
Step 2: Once you figure out the application on your phone, clear the app's cache.
Step 3: After clearing, relaunch the PGSharp and check if the problem has a solver.
3. Reinstall PGSharp
If you continue to face the issue of PGSharp not working, uninstall the application and download it again. Sometimes, reinstallation of the application fixes the PGSharp not working problem. Once you have successfully uninstalled and reinstalled the application, launch it to check if the error persists.
4. Use VPN
PGSharp may not be working due to poor IP location. If this is the case, the only solution is to use a VPN or alter your location before starting the app. After successfully changing the location with a good VPN, start PGSharp Pokemon Go, and check whether it is working.
Apart from that, there are a bunch of solutions to fix the PGSharp not working problem. However, these are the most effective, easy, and useful.
Part 4.

PGSharp Pokemon Go iOS Alternative

PGSharp Pokemon is a solution for those who have an android device. The people with iOS are still struggling to find Pokemon Go hacks. That is why we advise trying the free alternative UnicTool TailorGo as a safe and convenient method to spoof your location data in Pokemon Go.
UnicTool TailorGo
TailorGo is an easy-to-use application designed for both Android and IOS users. This is the best professional tool, mainly developed to offer a comprehensive solution to the location tapping issue on all devices. It has multiple distinct features to make Pokemon Go spoofing safe and fun.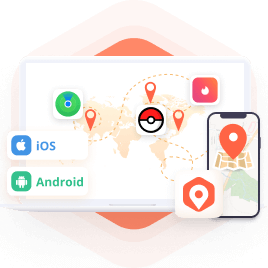 TailorGo-The Best Pokémon GO Spoofer
Simulate GPS movement accurately and smartly with customized speeds and routes.
Assist users in teleporting to any part of the world with a few clicks.
Simulate the GPS movement naturally with a Joystick.
Excellently work with social platforms such as WhatsApp and Messenger and games like Pokémon Go.
Conclusion
In a busy life, it is impossible to keep walking long distances and find new Pokémon. Therefore, many people consider PGSharp Pokemon Go hack an excellent facility to enjoy the game while staying in their comfort zone.
However, the Pokemon Go traveling hacks are still a mystery for iOS users. But they have got the solution in the form of UnicTool TailorGo. This application changes the location without jailbreaking. You can customize the speed and routes for safe spoofing. With TailorGo, Android and iOS users can find rare Pokemon from any part of the world while staying home.