If you are a game enthusiast, you must have gone through a fever in the Among Us game. Among Us is a multiplayer social deduction online game launched in 2018. In a short time, it gained popularity due to its unique ideas and plot. Did you prank your friend by pretending to be anonymous?
It is not too late. Use the Among US voice changer to induce the thrill and fun in the game. You can either use it to hide your identity while playing with unknown people or acquire a humorous voice to elevate fun.
This article aims to unveil some best voice changers Among us for an improved and secure online gaming experience.
Part 1.

Best Among Us Voice Changer to Improve Gaming Experience

Among Us are well-known parts of the gaming industry. Integrating the best voice changer can bring the fun game to another level. So, let's dive into the best voice changers for more thrill and laughter.

The versatile and effective features have made UniTool MagicVox rank on the top of the Among Us voice changers list. It is an all-rounder voice changer offering real-time voice modulation across different platforms.

In no time, you can become a woman, robot, or alien and imitate hundreds of other well-known characters. It integrates seamlessly with Among Us and Apex Legends without disturbing other programs running simultaneously.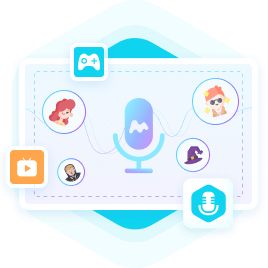 A Real-Time Voice Changer
It supports a live voice emulator to assist you in utilizing a customized and distinct voice during live video chants and game streaming.
The application has more than 150 emoticons to induce sudden laughter.
The addition of a voice studio in this app has facilitated the users to adjust voice parameters according to preference.
Pros
Simple and convenient interface
Excellent customer support
A huge library of present voice filters
Real-time voice changer
Cons
Offers limited features in the free version
User Experience:
It is a new but highly functional voice changer, which is why it ranks at the top of the list. MagicVox has multiple valuable features like real-time voice modulation, making it ideal not only for games but meetings as well.
How to Use Voice Changer on Among Us
Step 1: Download and install the voice changer application.
Step 2: Configure audio tools. For this purpose, open "Settings" and click "Audio ."Set microphone as an input device by default and headphones as an output device.

Step 3: Open your System Audio Settings & configure the Microphone by setting MagicVox Virtual Audio Device (WDM) as Default Microphone.
Step 4: Launch Steam and click "Setting." Then click on the "Voice," click "Voice Input Device," and select "Voice Changer Virtual Audio Device" from the list.

Step 5: On MagicVox, select the voice filters you like or navigate to VoiceStudio, adjust the frequency of Pitch, Reverb, etc., to get the custom voice.
Voicemod is another best Among Us voice changers because it offers terrific voice filters. It is equipped with a soundboard and voice studio, which helps make your voice just like you have envisioned. Voice mod lets you have complete control over your vocals while allowing you to mimic your favorite anime character.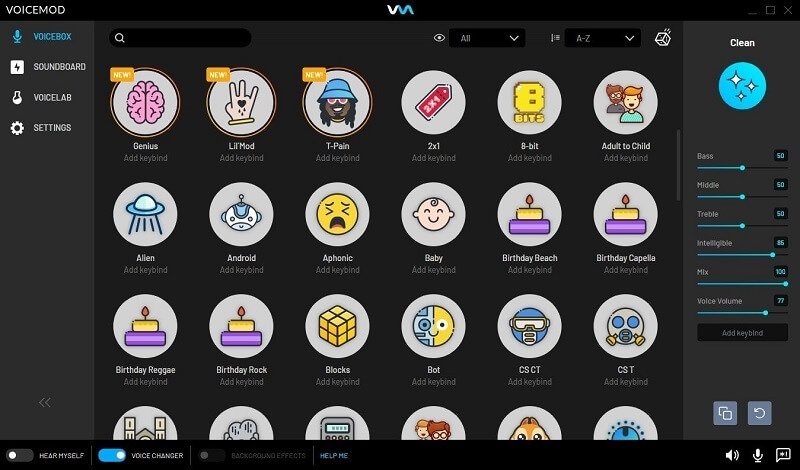 Key Features
This voice changer is versatile and integrates with multiple platforms.
It features more than 42 sound effects that act as background music to elevate the gaming experience.
It allows you to transform sound effects into audio files to chat with your friends.
The addition of 'Voicelab' allows users to amplify and change their voice according to their requirements.
It allows voice tempering in real-time.
Pros
Unleash your creativity to produce entirely new voices
Easy to set up and use
Real-time voice changing
Offer a huge number of filters in the free version
Cons
Limited features available in the free version
Experience:
The remarkable features and outstanding performance have satisfied the users. It has valuable features to make simple gaming a fun time.
AV voice changer is a professional voice changer that helps users to modify and conveniently access any voice characteristic. It is the best Among Us voice changers based on advanced virtual driver technology. Moreover, it integrates seamlessly with Steam to modify the voice in real time.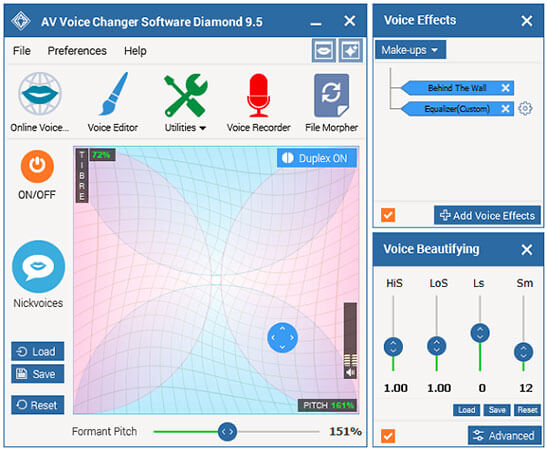 Key Features
It lets you directly record the audio and preview it to avoid blunders.
This Voice changer allows the user to change their voice in real-time to prank their friends and other players.
It allows voice customization to let the user add attributes and beautify the voice.
Pros
Easy-to-use interface
Advanced and modern design
It offers multiple preset filters and sound effects
Cons
Sometimes bug distorts live streaming
Experience:
It has multiple useful features, but it is expensive. You can find similar features and other Among Us voice changers which are free to use or cost a few dollars.
Part 2.

Funny Among Us Soundboard& VoiceMeme for Voice Chat

A soundboard is a device of digital application available in voice changers that contains a list of buttons. Every button plays a specific sound on pressing. If you want to induce ultimate laughter in your Among Us live stream, get MagicVox Voice changer.

It features a versatile soundboard with more than 150 emoticons. You can assign keybinds to your favorite effects to keep them always under your fingertips. Here is all you need to do to assign keybinds.
1

Open MagicVox voice changer.

2

Enable keybind options appearing on the top of the screen.

3

Click on the voice effect.

4

A bar will appear on the right side of the screen with alteration options

5

Write the keybind you want to assign to the sound effect. For instance, you can assign "Ctrl+H" to Batman sound effects.
Conclusion
Among Us is an interesting, thrilling, and fun game. To elevate the hunting factor while finding the imposter, you can add sinister background music through voice changers. With voice memes, you can induce an immediate laughter element.
Every Among Us voice changer has unique features to offer an outstanding user experience, but it is hard to beat the level of MagicVox. It is the amalgamation of modern, advanced, and traditional features to cover all editing and voice modulation effects.