Ever since it was released in 2007, the movie "Alvin & The Chipmunk" has captured the heart of audiences, young and old, all over the world. In particular, everyone loves the high-pitch voice that all the chipmunk characters make in the movie, so much that imitating it is still a funny little trick to do in videos nowadays.
Back then, it took some editing skills in Audacity or Adobe Audition to achieve that. But now, there are chipmunk voice changers available right on the Internet and it's so easy to achieve the chipmunk voice. Let's take a look at some of the best chipmunk voice changers out there, shall we?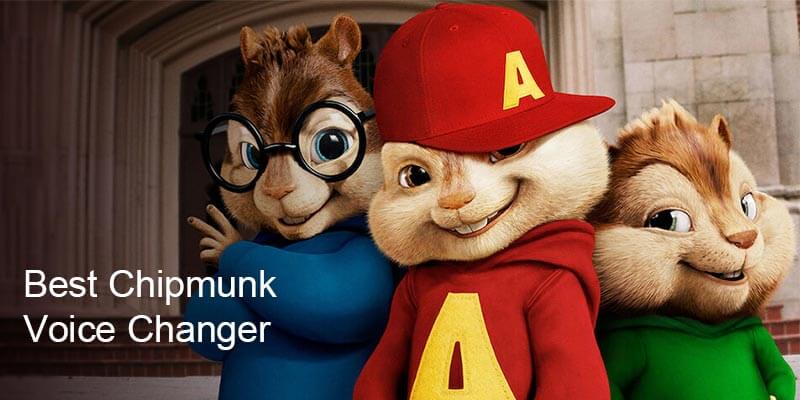 Part 1.

The Top 4 Chipmunk voice changers
1. UnicTool MagicVox
UnicTool MagicVox is a premium voice changer software with more than 200 unique voice effects, alongside more than 120 meme voice filters for users to mess around with all they want. You can run and use MagicVox in real-time, meaning you can tune your voice right in chat rooms, videogame team chat, or while you are streaming in front of an audience. MagicVox's Voice filters also come with background noises, making your voice edits more vivid and natural, as if you are actually in a forest, near the sea, or on a windy meadow while talking to your confused friends.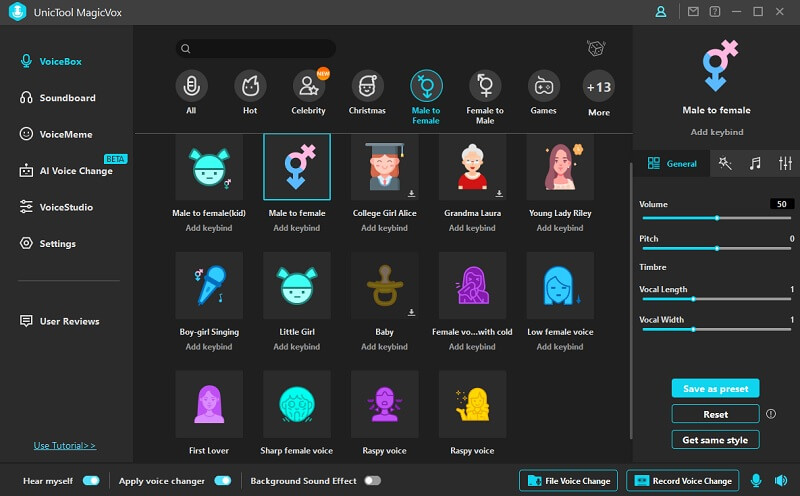 Of course, you can use MagicVox as a chipmunk voice changer, too, as Chipmunk is one of the voice presets available. Moreover, you can use specific hotkeys to tinker around with your voice by playing back, stopping, cycling, and replaying the sound effects all in real-time. MagicVox truly becomes your meme soundboard when you have mastered the hotkeys.
Cons
One downside to MagicVox is that the free version is a limited demo with free daily effects. To gain full access to the software, you will need to consider one of their purchase plans.
2. ClownFish
Voicemod is a free voice changer software for Windows, widely used in chat apps and video games. Voicemod supports changing the tone and format of the audio signal from the microphone. It even has built-in funny sound effects such as baby voices, robot voices... for you to modify your voice quickly and easily. You can save your funny audio in MP3 or WAV format and bind them using hotkeys. You just have to search for the best meme sound and play your audio files in any chat apps or video games.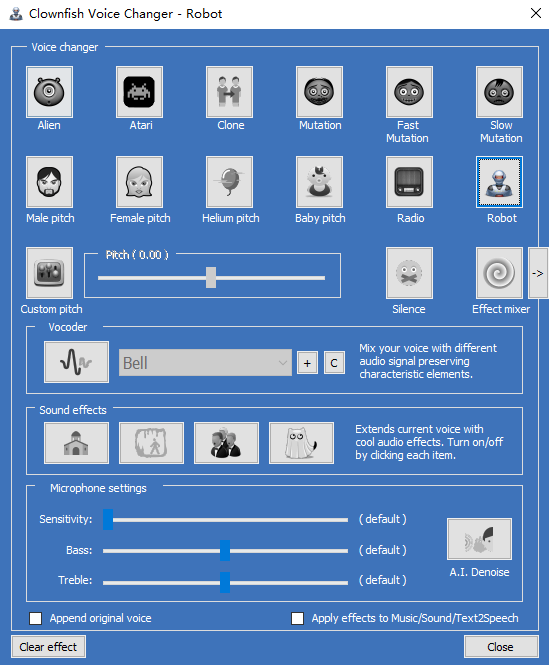 When chatting with friends or playing online games, if you want to "troll" people with a different voice, you can use Voicemod as a chipmunk voice changer to bamboozle them with your new weird voice!
Cons
However, the downside of Voicemod is that the free (Demo) version only offers you 7 voice presets and doesn't allow you to make custom voice mods until you pay $10 for the Pro version.
3. Voicechanger.io
Voicechanger.io is a free voice changer software just like any other. However, its most noticeable advantage is that it's a website and not a software, meaning you can change your voice without having to download anything to your devices. Phone users will definitely appreciate an app that doesn't take up any of the precious limited storage they have.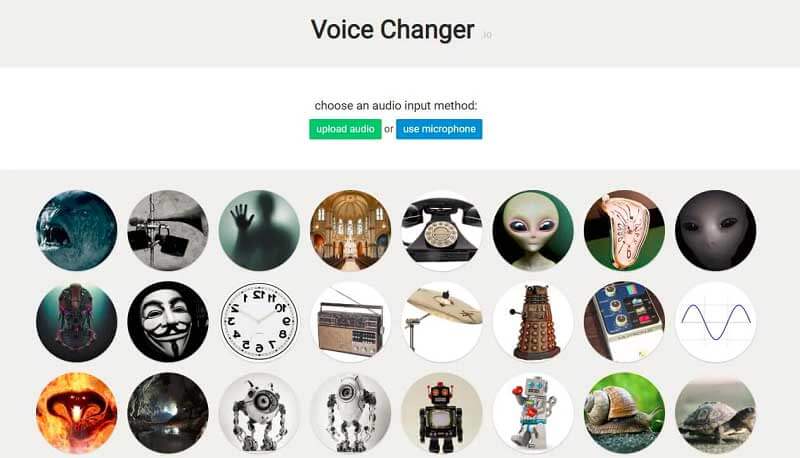 The website allows you to modify your voice's tone simply by accept files that you upload to it from your computer. Simply pre-record your voice into audio file and Voicechanger.io will take care of the rest. Generally, you can expect multiple presets for many voice types on the site such as men, women, robot, and cartoon voices. Voicechanger.io is indeed an excellent free chipmunk voice changer because it also supports changing your voice into a funny, squeaky tone.
Cons
The disadvantage of Voicechanger.io is that it doesn't support recording with your laptop or phone's built-in mic very well and will require you to invest in a dedicated microphone for the best audio quality.
4. LingoJam
LingoJam is an online voice changer, similar to Voicechanger.io. The site's interface and design are extremely simple and that is its greatest charm. There isn't really much complexity to LingoJam, users simply record their voice into an audio file and upload it to LingoJam and let it process their voices into different tones, using the effects and filters available. There are two methods of inputting your voice onto LingoJam. You can directly speak onto the website's recording feature, or record using your own tools such as Audacity, Adobe Audition, OBS, or your phone's recorder and upload that file.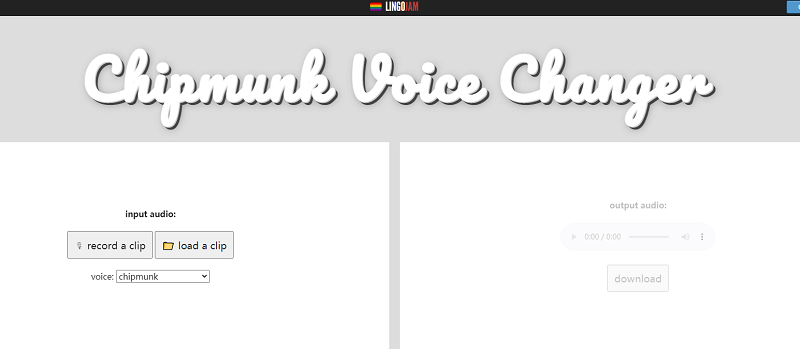 Once you have finished tinkering with your voice and achieved the effect you want, simply download the result back to your devices and now you have saved the file. It can't get any more straightforward than that. LingoJam is truly an easy-to-use and fun little tool that anyone can give a try. Use it as your quick-and-easy chipmunk voice changer when you need to turn your voice into Alvin and the boys in a pinch.
Cons
Of course, there is a caveat when using LingoJam. Since the website processes audio after having accepted them in file format, you can't use LingoJam to change your voice in real-time situations such as while streaming, chatting, or playing a video game.
Part 2.

How to Change Your Voice to Sound like a Chipmunk

Here's a step-by-step tutorial on how to change your voice to sound like a chipmunk. Let's take UnicTool MagicVox as an example.
Step#01:

Download, install and launch the UnicTool MagicVox.

Download the app from the official site and follow the installation wizard's instructions. After the installation is done, launch the app so we can begin.

Step#02:

Let the app know which is your input and output device.

You will be asked to do this the first time you launch MagicVox.

Step#03:

Find "Chipmunk" in the search box to get your chipmunk voice effect, and Start speaking!
Conclusion
Chipmunk voice changers are fun ways to switch up your gaming and chatting experience. You are guaranteed to make your friends and audiences laugh out loud with your new ridiculous voice. Of course, you can always test out other voices depending on what you are playing to get immersed in your role-playing session.
Nowadays, it is extremely easy to achieve this effect thanks to user-friendly software such as UnicTool's MagicVox.