Snapchat is pretty popular among the new generation. It has a simple premise - you send a snap to someone, and they can view it for only 10 seconds before it disappears forever. The prominent feature makes it different from other social apps.
But what if you need the snap photos you sent? Is there any way to recover the photos sent and received in Snapchat after they disappeared?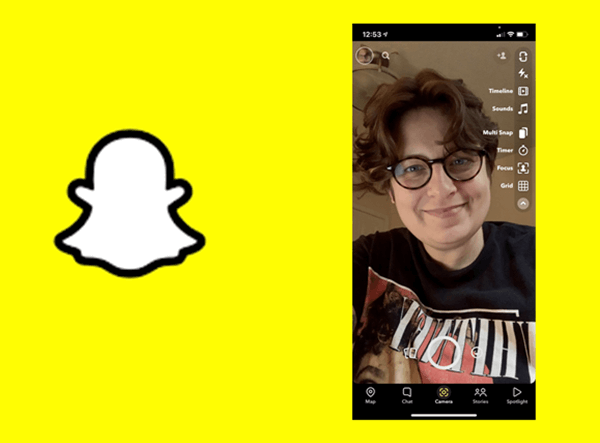 Don't feel distressed about this problem. In this post, we are going to share you with 6 effective ways to recover Snapchat photos on iPhone with detailed steps. What's more, we also collect some tips for keeping Snapchat photos on your iPhone.
Part 1.

Some Basic Tips to Find Your Deleted Snapchat Photos

Before we go deep into how to recover the deleted Snapchat photos, we could recur to some relatively simple tips to find those photos.

In this part, we will first discuss how to check your missing photos from the"Recently Deleted" album in the built-in Photos app on iPhone. Also, a guide on how to check photos in Memories within the Snapchat app. Let's continue with the detailed steps.
1. Check the "Recently Deleted" Album in Photos App
The Photos is the built-in app to store photos on your iPhone. If you take a photo with your iPhone and then send it to your friends in Snapchat, or if you save the Snapchat photos on your iPhone, then it's likely that you could find the deleted Snapchat pictures in the Photos app.
When you delete a photo from the Photos app, it will first go to the "Recently Deleted"album. And the deleted photo will stay there for as long as 30 days. So, whenever you lost a photo, you should first check the "Recently Deleted" album.
Here is how to recover deleted Snapchat photos from the "Recently Deleted" album:
1. Open the Photos app on your iPhone from the Home screen.
2. Tap on the "Recently Deleted" under "Utilities" to open the album.

3. Choose the photos you want to recover after taping "Select".
4. Tap "Recover" and then confirm in the prompt screen to restore the deleted photos.
2. Check the Memories in Snapchat
However, if you found nothing you want in the "Recently Deleted" album. Another basic tip we recommend is to check if your deleted photos are in the Memories within the Snapchat app.
Memories is also a popular sector in Snapchat. You are allowed to save the snap photos and stories in the Memories. And you could directly send photos and videos to memories from your camera roll. More important, the Memories can be backed up. Therefore, it's possible to find and recover deleted Snapchat photos from the Memories
1. Open Snapchat, then go to the Camera screen, swipe up from here to open Memories.
2. Choose a photo you need by pressing and holding it.
3. Tap on "Export" in the menu shown at the bottom of the screen, then choose download to save the photo to your iPhone.
Part 2.

How to Recover Deleted Snapchat Pictures on iPhone

In case you failed to get back your Snapchat photos with the two basic tips above. As it stands, the pictures might have been permanently deleted, and there is no way to access them from Snapchat or your iPhone Photos.

Therefore, in this part, we will jump into several methods to recover the deleted Snapchat photos by submitting a request to the Snapchat server, with a professional tool and by restoring an iPhone backup.
1. Download Photos From the Snapchat Website
Snapchat gives you a The datahance to download your data by submitting the request on its website. The data includes Snap history, saved chat history, memories, and some other information in your Snapchat account. Thus, you may recover your deleted Snapchat photos by downloading the data.
Here is the step-by-step guide for downloading your data from the Snapchat web:
Sign in to your Snapchat account on its official website.
Click on the "My Data" option, scroll down to the bottom click on "Submit Request" and verify your email accounts.
After one or two days, you will receive the email with the download link from Snapchat. Click the link, you will get a zip file named "My Data". Extract the zip file on your iPhone, and tap on the index.html in the folder. Now you could check your deleted Snapchat photos here.
2. Recover Snapchat Photos Directly From iPhone
It may take several days to get your data after you submit the request to download data from the Snapchat web. If you want to check and recover your Snapchat photos right now, there is still an efficient approach to adopt.
Here I'dlike to recommend you to use iFindit. It's a professional data recovery tool designed especially for iOS devices (iOS 17 support). With the iFinidt, you can recover the Snapchat photos directly from iPhone without any extra backup. And it provides fast scan speed, which means the recovery process won't cost you too much time.
Here are some key features of iFindit:
It can recover more than 18 kinds of lost or deleted data, including social app data like Snapchat, WhatsApp, and common files like notes,messages.
It allows you to recover data quickly and easily, whether you have a backup or not.
It enables you to preview data for free before recovering it.
It is perfectly compatible with almost all iOS versions including the most recent iOS 17.
It provides a user-friendly interface with a one-click operation.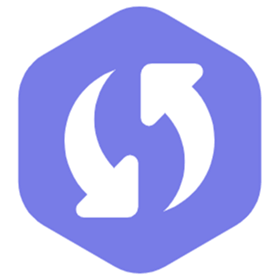 1

Choose "Recover from iOS Device" mode when launching iFindit on your computer. Make sure your device is plugged into your computer using a lightning cable. After iFindit has successfully detected your device, click "Next".

2

On the lower-right corner, click the "Scan" button after selecting the "App Photos" to initiate the scanning process with iFindit.

3

In the bottom right corner of the screen, click "Recover" after you have selected the files you wish to recover. Your recovery files will be stored in a location you choose in a pop-up window.
3. Recover Snapchat Photos With iCloud Backup
You can also restore Snapchat pictures on an iPhone using an iCloud backup. Since most iPhone owners have their devices set up to automatically back up their data to iCloud, this will also prove to be an effective way of recovering deleted Snapchat pictures. The problem is that if you use an iCloud backup to recover pictures, in many cases, all of the data existing on the device will be lost.
Here is the step-by-step guide:
1. Start by going to the "Settings" menu and choosing "General" and "Reset", then choose "Erase All Content and Settings".

2. From the "Apps & Data" screen, tap "Restore from iCloud Backup".

3. Choose the iCloud backup that contains all of your Snapchat photos to restore.
4. Recover Snapchat Photos With iTunes Backup
You probably have the Snapchat photos backed up with iTunes if you previously synced or backed up your iPhone with it. To recover the Snapchat photos, just restore the iTunes backup.
Nevertheless, you should be aware that restoring your iPhone from an iTunes backup will overwrite your current data. You may lose more valuable data on your iPhone if the iTunes backup you choose to restore from does not include the deleted Snapchat photos. To recover Snapchat photos, you can move on to Method 2 if you want to keep all your iPhone data safe.
Connect your iPhone to iTunes using a data cable and launch iTunes on your computer. Click on the phone icon at the top
Go to Summary and click on Restore Backup.

Choose a backup file containing the photos you want and click Restore.
Bonus

How to Save Photos in Snapchat

To make it easier when you want to see and recover Snap photos next time, you are recommended to save the Snap photos. Here, we collected three methods to help you save the photos in Snapchat.
1. Save Snap Photos in Memories
As we have mentioned in the first part, Memories is a popular sector in Snapchat. Other than creating a new Memory, you can also save your Snap in Memories.
Follow the step to save Snap photos to Memories:
When you create a new Snap, tap the "Download" icon at the bottom-left corner.
Choose "Memories" in the pop-up menu.
2. Save Snap Photos As Chat Media
You could also save the Snap photo in chat, then it won't disappear unless you delete it. To save Snap photos in chat, you just need to press and hold, then it will be saved as chat media. One thing that you should remember is that only the photo Snaps set as no limit can be saved.
3. Save Snap Photos to iPhone
The last method is to save the Snap photos on your iPhone. Then you will be able to access your Snap photos from the local album on iPhone. To do that, press and hold the photo you want after saving it in the chat by following the step of last part. Then choose "Camera Roll". And your photos in Snapchat will be accessible in your Photos app.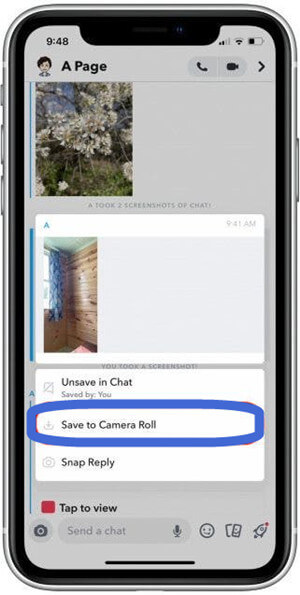 Conclusion
We have discussed 6 methods to recover deleted and disappeared photos from Snapchat on iPhone, as well as 3 methods to save Snap photos. Among those methods, the most effective and time-saving one is to use iFindit.
As a professional iOS data recovery tool, iFindit is sure to help you recover deleted Snap photos and any other lost data from your iPhone even without any backup. Don't hesitate to download and give it a try right now.