Even if you are a beginner, you can easily reset your iPhone on your own, whether you know its passcode or not. All you need to know is the right method to use, and you will be able to reset the device to factory settings without any professional's help.
In this article, we will discuss how to reset iPhone. We will share various methods that you can try and their prerequisites, conditions, and when you can use them. We will give step-by-step instructions for each method so that you can complete the process on your own.
Part 1.

How to Soft Reset iPhone

A soft reset can be done by pressing and holding a few buttons on your iPhone, depending on the model and iOS version. It is also called force restart, and you don't lose the data on your device after doing it.

Note: We are mainly discussing soft reset for iPhone 8 and later. For other models, you need to check the buttons you need to press.
1

Press the volume up button and release it.

2

Press the volume down button and release it.

3

Now press the side button and hold it until you see the Apple logo.
You can use this method when your iPhone is not responding. This method solves the issue quickly, but if the problem exists, you need to use other methods.
Part 2.

How to Hard Reset iPhone

Hard reset refers to the factory reset of your device . When you hard reset an iPhone, all data and settings are lost, and your device is just as new as a brand-new phone. You can hard reset your iPhone from settings, and there is no need for a third-party tool.
1

Open the Settings app. Tap General > Transfer or Reset iPhone.

2

Tap on Erase All Content and Settings > Continue.

3

Enter the passcode and tap on Erase iPhone.
This method is helpful when the soft reset does not work, but keep in mind that you lose all your data. If your device is not working as it should and you are facing various issues, it is quite helpful, but you should know the passcode of the device.
Part 3.

How to Factory Reset iPhone
Method 1. How to Factory Reset iPhone without Password
If you want to factory reset your iPhone without a passcode/password, you need to use a third-party unlocking tool. UnicTool Umendit will be a good choice to reset your iDevices to the factory settings. It is an all-in-one iDevice repair and unlocking tool that works on all iPhone models, iPads, and iPods. It can solve all iOS issues, including stuck onApple logo, black screen of death, boot loop, and so on.
Anyone can use Umendit without any hassle. It is a beginner-friendly tool that can solve your problem in no time. You only need to follow the instructions on the screens to get the job done. Most importantly, the success rate of the software is commendable.
key Features:
Umendit can reset your iPhone, iPad, and iPod without the need for any passcode/password.

It offers both standard reset and hard reset for iDevices.

It can solve various issues without your iDevices, such as the stuck Apple logo, boot loop, restart failure, and update failure.

You can solve and bypass iTunes errors.

If you are stuck in recovery mode or you want to enter it, this software can do it easily.

Downgrades your iOS to the desired version without jailbreak.
Steps to Use
Note: Your iOS will be updated to the latest one.
Step 1: Download UnicTool Umendit on your computer and install it.
Step 2: Launch the tool. On the main screen, you will see four options. Click on Reset iDevices.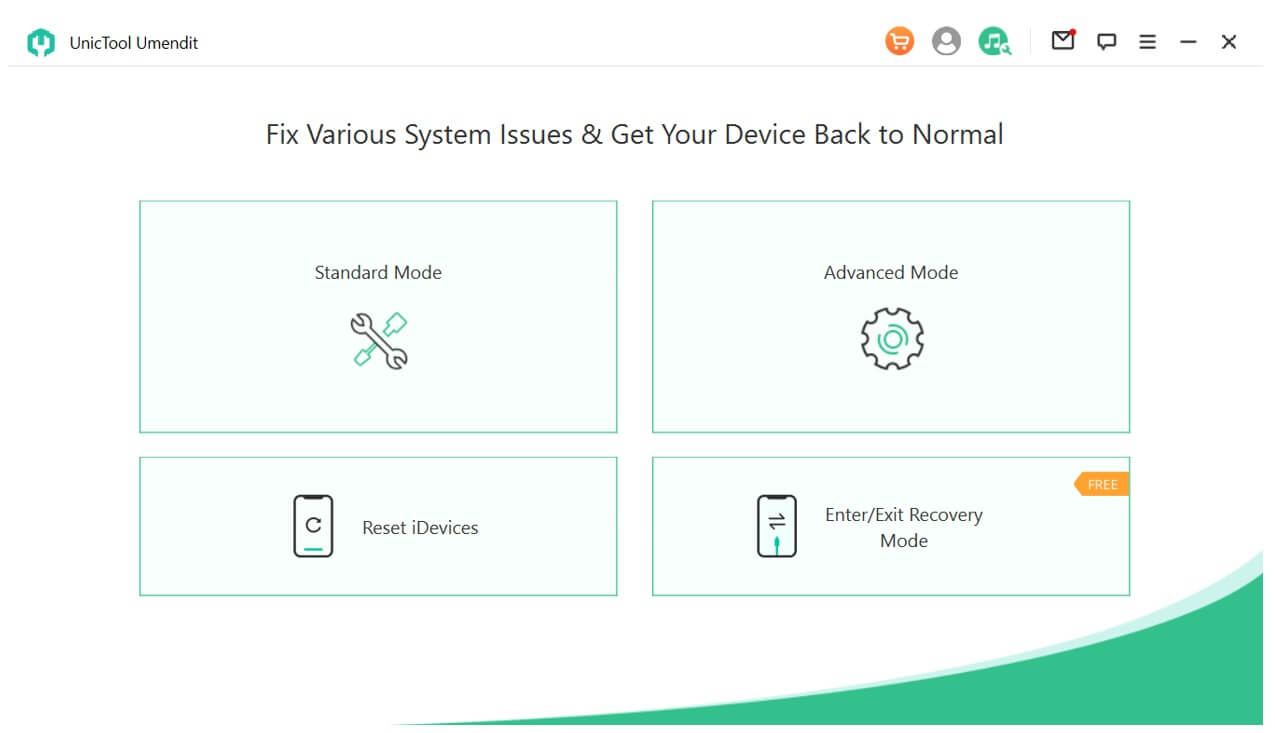 Step 3: Now, you will have two modes. If you want to reset your device without a passcode, click on Hard Reset.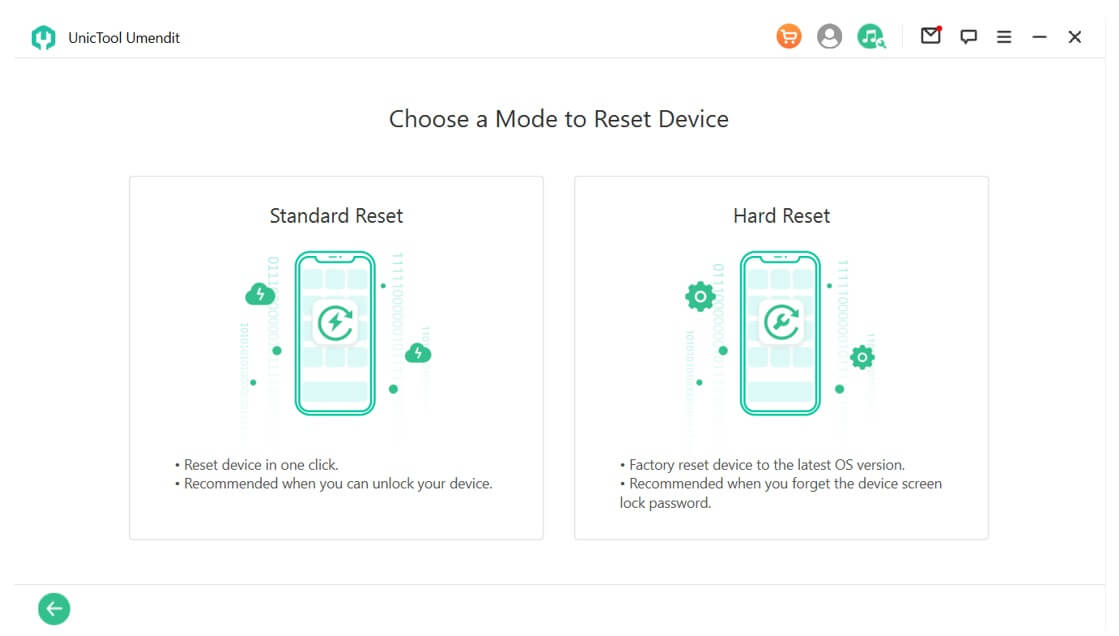 Step 4: Connect your iPhone to the computer using a USB cable. The software will automatically ask you to create a backup. You can create one if you want or skip this step.
Step 5: Now, you need to download the firmware for the device. The software will detect the required firmware on its own. You only need to click on the Download button.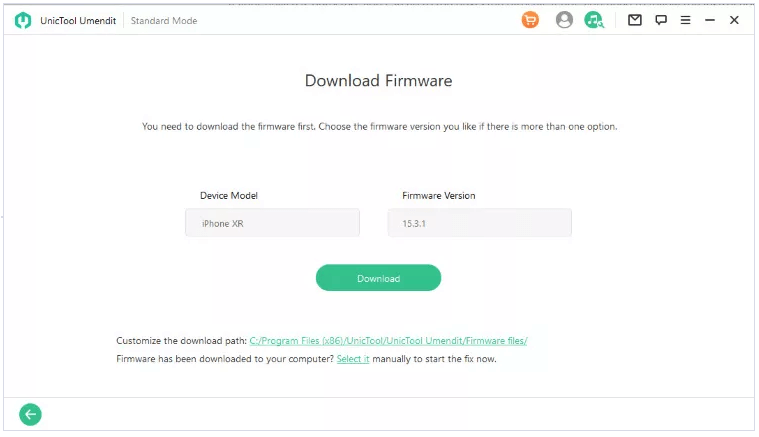 Step 6: Click on Start and follow the instructions to put your device into Recovery/DFU mode.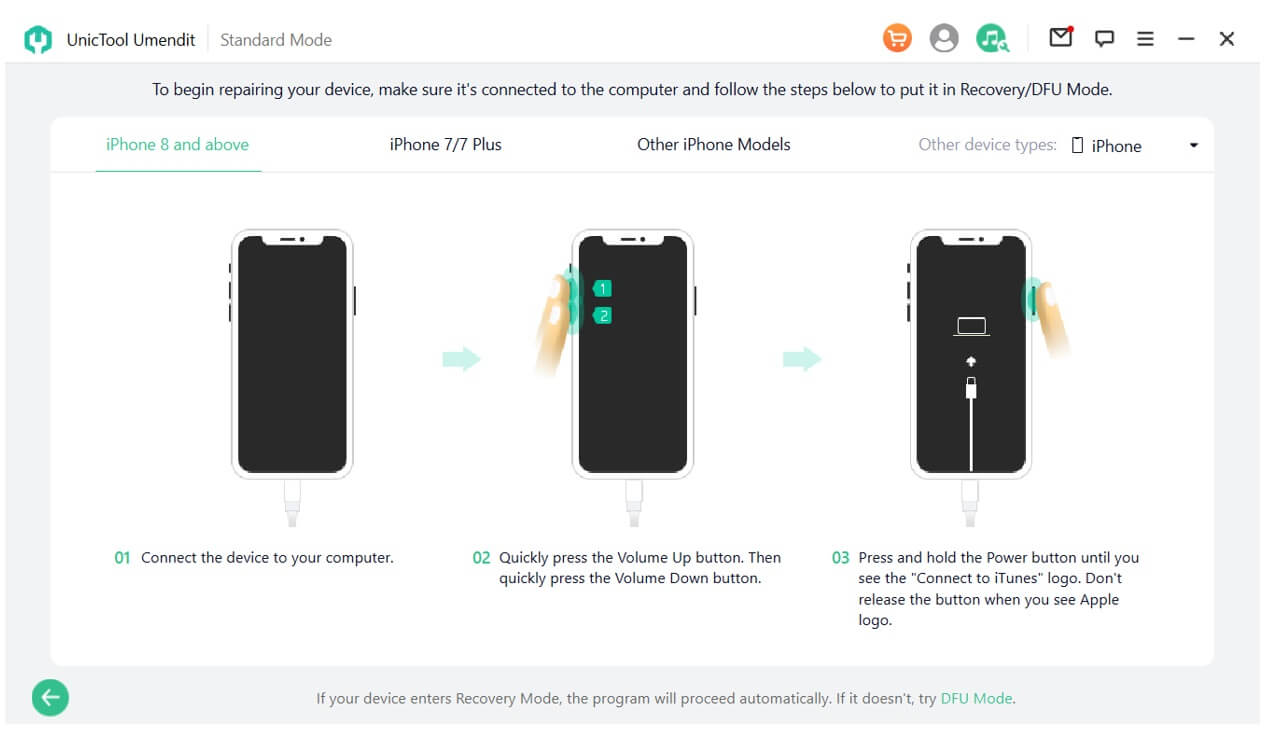 Step 7: The software will start the reset process. You need to wait for a few minutes. After that, you will see the successful message on the screen. Click on Done.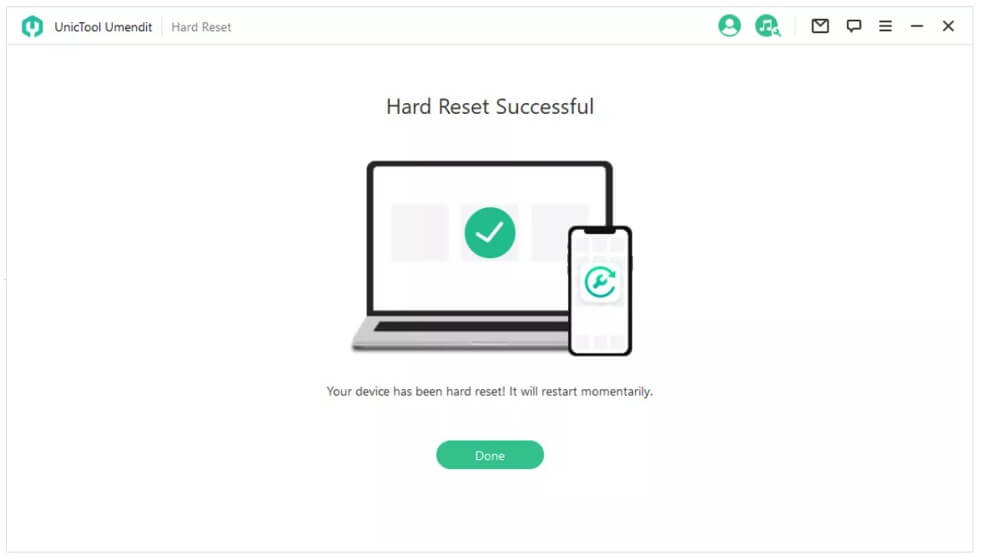 Method 2. How to Remotely Reset iPhone with iCloud
iCloud is one of the easiest ways to reset an iPhone. Within a few simple steps, your data will be erased, and the device will be reset. The most important benefit of this method is that you can erase your device remotely. Even if your device is far away, you can use your computer and erase the device.
You should know the Apple ID and password to sign into your iCloud account. If you don't know that, you cannot use this method.
Note: You can use this method if Find My iPhone is enabled on your iPhone.
1

Open your browser and go to iCloud.com. Enter your ID and password and complete the two-factor authentication.

2

You will see various apps. Click on Find iPhone.

3

Click on All Devices and select the iPhone you want to reset.

4

Now, click on Erase iPhone. Confirm that you want to reset your device.
Now, you need to wait. Once your device is reset, you can set it up like a brand-new iPhone.
Method 3. How to Factory Reset iPhone with iTunes
iTunes is another way to reset your iPhone. It is an official and reliable method; however, it does not work sometimes. You can follow a few simple steps to get your device reset through iTunes. But keep in mind that the steps are a bit complicated compared to iCloud.
1

You need to have the latest version of iTunes on your computer. You can also update the software first.

2

Turn off your iPhone. Now, you need to put your device in recovery mode. You only need to press a few buttons, but it also depends on the model of the iPhone.

If you have an iPhone 8 or later, you need to press and hold the side buttons. For iPhone 7/7 Plus, press and hold the volume down button. For iPhone SE, the home button will work. Once you see the recovery mode screen, you can let the button go. After your device is in recovery mode, connect it to the computer.

3

Open iTunes. Click on the mobile icon. Under the Summary tab, you will see the iPhone. Select the iPhone. Now, click on Restore, and iTunes will reset the device.
Part 4.

FAQs about iPhone Factory Reset

1)How to factory reset iPhone 6 without a password?

You can factory reset your iPhone through UnicTool Umendit. It does not require a password or anything else. Connect your device and follow a few simple steps to reset the device.

2) How to factory reset iPhone 7 and iPod touch (7th Gen)?

If you know the passcode, you can reset the device from Settings. You can use iCloud if you remember the Apple ID and passcode. If you want to make the whole process easier, you can use UnicTool Umendit. It supports iPhone 7 as well as the iPod touch.

3) How to factory reset iPhone 8 or later?

iPhone 8 or later can also be reset using the same methods. You can try resetting it using iCloud and Settings. If you don't know the passcode, you can use UnicTool Umendit.
Conclusion
We have discussed how to reset iPhone in detail. There are various methods that work in different cases. You can try the suitable method according to your situation.
The best way to reset an iPhone is to use a third-party tool, such as UnicTool Umendit. It does not require anything, such as a password, passcode, or Apple ID. You only need to follow a few simple steps, and your device will be reset to factory settings.