Apple CarPlay is a secure and hands-free way to access apps on your iPhone while driving. With Apple CarPlay, you can use your phone to make calls, send text messages, and listen to music. But sometimes Apple CarPlay doesn't work, like it won't connect to your car's head unit, it won't turn on properly, or you can't hear any sound when CarPlay is connected.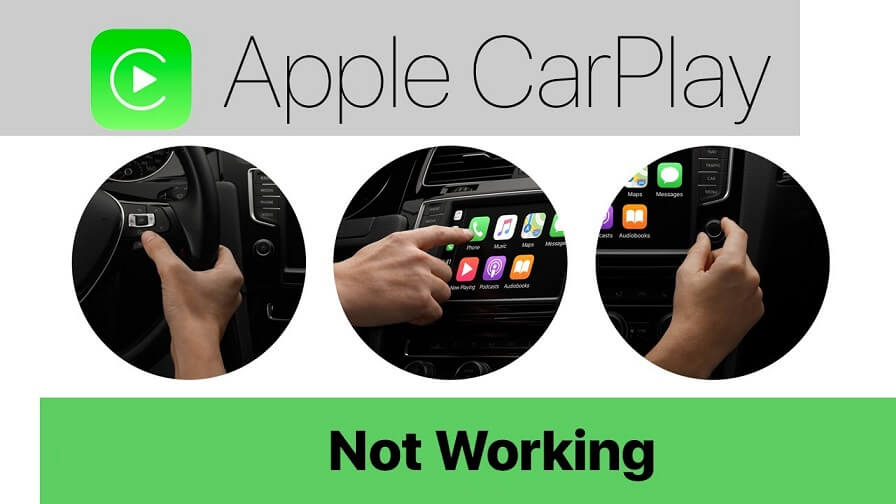 You might find it really annoying to sit in your car for ages, trying to figure out why your CarPlay is not working. But you don't have to worry overmuch. In this article, we'll look at what causes the issue of Apple CarPlay not working and how to resolve it.
Part 1.

The Causes for Apple CarPlay Not Working

There can be several reasons behind the malfunction of Apple CarPlay. These are the most common causes for the issue:
1

iPhone is not detected

2

Issues in Bluetooth connectivity

3

Faulty USB cable

4

Problems with an iOS update

5

Incompatibility issues

6

Defective integration between apps
Part 2.

Have a Quick Check to Correct the Apple CarPlay Not Working Issue
1. Does your country or region support Apple CarPlay?
First of all, make sure that your country or region supports CarPlay. To do this, take a look at this list of countries and regions that support Apple CarPlay. You also have to make sure CarPlay is compatible with your car. If you are not sure whether your car supports CarPlay or not, you may have to check the car manual or contact the vehicle manufacturer.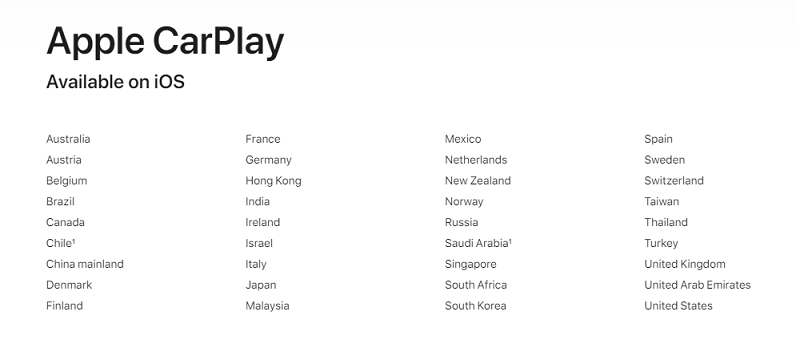 2. Is your connection working?
You can connect to Apple CarPlay using a USB cable or a wireless connection.
1

If you're using a USB cable, then check whether your USB cable is loose or damaged. You can also try connecting with a different USB cable and/or a different USB port.

2

If you're using a wireless connection, make sure you have turned on your Wi-Fi and Bluetooth on your iPhone. In addition, check whether you have turned on Airplane Mode, which prevents your phone from making any wireless connections.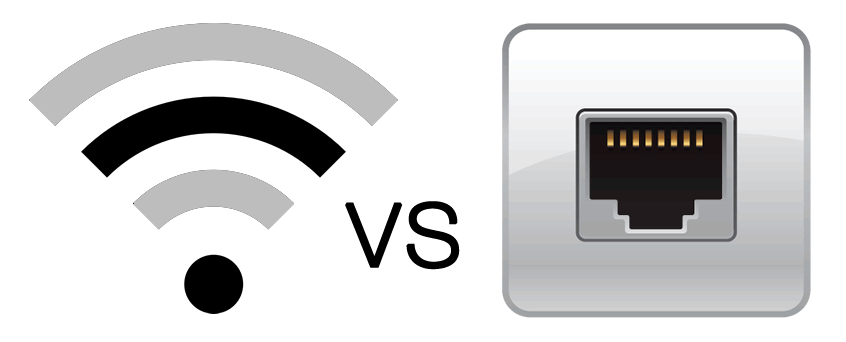 3. Is CarPlay enabled on your iPhone?
Sometimes, the settings on your iPhone can interfere with CarPlay. If you have turned the CarPlay option off in settings, you will have to enable it. To enable CarPlay, go to Settings > General > CarPlay.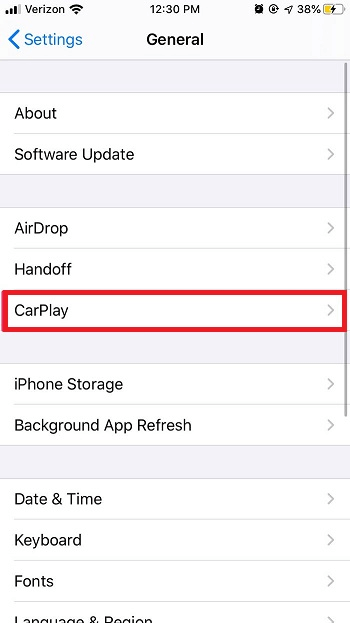 4. Is your Apple CarPlay restricted?
If CarPlay doesn't detect your iPhone, you need to make sure that CarPlay isn't restricted on your phone. On the iPhone, go to Settings > Screen Time > Content > Privacy Restrictions and tap Allowed Apps to enable CarPlay.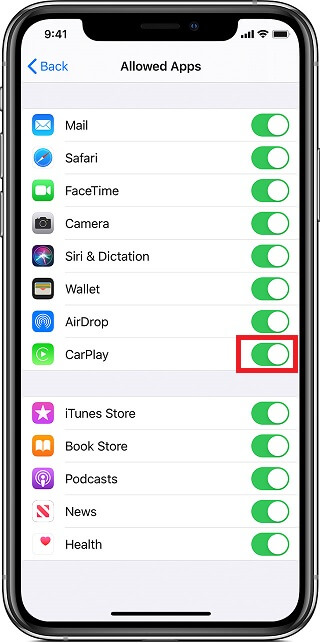 5. Is your CarPlay enabled when locked?
Another quick fix for CarPlay not working issue is enabling CarPlay when locked. If this is not enabled, CarPlay can't activate when your screen is turned off. You can resolve it by going to Settings > General > CarPlay, selecting your car from the list of connections, and pressing on Allow CarPlay While Locked.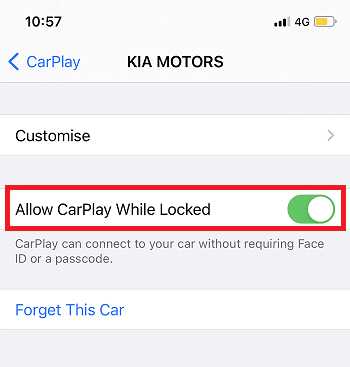 6. Is Siri Enabled?
You need to enable Siri for CarPlay to work. To do this, go to Settings > Siri & Search and enable the following options:
Press Side Button for Siri
Listen for "Hey Siri"
Allow Siri When Locked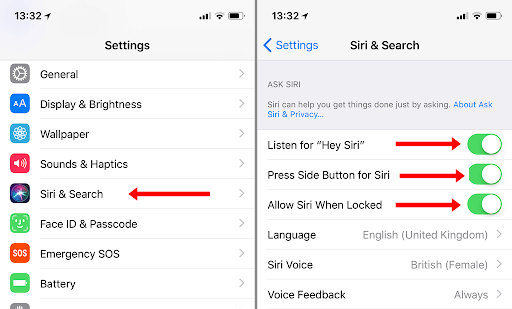 Part 3.

Common Fixes to Apple CarPlay Not Working
Solution 1: Reconnect Apple CarPlay
If your Apple CarPlay is not working after trying all the above fixes, try re-pairing your iPhone and car's head unit. To do this, you will have to remove the current CarPlay connection and re-establish it with the following steps:
1

Go to Settings on your iPhone and select General.

2

Select CarPlay, then tap your card and Forget This Car.

3

Next, delete your iPhone from the list of paired devices on your car's head unit.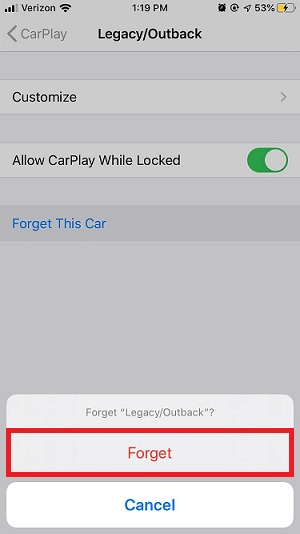 Then set up CarPlay connection again using the following instructions:
1

If your car only supports wireless connections, first press and hold the voice-command button on the steering wheel. Then make sure that your stereo is in Bluetooth or wireless mode. On your iPhone, go to Settings > General > CarPlay, and select your car.

2

If your car supports CarPlay with a USB cable, just plug your iPhone into the USB port in your car. You will get an alert on your iPhone that will offer to connect you automatically. If it still can not work out, you should try to use a different USB cable to a different USB port if you have one
Solution 2. Restart Your iPhone and Head Unit
A restart is sometimes the best fix for any software issues on any device. So try restarting your iPhone and your car's head unit. This will help to fix any temporary glitches that cause CarPlay to not work. Follow the steps below:
Press and hold the Power button until the "Slide to Power Off" message appears.

Next, drag the slider to the right until the phone's screen turns black.
Restart the phone by pressing the Power button again.
Restarting your head unit may depend on your car model, but in most cars, the easiest way to do this is by turning off the ignition, then turning it back on.
Solution 3. Update Your iPhone
An outdated iOS may not have the necessary software and drivers to connect with CarPlay.This is why you need to update your phone to the latest version. Follow the steps below to update your iPhone.
1

Go to Settings on your iPhone.

2

Then, select the General option.

3

Select Software Update.

4

Tap Download and Install.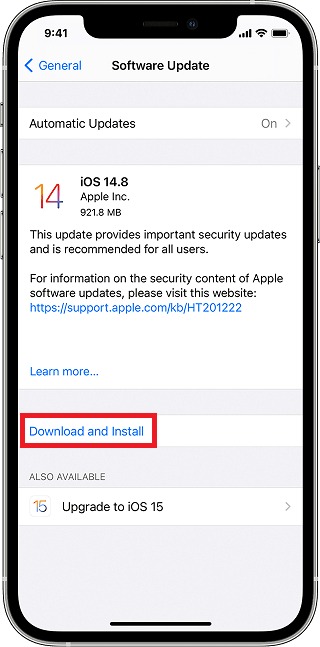 Enabling software updates will prompt iOS to automatically check for updates available for the device. If updates are available, follow the instructions that appear on your screen to download them. Once they are installed, restart your iPhone and try to connect to CarPlay.
Solution 4. Update the Firmware of Your Car
Check the manual of your car and make sure your Carplay stereo is using the latest firmware of your car manufacturer.
Solution 5. Contact Apple Support
If you still have some issues for the connecting of Carplay, feel free to contact Apple Support Center to for more help.
Part 4.

How to Fix "Apple CarPlay Not Working after Update to iOS 16/15"

Updating your iPhone is an easy way to fix compatibility issues with Apple CarPlay. But unfortunately, some iPhone users experience glitches in their phones after updates. This is why you get issues like CarPlay not working after update to iOS 16/15. These are caused by malfunctions in software updates.

Using an OS repair tool like Umendit is the best way to resolve your software problems. Umendit can solve various iOS issues without any data loss. If you are not satisfied with your latest update, it will even help you to downgrade your iOS to the previous versions. The best thing about Umendit is that it can repair any malfunctioning device in 3 simple steps, and you don't need to be tech-savvy to use it.

Follow the steps below to fix your software issue with Umendit:
1

First, you have to download, install and launch Umendit on your computer. On the main interface of Umendit, choose Standard Repair option.

2

Connect your phone to the computer using a cable and click Next.

3

Once your iPhone is detected, it will take you to the firmware downloading interface and automatically choose the appropriate firmware. After you have selected the correct device model and firmware version, Click Next.

4

When the firmware download is complete, you will see a green Start button on the screen. Click on this button and wait for several minutes.
Umendit will fix the CarPlay not working issue and you can use it again.
Conclusion
Incorrect settings in iPhone, issues in Bluetooth or Wi-Fi connectivity, faulty USB cables, problems with iOS updates, and other incompatibility issues can lead to the malfunction of CarPlay. We hope the fixes we have discussed in this article will help you to resolve your Apple CarPlay not working issue. If the problem is caused by faulty software, you can also use an iOS repair tool like Umendit to solve it.