Some iPhone users who have recently updated the iOS system may find their iPhone's battery is draining super fast, and wonder of how to fix it proporply. Well, battery problems are indeed frustrating and most people have no idea what they should do to get rid of them. But what if I tell you that fixing iphone battery draining fast is really easy? With the proven methods I am discussing in this article, you can again start using your iPhone fearlessly as you used to.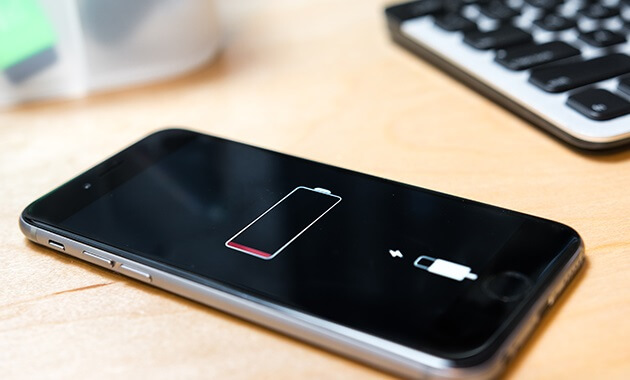 So, how to fix iPhone battery draining fast problem? Continue reading to know. But first, some information about why this issue occurs in the first place.

Secure Download

Secure Download
Part 1.

Why Is My iPhone Battery Draining So Fast

When the battery suddenly drops from 70% to 50%, it can make anyone wonder- why is my iPhone battery draining so fast? There are different reasons which lead to battery problems.
Battery health is compromised.

Too many Apps are running in the background.

You keep the brightness too high.

You have activated too many alerts and push notifications.

iPhone Analytics and Share iCloud is on.

Location service is enabled all the time.
Part 2.

How to Fix iPhone Battery Draining Fast After iOS 16/15 Update

There are several effective ways that can fix the iPhone battery draining fast issue. If you want to save as much charging as you can, then follow all of these methods.
Way 1: Disable Background App Refresh
Apple offers a Background App Refresh feature that lets mobile applications download new content even if you are not using them. This takes a great sum of battery and disabling it can avoid battery draining.
1

For this, open Settings and Go To General.

2

Then tap on Background App Refresh.

3

Next, tap on the toggle, and the App Refresh will turn off.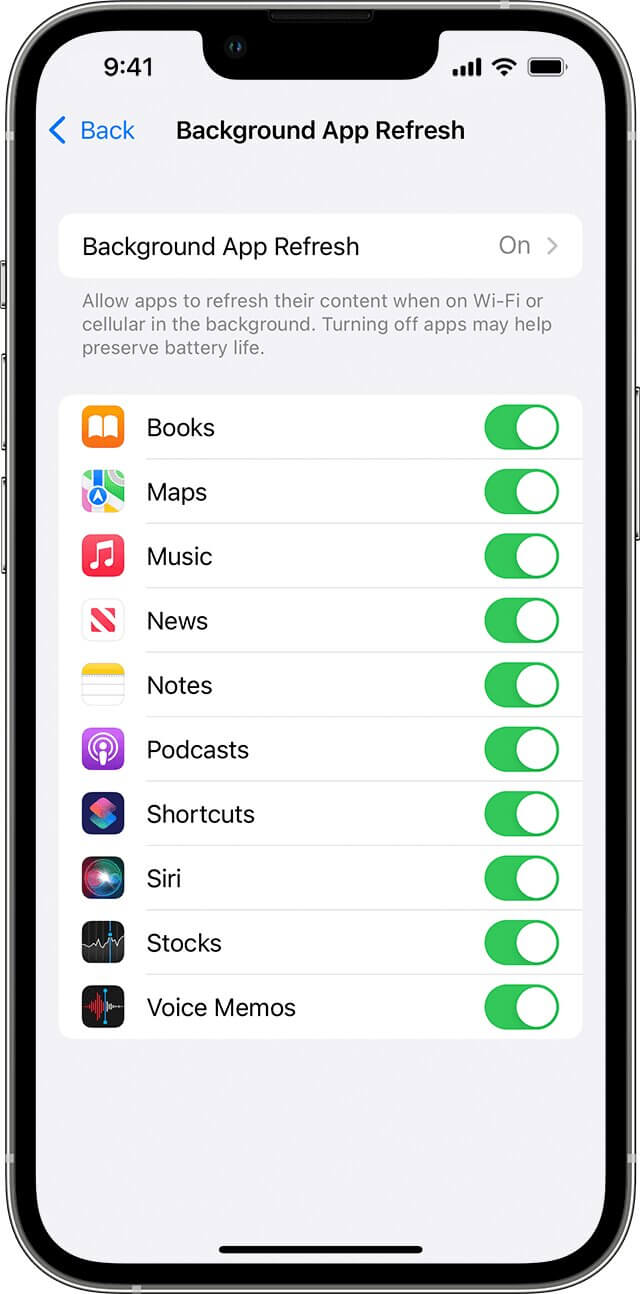 Way 2. Turn Off Location Services
Turning off location services of unnecessary apps can also save a lot of battery. Here's how to do it:
1

Open Settings and tap on the Privacy option.

2

Next, go to Location Services.

3

After that, select any app and turn its location off.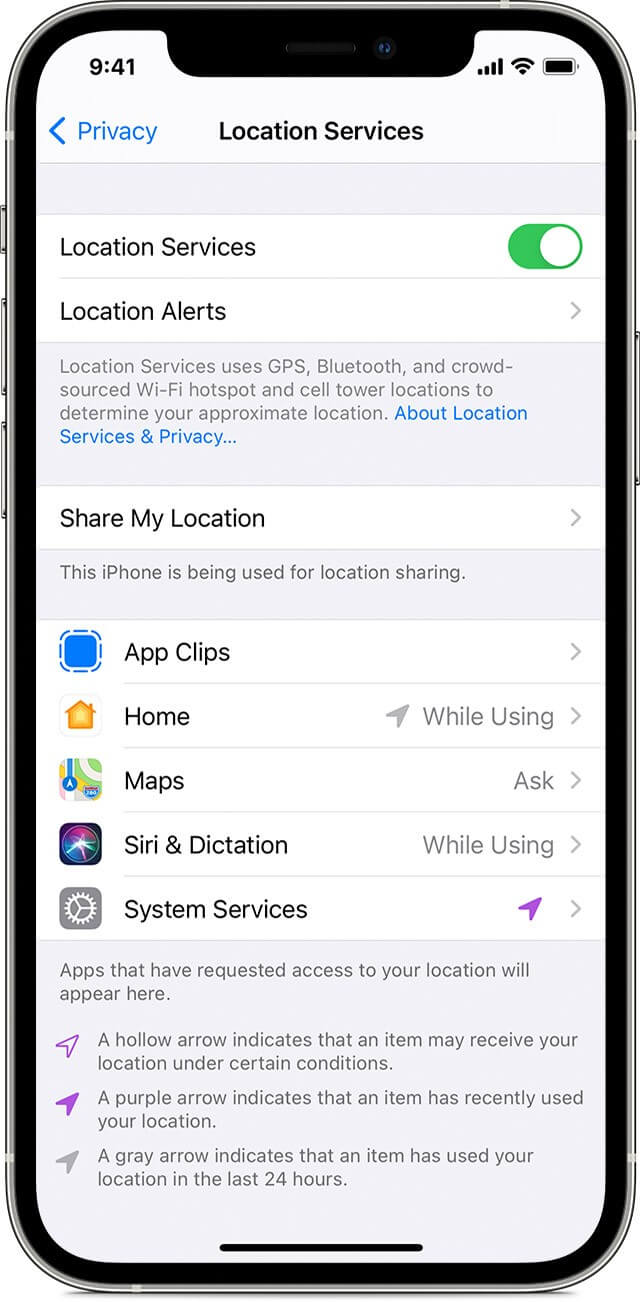 Way 3. Adjust The Brightness to Lower
Another way of avoiding battery draining is to keep the brightness lower. Follow these easy steps to do this:
1

Go to Settings.

2

Open Display and Brightness. There you will see a slider.

3

To lower the brightness, drag the slider to the left.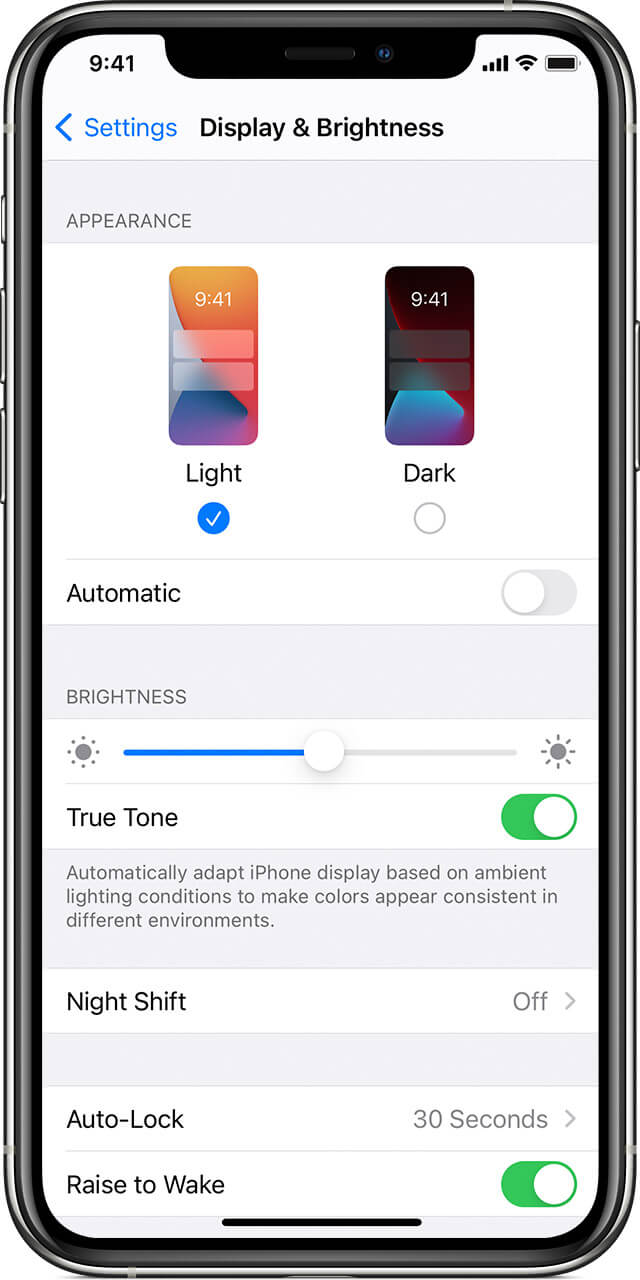 Way 4. Check Your Battery Health
Keeping yourself updated about battery health is a great way of avoiding any charging and battery draining issues. Here's how you can check it:
1

Open Settings and go to the Battery option.

2

Then, tap on the Battery health option.

3

When you open Battery health, the iPhone will tell you battery capacity, does it need service, and much more.
Way 5. Update Apps to Latest
Using old versions of Apps consumes more battery than the updated one. Therefore, it is crucial you keep every app on your mobile updated.
You can check which apps need to be updated by following these easy steps:
1

Go to the App store and tap on your Profile icon. You can see it at the top.

2

Scroll, and you will see which apps need to be updated.

3

You can then either tap on the "Update all" option to update every application, or you can individually tap on the Update option right next to the App name. The second way lets you update selective apps.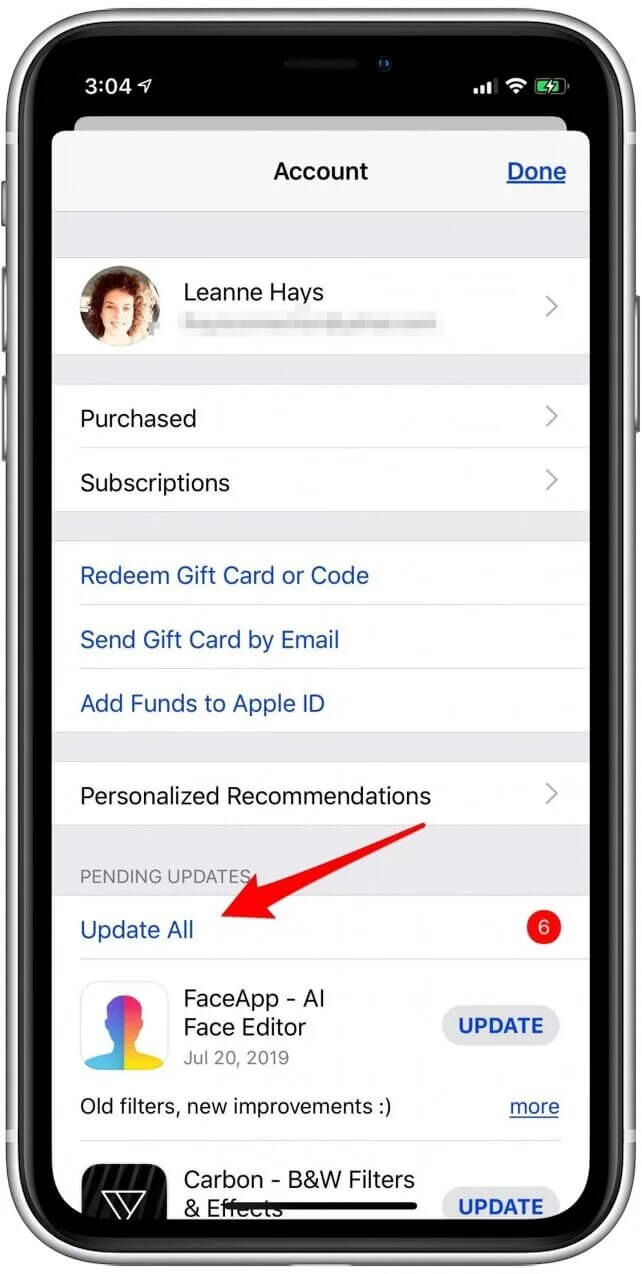 Way 6: Restart/Force Restart iPhone
Restarting an iPhone can get rid of a lot of minor software and hardware problems.
Here is how to fix iPhone no sound on text messages:
To restart iPhone X and above

Keep pressing the side button and volume down button simultaneously. Then, a slider will appear, and you will have to move from left to right to restart the mobile. When the screen goes black, press the side button until you see the Apple logo on the screen
To restart iPhone 8 and earlier

Keep pressing the Power button until you see the slider. Drag it from left to right and then press and hold the Power button again.
To Force Restart iPhone 8 and above

First press the Volume Up button. Next, press the volume down button. After that, keep pressing the power button until the mobile turns off and you see the Apple logo.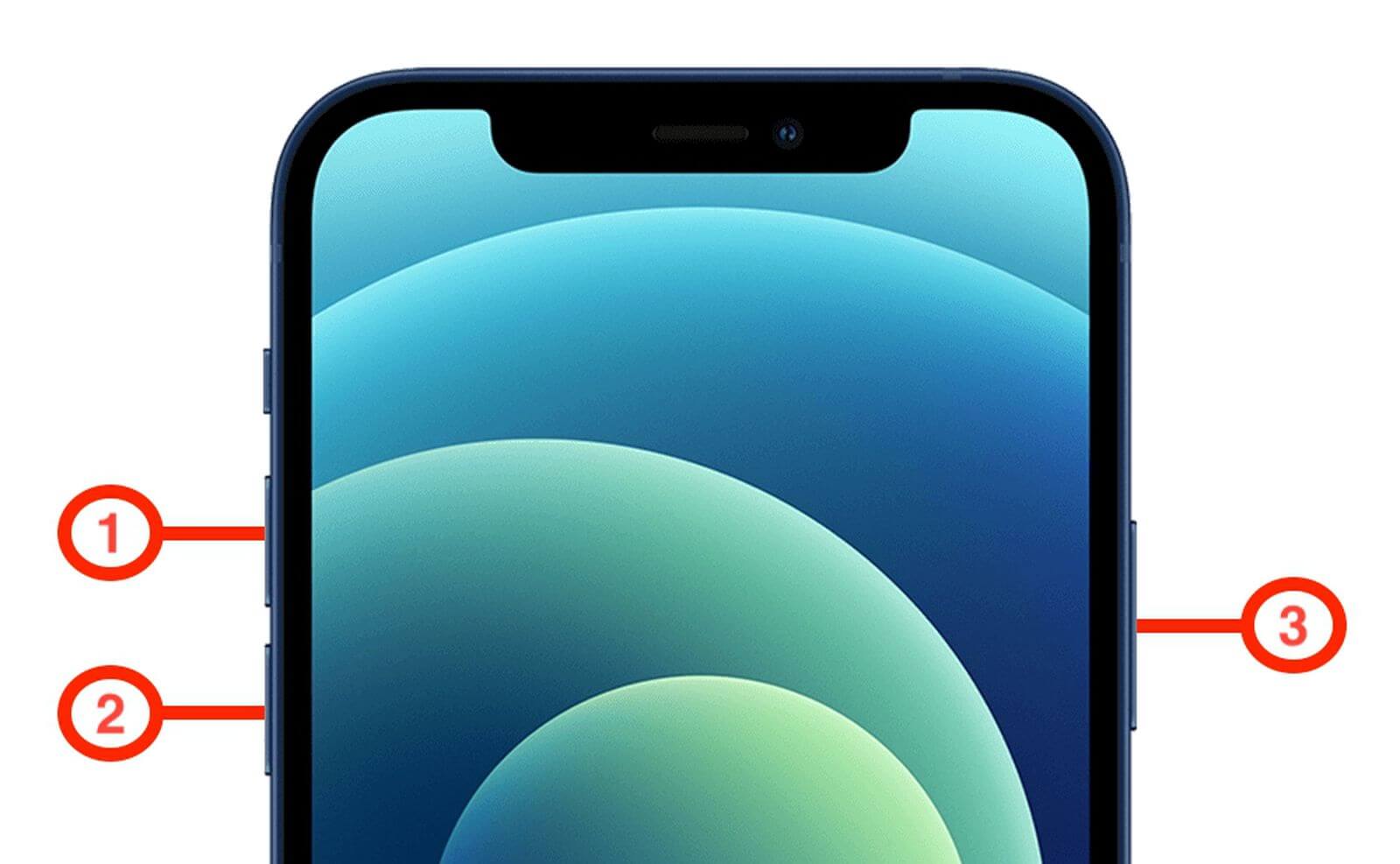 So, these are the top six ways to save battery draining. However, there is no guarantee that these methods will work for everyone. But still, there is a way that is super effective in saving the battery for everyone!
Part 3.

Avoid iPhone Battery Dying Fast With UnicTool Umendit

UnicTool Umendit is an all-in-one software that can magically get rid of a lot of iOS issues (including battery draining) within seconds.

It is simple to use with a straightforward interface. Even if you haven't used any recovery software before, you can easily use UnicTool. All you will need is a PC, your iPhone, and a USB cable. I'm discussing how you can use UnicTool Umendit later. But first, you should know about its features.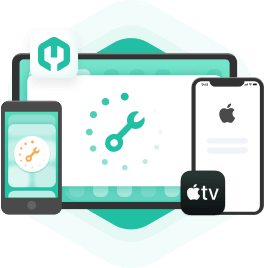 Avoid iPhone Battery Dying Fast
Enter or leave recovery mode within a few minutes.
Erase and reinstall all the data without iCloud password
Fix 150+ iOS issues without data loss
The company offers a 60-day money-back guarantee
Supports the latest iOS version, including iOS 16.
Follow the steps below to fix your idevice using Umendit.
1

Download, Install and launch Umendit on your computer. Then, select Standard Repair on the main interface.

Connect your device to the computer. Once the device is detected, it takes you to the firmware downloading interface. Else, you need to follow the instructions given to put your iPhone into DFU/recovery mode.

2

Download Firmware. At this stage, Umendit will automatically provide all the suitable firmware for your device. So choose the one you want and click Next. (In this step, you can choose the version which you intended to update to.)

3

Start to fix. After downloading the firmware, click the Start button on the screen, then wait for several minutes.
FAQ About iPhone Battery Drains Overnight
1. What drains the iPhone battery?
A lot of factors can lead to battery draining. The biggest ones are high brightness, switched-on location services, bad battery health, unnecessary apps running in the background, and push notifications and alerts. When the iPhone battery drains overnight (or quicker than expected), you must fix the problem immediately.
2. iOS 15 Battery Draining Fast, Shall I Update to iOS 16?
Yes, it is always a good idea to update iOS to the newest version. However, people are complaining about the battery draining a lot in iOS 16. Well, it happens because the system runs several background tasks when you upgrade it.
This consumes battery which results in the charging going down quickly. But it only happens 48 hours after updating. After that, the new version runs smoothly.
Conclusion
So, how to fix iPhone battery draining fast problem? Well, you can try different ways but they are not effective for everyone. Therefore, UnicTool Umendit will be the ultimate solution for you. With just a few clicks only, you can fix the battery draining problem effortlessly. Plus, it is super easy to use too.

Secure Download

Secure Download