iPhone compass not working or iPhone compass wrong direction detection are the most common issues iPhone users would post related to compass calibration.
After iPhone has enabled automatic calibration for the Compass, a simple magnet can disturb the compass functioning leaving you helpless. We have listed the top 9 easy fixes you can try to resolve the issue of compass not working on iPhone. So let's get into it.

Secure Download

Secure Download
Part 1.

Basic Ways to Fix Compass Not Working on iPhone

Here are the top 9 basic ways to fix the Compass not working on your iPhone:
Way 1. Enable Location Services
When you have not enabled the location services, it can result in the wrong compass direction.
To fix the issue, go to Settings > Privacy > Location Services. Once in there, turn on the Location Service and allow the Compass app to use Location when using the app by checking "While Using the App." The compass app should work fine after this fix if the problem was due to location service.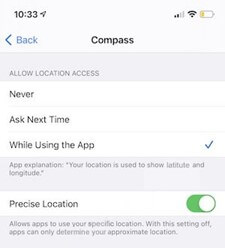 Way 2. Remove Any Metal Or Magnetic Items
Compass won't work on iPhone or give you a wrong direction if its functionality is disturbed by a magnet or metals. As Apple uses a Magnetometer in the recent iPhones for better proximity services and direction detection, any magnetic object nearby can cause interference in its function.
Therefore, if your compass iPhone was working fine before but giving the wrong direction now, consider searching and displacing any nearby magnetic items.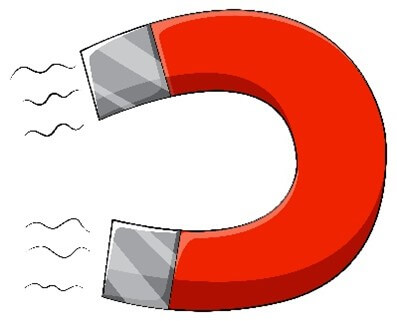 Way 3. Turn On iPhone Compass Calibration
Another reason why your iPhone cannot run the Compass properly or the app is not working can be a problem with compass calibration.
You might not have checked the compass calibration before, as it is turned off by default on most iOS devices. So you must go to Settings > Privacy > Location Services > System Services > Tap on Compass Calibration.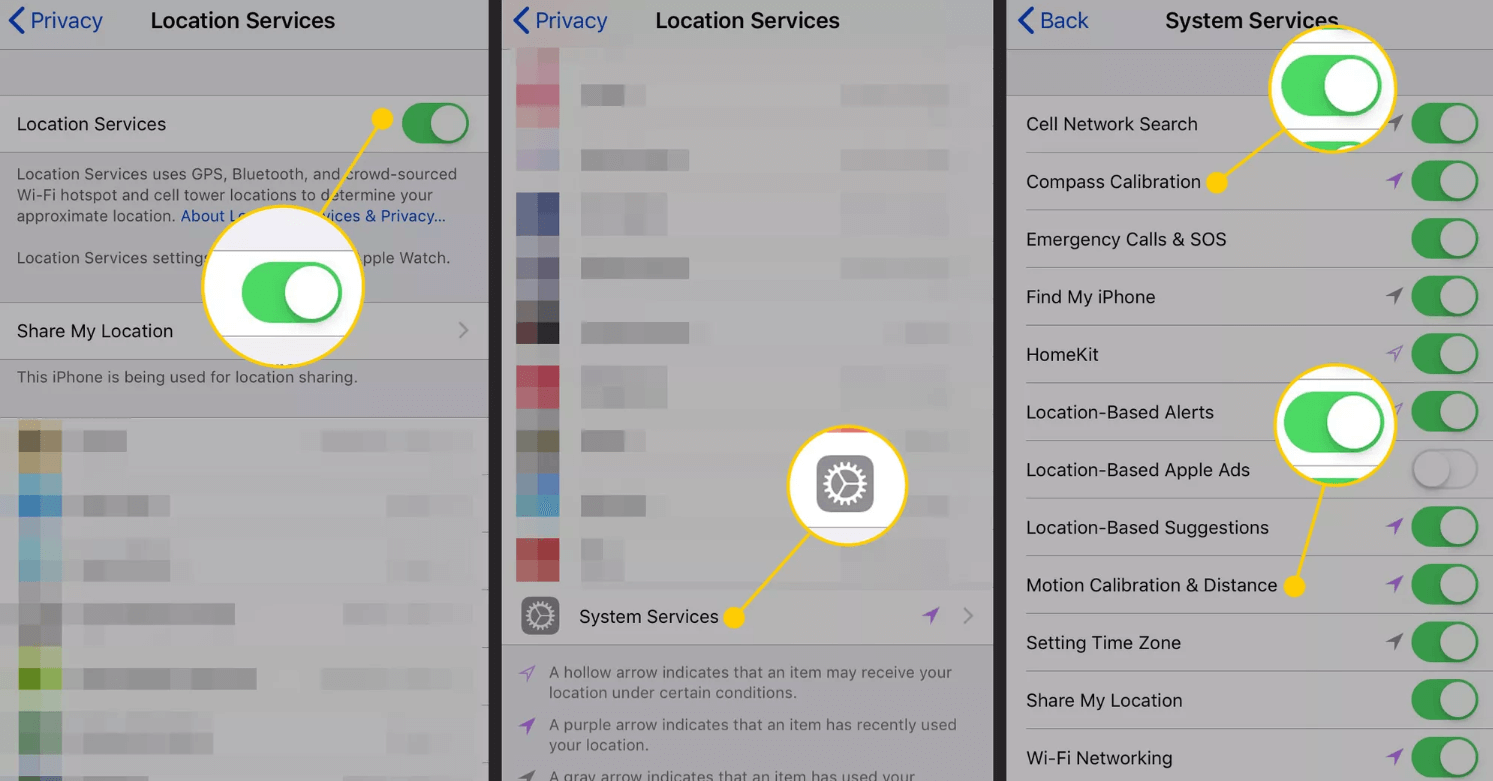 Way 4. Reset Location Data
Resetting the location data might be a smart fix for your iPhone compass not working only if location data is the real culprit behind the issue. But there is nothing wrong with trying the easy fixes. So you have to reset location data by going into Settings and tapping on General > Reset.
Look for the option of Reset Location and Privacy. Open the tab and reset the location data or make any necessary adjustments to fix the problem.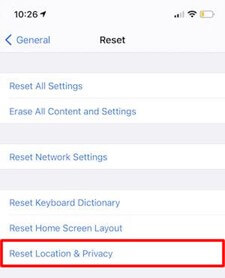 Way 5. Restart Your Compass/iPhone
Sometimes all an issue needs is a simple restart to get fixed; it can be the case with your iPhone or Compass app. If the Compass app on your iPhone is not working, you can try the simple fix of restarting the app or your phone.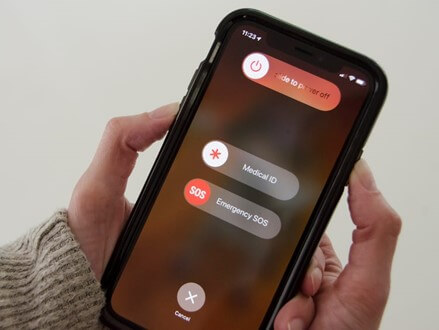 Double press the Home button for app restart, and the recent apps will open up. Swipe up the Compass app, and it will force-stop the app. Relaunch the app to see if the problem is fixed.
Alternatively, you can restart your iPhone and launch the app to see if Compass is working fine or not.
Way 6. Reinstall And Calibrate Compass
If none of the mentioned fixes is working, you might want to try uninstalling the compass app, reinstallation, and trying calibration. Open the settings of your iPhone, tap on General > iPhone Storage, and look for the Compass app. Tap on it and choose Delete App. It will uninstall the app. Now go to App Store and reinstall the app.
To calibrate compass on iPhone, launch the app, follow the on-screen guide to calibrate the app once again.
Way 7. Reboot Your iPhone
Just like a fresh start can fix many issues, rebooting your iPhone can also be a good idea to fix any glitches or errors preventing the iPhone's Compass from functioning normally. You can reboot your iPhone according to your model and version.
For instance, you can press and hold Volume Down and Side buttons together to reboot your phone on iPhone X and later versions. For older iPhones but newer than 5, you have to press and hold the side button to see a power-off slider and reboot the phone.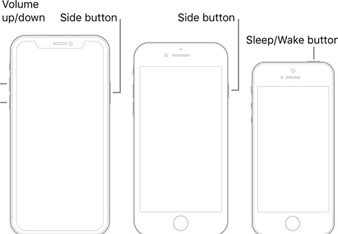 Way 8. Reset Location & Privacy
If restarting, reinstalling, and rebooting didn't come fruitful in fixing the issue of the iPhone Compass not working, you might want to try Resetting Location and Privacy.
It is as simple as it sounds. All you have to do is go to Settings > General > Reset > Enter Passcode > Reset Location and Privacy. After settings are reset, launch the app and recalibrate it.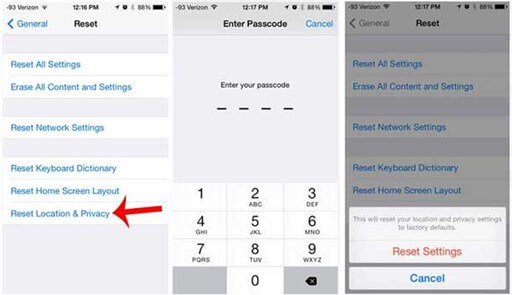 Part 2.

Lossless Solution To Repair iPhone Compass Not Working

Well, you might be tired of trying different DIY fixes without knowing the real problem preventing your iPhone from working properly. Therefore, we recommend a lossless solution to repair Compass in your iPhone.

Unictool Umendit is a powerful software that can resolve several issues of your iPhone, be it black screen of death, boot loop, frozen device, update failure, restore failure, or boot failure. Besides, you can also fix several errors and glitches preventing the iPhone system from working normally.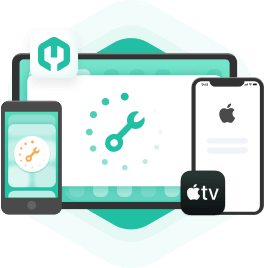 Repair iPhone Compass Not Working
UnicTool Umendit is capable of bypassing iTunes errors.
Enter/exit recovery mode with just one click with this tool.
Fix 150+ iOS issues without data loss
Downgrade iOS without jailbreak
Supports the latest iOS version, iOS 16.
Follow the steps below to fix your idevice using Umendit.
1

Download, Install and launch Umendit on your computer. Then, select Standard Repair on the main interface.

Connect your device to the computer. Once the device is detected, it takes you to the firmware downloading interface. Else, you need to follow the instructions given to put your iPhone into DFU/recovery mode.

2

Download Firmware. At this stage, Umendit will automatically provide all the suitable firmware for your device. So choose the one you want and click Next. (In this step, you can choose the version which you intended to update to.)

3

Start to fix. After downloading the firmware, click the Start button on the screen, then wait for several minutes.
Conclusion
iPhone Compass is not a working issue that might get fixed by any of the fixes mentioned in the article. However, if you want to avoid the hit-and-trial method of tweaking your iPhone settings, UnicTool Umendit will help you fix your iPhone issues and errors without wasting your time and money.

Secure Download

Secure Download